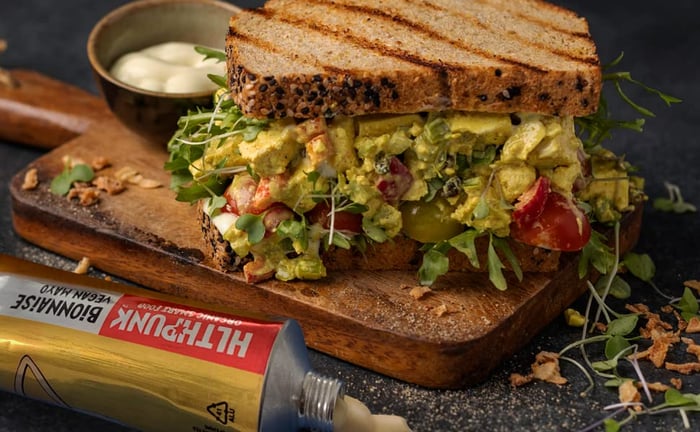 Photo: Hlthpunk
Mayonnaise is one of the most versatile condiments.
It works well on most dishes, whether you have it with wraps, as a dipping sauce, or add a dollop in your potato salads. That being said, not all mayonnaise are created equal.
A regular jar of mayo is emulsified with oil and egg yolks, giving it its signature rich taste. But vegan alternatives are made with plant-based thickening ingredients, including aquafaba (liquid from canned chickpeas), a soy or protein-based protein, and a vegan-friendly oil.
Which one's healthier? The vegan mayo of course. Vegan mayo contains less saturated fat and is usually cholesterol-free. Most vegan mayos also have other natural ingredients, like lemon juice and brown sugar, rather than artificial sweeteners.
Whether you're looking to elevate your go-to mayo or are on the lookout to try newer brands, we've rounded up some of our members' favorites.
Photo: @sumarhvonn
Hellmann's vegan mayo is the perfect alternative to their OG version. The emulsifier here is modified maize starch with rapeseed oil, which gives it a creamy taste. Plus, Hellmann's vegan formula is gluten-free and a good source of omega 3. In short, it's a much healthier pick. Our member @tuscanvegan can vouch for this. She says, "This is virtually indistinguishable from 'standard' mayo, but thankfully leaves the poor chickens out of the equation. And it makes an excellent dressing for coleslaw #veganisnotscary."
Oat milk is good, but oat mayo is much better. It's packed with superfoods and pea protein so it's no longer calorie-dense. Hlthpunk's Bionnaise has "interesting" ingredients, as member @bandita reviews. The oat-based mayo includes acerola, a cherry with potent antioxidants, turmeric that has anti-inflammatory properties, and ashwagandha, a medicinal herb.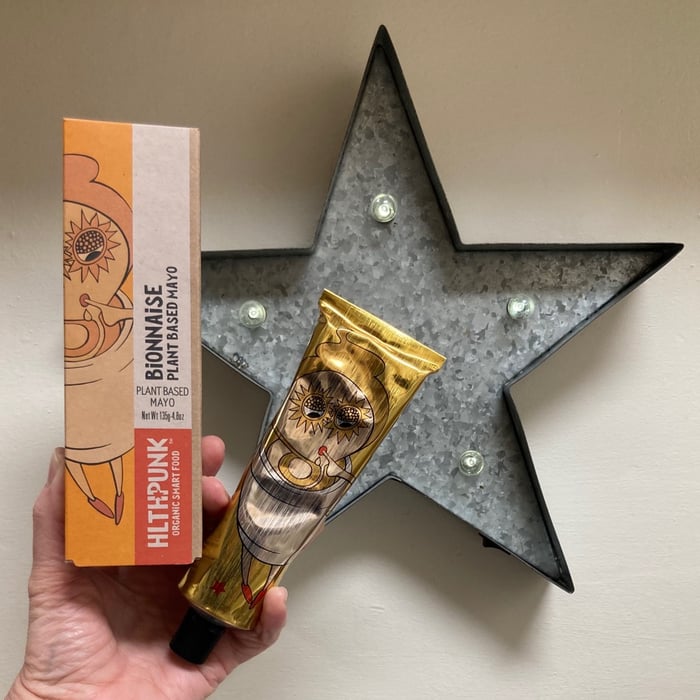 Photo: @alleycatz
Plus, we have to say jars are cool, but a lightweight squeezable tube wins points for being extra travel-friendly. "This was so handy to take on my trip and carry along on my outings. No glass to worry about breaking and takes up less space as you use it up."
Imagine an AI program choosing a regular recipe to replicate into a plant-based alternative. That's what Chilean-based company, NotCo is doing. Guiseppe, the AI system matches ingredients to taste like their animal counterparts, including flavor and nutrition.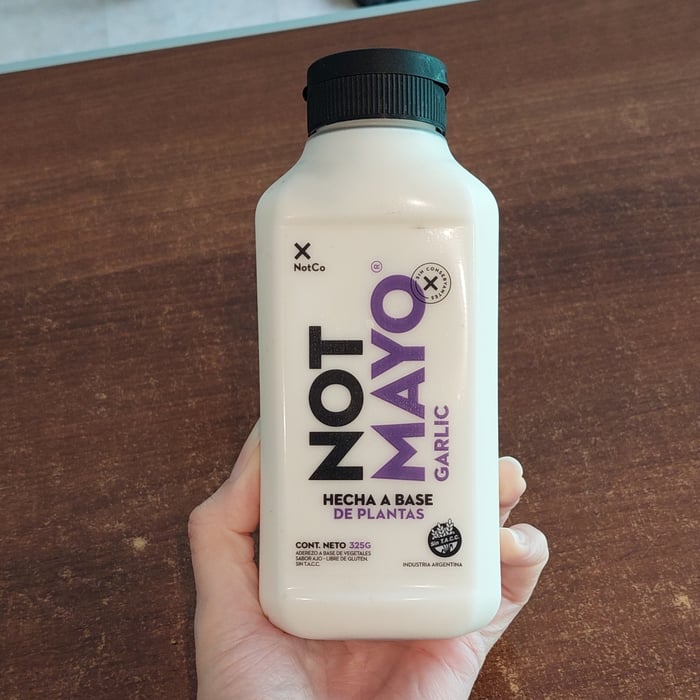 Photo: @callia
NotMayo comes in three flavors: original, garlic, and spicy. The main ingredients for the garlicky mayo are garbanzo beans (dried chickpeas), lemon juice, and brown sugar for the sweetener. Member @callia says, "Very rich. It tastes like mayonnaise. I bought the Garlic one and it's excellent!!"
Follow Your Heart has been around for a decade, and our members call it the "OG of vegan mayo." The proof is in the flavor, and @tamiapple agrees to the same. "Their mayo tastes just like you hope it will. Taste-wise, there is no discernible difference between this and mayo made with eggs." It's often compared to the real one because the base combines canola oil and soy protein, which gives it a similar texture to regular mayo.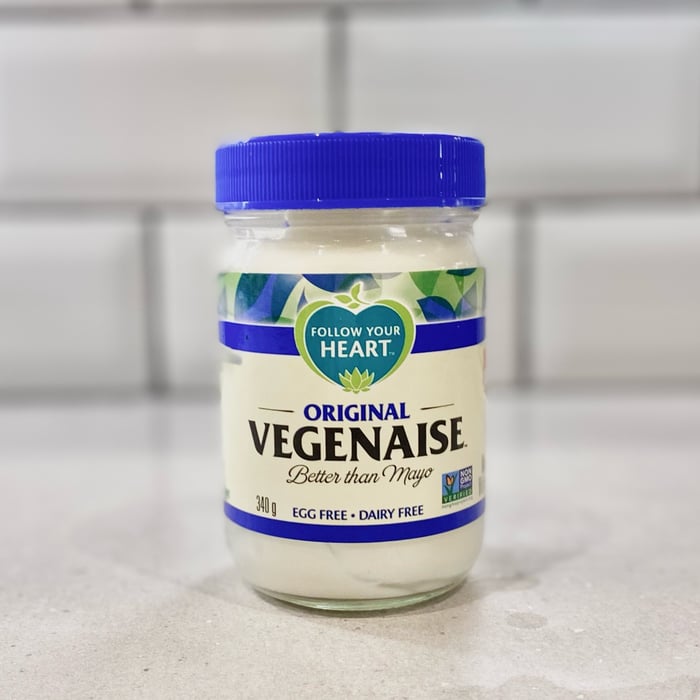 Photo: @immira
The brand is big on practicing sustainability and has notable achievements, including diverting 98 percent of their waste from landfills and is the first plant-based manufacturing facility to earn the Platinum Zero Level Waste certification.
Think of aioli as an elevated mayo with lots of garlic flavoring. Naked Byron Foods, an Australian company, makes theirs with sunflower oil and aquafaba compared to pea or soy powders that other vegan versions use.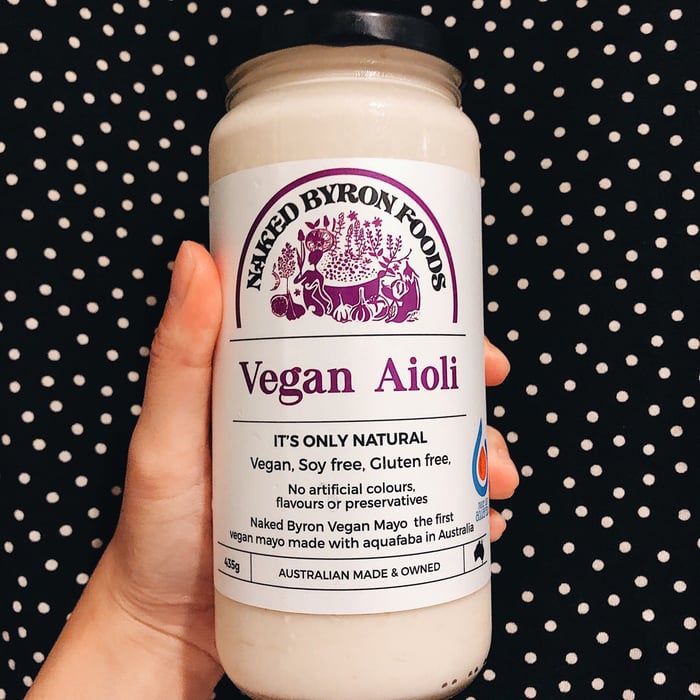 Photo: @sazzie
Here's a tip member @sazzie gives, "Mix 1 tablespoon of this into mashed avocado for your "smashed avocado on toast" and thank me later." But if you're not a fan of garlic-based condiments, they make wasabi and sweet mustard-infused mayo, which are great vegan options too.