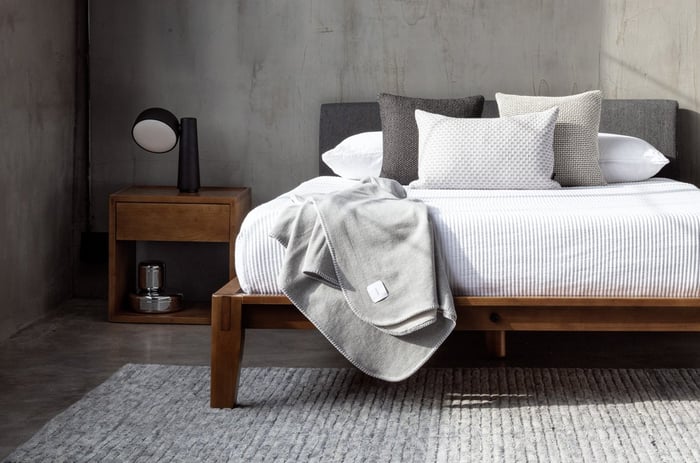 Photo: Thuma
It's no lie that every piece of furniture is an investment, and we ideally want these purchases to last. So, why not opt for one that is sustainable and saves the planet, and animal loves, in the long run? As we become more conscious of our eating and shopping habits and switch to vegan products, the next big step might be furnishing homes with eco-friendly, vegan furniture.
Yet if furniture itself is essentially produced from harvested materials, can it truly be sustainable? One way brands get around this is by using reclaimed wood. These could be damaged or unused, or come from a renewable source like bamboo, or wood that is compostable. Other sustainable furniture sources are leather alternatives, cotton, plants, and recycled materials.
While vegan leather alternatives are still new in the furniture world, options using materials like mushroom-based leather are on the rise. Other vegan-friendly materials include cactus leather developed by Mexican brand Desserto and Pinatex, a leather alternative made from extracting fibers of a pineapple plant.
A good way to identify if the furniture is eco-friendly is through certifications and labels. Some of the common ones are Green Label Plus, an indicator that improves air quality from carpets, adhesives, and cushions, Low VOC (Volatile Organic Compounds, and Sustainable by Design (SBD).
So, whether you're looking to shop for sustainable furniture or want to expand your choices — we've rounded up five brands that are committed to reducing their impact on the environment and the animals.
Say goodbye to back pain and hello to deep sleep with Avocado mattresses. This Californian brand ticks all the boxes using only organic, non-toxic, and natural materials. While the brand is not entirely plant-based, the original and latex-based mattresses are vegan.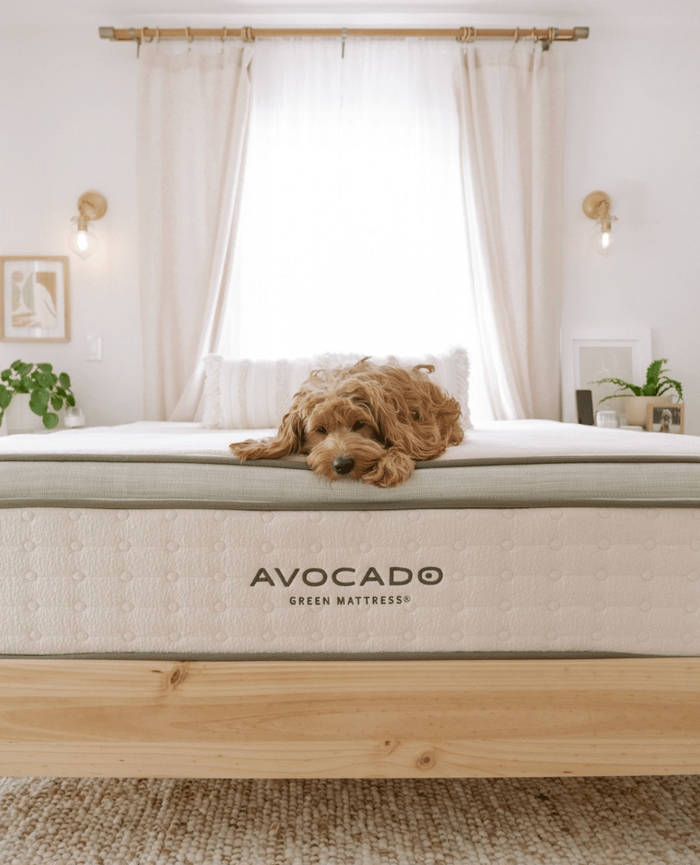 Photo: Avocado
What's more, its original mattress is GOLS organic certified, meaning it has 95 percent natural latex. It's also greenguard-gold certified, which indicates that it emits fewer chemicals and improves air quality at the same time. The Avocado vegan latex mattress has nine inches of organic latex and cotton, which replaces mattress springs.
This Bristol-based brand uses recycled CDs as its primary material to produce bespoke furniture. Founded by Kieran Devlin during his final year at university, the inspiration to use CDs hit when he realized they were obsolete and took over a million years to decompose in a landfill.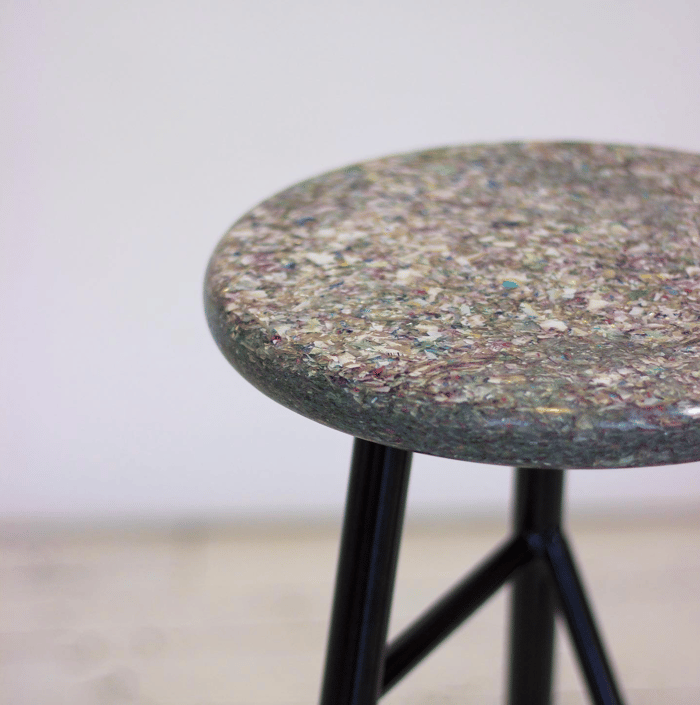 Recycled CD's made into a table. Photo: Revive Innovation
The brand is known for its statement pieces like coffee tables and bar stools made from its unique mosaic-like material reflecting multiple striking colors. Think marine blues and greens, shimmery silvers, and marbled greys with neon flashes. Revive Innovation's mission is to reduce consumer waste, create recyclable furniture and support local businesses to develop products sustainably.
Sabai Design believes in "making furniture that doesn't cost the earth." It has four main products: the Essential Sofa, the Essential Sectional, the Essential Loveseat, and the Essential Chair.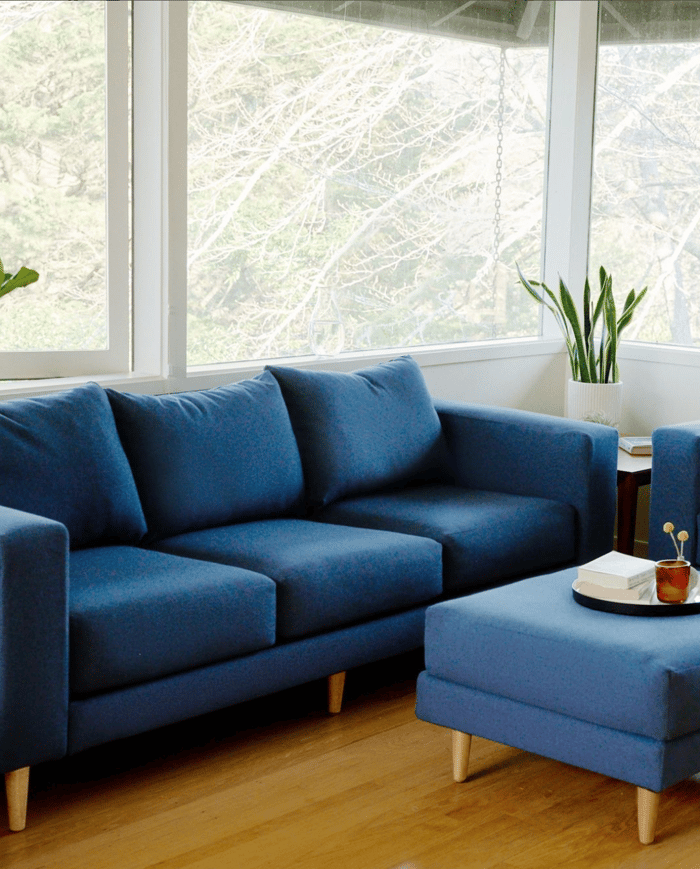 Three cushion Essential Sofa and Essential Ottoman. Photo: Sabai Design
It's most unique feature is that shoppers get to choose the sustainable material they wish to use on the couches. There are two options: recycled velvet, made from 100 percent recycled water bottles, and upcycled poly from 100 percent olefin fabric. Both of these options are stain and scratch-resistant.
Practicing sustainability doesn't end when your furniture is delivered, as they offer a closed-loop program. Through this, the company will buy back your damaged or old furniture at 20 percent of the price, to refurbish it and give it a new home.
This award-winning children's furniture brand upcycles plastic to make colorful and sustainable furniture for toddlers. Founded by duo Vanessa Yuan and Joris Vanbriel, the inspiration came after they learned that plastic was one of the most common materials used in toys. The team underwent a two-year research on making recycled plastic appeal to shoppers, where they developed Ecothylene through recycled plastic from old toys.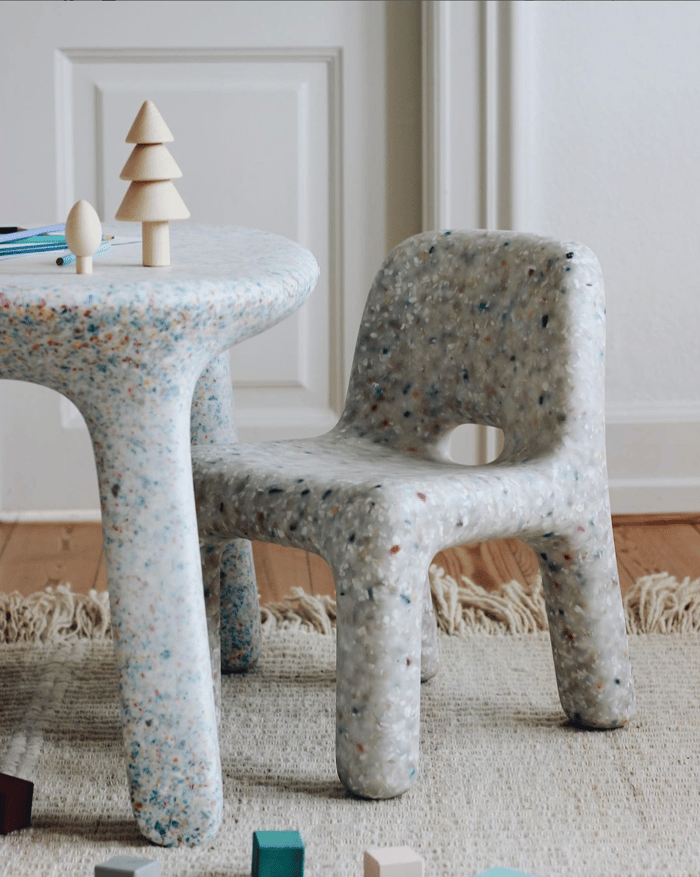 The Charlie Chair. Photo: ecoBirdy
This process takes five stages. Waste plastic is first taken to a recycling center, and every object goes through a check. The pieces are broken down into smaller fragments and washed. Lastly, a sorting procedure and a lab check are carried out to maintain the standard. ecoBirdy's top-selling product is their Charlie chair, designed not to tip over, making it perfect for little ones. It also has a smooth, silky appearance due to the nature of recycled plastic
Can mushrooms be turned into furniture? This leather alternative has been incorporated in high fashion over the past year, and it's slowly making its way into the interiors industry. In 2017, British designer Sebastian Cox, with researcher Ninela Ivanova, developed lamps and stools made from the fungus. While these aren't available for sale, the designer has two ceiling lights that you can purchase via his website. Both pieces are made from Mycelium and greenwood waste (newly chopped wood), which are sustainable and compostable.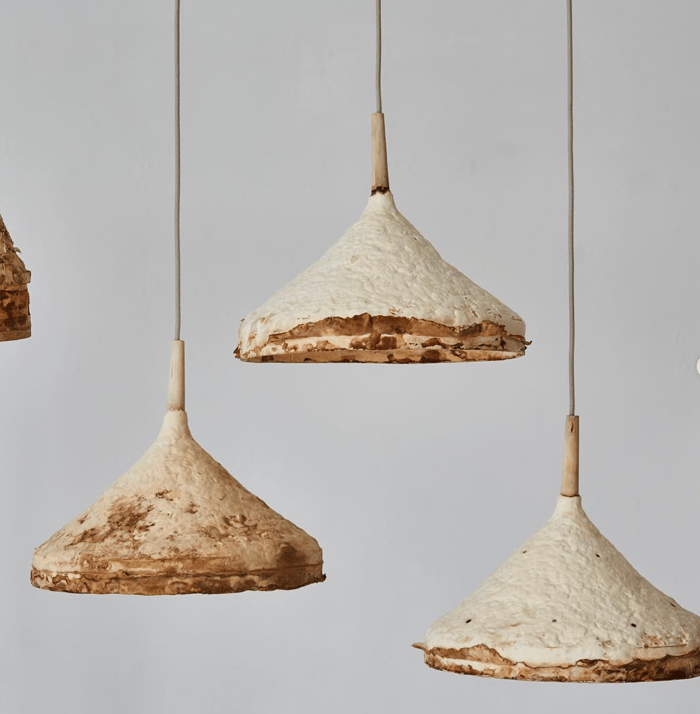 Ceiling lights made from Mycelium. Photo: Sebastian Cox Furniture