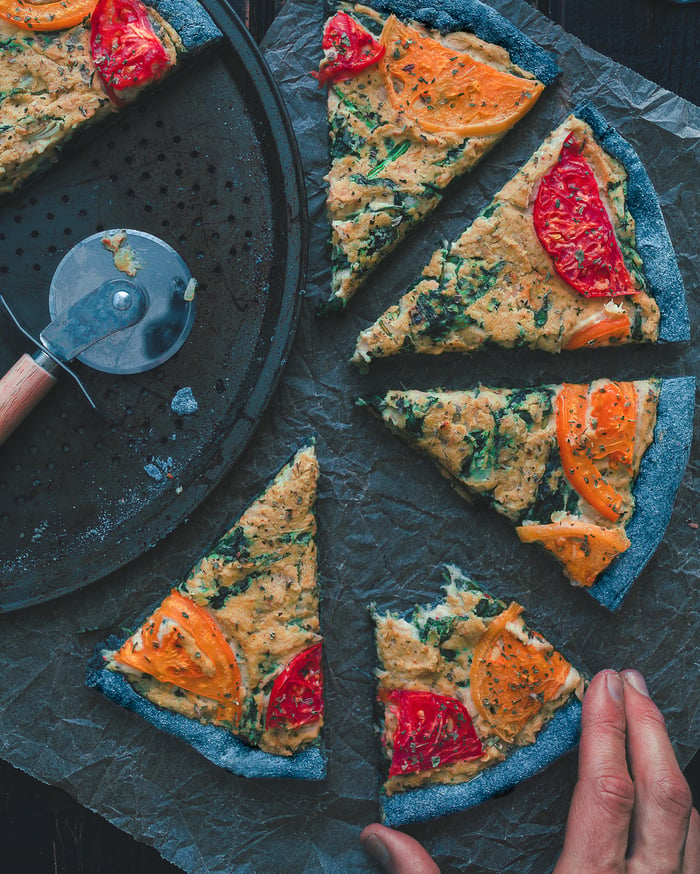 Besides the fact that the crust is colorful, this pizza is definitely out of the ordinary. A rich, artichoke spinach dip filling is made mostly in the blender, diversifying this dish to be somewhere in between an appetizer and the main show - either way, it's something new and delicious to try making!
Black Artichoke Spinach Dip Pizza
Serves: 2
Active time: 2.5 hours
Ingredients:
1 can of artichokes drained
1 small chopped white onion
1 tbsp garlic
2 large handful of baby spinach
1/2 cup soaked raw cashews
2 tsp apple cider vinegar
juice of half a lemon
1 cup plant milk
1/4 cup nutritional yeast
1 tsp onion powder
1/4 tsp dried basil
2 tbsp tapioca starch/flour
1 can chickpeas
1/4 tsp pepper
1 tsp sea salt
Crust Ingredients:
1 pack dry activated yeast
1 + 1/4 cup of warm water (not boiling hot)
3 cups buckwheat or all purpose, gluten free flour
1 tbsp cane sugar
2 tsp salt
1 tbsp activated charcoal powder from coconuts for crust color
Directions:
Activate the yeast by adding the packet to warm water & sugar. Let sit for 10 minutes.
Pour the salt over the flour in a bowl, then slowly add the water and yeast mix.
Mix the dough until you need to work it in with hands, adding a few tbsp of grape-seed oil as you knead.
Put dough into a bowl to rise for 1.5 hours.
Sauté the onions in a pan with a little bit oil until translucent.
Add garlic & spinach and sauté until wilted.
Add drained cashews to food processor and grind to a meal.
Add everything else except the beans to the food processor. Now add half the plant milk.
Add the artichoke & beans to the processor & slowly add the rest of the plant milk until smooth.
Sprinkle some semolina on the pizza pan so it doesn't slide around and pour your entire mix over the dough and bake at 230C/450F for 8-10 minutes until golden brown.