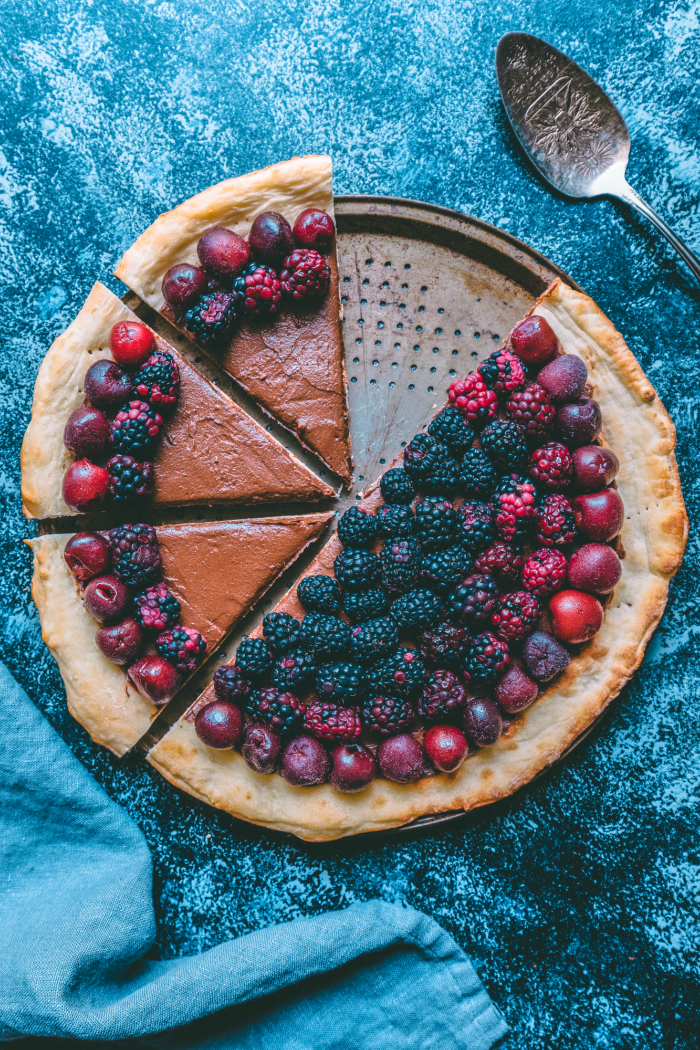 I bet you didn't see this coming! An avocado chocolate mousse pizza. I'll admit this is my first dessert pizza but it certainly wasn't the first time I thought about creating one! I created an avocado chocolate mousse that's sugar-free and extremely creamy. I've been sugar-free for a month and won't be adding sugar to anything anytime soon! I feel fantastic now that I have cut out anything aside from medjool dates, maple syrup or agave on occasions. For the most part its been all medjool dates for me.
So this recipe is extremely simple to create given that I gave myself a break and didn't make my own pizza dough this time. I have finally created pizza dough that is amazing but sometimes I just make things way too hard on myself and I know people love being able to cut down kitchen time! So keeping that in mind I decided to purchase a pizza dough ball from a local shop. Did you know you can pretty much walk into any pizza place you love and have them sell you dough? Maybe I'm late to the party but just finding this out. Sure enough I walked into a pizza shop and they sold me a huge ball for $3! And if you don't have a pizzeria near you check your local grocery store.
So without wasting any more time let's get right into this super quick and easy recipe. Feel free to add any type of fruits you desire. Have fun with it and put your own twist on my creation. After all that is what cooking is all about - you creating and adding your twist to existing recipes too!
Avocado Chocolate Pizza
Serves: 4
Active Time: 10 minutes
Ingredients
For the mousse:
1 large avocado
10 oz of date paste or 10-12 medjool dates pitted
2/3 cup aquafaba (the liquid from canned chickpeas helps with texture)
2/3 cup plant milk of choice (you may need to add more, just go by thickness)
Pinch of salt
Directions
Let your dough ball sit at room temp for a few hours in a greased bowl
Punch the dough down in the middle and roll it out with some flour
Make sure to grease your pan as well before putting it in the oven
Preheat your oven at 475F / 245C
If you can, set two up racks: one above and one below
Cook at the top rack for 3 mins, then bottom for 3 mins and then top again for the last 3 mins
Let your crust cool completely and start on the mousse (I made my mousse the night before and let it sit overnight in the fridge but that's optional)
Add everything to a food processor or blender and mix until you achieve a thick and mousse-like texture
All that's left is to spread your mousse on the pizza crust and add your favorite fruits, enjoy!