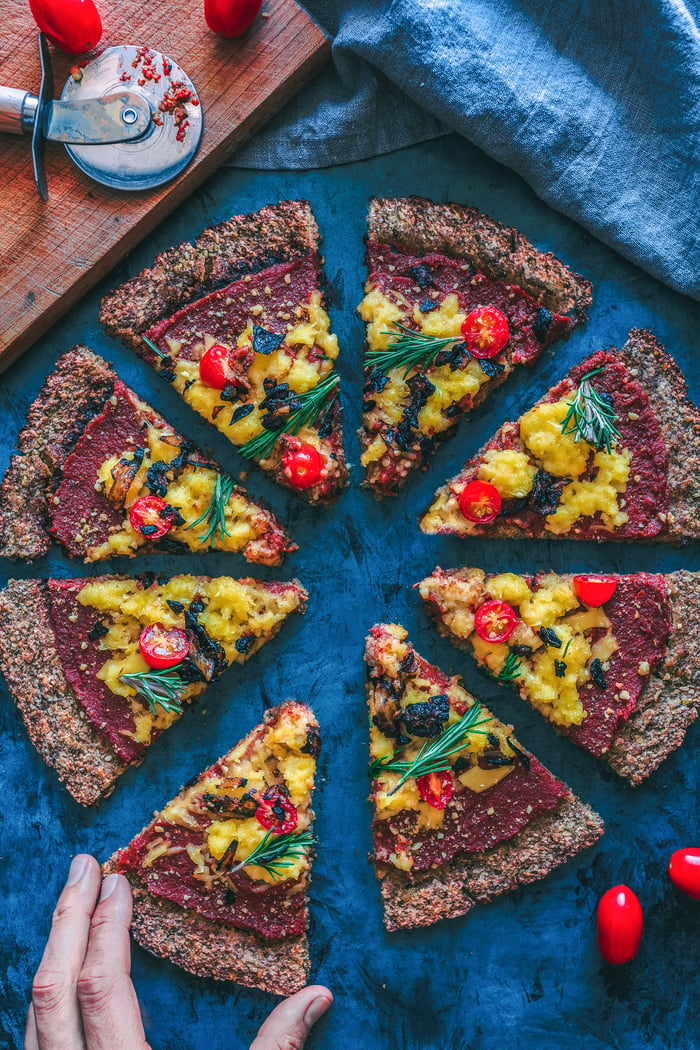 Vegan cauliflower pizza y'all! This was my first time trying to make one. Originally it was to be a purple cauliflower pizza but Sprouts ran out of purple cauli's so I had to improvise. Usually, I'll create my own cheese but I felt like changing things up and going for some Follow Your Heart mozzarella shreds but again, sprouts were also sold out!
Improvising on the fly I opted for Follow Your Heart swiss slices instead of any Daiya products (as I don't support them any longer) I had to take the slices and grate them to shreds which is why it looks a bit more like ricotta but fret not, the taste was still amazing. I've found that Follow Your Heart makes really good cheese products which is hard to do. I personally consume very little processed food anymore but I would highly recommend this brand over anything else out there for those in transition or just can't give up cheese!
So, I created the cauliflower crust with homemade marinara, Follow Your Heart cheese, caramelized onions and finished off with some cashew parmesan I also created. I ate the entire pizza myself in two sittings that night. You can find the recipe for this bad boy in my new eBook (link in my bio). Love ya all enjoy your day!
Cauliflower Pizza
Serves: 2
Active Time: 1hr
Ingredients
For the Crust
1 medium head cauliflower
3 tbsp ground flaxseed + 9 tbsp water
1/2 cup almond meal
1/2 tsp salt
1 tsp garlic powder
1 tsp dried oregano
1 tsp dried basil
1 tbsp pure maple syrup
For the Marinara Sauce
3 tomatoes, chopped
1/2 cup sun-dried tomatoes
1 tbsp garlic, chopped
1 tsp onion powder
2 tsp oregano
1 tbsp Herbes de Provence (mixed herbs)
1/2 tsp salt
2 medjool dates, pitted
2 tbsp tomato paste
1 basil leaf
For the Cashew Parmesan
1/2 cup raw cashews
2 tbsp nutritional yeast
1/2 tsp sea salt
1/2 tsp garlic powder
Directions
Add cauliflower to a food processor and pulse until a grainy rice texture is achieved.
Add chopped cauliflower to water in a pan and bring it to a boil. Cover and reduce heat, cook for 5 mins.
Drain water, add cauliflower rice to stainless steel bowl and freeze for 10 minutes.
Make the flax egg, let sit 10 minutes.
Squeeze water out of cauliflower with a dish towel till dry.
Add cauliflower & flax egg to a bowl with almond meal and seasonings in the mix. Mix until fully incorporated.
Press the cauliflower mix firmly into your pan, sheet, whatever you're using, preferably with parchment paper.
Bake for 30 minutes at 400°F/205°C till golden. Flip carefully and cook for 15 more minutes.
To make marinara sauce, add all ingredients to a blender and mix.
To make cashew parmesan, add ingredients together in a food processor and pulse.
Remove crust from oven and top with marinara sauce and any vegan cheese plus topping that you like.
Place pizza in the oven again and bake for another 5 minutes until the cheese is melted.