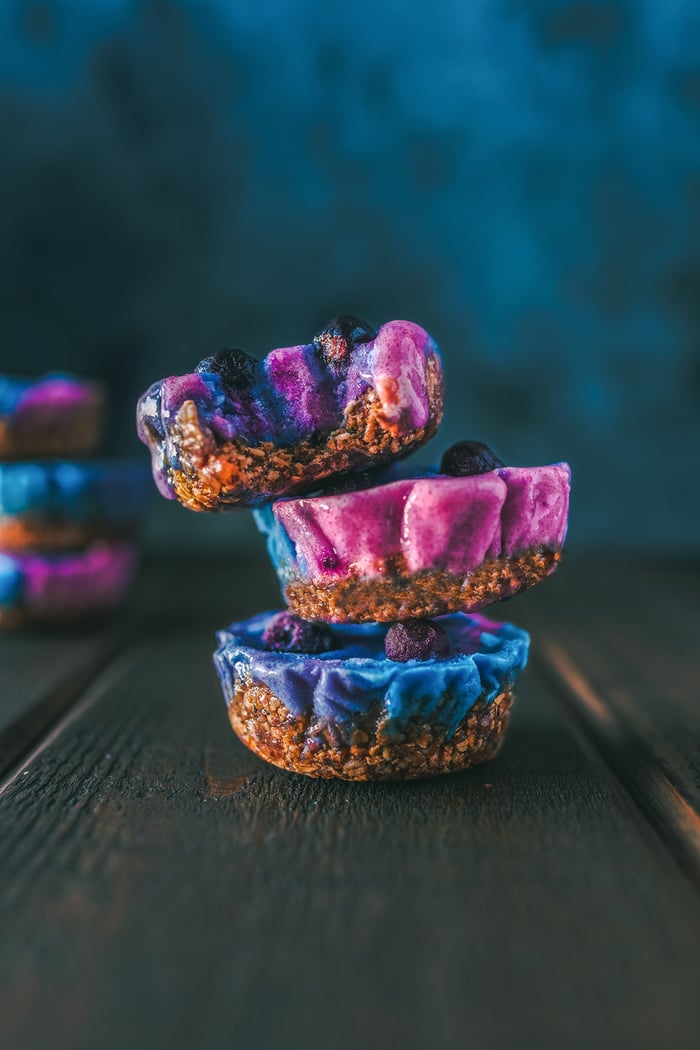 These creamy muffins are made with a blend of bananas and coconut water - so tropical and healthy! Swirl a bit of colorful powders for the unicorn look, and voilà! You've created a bite-sized fantasy.
Unicorn Banana Nice Kream Muffins
Servings: 9 muffins
Active time: 30 min
Ingredients
For the nice cream:
2 frozen bananas
1 cup young thai coconut water
1 tsp pink pitaya powder
1 tsp butterfly pea powder
1 tsp blue spirulina
For the muffins:
1 cup gluten free granola of choice
10 medjool dates pitted
1 tbsp unrefined melted
coconut oil
pinch of cinnamon
pinch of salt
Directions
Put your granola, dates, coconut oil, cinnamon and salt into the food processor and blend.
Use parchment paper or muffin paper cups inside your tin and press the muffin mix down firm.
Now whip up your bananas & coconut water in a blender till smooth.
Separate your nice cream in 3 containers and add each color, then spoon batter one color at a time into the muffins and swirl with a knife for the unicorn look.
If you want to add berries, do not add them right away. Put the muffins into the freezer for 15-20 mins until its semi-firm and then press your fruit into the molds, then return to freezer for 1-2 hours. If you don't wait, they will sink to the bottom.