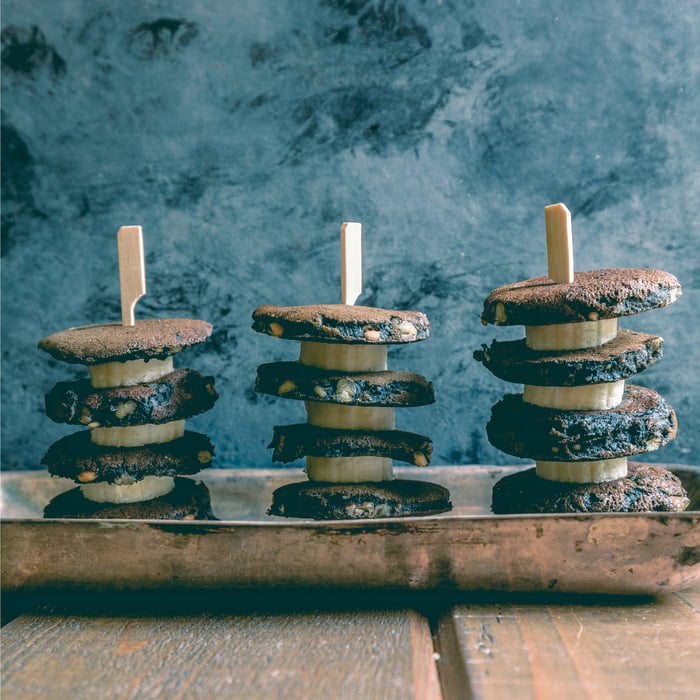 Peanut butter banana pancakes. One of my favorite combinations ever, peanut butter and bananas! I don't have to tell you to try a banana with peanut butter because I am sure you already have numerous times. As a kid growing up, I could almost never have pancakes without bananas so it would break tradition if I created something for you today without them.
I added a little extra charcoal powder from rawnice.com for color. If you know what you're doing, you can make these midnight black depending on what sort of flour you use. Since I used banana flour, which is brown it negates the richness of the black hue when working with charcoal powder. If you want that midnight effect makes sure to use white flour, do not use spelt or buckwheat, wheat, etc. Try using all-purpose flour instead!
You can make these gluten-free if you like as well. I added a vegan egg into this recipe so you will be good to go. If you don't have a vegan egg I also provide an easy alternative to an egg substitute. Feel free to adapt this recipe to your liking. Swap out or add anything you feel is missing!
Peanut Butter Banana Pancakes
Serves: 4
Active Time: 20 minutes
Ingredients
1 cup flour of choice (I used banana flour from Edward & Sons)
1 cup plant milk of choice
3 to 4 ripe bananas mashed
3/4 cup peanut butter
1 tsp vanilla extract
2 tsp charcoal powder
1 vegan egg (I used the egg replacer from Bob's Red Mill) or you can make your own with 1 tbsp ground flax + 3 tbsp water
1 tsp baking powder
1/4 cup maple syrup (I used the vanilla bean infused maple syrup from The Maple Guild)
Chocolate chips or raisins (optional)
Method
Make your vegan egg and set it aside.

Mash your bananas then add peanut butter, vanilla, maple syrup, and 1 tsp charcoal powder (optional).

In another bowl, mix your flour and baking powder. If you decided to add chips or raisins, mix them in too.

Add 1 cup plant milk + 1 tsp charcoal powder (optional) to the mixture and mix.

Now mix the wet and dry ingredients and preheat your pan or skillet.

Cook and flip once bubbles start to pop on the surface of your pancake.

You can eat these without syrup because they are that delicious but I prefer to go all out with maple syrup. The vegan butter is optional in my opinion!