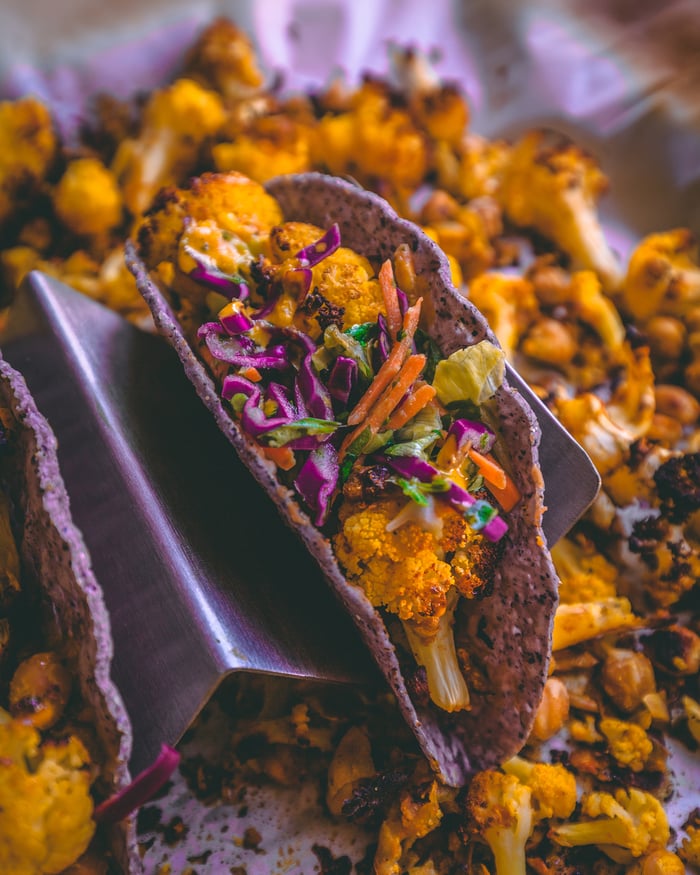 Lets talk tacos! I can't even count the many ways you can interpret a taco but let's just say I've had my fair share being from California. Over the last couple of years I've had to get extremely creative on how to replace meat in my tacos. From mushrooms, to jackfruit, to veggie crumbles, even veggies instead, all have worked out great. Today's one of those veggie days as I bring you delicious roasted cauliflower & chickpea tacos. Simple, quick and easy to follow and will leave you super satisfied!
If you're able to find a cauliflower other than white, get one! They make for better photos and all around much more impressive in your presentation. Your friends will be dazzled that any other color besides white even exists! I based my color choice off the fact that I used purple taco shells. What better way to give your dish some color contrast, at least that's how I see my food.
So let's get into the recipe, no need for me to continue on this rambling! I hope you enjoy this creation and share it with your friends.
Cauliflower Tacos
Serves: 2
Active time: 20 minutes
Ingredients
For the filling:
1 cauliflower
1 can chickpeas
1 can re-fried beans (optional serve at end)
1/2 onion chopped
1 tbsp garlic minced
1 tsp cumin
1 tsp smoked paprika
1 tsp onion salt
1 tsp black pepper
1 tbsp liquid aminos (soy / tamari)
1 tbsp plant milk
For the slaw:
Romaine or kale
Carrots
Red cabbage
Juice 1 lime
1 tbsp coconut sugar
1 avocado
1 tbsp apple cider vinegar
For the crema:
2 heaping tbsp vegan mayo
1/2 tsp salt
1/2 tsp cumin
1/2 tsp garlic powder
1/2 tsp onion powder
1/2 tbsp agave
Directions
Chop your cauliflower into small pieces and then toss everything else into a large bowl and mix well with hands. Use parchment paper on a large tray and bake at 425F / 220C for 30 minutes, if they need more time try another 5 - 10 minutes. (The refried beans are an option to spread into your taco shell as you serve, it is not included in the filling to be cooked)
Mix the slaw with your hands, crush an avocado into your hands and massage it into your slaw with everything else. Once mixed refrigerate until ready to serve.
Mix the crema into a bowl and also put into the fridge until you're ready to serve
Once filling is done use any taco shell you like and fill the bottom with refried beans, then the rest of your filling and top it off with the slaw & crema.
Enjoy!