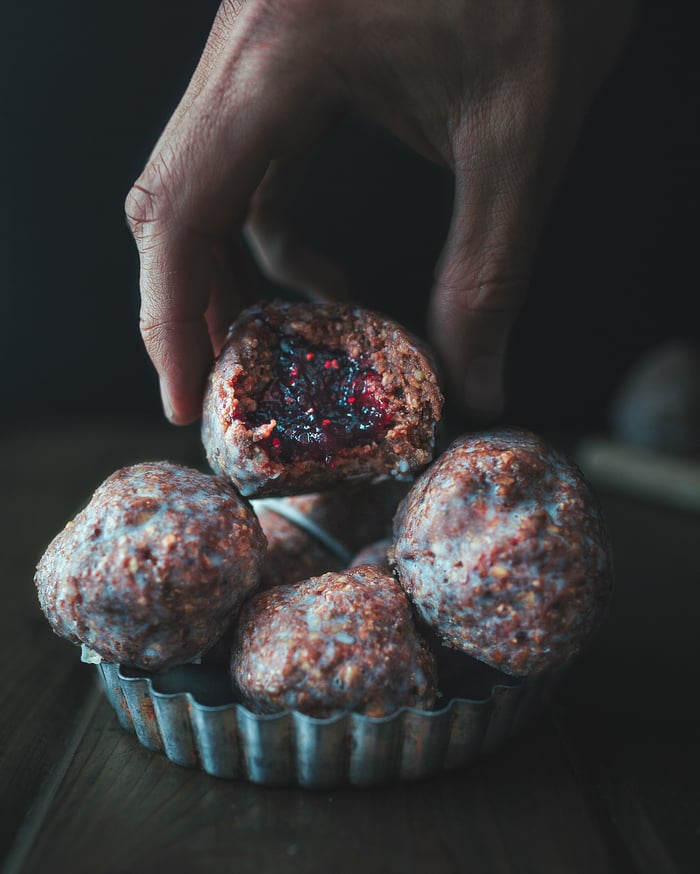 There was one donut shop in my county that has the most incredible vegan donuts I've ever tasted. They have some of the most creative flavor combinations for donuts that I've ever seen. Since I moved nearly an hour away from the shop, I can't get my donut fix anymore! So, this is my tribute and recipe inspired by one of my favorite donuts on their menu. It was a traditional glazed donut cut in half and stuffed with peanut butter & jelly, topped with a vanilla glaze. I've decided to create my own twist on the recipe - a no bake raw gluten free donut hole! This way you can feel less guilty about eating an entire donut and just pop a few of these in your mouth instead. Recipe below!
PB & J Donut Holes with Vanilla Glaze
Serves: 4
Active time: 45 mins
Ingredients
For the donut holes
1 cup gluten free rolled oats or 1 cup almond flour
1 cup raw cashews (soak for 4 hours in water then rinse)
10 medjool dates
1/2 cup organic peanut butter
Jelly of choice (I used raspberry)
2 tablespoons melted unrefined coconut oil
Pinch of sea salt
For the vanilla glaze
2 tablespoons unrefined coconut oil
2 tablespoons pure maple syrup
1/2 teaspoon vanilla powder
Directions
Add all the donut hole ingredients (except for the jelly) into a food processor and mix
Roll dough into silver dollar sized portions and spoon in your jelly smack in the middle
Close them up and roll into firm balls and stick into the freezer for 20 minutes (this will get messy)
Make the glaze, melting coconut oil on low, turn off heat and add maple syrup and vanilla then whisk
After 20 minutes, take out your donut holes and glaze them before freezing for 20 more minutes
You can glaze one more time and repeat the entire process if you're willing to wait that long!