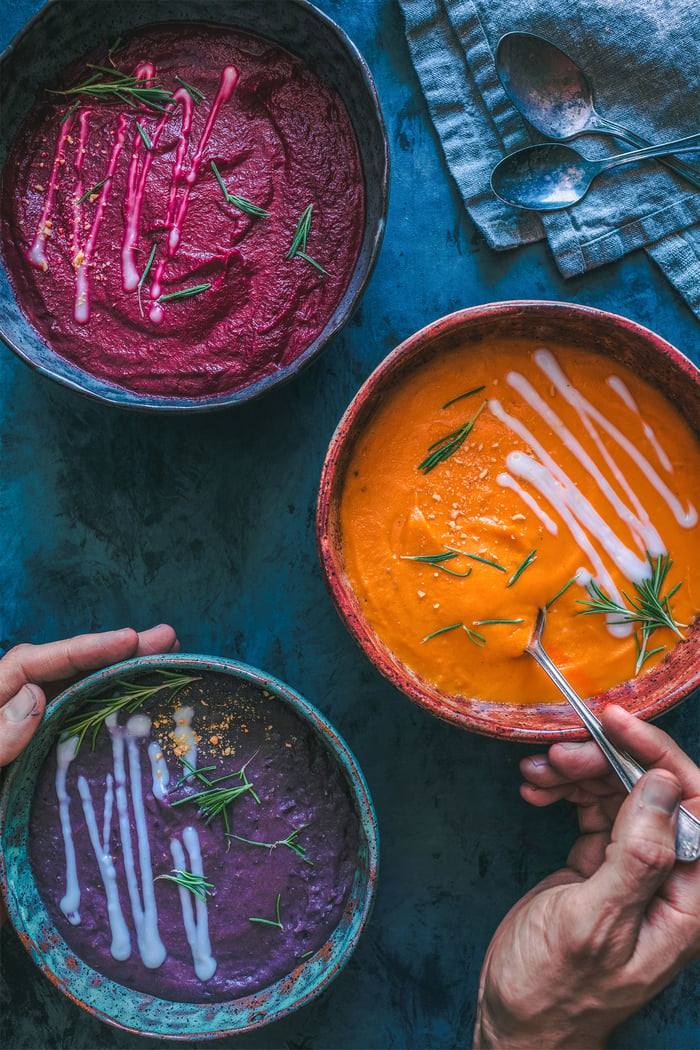 Who doesn't enjoy a good, colorful, simple soup every now and then? This was purple potato, squash and beet soup - they are all delicious with a hint of sweetness. Pair with some bread and you'll get a perfect feast for fall!
Three Color Soup
Serves: 2
Active time: 1 hr
Ingredients
500g purple poatoes
1 butternut squash
3 small beets
1 onion, peeled and chopped
1 fennel bulb
2 tbsp chopped garlic
2 large carrots, peeled and chopped (purple/yellow)
1 cup veggie broth
1 cup coconut milk
2 tbsp maple syrup
2 tbsp soy/tamari
2 tbsp tomato paste
Thumb ginger, minced
Salt and pepper, to taste
Directions
Chop your beet, potato, squash and bake at 400F/205C for 30 minutes. Toss with coconut oil & salt/pepper
Saute your onion in coconut oil for a few minutes then add carrots, garlic, fennel, ginger
Cook a few minutes, add your veggie broth and coconut milk and bring to a boil. Reduce heat, cover and cook 5 more minutes.
Remove from heat and distribute evenly among 3 containers. This will be your base.
Once veggies are done roasting in oven, take beets and one bowl of your base to a blender and mix. Adjust consistency with more coconut milk.
Follow the same process, take purple potatoes and one bowl of your base and adjust consistency. Do the same for your squash as well.
Now you'll have 3 different flavors of soups, finish with some vegan yogurt and enjoy!