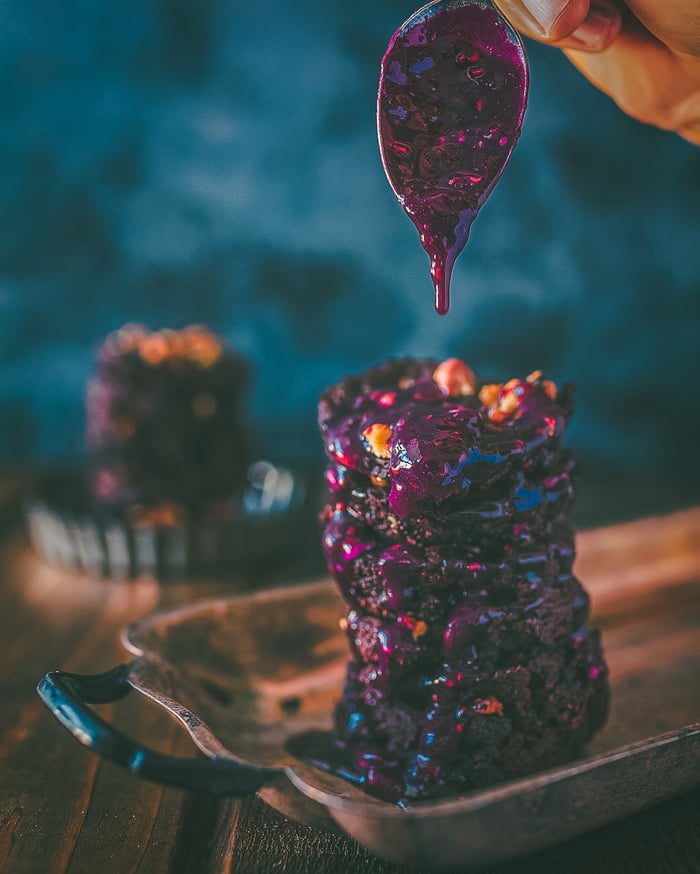 Crack open a can of black beans (yes, you read that right) for this recipe! Throw in an avocado, and these brownies are going to be a super fudgy (and flourless) treat! Drizzle raspberry lemon sauce on top for a fruity ganache!
Makes: 4 Servings
Active Time: 30 min

Ingredients

Brownie
1 can of black beans
1 avocado
3 tbsp melted unrefined coconut oil
3/4 cup raw cacao
1 cup of coconut sugar
1 tsp baking powder
1/4 tsp salt
1 tsp vanilla extract or powder
2 flax eggs (2 tbsp ground flax seed mixed with 6 tbsp water)

Raspberry Lemon Drizzle
1 cup melted raspberries
1 tsp apple cider vinegar
1/2 cup powder sugar
Juice of 1/2 lemon

Method
Make the flax egg and refrigerate the mixture for 10 minutes.

After 10 minutes, add the flax egg mixture and all the other ingredients needed for the Brownie into a food processor and mix until smooth. Add a teaspoon of water at a time if the brownie mix is too thick to be combined.

Then, grease and fill the muffin tins until your brownie mix is all used up. Finish off with walnuts on top.

Bake at 350°F/175°C for 20-25 minutes. Once the cookies are done, remove from the oven and set aside to cool at room temperature.

While the brownie cools, mix all the ingredients needed for the raspberry lemon drizzle by hand. Once the brownie have cooled completely, drizzle the raspberry lemon drizzle all over the brownies! Enjoy!