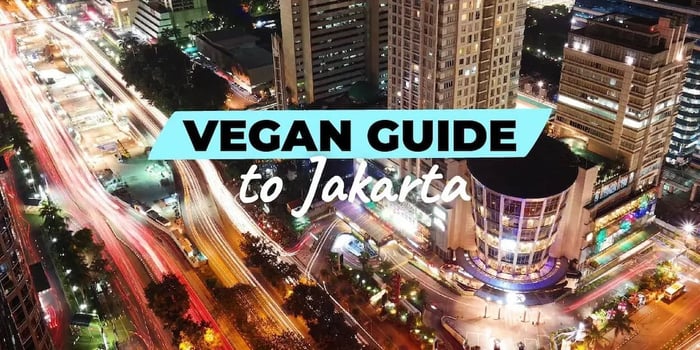 While Bali has been regularly touted as being one of the most vegan-friendly cities in Indonesia, Jakarta is not far from achieving the title. According to the World Vegan Organization, the city is slowly catching up to become one of Indonesia's most vegan-friendly destinations.
Our contributor for this month's guide is the Jakarta Vegan Guide, the leading digital media platform that focuses on vegan/plant-based lifestyles in Indonesia, founded by Firmansyah Mastup and Chandra Revo in 2018.
Over the years, they have shared veganized Indonesian recipes, nutrition tips, dishes, and news, aiding Jakarta residents in pursuing a vegan lifestyle.
What's it like for vegans in Indonesia's capital city? Firmansyah says, take a stroll and you might be surprised by the number of local dishes that are vegan or can be easily veganized as animal products are often served separately.
"From the famous Gado Gado (steamed mix vegetables, tofu and tempeh topped with peanut sauce) which the locals eat for lunch with steamed rice or lontong (rice cake) on the side to Warteg (a casual street food buffet joint) where you can find a numerous plant-based and accidentally vegan-friendly dishes," he says.
To eat your way around this up and coming vegan-friendly city, Firmansyah has recommended the top 10 must-visit spots to have the ultimate vegan experience.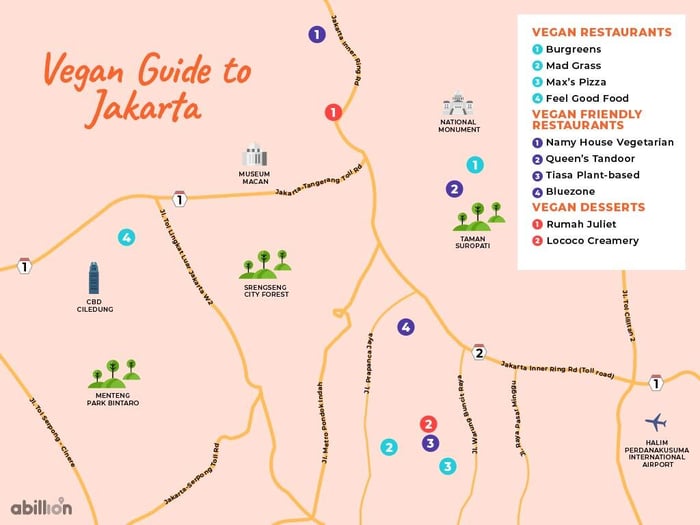 Vegan Restaurants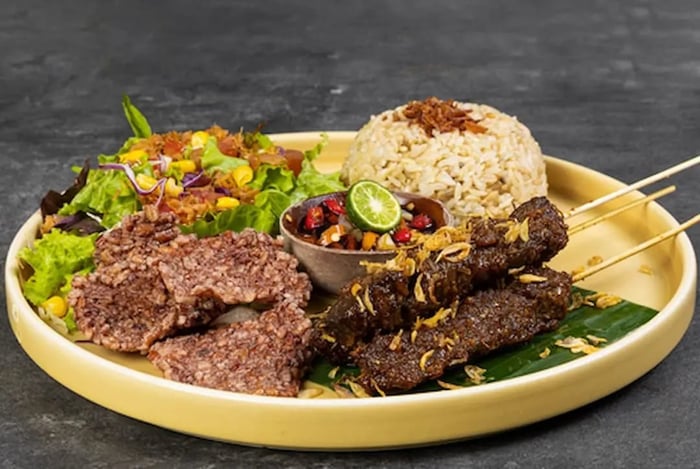 Burgreens. Photo: Jakarta Vegan Guide
Burgreens is a pioneering plant-based restaurant chain in Indonesia, and it offers a wide assortment of vegan options from Indonesian to Western food. It's also very accessible; they have ten branches at various locations in Jakarta. Why visit one of its restaurants? Firmansyah says, "It's the perfect choice if you want to explore Indonesian food since they veganize many iconic Indonesian meals, like Satay Maranggi, Balinese mixed rice, and a good old Bakmi Yamien."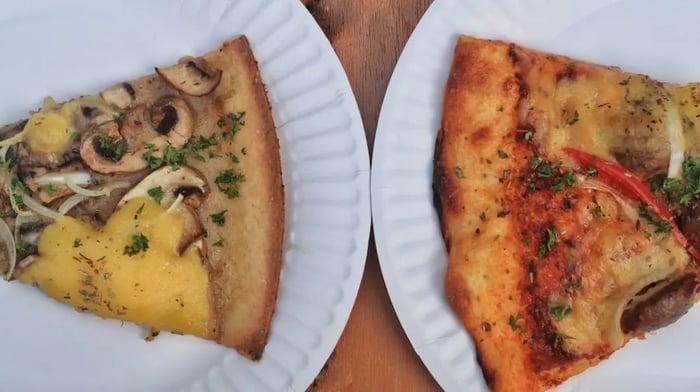 Max's Pizza. Photo: Jakarta Vegan Guide
Burgreens recently opened a new concept called Max's Pizza, serving New York-style pizzas. While you can stick with familiar classics like the Margherita or the Meatball Pizza, they also offer special flavors like Rendang. "It's located in South Jakarta and Binataro and works as a perfect spot for a quick meal with friends," says Firmansyah. "The most special thing about this vegan pizzeria, according to him, is its cheese. It melts nicely, and has a stringy texture like real mozzarella!"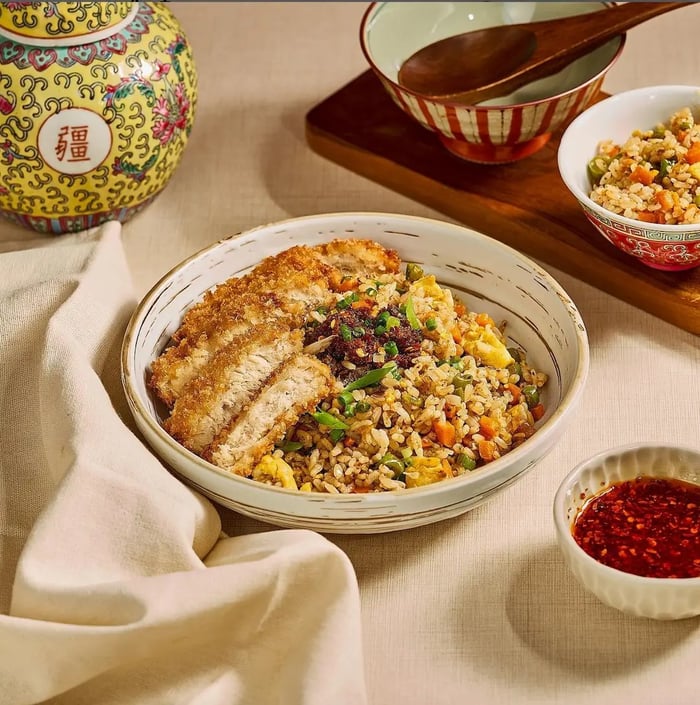 Feel Good Food. Photo: Jakarta Vegan Guide
Visit Feel Good Food if you're in the mood for Asian cuisine. They serve delicious dishes like Meatless Sambal Matah, Spicy Duck Noodle, and Karaage Teriyaki. The latter is a must-try as the restaurant uses tofu to substitute the scrambled egg served alongside well-seasoned deep-fried 'chicken' karaage paired with brown rice.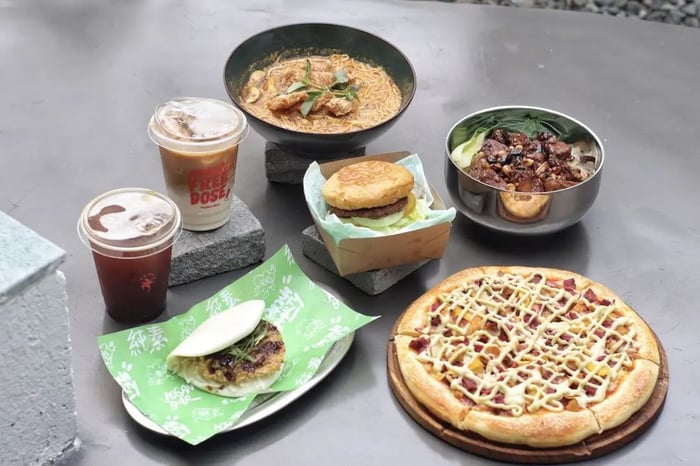 Mad Grass. Photo: Jakarta Vegan Guide
In Firmansyah's words, Mad Grass is, "the world's first plant-based cloud kitchen and collaborative space, where you will find various foods and cuisines." Being a collaborative space similar to a food hall concept, you can spot many local brands at Mad Grass. While they focus more on deliveries, there is indoor seating for dine-ins.
Here's what you should get: Plantelicious's Nasi Bebek Madura, iVeganPizza's Smoked Pizza, Kinkitsuya's O-Chazuke, Sematjam's Gudeg, Kinkitsuya's Baona Party's Vegan Bao, Kyuri's Mushroom Katsu Burger, Orvia's Mint Chocolate Chips Ice Cream, and Mad For Coffee's Oatly Latte.
Vegan-friendly restaurants
Namy House Vegetarian will take you on a ride with its bold flavors of Minang cuisine, which hails from West Sumatra. Traditionally, the cuisine is meat-based, but the restaurant makes plant-based versions of traditional dishes. Rendang, a coconut beef stew is made using mushrooms, the Ayam Bakar, charcoal-grilled chicken marinated in soy sauce, and dendeng, thinly sliced meat are made with mock meat.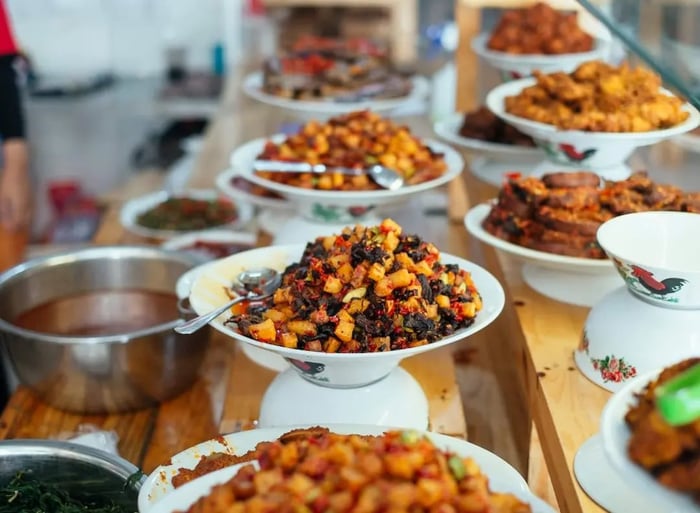 Namy House Vegetarian. Photo: Jakarta Vegan Guide
He recommends getting the ayam gulai, a yellow curry "chicken." Tip: get a side of jackfruit curry, steamed cassava leaves, and sambal with a steamed white rice bowl. However, as Firmansyah says, some of their dishes might contain dairy, so check with the server before ordering.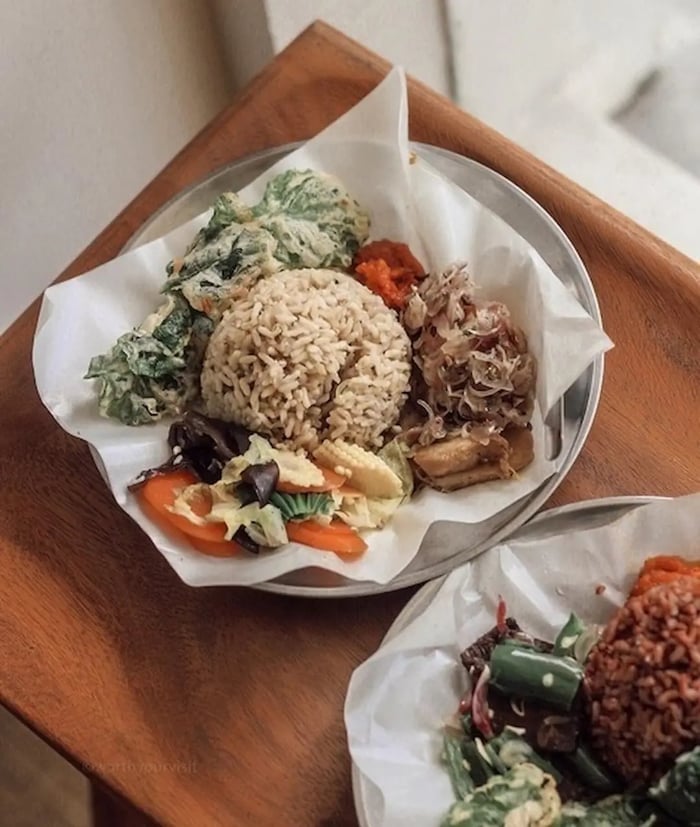 Tiasa Plant-based. Photo: Jakarta Vegan Guide
The name Tiasa translates to "be able to" in Sundanese. This eatery offers iconic Indonesian food in plant-based versions. Firmansyah recommends getting: Ayam Geprek, a smashed vegan fried "chicken" topped with sambal; Ayam Woku, a popular Manadonese yellow curry with basil leaves; and Nasi Campur Bali. He says, "If you want to try all the food that Indonesians are crazy about, you should visit Tiasa!"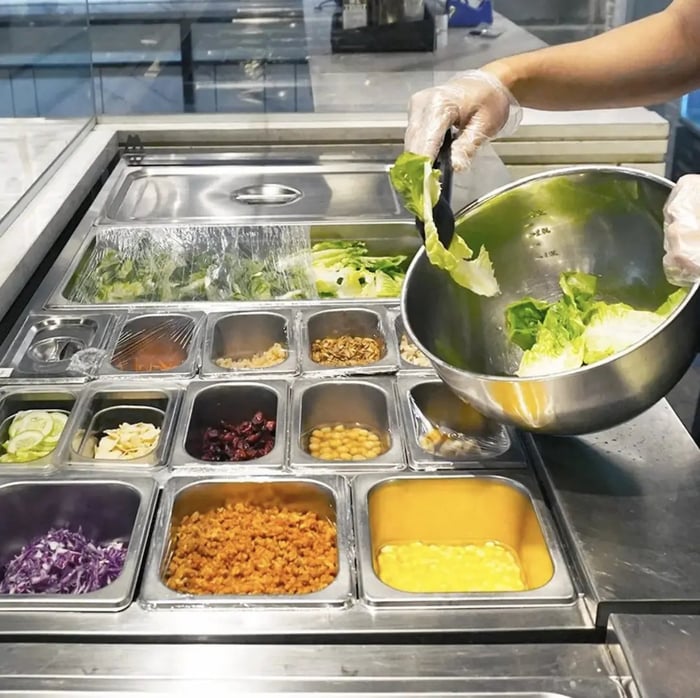 Bluezone. Photo: Jakarta Vegan Guide
Bluezone is at Senopati, Jakarta's busiest bar and culinary street. They take the whole food plant-based approach seriously; there's an option for everyone, whether it's a buddha bowl you're after or an acai smoothie. Firmansyah says, "You'll see a healthier side of plant-based dishes, which can be difficult to find in Jakarta." Want to switch up your smoothie? Get a freshly brewed kombucha on tap. Next to the cafe, you'll find a spot called Club Sehat Store, which provides all the vegan grocery necessities.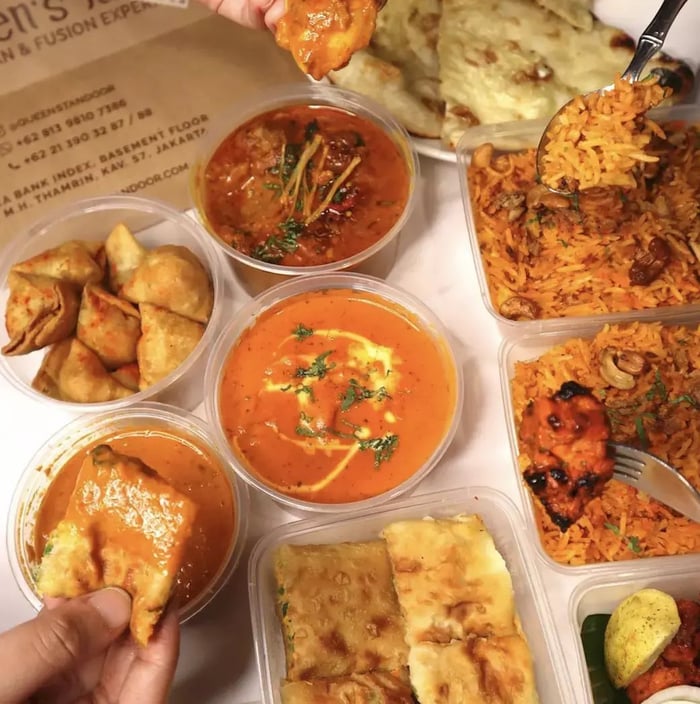 Queen's Tandoor. Photo: Jakarta Vegan Guide
Come here when you're craving hearty Indian food. Hop on the MRT (Mass Rapid Transit) and take a quick train ride to Queen's Tandoor, located in central Jakarta, and you'll get a serving of authentic Indian cuisine. Queen's Tandoor offers, as they say, the "true flavors of India since 1986." Firmansyah recommends ordering the classics, including a vegan butter chicken and naan – a combination you can't go wrong with.
Vegan Desserts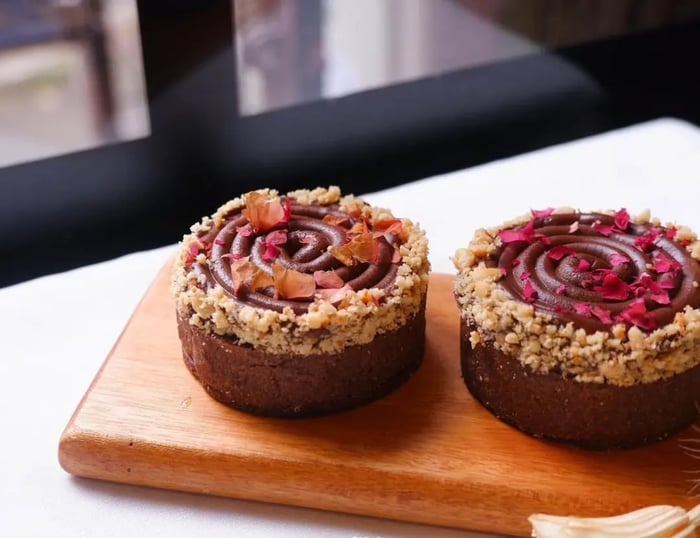 Rumah Juliet. Photo: Jakarta Vegan Guide
Top off your big feast with sweet treats from Rumah Juliet, at the nook of Jl. Alpukat. It might be a long walk to get here, but come hungry as you'll be rewarded with Salted Caramel Cake, a soft chocolate cake served with homemade caramel sauce, says Firmansyah.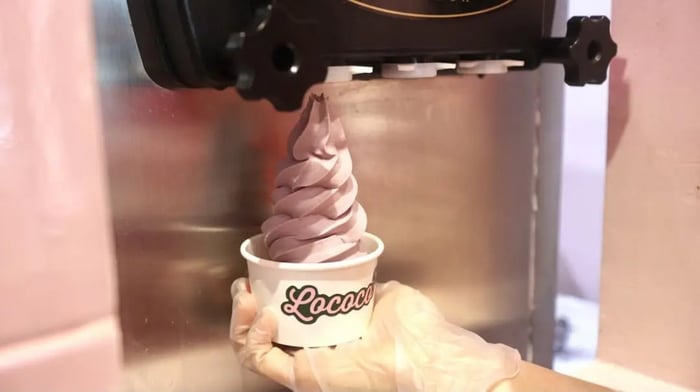 Lococo Creamery. Photo: Jakarta Vegan Guide
Lococo Creamery in South Jakarta makes their dreamy soft serve with almond and cashew milk, giving a creamy and smooth texture. If you're tired of sticking with classics, try their specially handcrafted specials like Uh Bae, Blue Moon, Cereal Mylk, and Caffe. Pro tip: they shuffle their flavors every day, so keep a lookout on their socials to find the day's flavors. Need some to take back home? They offer pint-sized versions of all flavors too.