Hong Kong lives up to its name for being a shopper's paradise and, more recently, as a vegan foodie hotspot as well. In 2021, Green Queen reported that 44 percent of residents in Hong Kong are switching to a plant-based lifestyle, mainly to protect animal rights and ethics. The second highest factor was related to practicing sustainability.
Michelle Wong, our contributor for this month's city guide, says, "The city is getting better. Hong Kong has made great strides in becoming vegetarian friendly, but still lacks awareness of veganism as a whole."
Besides restaurants serving vegan dishes, certain products have gained popularity, including Omnipork luncheon meat in McDonald's and plant-based items stocked in 7-Eleven and supermarket aisles.
Michelle is a final-year medical student from Hong Kong. During high school, she became interested in sustainability when she joined the Global Issues Club and learned about humankind's impact on the environment. This factor inspired her to become vegetarian during senior high. While she has not been able to transition to be fully vegan, she opts for vegan dishes and products as much as she can.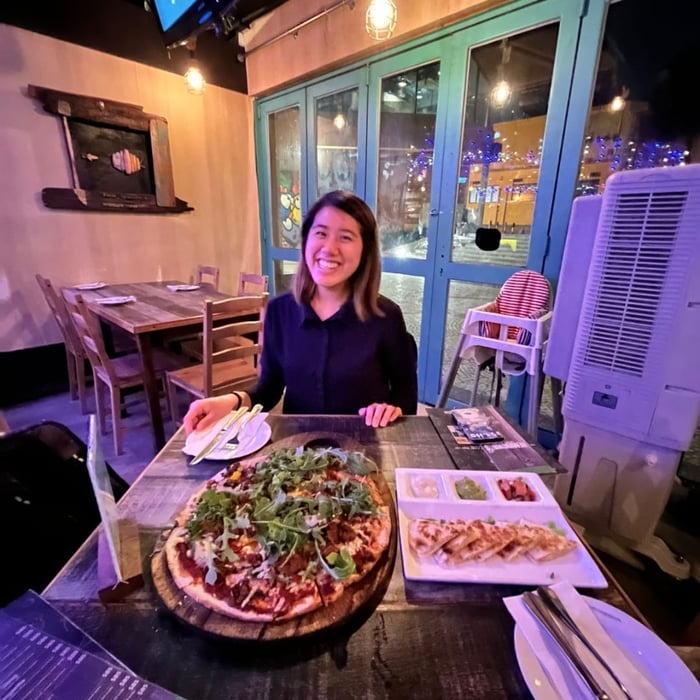 Michelle Wong from Hong Kong.
Are Hong Kongers moving to a vegan lifestyle? "The change is exciting, but I realized many do not understand the concept of veganism. When you dine in a typical restaurant, chances are the server does not know if the dish contains dairy or eggs. It becomes a challenge to find options that you're confident are vegan. There are still misconceptions around a vegan diet – being bland and not filling, but I hope over time these attitudes will change."
Here are Michelle's favorite vegan and vegan-friendly restaurants to dine at.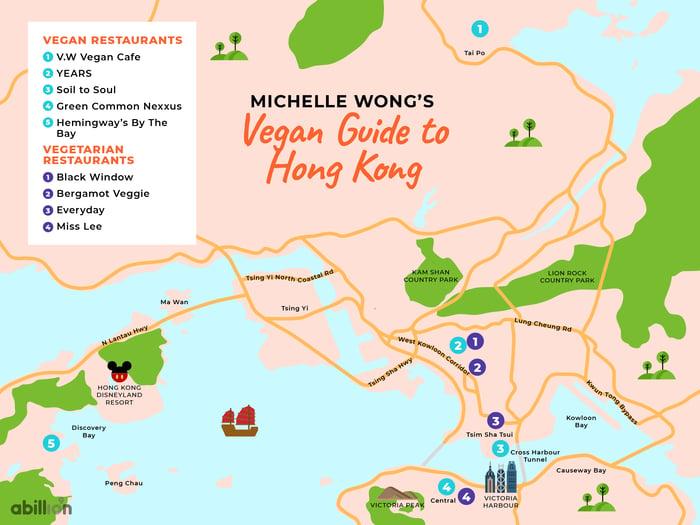 Vegan Restaurants
Since opening in 2015, Green Common has kickstarted the modern plant-based movement in Hong Kong with its plant-based grocery stores and restaurants. With nine locations around the city, it offers affordable vegan dishes crafted with ingredients that you can purchase in their outlets.
The co-founder of Green Common, David Yeung, also created OmniPork, a meat-alternative used in many of their dishes. Michelle recommends visiting their outlet in Nexxus for gourmet vegan dishes. The interior takes its cues from other branches with its turquoise-themed walls and wooden tables.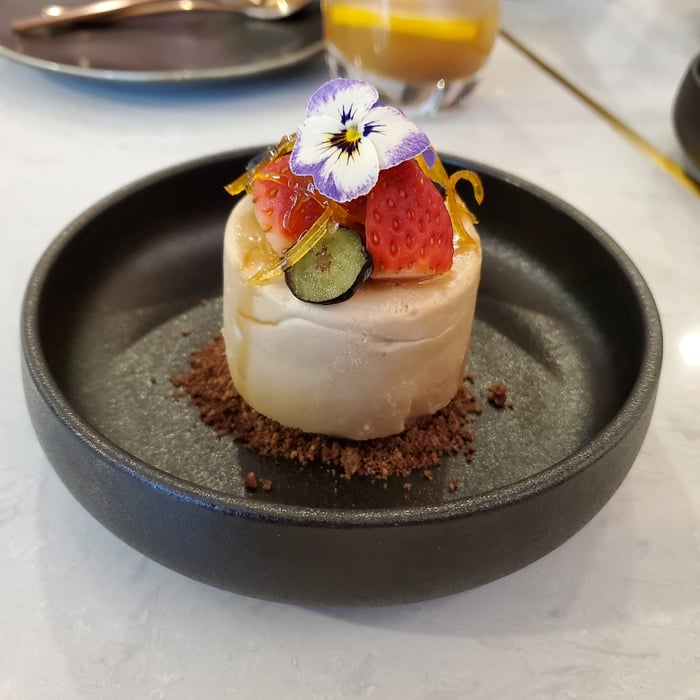 Cashew Cheesecake from Green Common. Photo: @moosewong
Here's what you should order: the Lolli-Omni Pork dish. It's deep-fried OmniPork balls glazed in a sweet and sour sauce on a stick, served with "popped" rice that can be rolled with the lolly for additional crunch. It's a fun and delicious dish when served hot. For dessert, get their cashew cheesecake, as Michelle calls it, "one of the best" vegan cheesecakes she's tried in the city.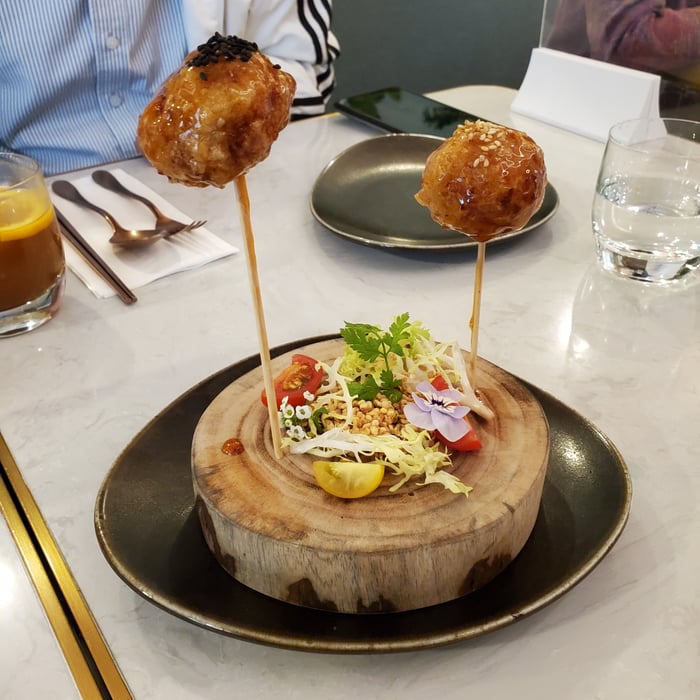 Lolli-Omni Pork from Green Common. Photo: @moosewong
YEARS has garnered a massive following amongst the younger generation. The store owners are passionate about supporting local businesses by selling their products and raising awareness. They have introduced three locations in just a few years, but Michelle still calls the original outlet her favorite. It's a homely place, with simple and modern decor. Tip: come prepared to wait unless you've made a booking which is only available for dinners.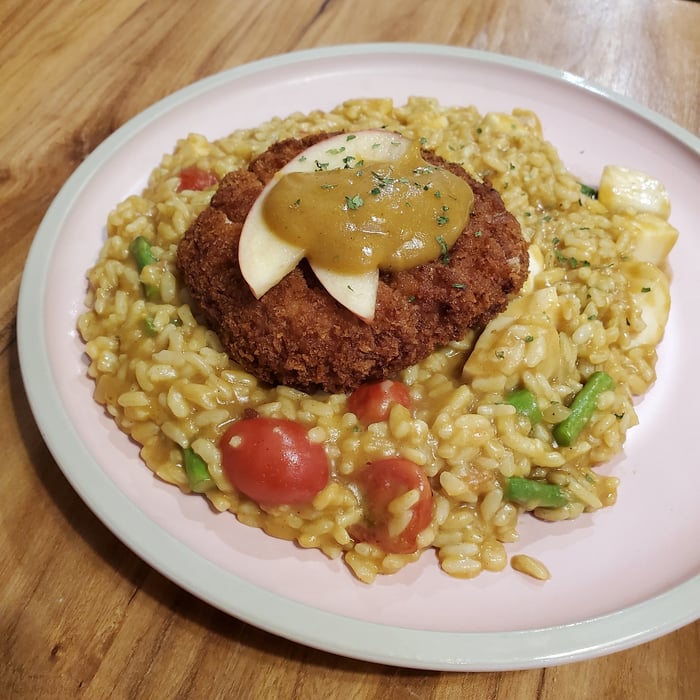 Omnipork Katsu Curry Risotto from YEARS. Photo: @moosewong
Order their risottos as Michelle says all their flavors are unique. They serve Asian-inspired options like Thai green curry, tom yum, and Japanese. For burgers, get their Impossible burger. While it is a pricey choice, it's delicious and flavorful. All their dishes, especially the pasta and rice, are served in larger portions than the regular serving size in Hong Kong.
Michelle recommends this spot because of the great ambiance, pleasant staff, and food. Although it has limited seating, there is no time limit for diners. She says, "wait for a day when you're not in a rush to enjoy their bakes and coffee."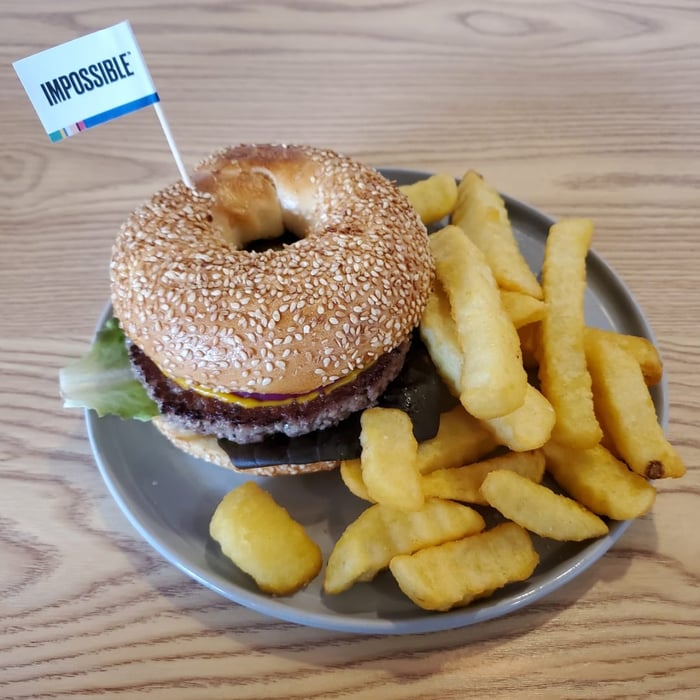 Impossible Burger with Chips. Photo: @moosewong
When it comes to food, the cakes and coffee are great, and you can choose between soy or oats. Michelle recommends getting the Impossible Burger with chips, and the handmade momos, with their thin skin and juicy filling, are also worth a try.
Soil to Soul is located in K11 Musea, a high-end shopping center next to the harbor. It's all about Buddhist temple fare served with a creative spin. Helmed by chef Chef Gu Jin Kwang, the dishes are inspired by his time in Korea. There, he encountered a Buddhist nun who taught him how to prepare temple vegetarian cuisine. All their plates are beautifully presented and taste as good as they look. Plus, many of their dishes use locally sourced ingredients and veggies, making many dishes seasonal. The decor is nature-focused, with soft lighting, wooden furniture, and rock carvings of mountains on the wall.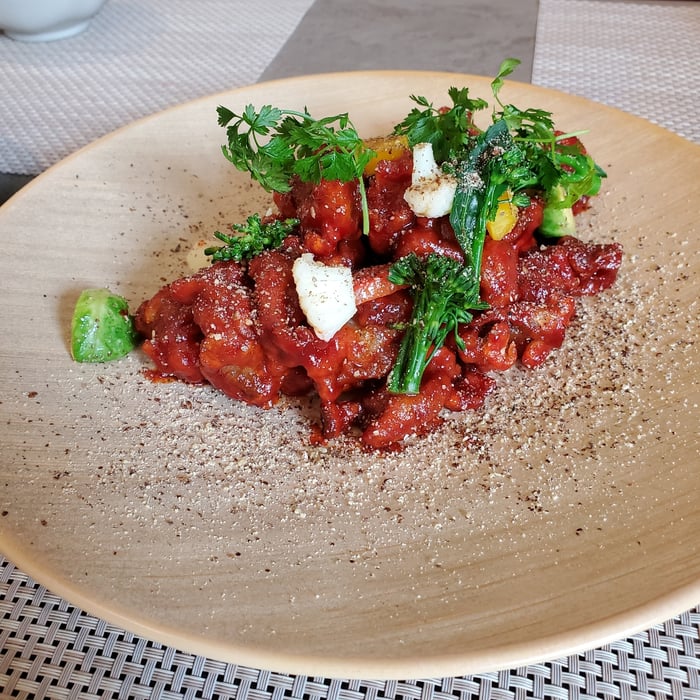 Sweet & Spicy Mushroom with Assorted Vegetables. Photo: @moosewong
Michelle recommends their sweet and spicy mushroom for spice-lovers, which is a great spin on the classic Chinese sweet and sour "pork." Look out for their dishes that contain ginseng (a herbal plant) because they're not a typical ingredient used in other cuisines. The bittersweet flavor is "unique," according to Michelle. Pro tip: the restaurant allows walk-ins, but if you want to get a discount, make a booking through Eatigo and get up to 40 percent off the a-la-carte menu.
It might take you a bit of traveling time to reach Hemingway's By the Bar, but the views and food make up for the distance. It's located in Discovery Bay, a resort town on Lantau island. The bar offers indoor and outdoor seating, with seats leading straight up to the beach. On certain days of the week, you can catch live music indoors too.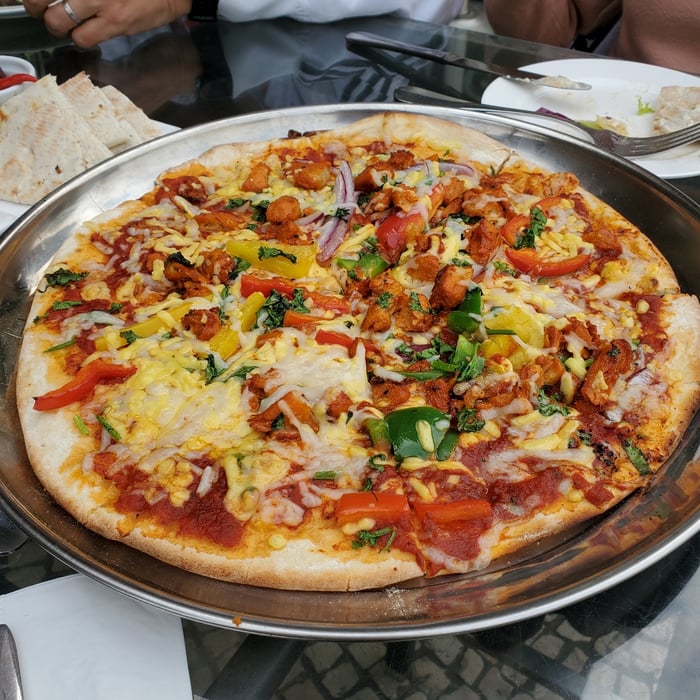 Chick'n Tandoori Pizza. Photo: @moosewong
Michelle recommends going for their pizza. She says, "They are super worth the price, have generous toppings and great vegan cheese." Besides food, they have a range of alcoholic beverages and mulled wine.
Vegetarian restaurants
Black Window is a cafe in the neighborhood of Sham Shui Po. The spot serves vegetarian fare and highlights which dishes are Buddhist-friendly or vegan. It's run by young people who want to promote healthier eating. The menu changes regularly, so Michelle suggests taking a look at their social media before popping by. She recommends getting their rice sets and cocktails.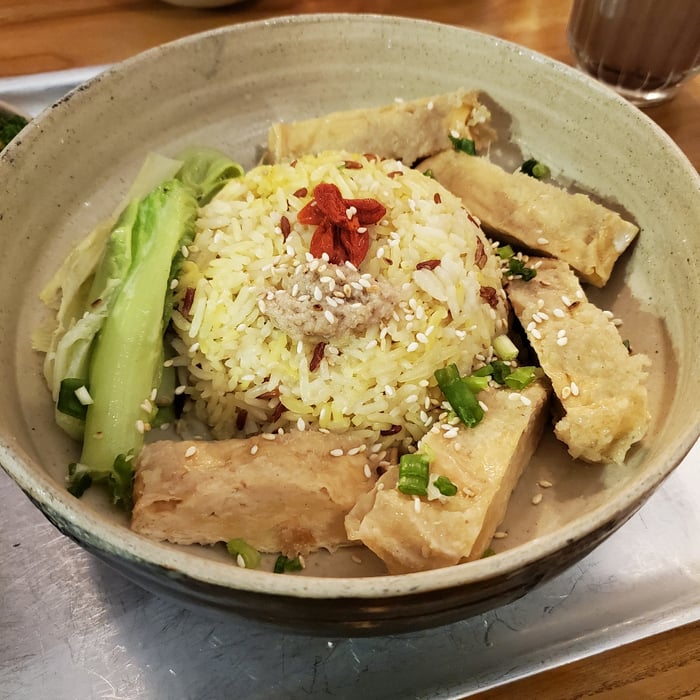 Steamed "Chicken Rice" with Fresh Sand Ginger and Coconut Fragrance. Photo: @moosewong
Before modern vegan food became popular, meat-free diets in Hong Kong were rooted in Buddhist principles. Michelle says, "Buddhist vegetarian restaurants are still the cornerstone of affordable, simple plant-based dining." However, the only limitation is that the menus are usually only in Chinese, and staff members may not be fluent in English.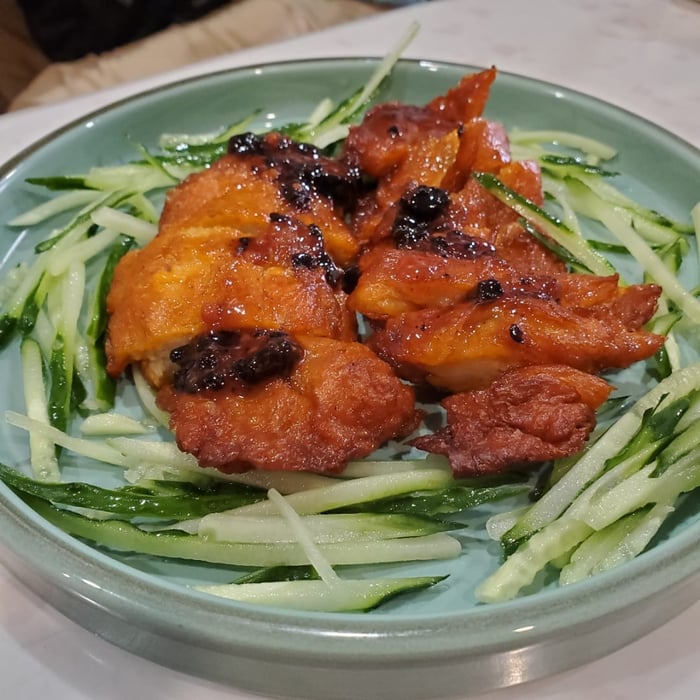 Char Siew with Honey Sauce. Photo: @moosewong
At Bergamot Veggie, Michelle recommends choosing the vegetarian take on Char Siu (BBQ pork), a sweet and crunchy dish that resembles the original meat item. The Laksa is mildly spicy and is topped with a generous amount of vegetables. Get their soup as well. It's healthy and homemade.
Until very recently, there's been a rise in vegetarian buffet options. While they may be limited in choices, they're also affordably priced and situated in convenient locations around the city. Everyday is one such restaurant and is perfect for a vegetarian diner. Michelle says there is an impressive variety of selections, including a salad bar, Chinese stir-fries, deep-fried foods, sushi, rice and noodle, dumplings and an assortment of Asian and western-style cakes. The best part? It's an all-you-can-eat buffet.
Right at the center of the city is Miss Lee, a modern vegetarian restaurant that serves dishes with a spin on traditional Chinese cuisine. Michelle really enjoys the vegan dishes here. She says the price might be higher, but it's reasonable for restaurants in the central district. Tip: make a reservation on OpenRice, so you don't have to wait in line.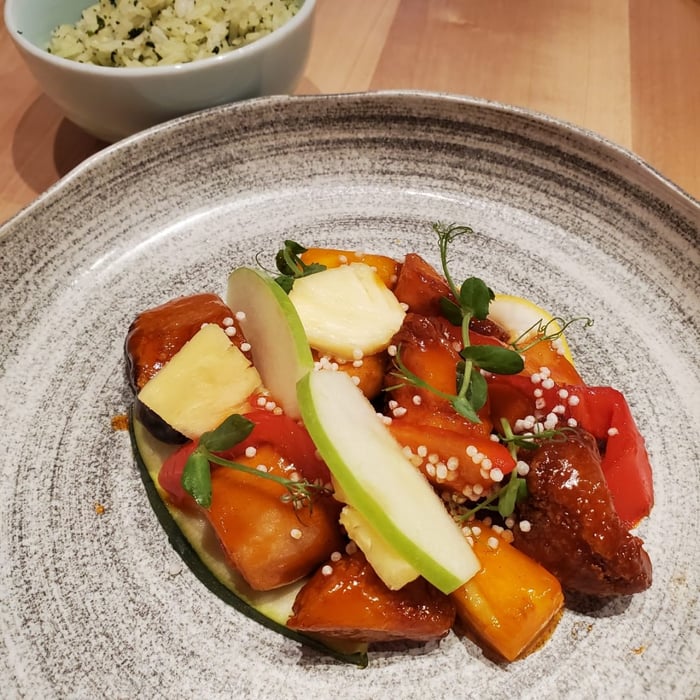 Photo of Fireballs dish. Photo: @moosewong
Michelle recommends trying the Misty Veil, a dish based on sesame shredded chicken. It uses king oyster mushrooms and gets wrapped in rice noodle sheets. The mushroom-based sweet and sour pork is surprising, too, with its green apple slices and puffed rice.
If you are in Hong Kong, do check out these recommended places. Let us know If you have more spots to suggest in the comments below. And, don't forget to add your reviews from your experiences on abillion. The more you review, the more you are helping both the community and the charity partners we work with.
Check out the Hong Kong collection here. If you're a member who is interested in sending your guide to your city. Comment below and one of our staff members will get in touch.