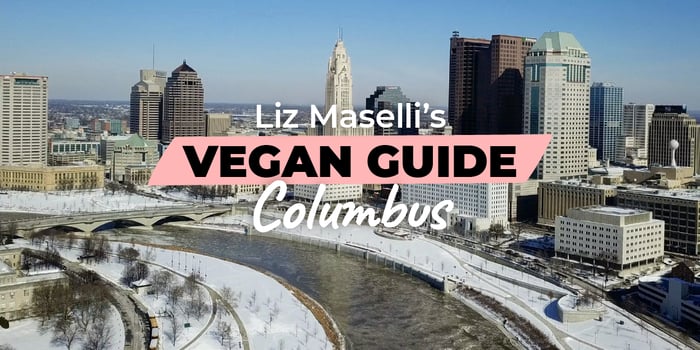 Ohio might not be the first US state when you think of "vegan-friendly," but its hip capital city is fast becoming a great place for vegans. Columbus is the fourteenth most populous city in the US. While the city is home to Wendy's, the fast-food chain with the little red-headed girl mascot, of recent, it has been the birthplace of some really exciting plant-based eateries that are making their name known across the country.
For this months' guide, we asked Liz Maselli, a hobbyist baker who enjoys taking animal photographs, for her assistance. Liz is also a volunteer with Sunrise Sanctuary, running their social media accounts.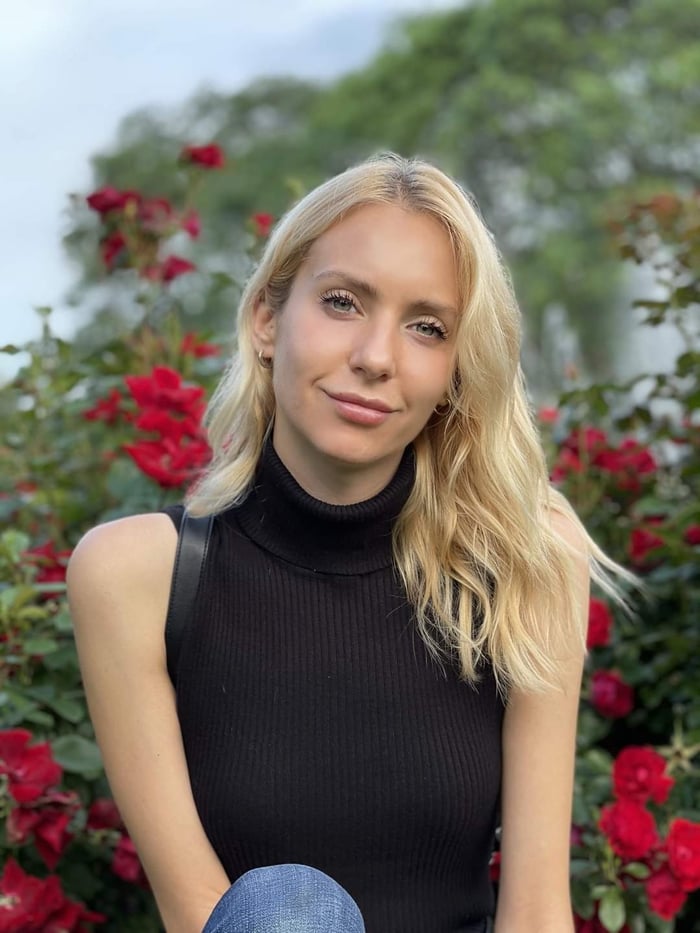 "Not only are there numerous all-vegan restaurants, food trucks, pop-ups, and bakeries, but also a variety of different vegan ethnic cuisines," says Liz. "From typical American fare and soul food to Chinese and Indian, as well as Ethiopian and others, Columbus offers a variety of delicious and authentic vegan options."
Her vegan journey started eleven years ago after watching an early release of Forks Over Knives. Although she was raised vegetarian, she was unaware of the horrors within the dairy and egg industry. The documentary helped change her perspective. After researching the topic, she went vegan overnight.
What's it like living in a vegan-friendly city? "I think Columbus truly has many forward-thinking, compassionate individuals who care about health, the environment, and of course, the animals. I feel lucky and geographically blessed."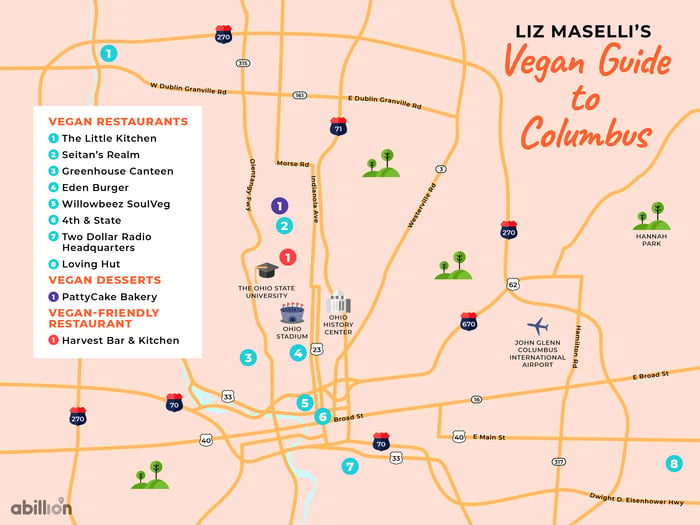 Vegan restaurants
It's vegan barbeque season all year round at Seitan's Realm. The business started as a food truck, later morphing into a restaurant in the Clintonville neighborhood. They were recently featured on USA TODAY as one of America's top 10 vegan BBQ spots.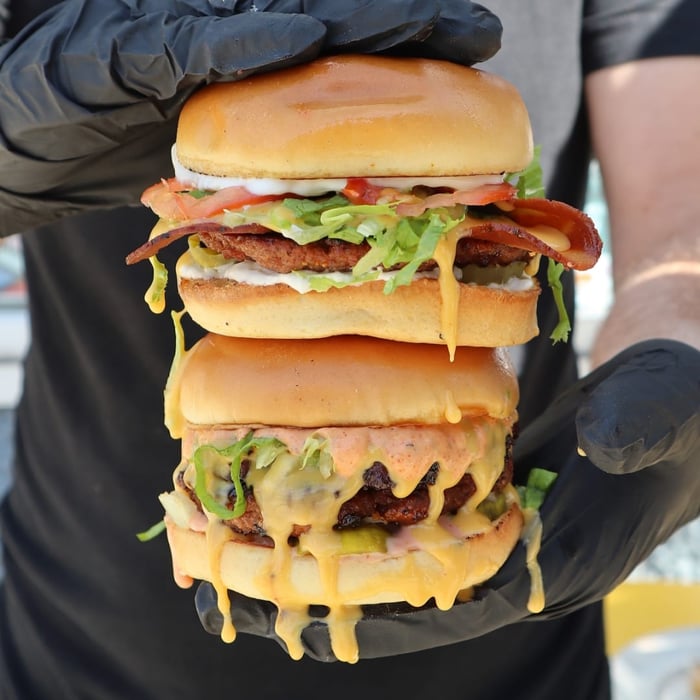 Bacon Cheeze Burger from Seitan's Realm
The restaurant specializes in seitan which is a meat alternative made from wheat gluten. Highlights include the Beef N Chedduh, a sandwich made with cheeze sauce and homemade Seitan's sauce served on a toasted onion roll, and their Notorious B.B.Q, a smoked porq sandwich with their signature barbeque sauce.
Liz says, "The Mac n' Cheese is so creamy and flavorful. It also comes with delicious buffalo chikun. I recommend anything with their signature B.B.Q. sauce." For desserts, go for their delicious peanut butter pie.
Eden Burger was founded by two young entrepreneurs as a place to make a difference in the world and peoples' lives through a plant-based diet. It was also one of the first spots in Columbus to offer vegan burgers, wraps and sandwiches. Their items are made mostly from tempeh, but some proteins can also be substituted with Gardein chicken patties when requested.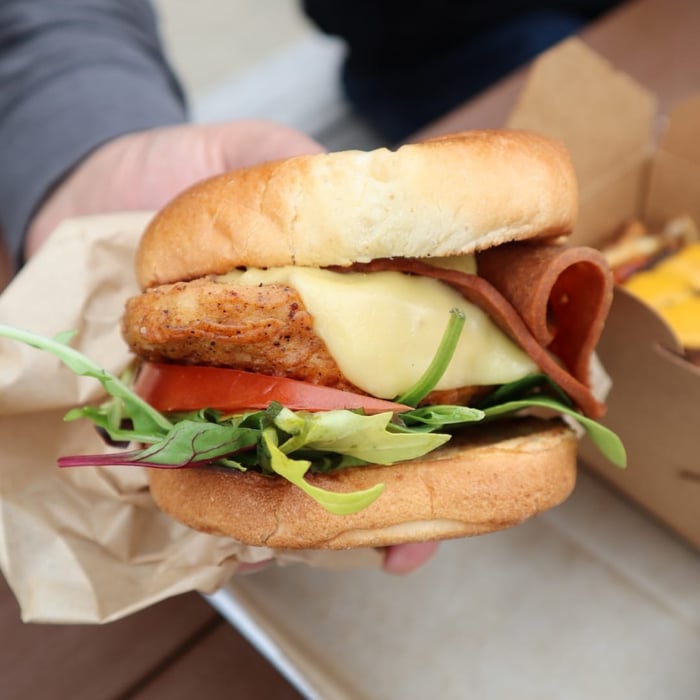 Chik'n Cordon Bleu from Eden Burger
Liz says, "They have creative weekly specials, so there's always a new combination to try. You can also enjoy special combo pricing on Mondays. I really love their signature mozzarella sticks and the many 'Crispy Chicken' sandwich variations." Must-tries from here are their Loaded Fries, that come in "super generous portions'' and the signature Eden sauce.
Bibliophiles should plan to spend an entire day at this indie bookstore. It was founded in 2005 and has a curated collection of independently published literature. Feeling hungry after all the reading? Head to their cafe. The menu is updated daily with unique ingredients, including lentil beef, walnut sausage, almond pesto, and zesty remoulade.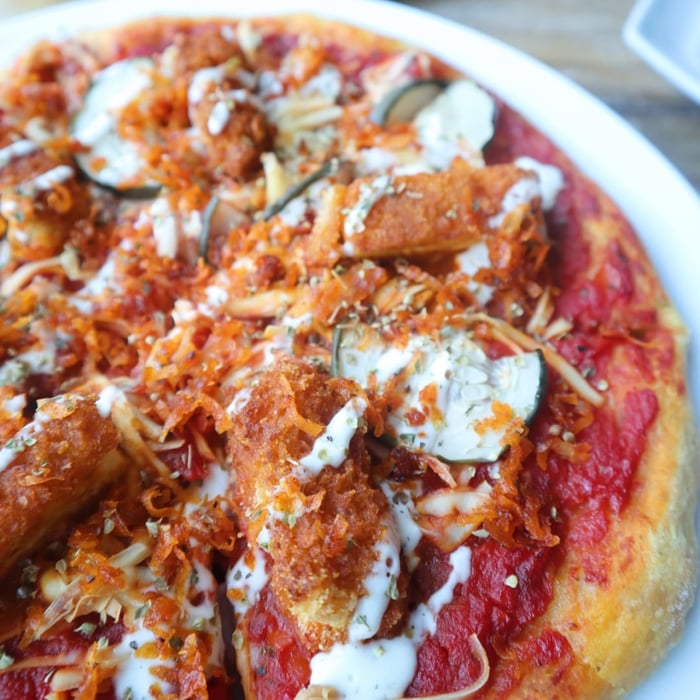 Official Pizza Of Eagle Fang Karate Dojo from Two Dollar Radio Headquarters
Thursday nights are devoted to pizzas with special toppings like coconut bacon, spicy breaded tofu, and lentil beef. While you're here, Liz recommends picking up their vegan cookbooks for some homecooking inspo.
Her other favorites are their house-made crust on pizzas' and cashew cheeses. Brunch mains like Breakfast Tortuga, a wrap filled with tofu, veggies, jalapenos, and Chilaquiles, a Mexican breakfast dish made with tortilla are also worth trying.
This food truck-turned-restaurant serves up healthy, vegan fare that the owners hope match their patron's moods. "Some days call for spicy, light [dishes] and others warm and hearty, but it's always delicious."
All their ingredients are organic and locally sourced. They strive to create as little waste as possible. Regulars often opt for their Wraps, as well as their Mac & Peas, which is an elevated version of your mac n' cheese made with cashew cheese and served with vegan bacon, cracked pepper, and crunchy onion.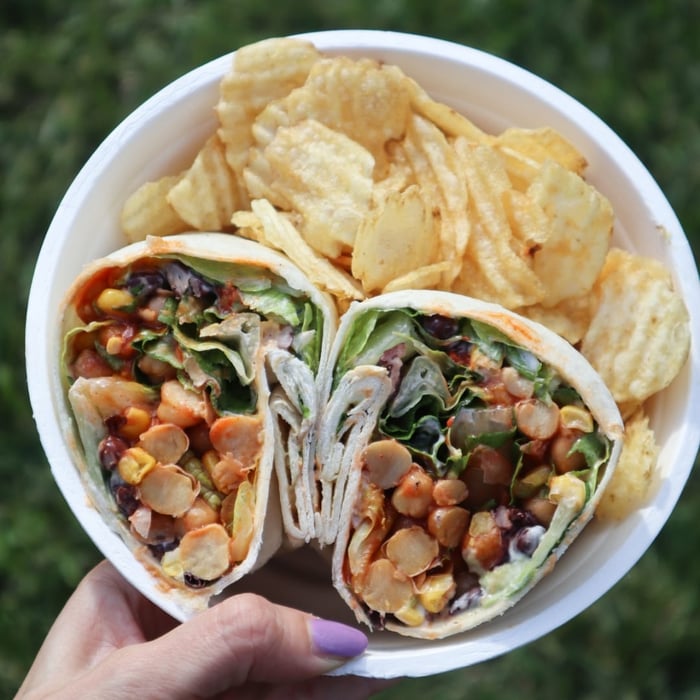 Buffalo Chickpea Wrap from The Little Kitchen
For pastries, their freshly baked tarts and doughnuts are worth standing in the queue for. Don't leave without trying the milkshakes, which come in seasonal flavors like Tiramisu, Frozen Hot Chocolate and Peppermint Chocolate Chip for the festive season.
This Australian restaurant opened their first US location in Columbus. "It has the prettiest dishes and drinks," says Liz. All their food is brightly presented, with fresh organic ingredients. The menu is gluten-free and has unique dishes like Chickpea Crepe Cannelloni and beautiful charcuterie graze boards.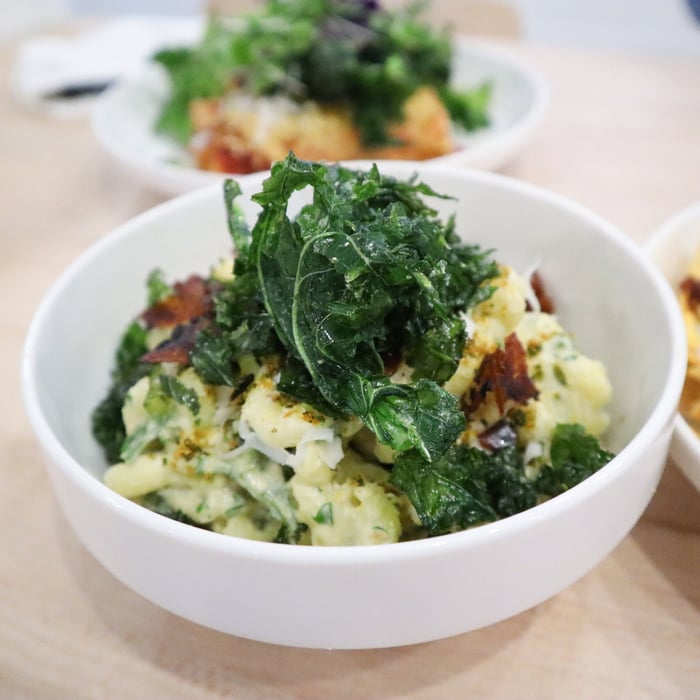 Mac N Cheese from Greenhouse Canteen
The bars are stocked with local beers and Australian wines, making it a great spot for date night or a celebratory dinner. She says, "Great care is taken in the food and drink presentation, bringing it to an almost artistic level, and the evening atmosphere is elegant."
This family-owned restaurant is located on the east side of the city and has been a long-time favorite for many in the vegan community. Most of their dishes are Asian-inspired, but they offer American entrees, soups, and sandwiches too. Liz also says, "There's a variety of well-loved local favorites, but one common theme from patrons is that customer service is second to none."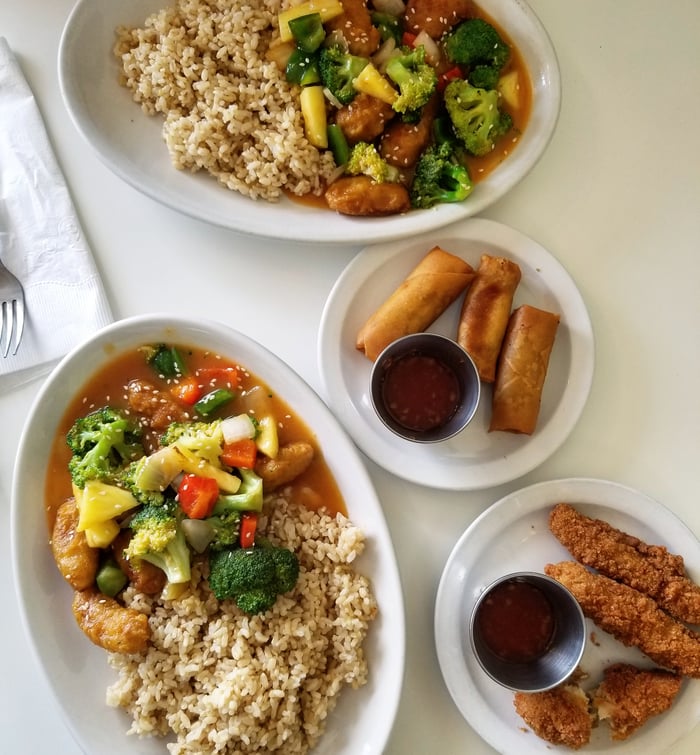 Orange Delight from Loving Hut
For appetizers, she recommends their vegan Golden Nuggets and any of their faux chicken entrees if you're craving Asian food. Then move on to the American Panini and the Potato & Kale Soup -- two of her favorites to complete the meal. To end your meal on a sweet note, dig into their cheesecakes or a slice of the carrot cake.
4th & State is a family-owned, upscale, vegan diner downtown that has you covered for breakfast, lunch, and dinner, seven days a week. They're known for their stuffed crust pizza but Liz also recommends ordering their Vrunch Wrap. It's a crunchy wrap loaded with soy chorizo, hash browns, cheddar cheese, and sour cream. She reviews it saying, "I really love the flavors of the crunchy wrap and the unique combination is perfection." Pancakes are a popular option too, especially the Cinnabun pancake.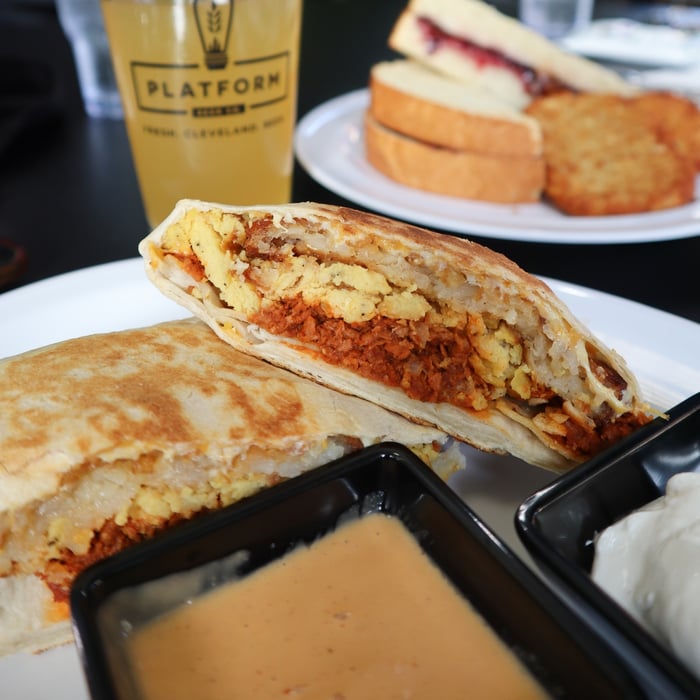 Vrunchwrap from 4th & State
Family-owned Willowbeez Soulveg is the first vegan soul food restaurant in the city. It is community-driven and passionate about serving delicious vegan food. It's located at North Market – the only public market in Columbus.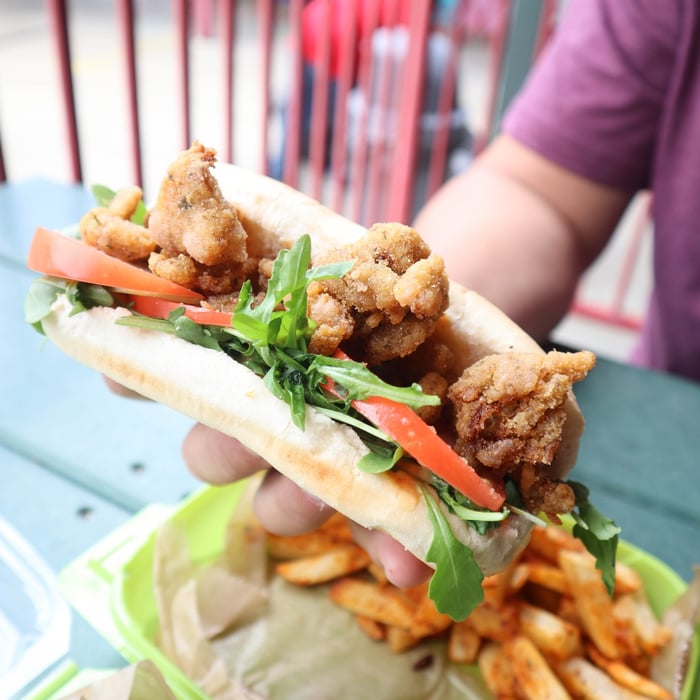 Rich Boi from Willowbeez Soulveg
Liz says, "The menu features many flavorful dishes and sandwiches with delicious complimentary sides." Their Banana-leaf fish fry and Rich Boi Sandwich, made with breaded oyster mushrooms, are favorites and both come with their delicious berbere fries. She recommends getting The Rebel Slaw and one of her all-time favorites, the Nelly Deli Wrap. Pro tip: get their wraps warmed and pressed.
Vegan Desserts
If waking up for freshly baked sticky buns on a Saturday sounds like your kind of morning, Patty Cake Bakery does exactly that. Saturdays are for special bakes, and the cinnamon glazed buns are a local favorite. As the first vegan-only bakery in the city, it's no wonder this location has been a long-time favorite for many in the community.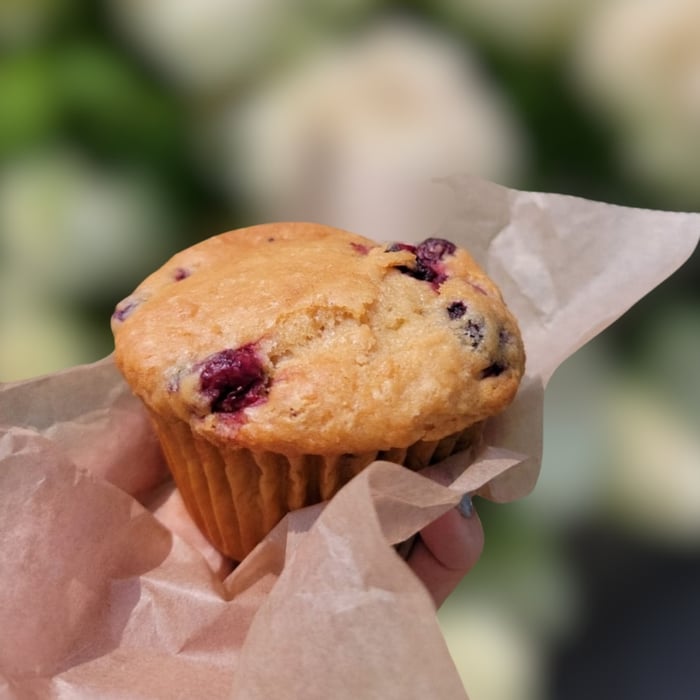 Cranberry Orange Muffin from Patty Cake Bakery
Liz says, "Everything is made with organic ingredients, with a good range of gluten-free options. They have a large selection, and I love their muffins, cookies, cupcakes, as well as their specialty cakes. They are all delicious!"
Vegan-friendly restaurants
On days when you want to upgrade your regular pizza, drop by Harvest Bar & Kitchen. The gourmet pizzeria works great as a lunch and dinner spot with four outlets around the city.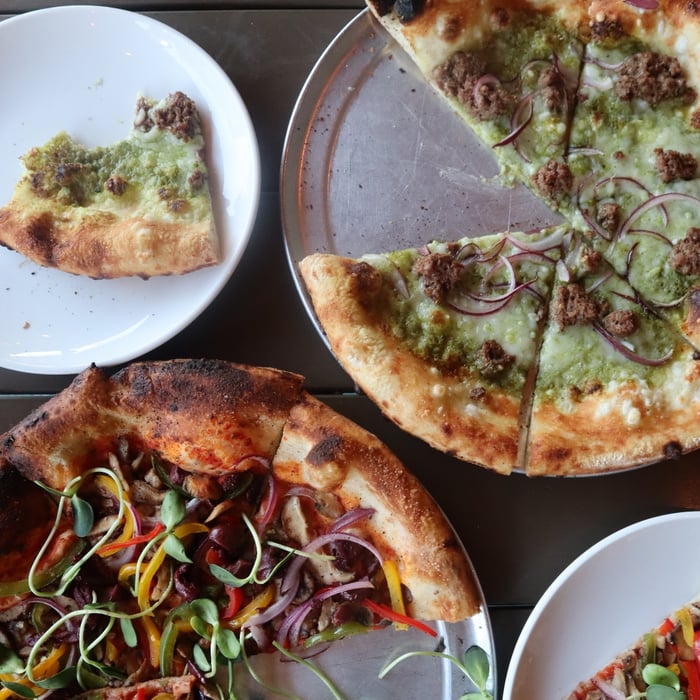 Sausage, Pesto Pizza from Harvest Bar & Kitchen
Liz's go-to pizza is the one with house-made vegan cheese and vegan meats. "They have a large variety of vegan toppings, and I love their vegan pesto sauce, which pairs nicely with their cheese and their faux meats, especially their faux sausage."
If you are in Columbus, do check out these recommended places. Let us know If you have more spots to suggest in the comments below. And, don't forget to add your reviews from your experiences on abillion. The more you review, the more you are helping both the community and the charity partners we work with.
Check out the Columbus collection here. If you're a member who is interested in sending your guide to your city. Comment below and one of our staff members will get in touch.