A melting pot in the truest sense, Bangalore is one of those cities that makes you fall in love with it almost instantly. India's very own Silicon Valley, boasting an amalgamation of cultures from across the country, the Garden City is a constant tale of growth, innovation, and excitement.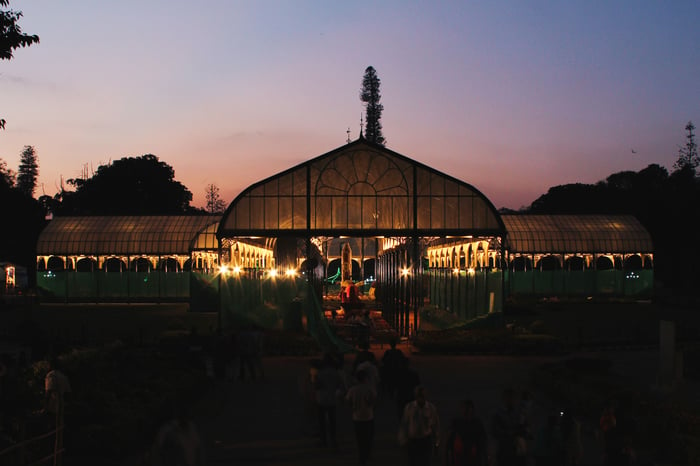 The glasshouse at Lal Bagh against Bangalore's twilight sky
Yes, the traffic can be excruciating, but the city doesn't disappoint – there's something for everybody here. If theatre is your thing, you can watch a play at Ranga Shankara or Jagriti out in Whitefield. Into music and local bands? Sway to live music at B-Flat, Hard Rock Café or one of the city's many pubs. Craft beer has been quite popular here, with new breweries or a stout at Windmills Craftworks, Bangalore is a beer lover's paradise. For the art aficionados, National Gallery of Modern Art or Rangoli Metro Art Center offers eye candy, while a drive around the Central Business District will throw to your notice beautiful street art adorning the city's walls and metro stations. If you're looking to unwind in the midst of nature, grab your running shoes and head to Cubbon Park, Lal Bagh Botanical Gardens, or one of the cities many parks that adorn every locality. Take a heritage walk to familiarise yourself with the city's old charm; stroll the streets of Malleshwaram or wander through the flower-lined trails of KR Market.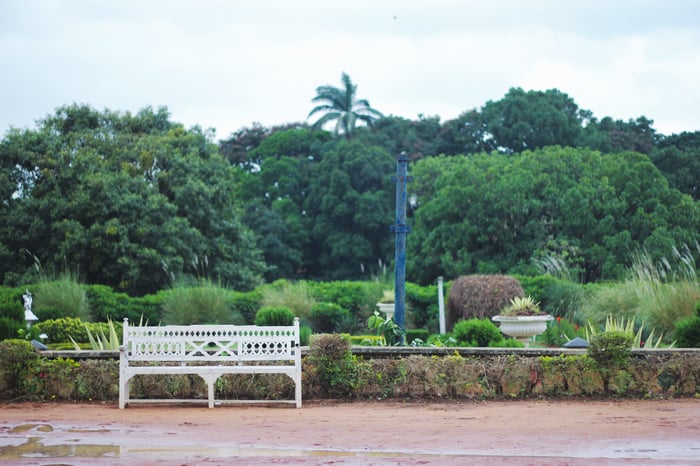 Courtyard of Bangalore Palace
Over time, the heavy influx of people has contributed to an ever-growing food scene in the city. There's something for every tastebud here – from a good millet dosa to a flavoursome bowl of ramen. Being vegan in Bangalore is actually quite easy, and becoming more so. As a vegetarian, I love the growing awareness of plant-based thinking here and how different culinary spaces in the city share an ideology of organic living, farm-to-table cooking, and sustainability. Most plant-based cafés I visited even sold their own products or goods, which revolved around making sustainable choices and promoting ecological living.
From India's first plant-based restaurant, to high-end gastropubs, to local darshinis, I'm going to take you through some of my favourite plant-based dishes across the metropolis I call home – this is Plant-Based & the city: Bangalore.
#1 Idli at a darshini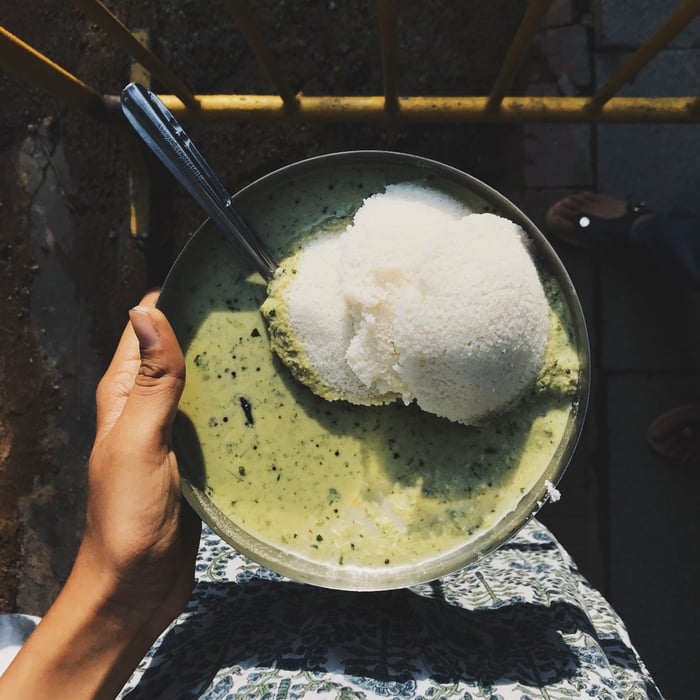 Idli from Taaza Thindi
Growing up in South India familiarises you with the city's popular, homely darshinis that serve up simple menus for breakfast and early evening snacks. These are India's own version of fast food joints - order, pick up, grab a seat or stand to eat, finish with a tea/coffee, leave and have someone else take your spot repeating exactly the same. I have included the names and addresses of my two favourite darshinis below. Widely vegetarian, the best plant-based option would be a plate of idli, a popular rice cake in South Indian cuisine made with fermented batter of black gram and rice. Served with either sambar or chutney, these savoury cakes make for the perfect healthy breakfast. Be wary though, as some darshinis like to serve their idli with a dollop of butter or use clarified butter, so it's best to check at the counter before you make an order.
Check out other dishes and reviews of Taaza Thindi.
Taaza Thindi, 1004, Main road, Jayanagar 4T Block, Bengaluru, Karnataka 560041
Check out other dishes and reviews of Brahmins' Coffee Bar.
Brahmins' Coffee Bar, Near Shankar Mutt, Ranga Rao Road, Shankarapura, Bengaluru, Karnataka 560004, India
#2 Carrots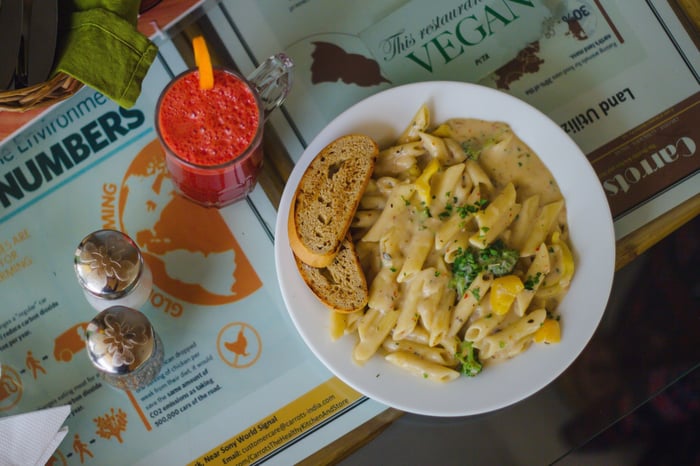 Garlic cream pasta
Proud to be India's first fully plant-based restaurant, Carrots welcomes you with a whole bunch of homely good vibes. They have everything one could dream of on their menu - whether you're looking for a Buddha bowl or a bottle of kefir to take home. I chose the three-course meal here, out of which the Garlic Cream Pasta stood out. The creamy soy and cashew based sauce left me cleaning up my plate. Their menu allows you to make conscious choices through health level indicators, with a guilt-free meal being H1 and an indulgent dessert being H3.
Sushmitha, co-founder at Carrots, graced my lunch with her delightful company and shared snippets of her 15-year long vegan journey. As she walked me through the menu, workshops and details about Carrots, I learnt about their wonderful initiative called The Good Karma Meal where extra food from the kitchen or meals paid by guests are stored in a fridge outside, which is accessible to those in need of food, no questions asked. How thoughtful!
Check out other dishes and reviews of Carrots.
Carrots, No 607, First Floor, 80 Feet Rd, 6th Block, Koramangala, Bengaluru, Karnataka 560095
#3 JustBe Cafe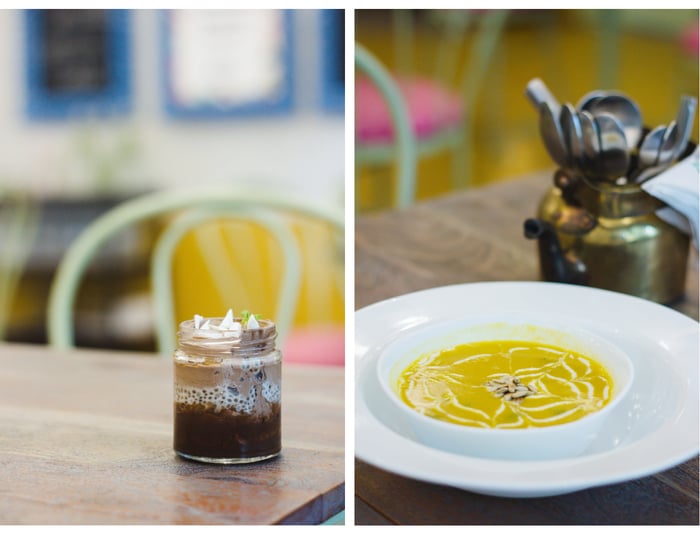 Chocolate and chia pudding (left), smoky squash (right)
This tastefully done up café houses a little store inside and is one of the city's plant-based whole food restaurants. A conscious kitchen serving food made of unrefined ingredients, Just Be's menu offers no-fuss options like a whillet (wheat and millet) pizza or a wholesome tofu sandwich. I wasn't too hungry so I ordered a simple Smoky Squash soup, topped with spiced sunflower seeds. A hearty warm bowl of goodness, it's was just what I was looking for as a light lunch. My meal ended with a decadent chocolate & chia pudding - the perfect combination of chocolaty goodness & guilt-free indulgence.
Check out other dishes and reviews of JustBe Cafe.
JustBe Cafe, 383/31, 13th Cross Rd, Sadashiva Nagar, Armane Nagar, Bengaluru, Karnataka 560080
#4 Toast & Tonic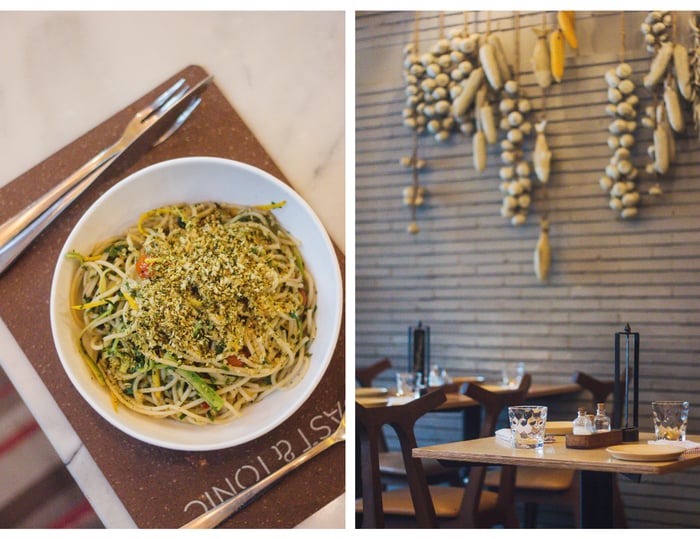 Spaghetti caccio e pepe (left)
True to their New York East Village inspiration, their food & bar menu blends multifaceted flavours in an uninhibited manner. Dressed in earthy tones and farmyard elements, Toast & Tonic is my go-to for a delicious meal that never disappoints. Chef Manu Chandra's innovative menu collates dishes that are a fusion of cuisines, made with ingredients sourced from local producers. Though plant-based options are limited, the staff here will help you out with something to suit your palate. On one of my visits here, I ordered their Spaghetti Cacio e Pepe, a beautiful bowl of balanced flavours with zucchini ribbons and hints of gondhoraj & pepper. Don't forget to grab a gin & tonic on your visit here! Made with their in-house tonic water, the British Raj definitely stands out for me with an addictive combination of cinnamon, pomegranate, rose & cucumber - you'll be left asking for more.
Check out other dishes and reviews of Toast & Tonic.
Toast & Tonic, 14/1, Wood Street, Ashok Nagar, Bengaluru, Karnataka 560025
#5 Happy Healthy Me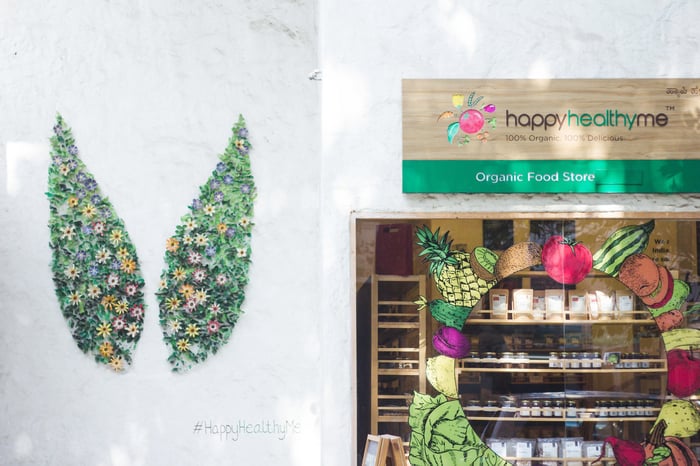 Nestled in a quiet lane in Indiranagar, Happy Healthy Me's is India's first 100% certified organic food brand and grocery store. Their café has all plant-based dishes, with their famous super food thali and a choice of healthy smoothies. During my visit there, I tried their seasonal 3-course menu, Hello Summertime, curated by guest chef Sarah Edwards of Copper and Cloves. I began my meal with a Chilled Watermelon Gazpacho, a sweet-sour combination of tomato and watermelon with hints of garlic and basil. The highlight of this meal was the main course - refreshing Cherry Tomato Chayote Salad doused in pomegranate molasses, a Miso-Roasted Chickpea and Pumpkin Salad with bottle gourd ribbons and Quinoa tahini stuffed bell pepper - all so delectable and loaded with organic goodness. The Lemon Cheesecake was a great tangy sweet end to my meal. While this menu is limited only for the season, I'll be sure to try their thali on my next visit!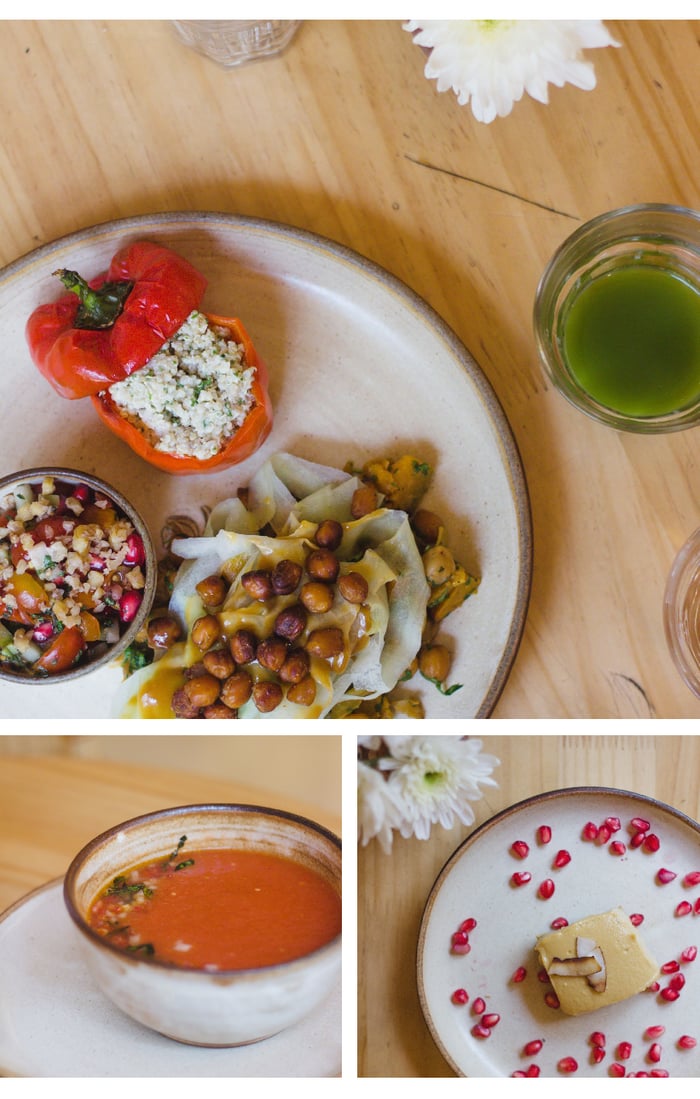 Farm to table trio, lemon cheesecake, watermelon gazpacho (clockwise from top)
Check out other dishes and reviews of Happy Healthy Me.
Happy Healthy Me, 660, 12th Main, 1st Cross, HAL 2nd Stage, Indiranagar, Bengaluru, Karnataka 560038
#6 Cafe Kaara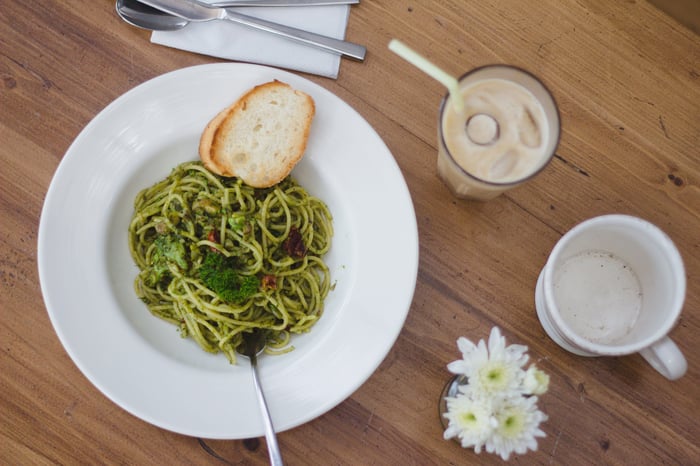 Basil pesto aglio olio
Nestled along a busy street, Cafe Kaara is a great spot for a meeting or grabbing a quick bite while you're in the central part of town. This little labour of love is run by Radha, a chef with a mind for flavour and a philosophy of simplicity. Radha's menu consists of her own recipes made with ingredients she uses in everyday cooking. Though plant-based options are less in number than a full vegan restaurant, my meal here did not disappoint. Radha whipped up a delicious bowl of spaghetti with basil pesto and cherry tomatoes with a coconut milk based cold coffee. The fresh pesto and coffee made for a perfect summer lunch.
Check out other dishes and reviews of Cafe Kaara.
Cafe Kaara, 29, Ulsoor Rd, Yellappa Garden, Yellappa Chetty Layout, Sivanchetti Gardens, Bengaluru, Karnataka 560042
#7 Go Native
Paddu (left)
Go Native's farm-to-table philosophy provides a perfect balance of authentic Indian recipes with being ecologically conscious. With a seasonal menu based on availability of produce, they have some plant-based, gluten-free and Jain-friendly dishes. I ordered my favourite South Indian dish, Paddu/Paniyaram - crispy rice dumplings with a stuffing of corn and grated carrots, served with a mildly spiced tomato chutney & the perfect sambar (lentil soup). They also serve cold pressed juices. I chose the Metabolism Booster, a delicious blend of beetroot, ginger and watermelon. This café in a restored bungalow hits all the right feels in terms of their ambience and while you wait for your order, you can indulge in some retails therapy at their artisanal store.
Check out other dishes and reviews of Go Native.
Go Native, 64, 10th Main Rd, 4th Block, 5th Block, Jayanagar, Bengaluru, Karnataka 560041
#8 Burma Burma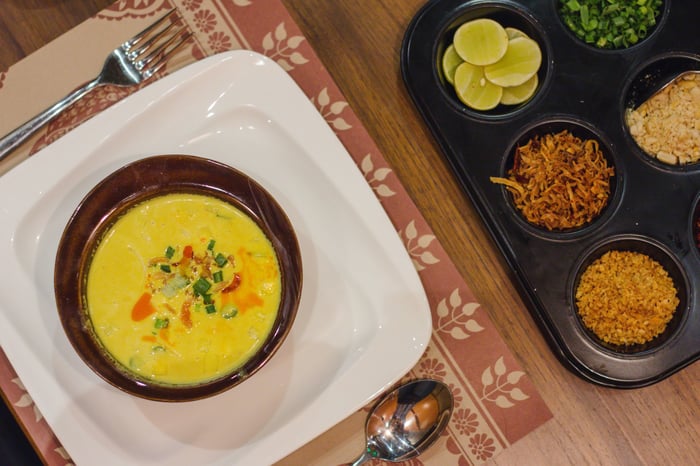 Khao suey
Fusing Burmese cuisine with a tea room catering to every mood and tastebud, Burma Burma is one of my new favourites in town. Their all vegetarian menu has a plethora of options to choose from: whether you're thinking of a bowl of salad or soup or delicious sticky rice and stir fries, there's something for every. Out of everything I tried here, their Salad (thoke) Sampler & Oh No Khao Suey stood out for me. My platter of salad was a combination of Sunflower Leaf Salad, a Tea Leaf Salad and a Raw Mango salad, all of which screamed freshness and well-balanced crisp flavours. The Khao Suey is a humble one pot meal, with noodles loaded up in a coconut milk base, boasting hints of lemongrass and tamarind and served with typical toppings in a muffin tray.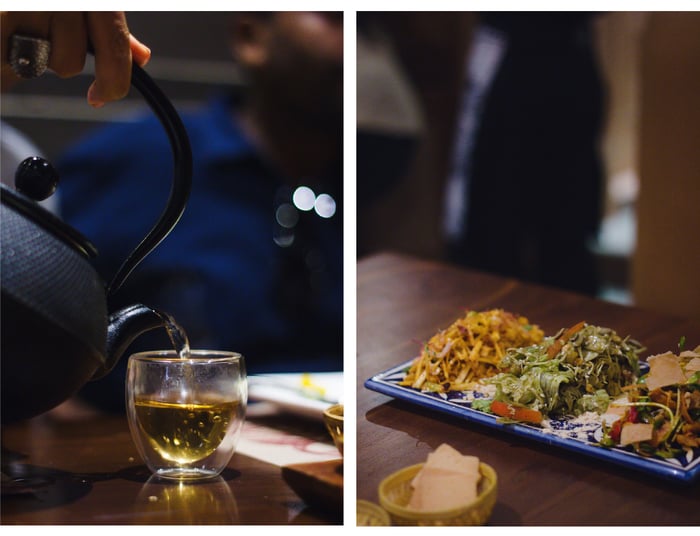 Thoke sampler (right)
Check out other dishes and reviews of Burma Burma.
Burma Burma, 607, Ground Floor, 12th Main Rd, 7th Cross, HAL 2nd Stage, Indiranagar, Bengaluru, Karnataka 560038
#9 Chinita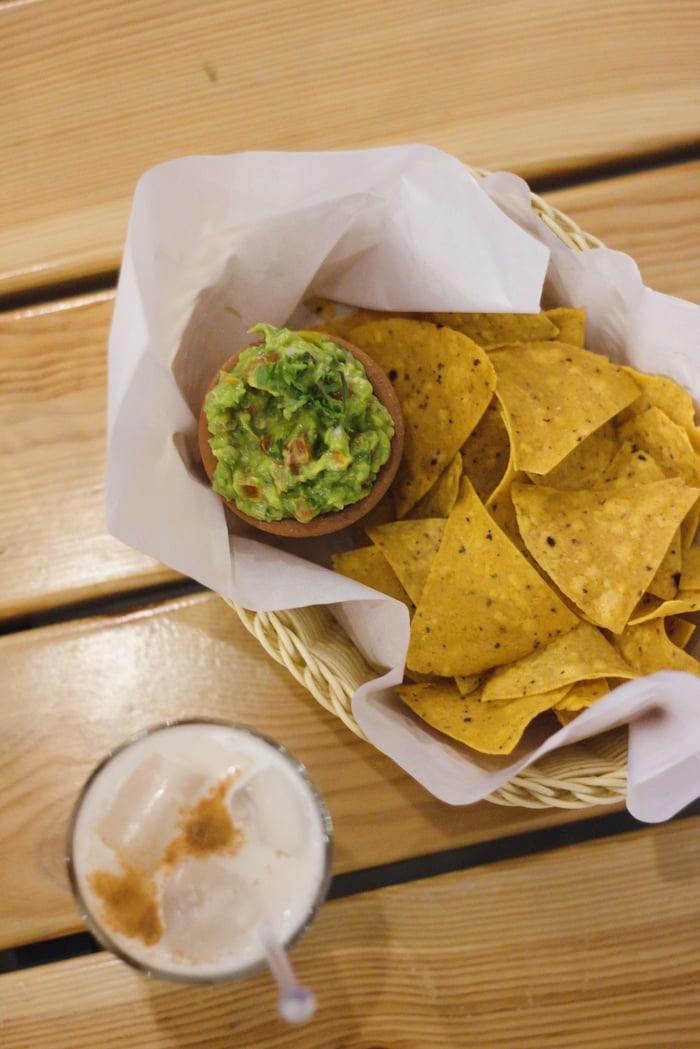 Nachos and guacamole
Chinita is perhaps the only place in Bangalore that serves real Mexican fare and it is an absolute delight. Their Indiranagar branch is packed all the time, so head early to grab a seat and enjoy the no-frills cosy vibe. I usually start my meals here with their Almond Horchata, a nuanced almond & rice based beverage with a hint of cinnamon. The burrito bowls and tacos can be made vegan-friendly upon request - their sweet staff suggested I go with a Soyrizo & Potato Tostada and Roasted Zucchini & Corn Taco, both made with yummy cashew cheese and pico de gallo. And of course, a side of their corn nachos with super fresh guacamole.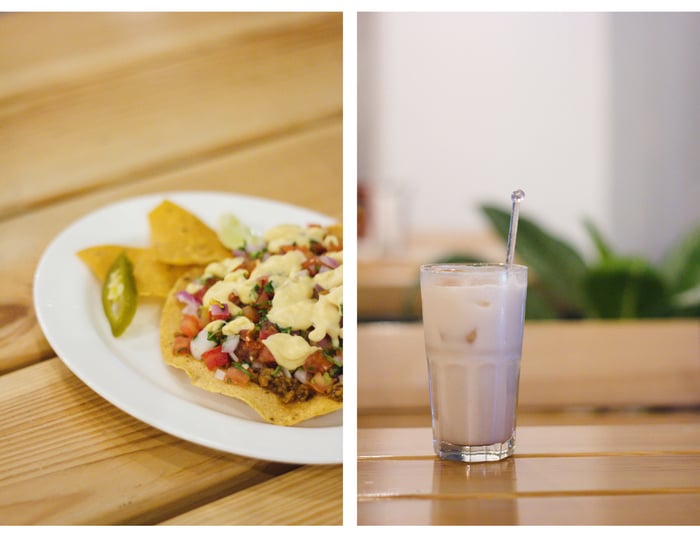 Soyrizo & potato tostada (left), Almond horchata (right)
Check out other dishes and reviews of Chinita.
Chinita, 318, 6th Main Rd, HAL 2nd Stage, Defence Colony, Indiranagar, Bengaluru, Karnataka 560038 | 25, 5th Cross Rd, 5th Block, Koramangala, Bengaluru, Karnataka 560095
#10 The Fatty Bao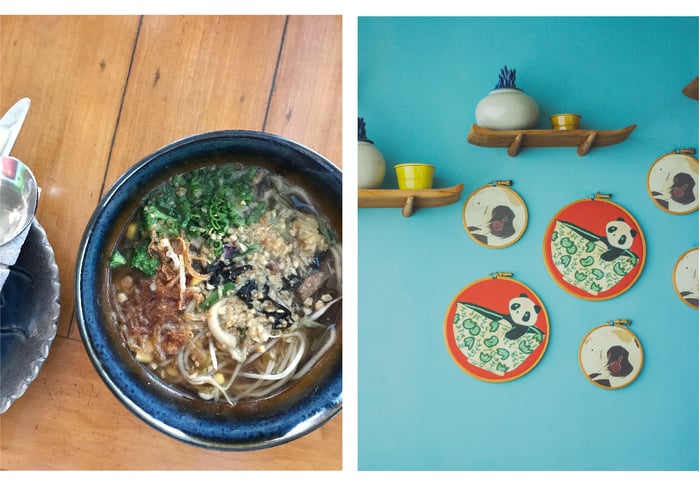 Exotic mushroon ramen (left)
My last recommendation has to be my absolute favourite - a comforting big bowl of ramen at Fatty Bao, the best (in my opinion) Pan-Asian restaurant in the city. Everything from the palatable food to the colourful, quirky interiors is hard to miss when you're there, but easy to miss when you leave. And what's harder to forget and easier to enjoy than a bowl of soupy goodness loaded with mushrooms, smoked corn, garlic and scallions? If you're looking for something fresh and wholesome, the Exotic Mushroom Ramen is the perfect meal for one. Their menu has limited plant-based options but if you're looking for scrumptious ramen, curries and rice, this is the perfect place.
Check out other dishes and reviews of The Fatty Bao.
The Fatty Bao, 610, 3rd Floor, 12th A Main Road, 80 feet Road, HAL 2nd Stage, Indira Nagar, Bengaluru, Karnataka 560008