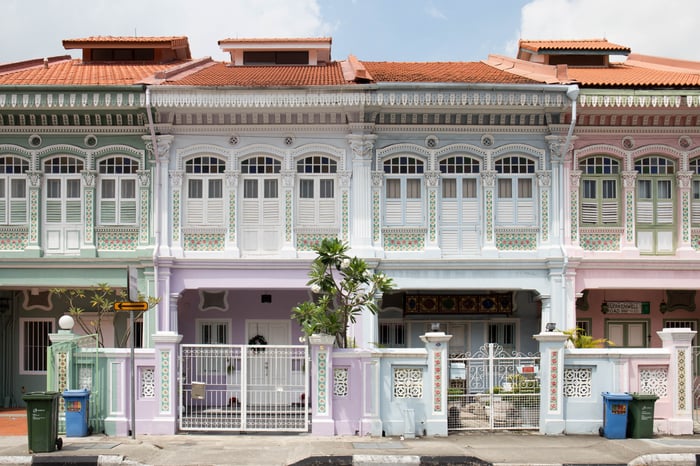 Peranakan shophouses in Joo Chiat
Want to make friends in Singapore? Start by talking about food. Food is serious business here, and whether you're talking about pocket-friendly hawker centres or Michelin-starred restaurants, there's something for everyone. While the term "plant-based" usually has people scratching their heads, most restaurants here understand the difference between vegetarian and vegan.
There isn't another place in the world quite like Singapore. The country's rich history and culinary traditions stem from hundreds of years of trading with cultures near and far. Come to Singapore and you'll see an amazing mix of Chinese, Malay, and Indian food. What the locals call Peranakan fare might just be the world's first fusion cuisine! Whether you're looking for traditional Asian or something more contemporary or Western, we've got you covered with the best plant-based options on the menu right now.
. . .
Most of us flock to Indian cuisine when we want something spicy that's also vegan, but if you're really after something that's going to dial up the intensity, skip the Indian food and head for one of Singapore's amazing Sichuan restaurants.
Sichuan is a province in Western China famous for its pandas and striking natural wonders. But for many, the real treat is the numbing sensation from Sichuan peppercorns and chili peppers found in many of the regions' most famous dishes. We've highlighted some of the best places in Singapore to take it all in.
#1 SHISEN HANTEN BY CHEN KENTARO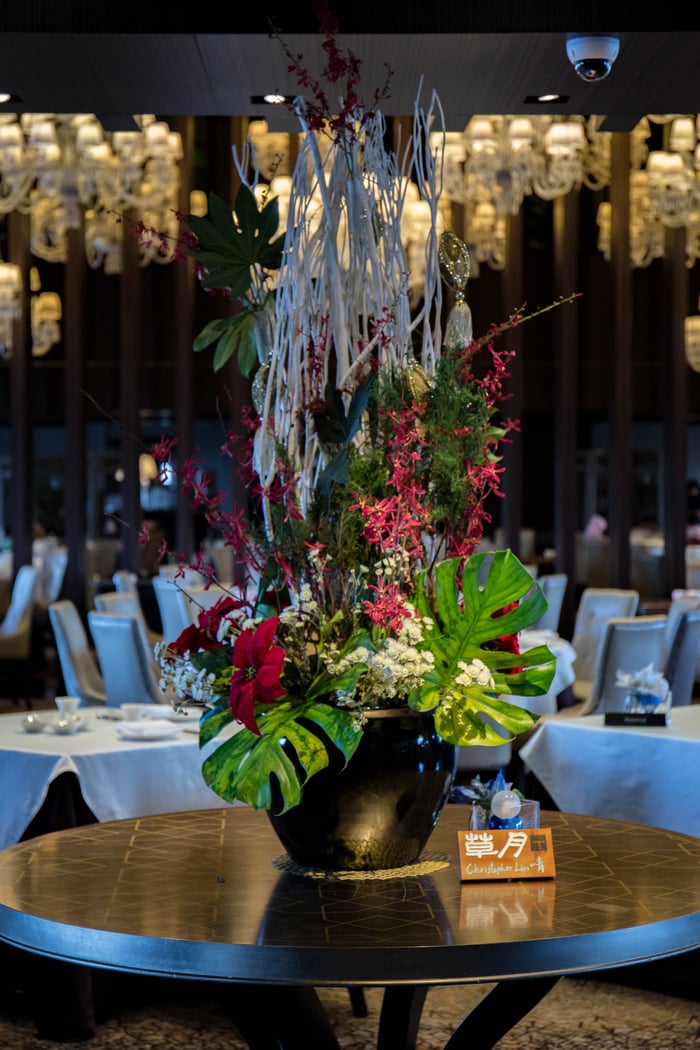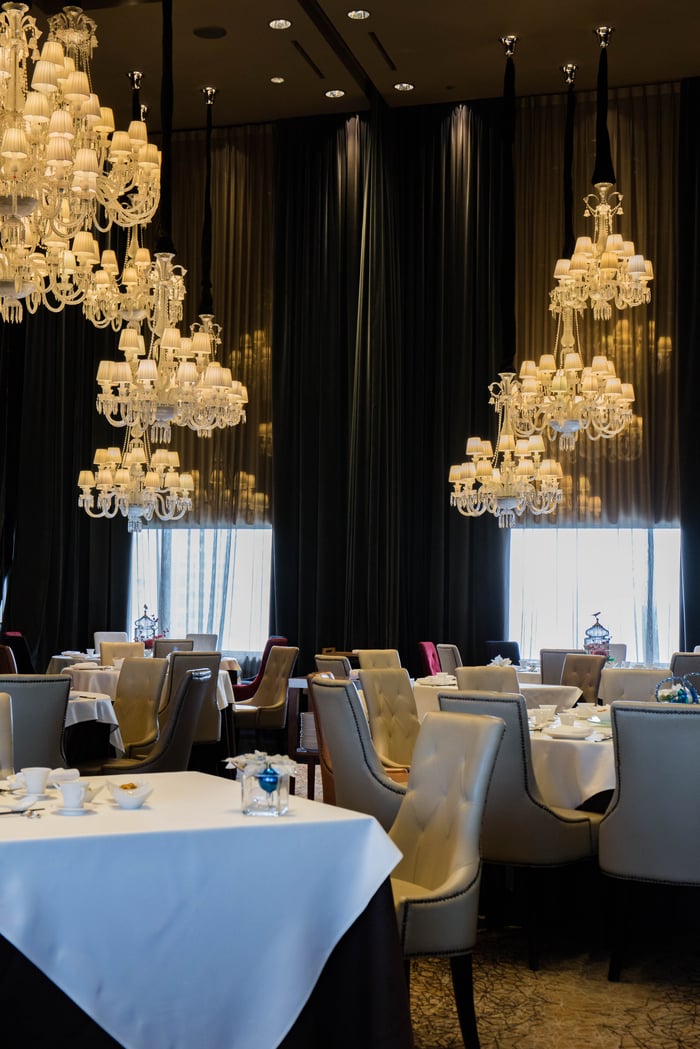 Shisen Hanten's grand and elegant interiors
Whether you're taking a lunchtime break from shopping on Orchard Road or need a place to impress a date or business partner, there couldn't be a more beautiful dining room in Singapore than Shisen Hanten, perched on top of the Mandarin Orchard Hotel. If it weren't for the amazing food and flawless service, one might think this Michelin 2-star restaurant was a showroom for Baccarat chandeliers!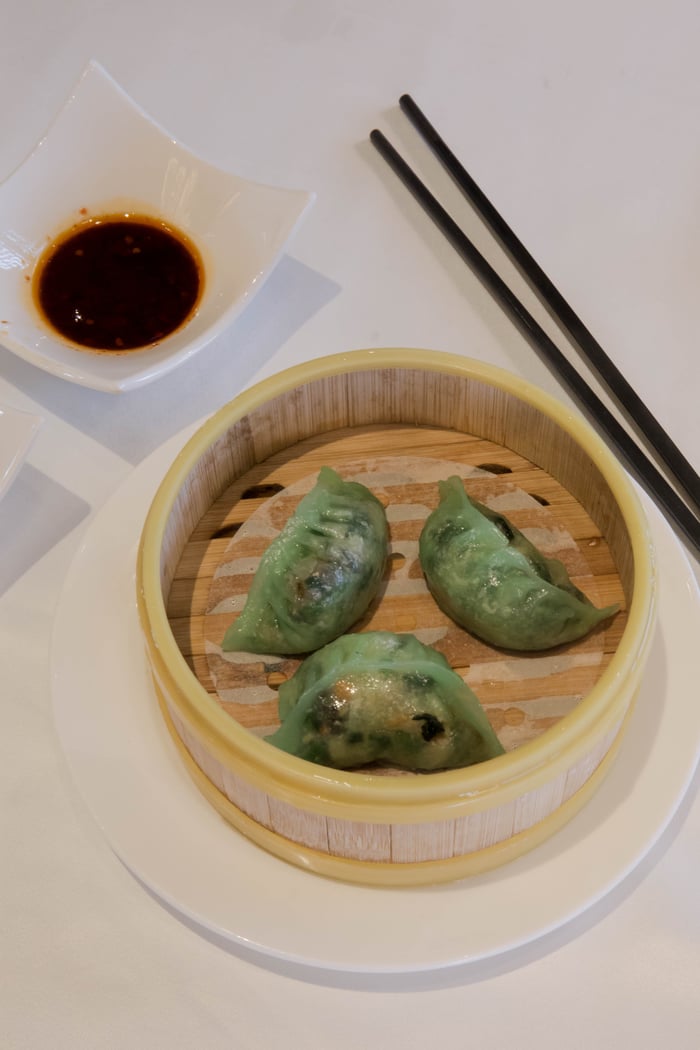 Vegetarian Dumplings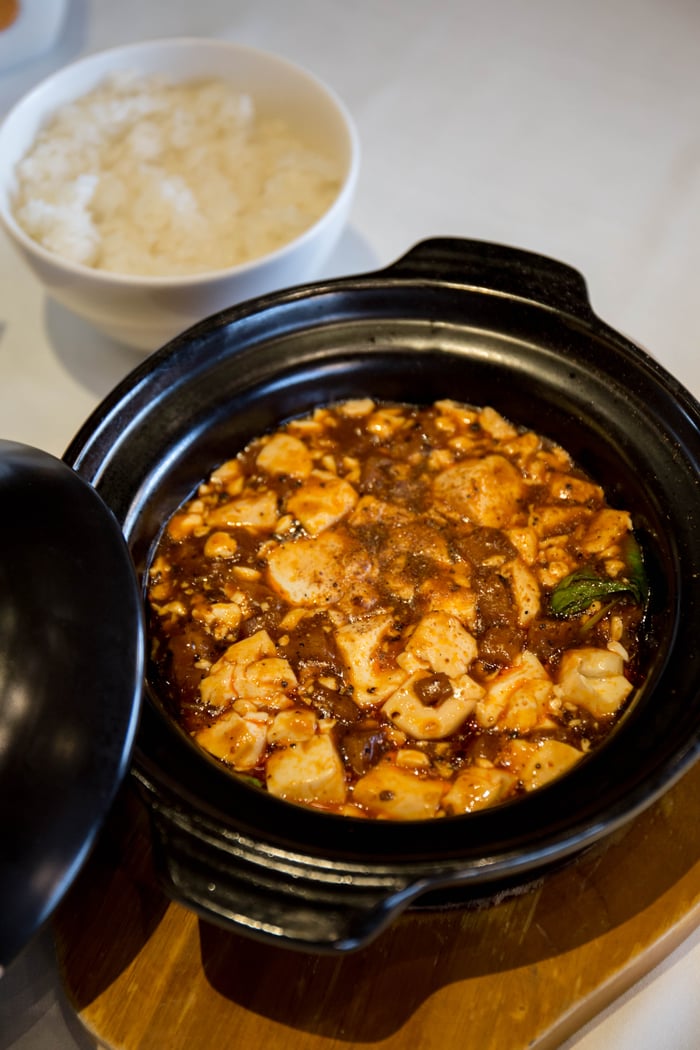 Signature Mapo Tofu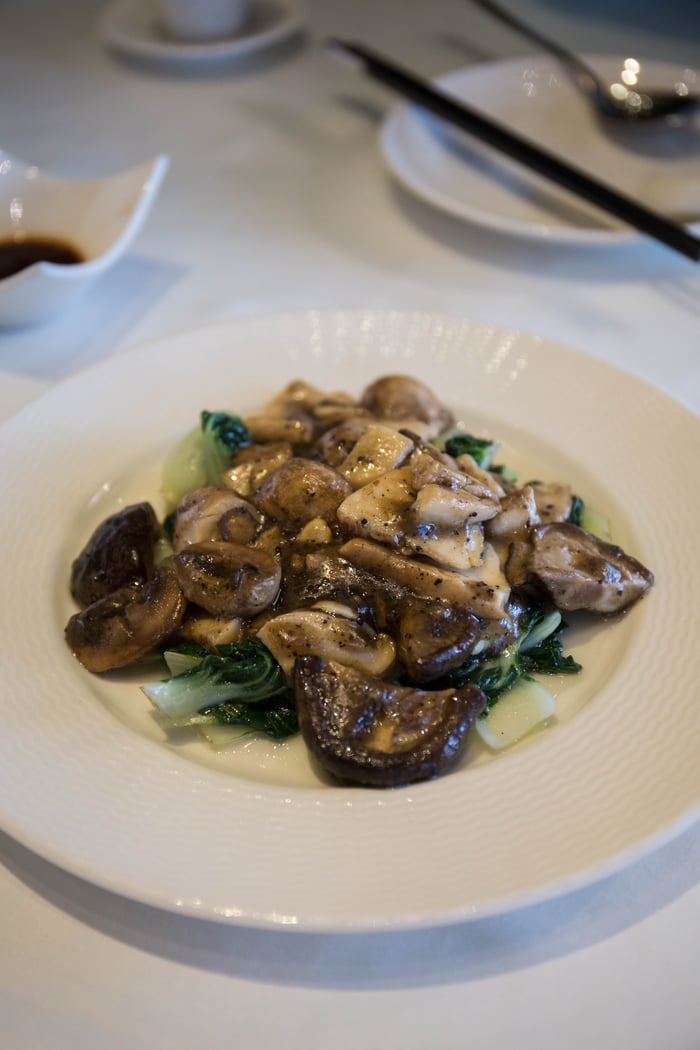 Stir-fried Mushrooms
While the menu offers enough options for a vegan diet, one of the highlights is their signature Mapo Tofu which can be made vegan upon request. We loved the restaurants' recommendation of the cooling 'Aloe vera and lemongrass jelly' dessert after enjoying our mouth-numbing Mapo Tofu.
Check out other dishes and reviews of Shisen Hanten.
Shisen Hanten, 333 Orchard Rd, Singapore 238867
#2 OLD CHENGDU SICHUAN CUISINE
Having a Chinatown in Singapore is a bit of an oxymoron given the majority of Singaporean residents are Chinese but it is a great place to soak in some of the city's heritage and culture. Take a tour of the magnificent Buddha Tooth Relic Temple or walk the streets discovering traditional tea shops and chinaware.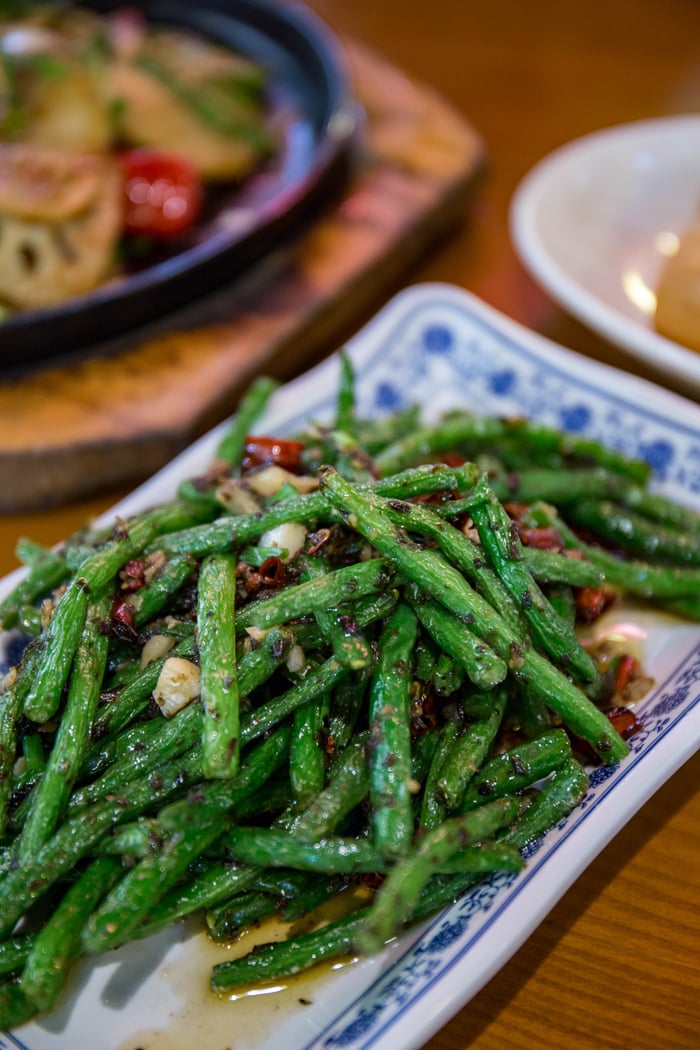 Stir-fried Beans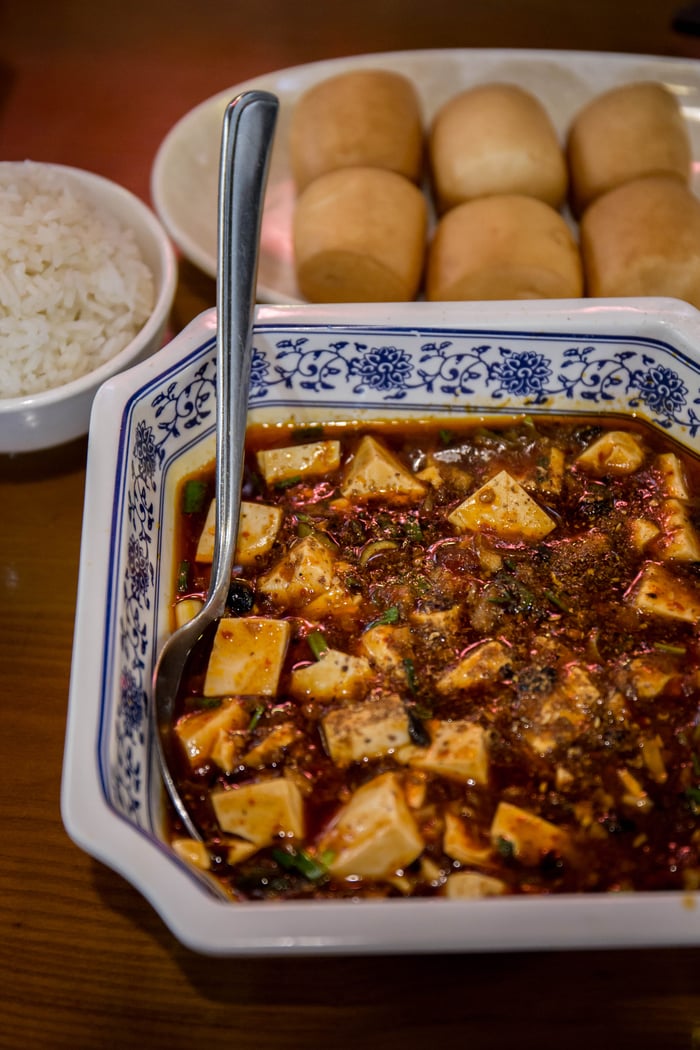 Mapo Tofu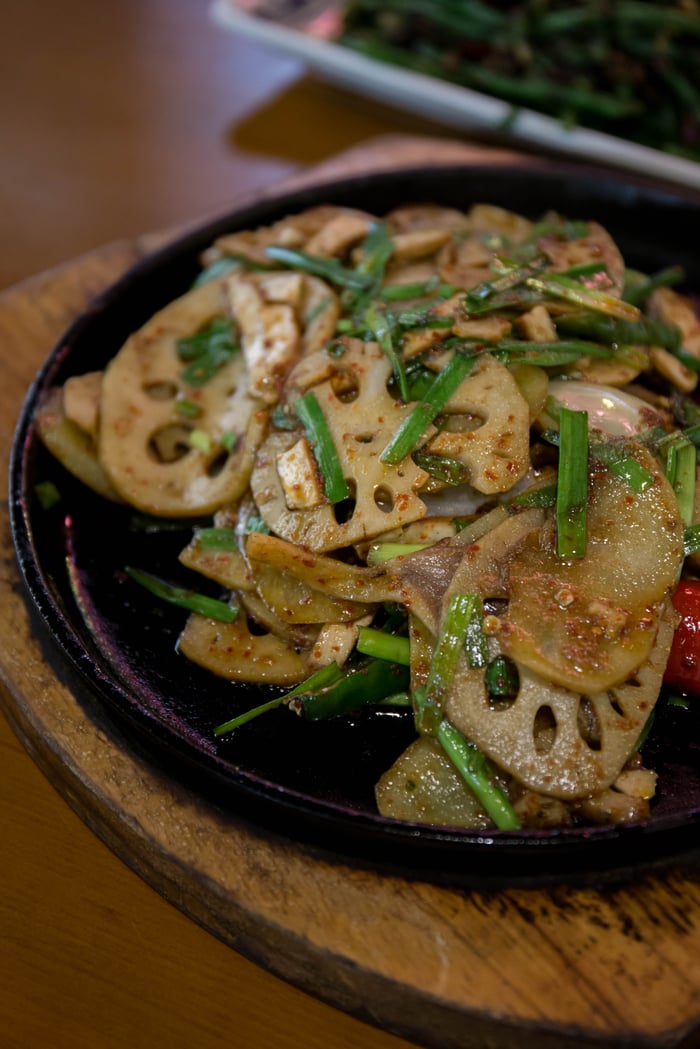 Hot plate potatoes and lotus roots
A perfect way to end a walk in Chinatown is a meal at Old Chengdu Sichuan Cuisine, a more pocket-friendly street-style Sichuan option with a great variety of plant-based options. We recommend ordering the mildly sweet fried buns to soak in your Mapo Tofu's hot gravy.
Check out other dishes and reviews of Old Chengdu Sichuan Cuisine.
Old Chengdu Sichuan Cuisine, 80 Pagoda St, Singapore 059239
. . .
Dumplings, another integral part of Chinese cuisine may be in limited options for vegans, but we do have Din Tai Fung, a famous eatery from Taiwan. With multiple branches in Singapore, some are conveniently located in and around tourist hotspots like Marina Bay Sands, Sentosa Island and along Orchard Road.
#3 DIN TAI FUNG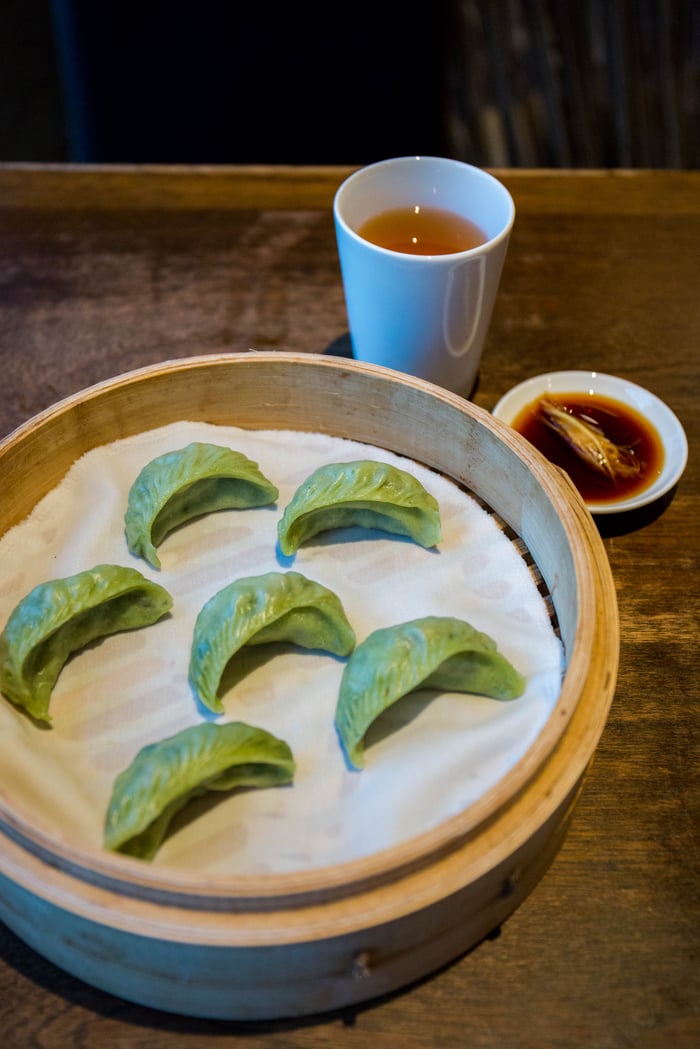 Vegetarian Dumplings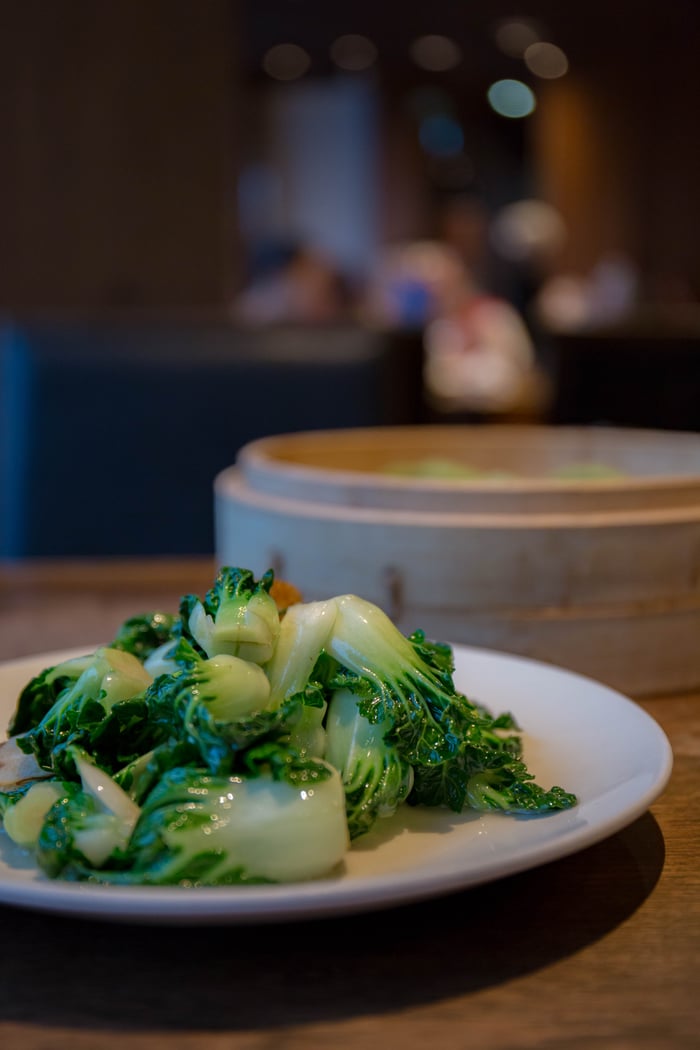 Stir-fried Nai Bai with Garlic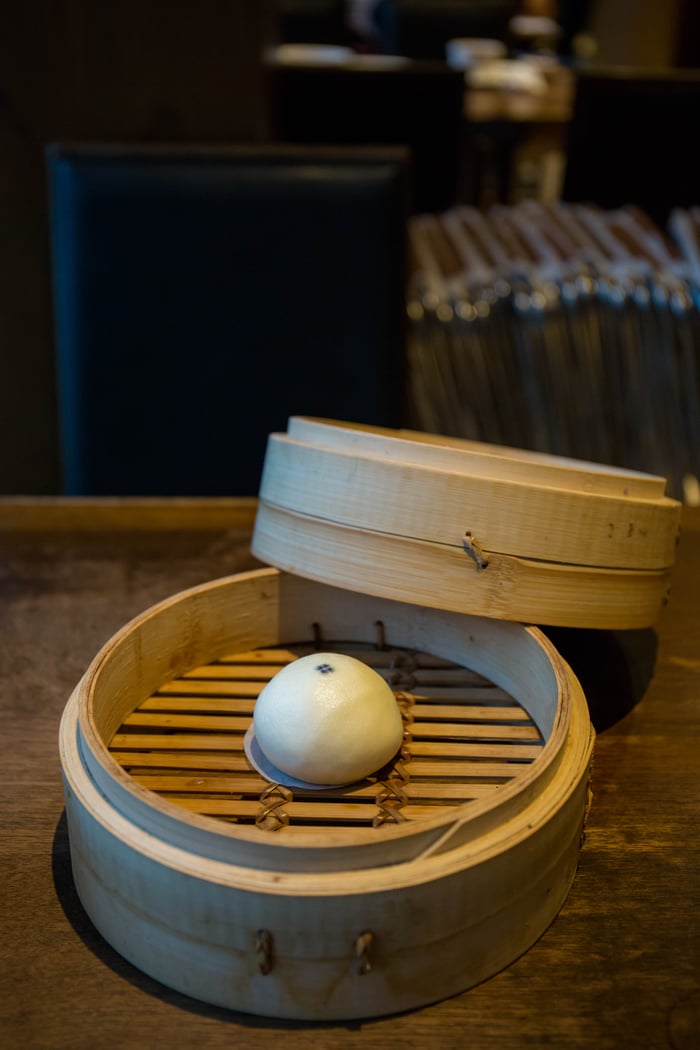 Steamed Yam Bun
Din Tai Fung makes consistently appetizing vegetarian dumplings that go well with a side of stir-fried greens; ensure the staff know you are vegetarian/vegan as their stir-fried greens otherwise have pork stock added. For a more filling option, order their fried rice sans the egg. The free-flow green tea at just $1 is a great accompaniment and their mildly sweet yam buns and red bean dumplings are perfect to finish off the meal.
Check out other dishes and reviews of Din Tai Fung.
Din Tai Fung, 80 Marine Parade Rd, 01-15, Singapore 449269
. . .
Finishing a tour around the Marina Bay Sands area? Take the unconventional river route on a traditional bumboat to get to Robertson Quay, an area with an eclectic mix of restaurants, bars, and hotels with plenty of indulgent and healthy food options. The string of restaurants along the vast open area of the quay is perfect for alfresco dining.
#4 BELLA PASTA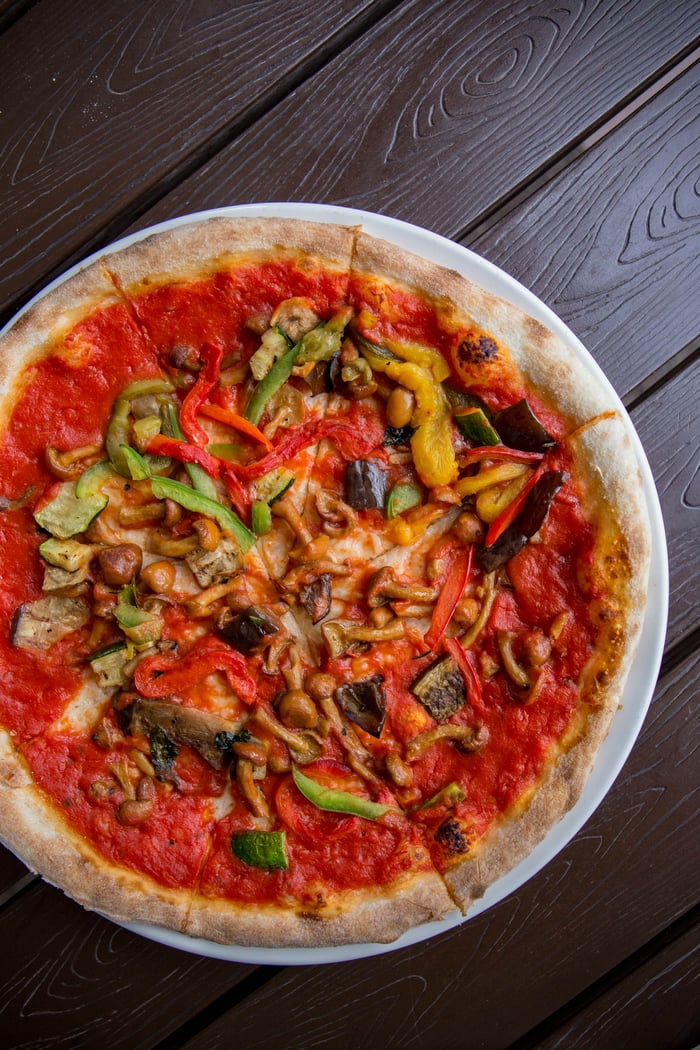 Pizza Ortolana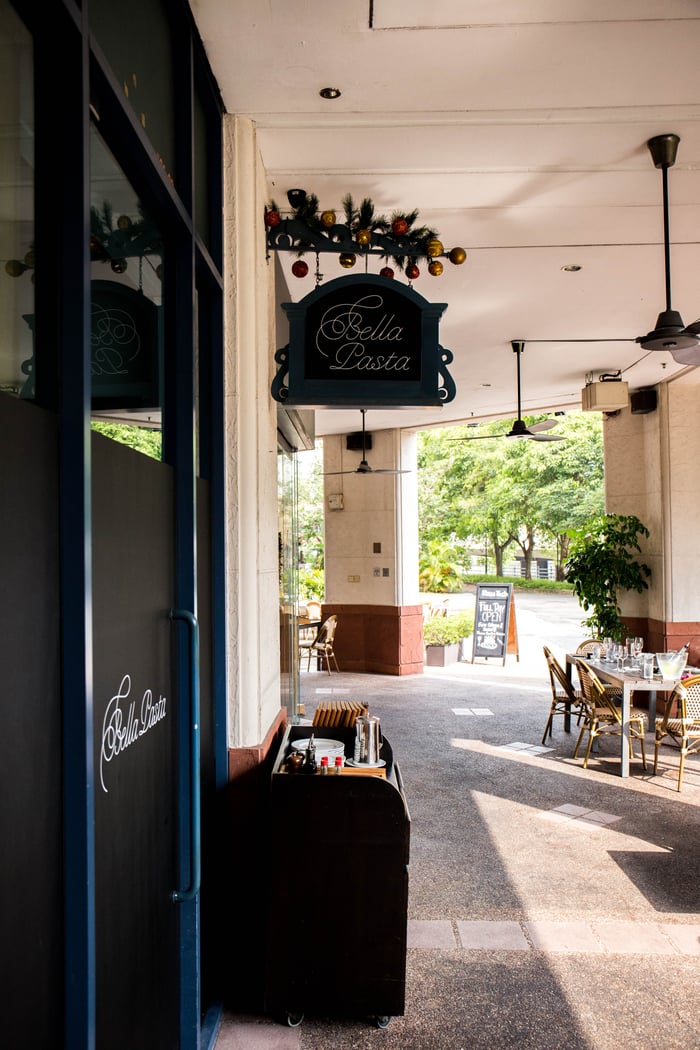 Bella Pasta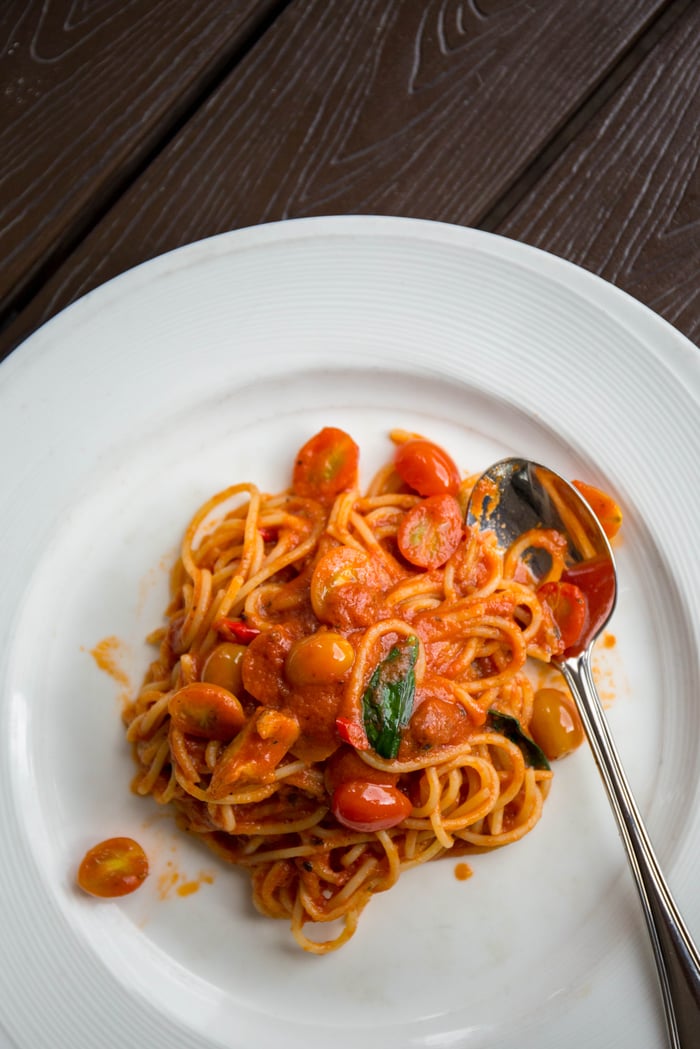 Pasta Arrabbiata
The bumboat journey ends near sister Italian restaurants Bella Pasta and Bella Pizza which have appetizing options for vegans. Just ask the staff about dishes on their menu without cheese or dairy and you are sure to find a few pasta and pizza options to try.
Check out other dishes and reviews of Bella Pasta.
Bella Pasta, 30 Robertson Quay #01-09, Singapore 238251
. . .
A cuisine unique to this region is Peranakan cuisine. Peranakan refers to a culture born from 15th-century Chinese migrants who settled in the Straits Peninsula and married local Malay/Indonesian women. This union of cultures led to the origin of a delicious new cuisine – often referred to as Nyonya cuisine after the women who ran the kitchens and created the dishes. Chinese recipes were adapted and new recipes created with the ingredients, spices, and sauces native to Malay and Indonesian culture.
#5 CANDLENUT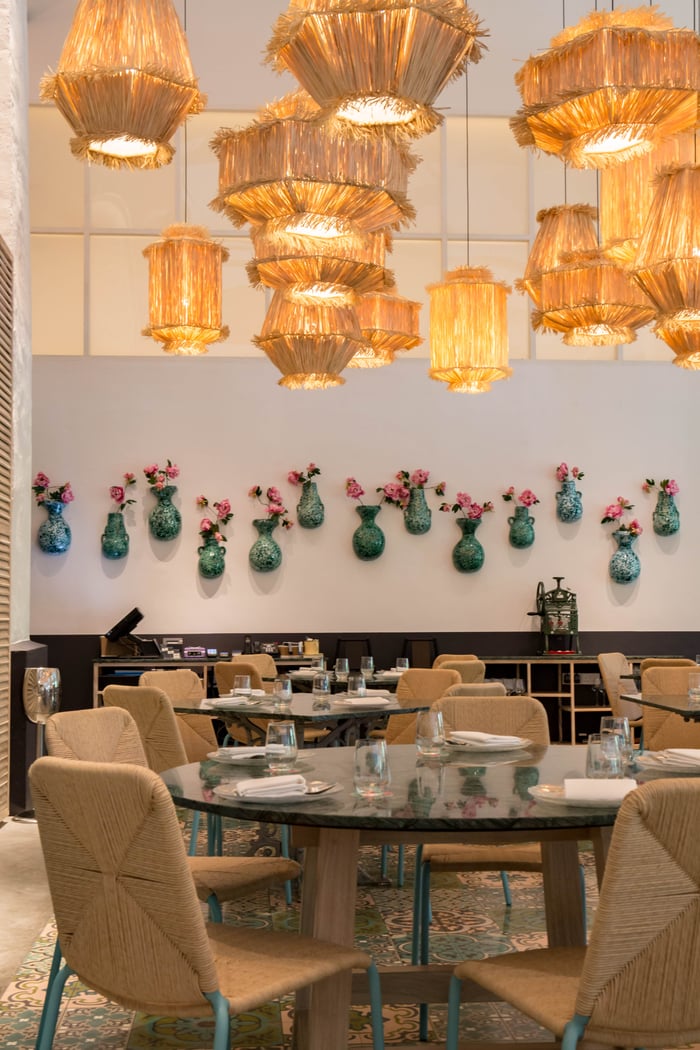 Modern Peranakan interior of Candlenut
Dempsey Hill - a former British Army Barracks is home to Candlenut, a restaurant that celebrates Peranakan Cuisine. Chef Malcolm Lee has taken traditional Nyonya recipes and modernized them in this 1 Michelin star establishment. They have a special vegetarian menu not listed on the website with plenty to choose for vegans. The staff recommend calling ahead to make a reservation as it allows them to source for the right ingredients for their vegan-friendly dishes, thus making it a worthwhile eating experience.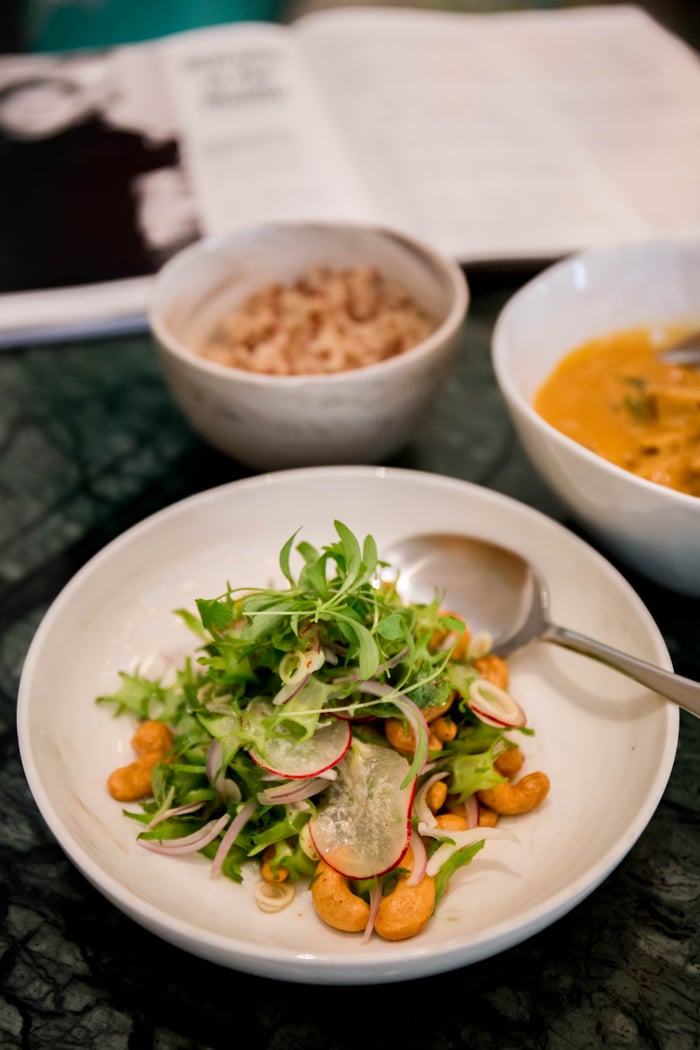 Wing Bean Salad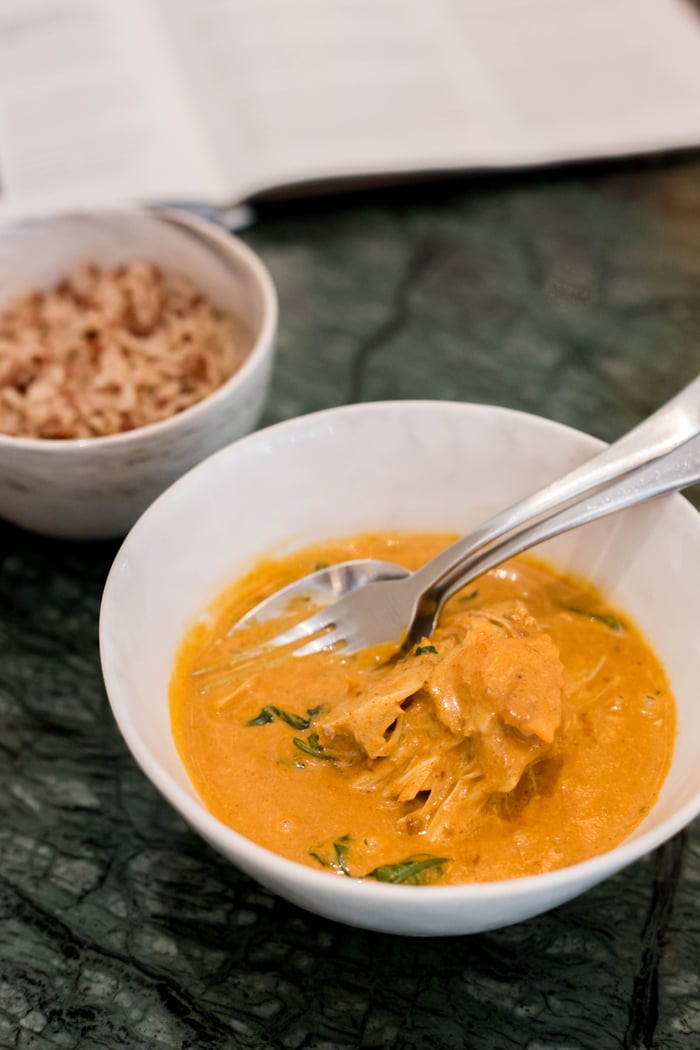 Young Jackfruit Curry
We suggest a walk through tranquil Dempsey Hill after your meal to soak in the lush green surroundings and pop into the gourmet grocers, antique stores and art galleries.
Check out other dishes and reviews of Candlenut.
Candlenut, 17A Dempsey Road, Singapore 249676
. . .
Indian cuisine is probably the most vegetarian-friendly and easily adaptable for vegans. Ensure you clearly mention that you cannot take dairy products like ghee, butter, milk, cream, yogurt or paneer as these are commonly used in vegetarian Indian dishes.
#6 TABLE BY RANG MAHAL
Another place with easy access to tourist hotspots, shopping malls, and the business district is Singapore's landmark colonial-style heritage Raffles Hotel (closed for renovations until mid-2018).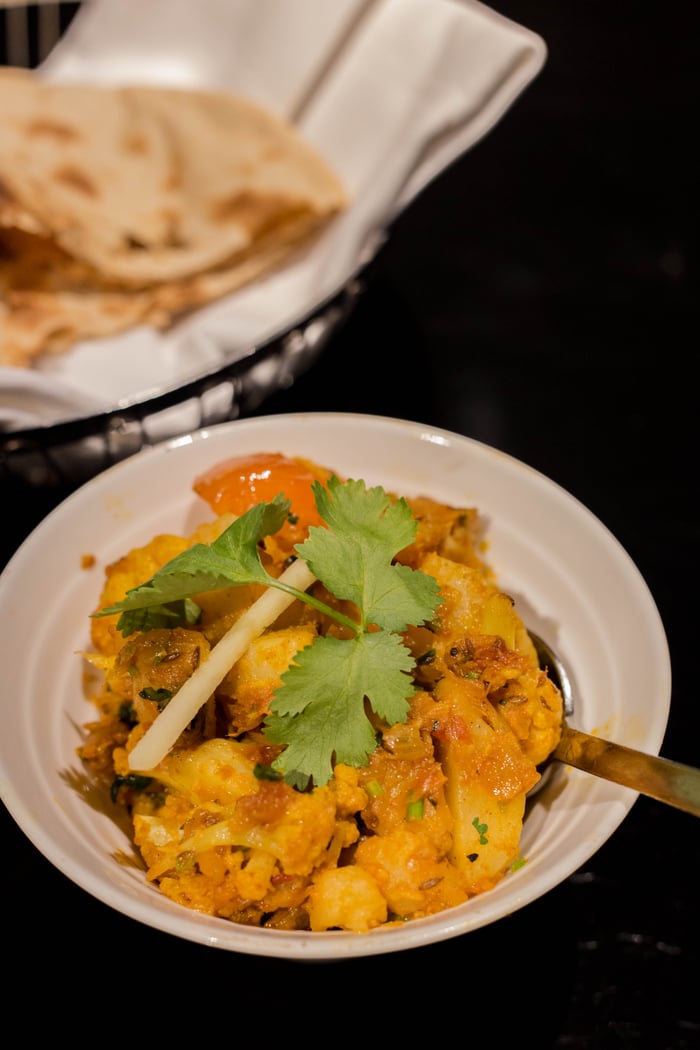 Aaloo Gobhi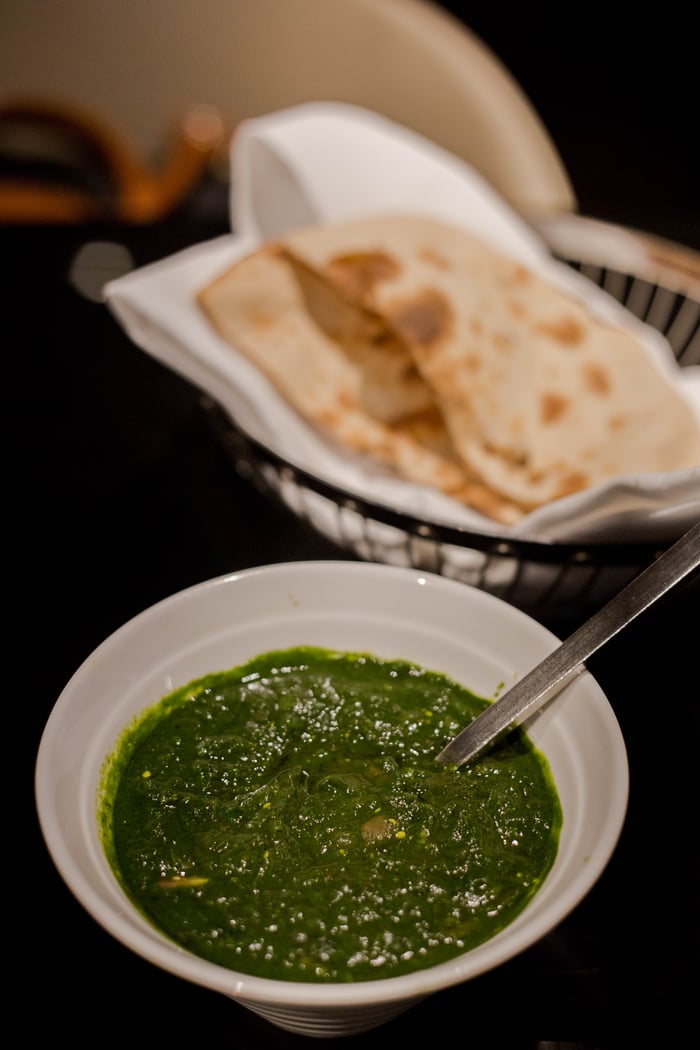 Palak
A 5-minute walk from Raffles Hotel is Naumi Hotel, home to Table by Rang Mahal. Set in a rather unusual but uber-chic hotel lobby, this restaurant is run by the same group as Pan Pacific's Rang Mahal. Table's limited menu highlights some of the best North-Indian dishes prepared perfectly with minimum spices but packing a punch of flavors. Great place for Friday night drinks with colleagues followed by some curry!
Check out other dishes and reviews of Table by Rang Mahal.
Table by Rang Mahal, 41 Seah St, Singapore 188396
#7 MANGO TREE
A short walk from the running and cycling tracks of East Coast Park is Katong, a residential area historically home to coconut plantation farms, seaside bungalows, and farmhouses of wealthy traders. Today, this suburb is bustling with restaurants, cafes, and bars while retaining its Peranakan architecture charm.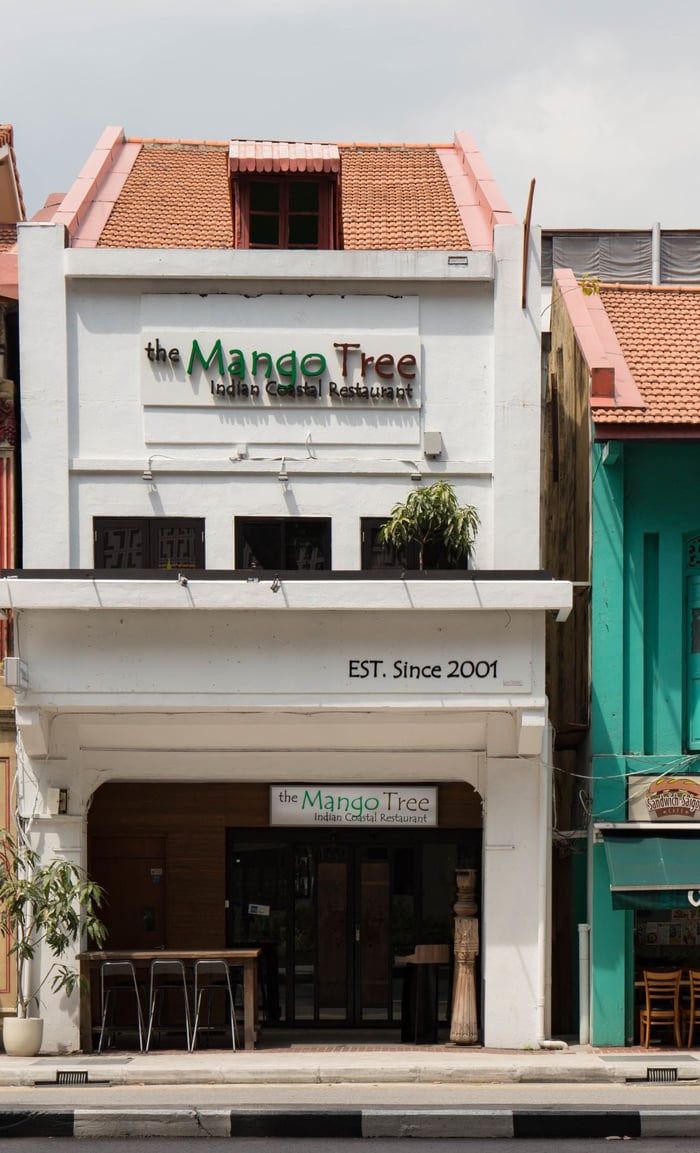 Mango Tree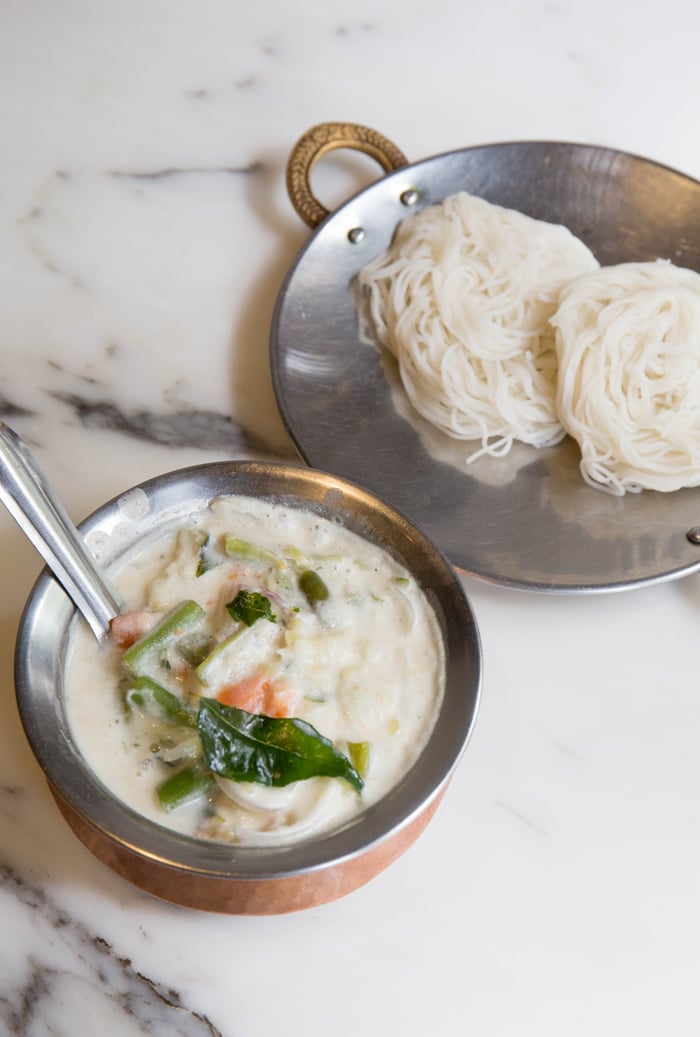 Vegetable Ishtu and Idiyappam
Mango Tree, a restaurant in a shophouse along East Coast Road is a 15-year-old eatery and offers a variation on the usual Tamil style cuisine that is available in most South-Indian restaurants in Singapore. They specialize in cuisine from the Indian state of Kerala which pre-dominantly uses coconut and vegetables in their vegan dishes. An added bonus is their North-Indian menu which is equally good.
Check out other dishes and reviews of Mango Tree.
Mango Tree, 91 East Coast Road, #01-00, Singapore 428791
. . .
The best way to round off this list would be to highlight some of the amazing restaurants that celebrate plant-based food in Singapore.
#8 REAL FOOD GROCER
Beet Millet Burger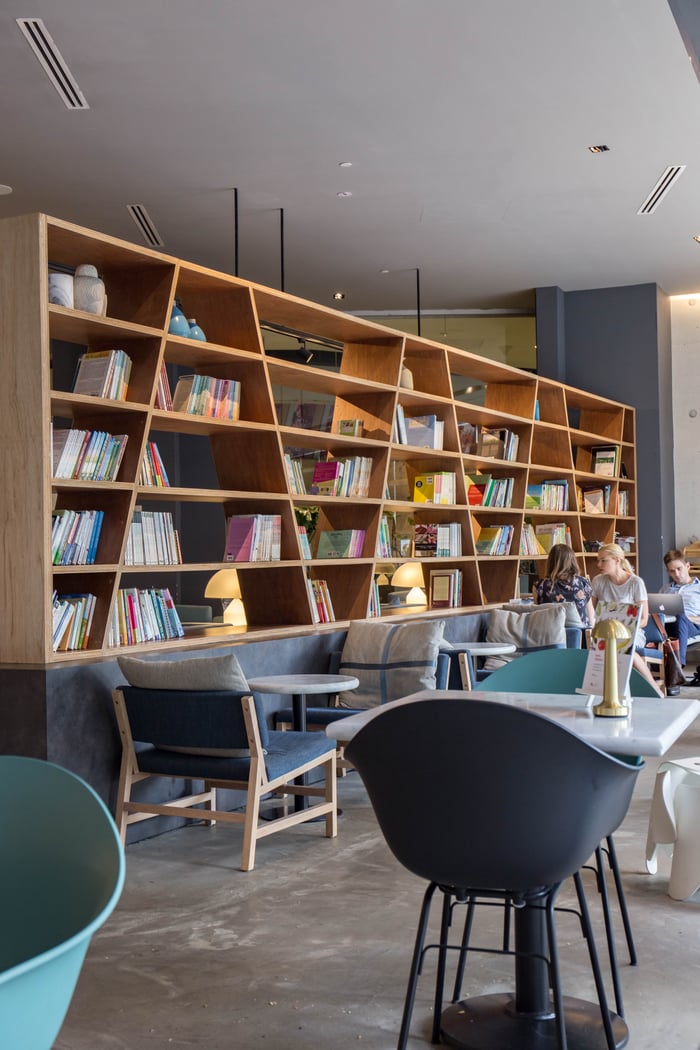 Real Food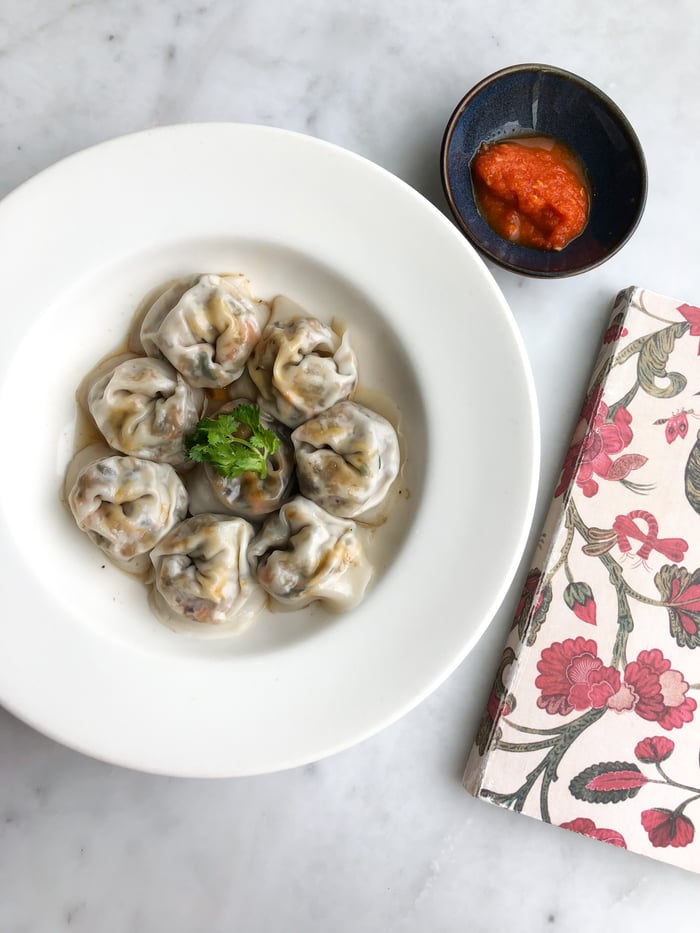 Steamed Dumplings
With 3 outlets in Singapore, Real Food, a favorite among the local plant-based community truly lives up to its name and serves ethically sourced, mostly-organic food with all their dishes handmade from scratch. Their menu is extensive with dishes inspired from multiple cuisines to satisfy diverse palates. Their dumplings, made with no less than 10 ingredients served in soup, with noodles or just as an appetizer are a must try! They also have an in-house store selling organic pantry essentials and snacks.
Check out other dishes and reviews of Real Food.
Real Food, 181 Orchard Road, #02-16 to 19 Orchard Central, Singapore 238896
#9 AFTERGLOW BY ANGLOW
Keong Saik Road, once infamous for being a red-light district, is now home to plenty of modern dining hotspots. The area has some beautiful art-deco style shophouses in a dazzling array of colors that make perfect backdrops for your Instagram pictures.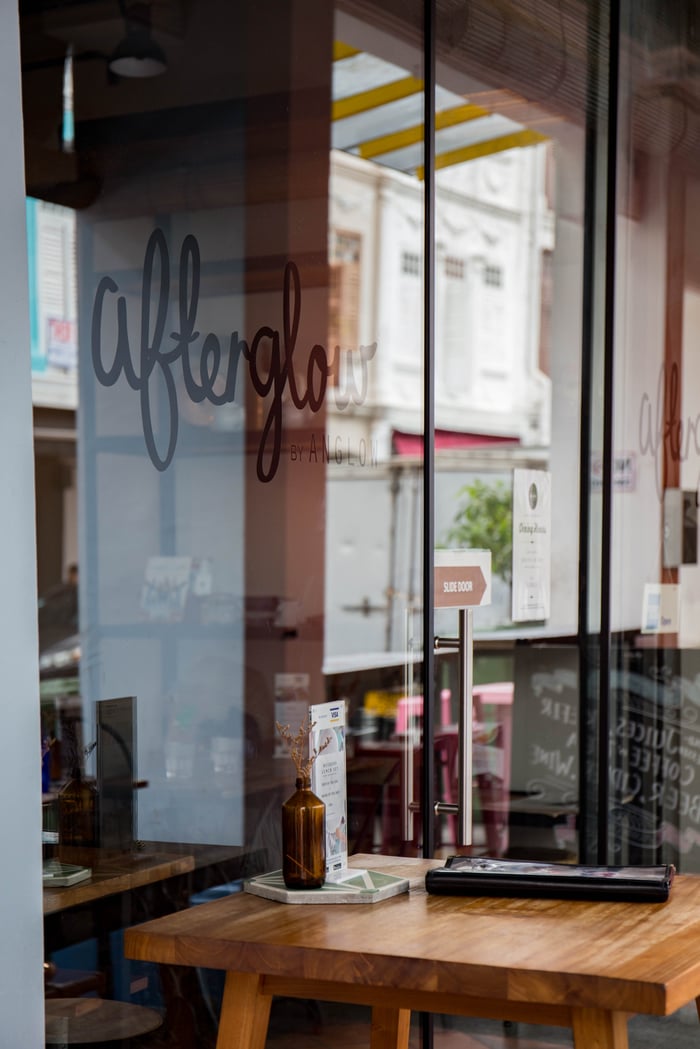 Afterglow by Anglow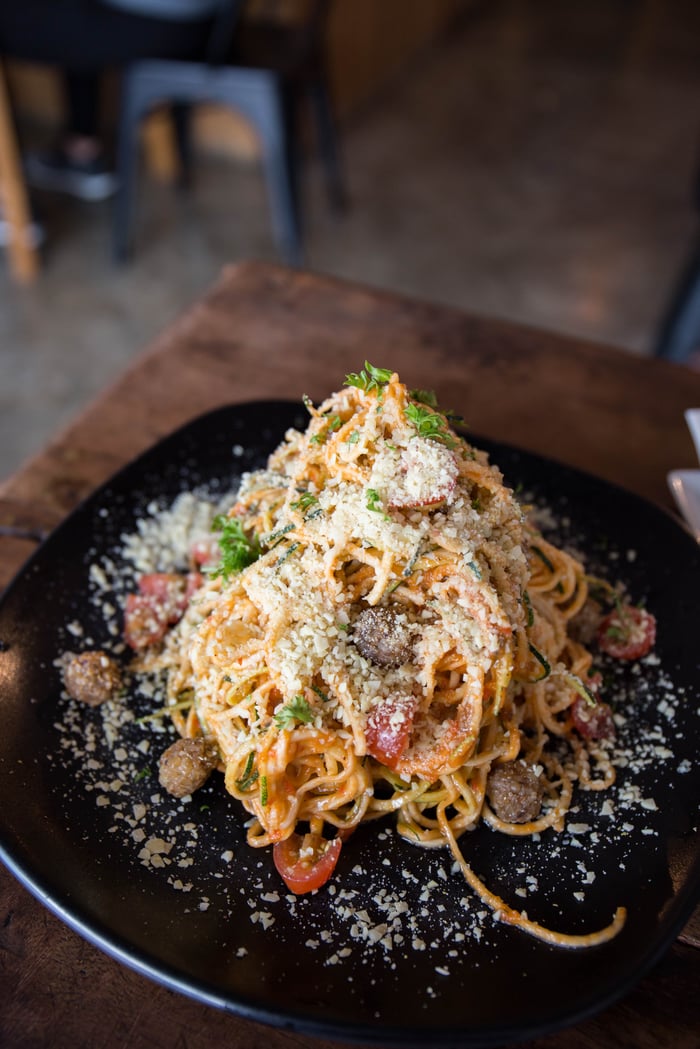 Raw Zucchini Linguine with Walnut "Meatballs"
Afterglow by Anglow is a plant-based cafe nestled in one such shophouse. They have an innovative vegetarian menu with a focus on raw dishes. Steering away from the usual use of tofu as a protein in vegan dishes, Afterglow focuses on using nuts in different ways to ensure a more balanced and wholesome plant-based meal. Head to one of the many cocktail bars in the area after a guilt-free meal here.
Check out other dishes and reviews of Afterglow by Anglow.
Afterglow by Anglow, 24 Keong Saik Rd, Singapore 089131