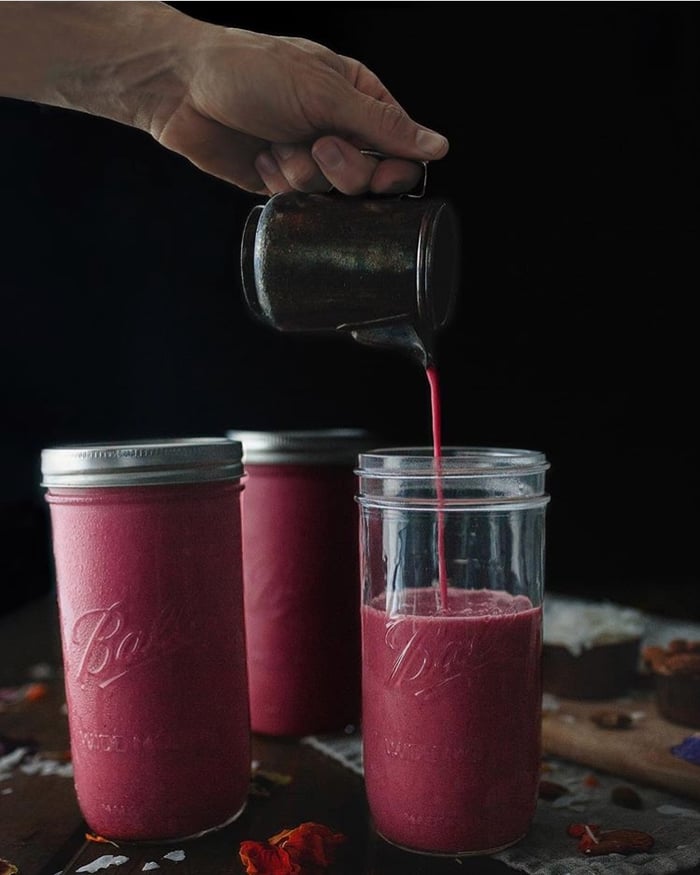 This was inspired by the lovely @tastyasheck. She was the first person to show me love on Instagram and I'll always remember that. This is my "thank you" to her!
Here's a healthy way to get mylk into your diet. Many people still don't know how damaging dairy is to our bodies – not only is it packed with hormones and antibiotics, it also makes no evolutionary sense for humans to be the only species on earth to consume milk (from another species too) after weaning. Did you know? While milk consumption is prevalent and well-tolerated by northern Europeans, about 50 percent of Middle Easterners, 80–95 percent of West African agriculturalists, and a shocking 99 percent of Chinese are lactose intolerant?!
This Pink Almond Mylk recipe will help you transition to a healthier way to getting your creamy fix!
Pink Almond Mylk
Serves: 2
Active time: 20 minutes
Ingredients
4 cups filtered water
3 medjool dates pitted
2/3 cup almonds
2/3 cup coconut chips
1 tsp vanilla powder
1 tsp beet powder
1/4 tsp pink salt
Directions
Soak the almonds for 4 hrs. Heat your oven to 120˚C/250˚F and place your clean glass bottles for 20min until sterilized.
Remove and cool down. Heat a non-stick pan on medium heat and bake the coconut chips until slightly browned.
Rinse the almonds well and transfer into a bowl. Cover with hot (but not boiling) water.
Remove the skins by squeezing the nut between fingers.
Place almonds, cooled chips and all the other ingredients into a high-speed blender. Start with 3 cups of water for about 1 min and then add the final cup.
I suggest using a nut mylk bag to filter out the chunks at the bottom after blending.