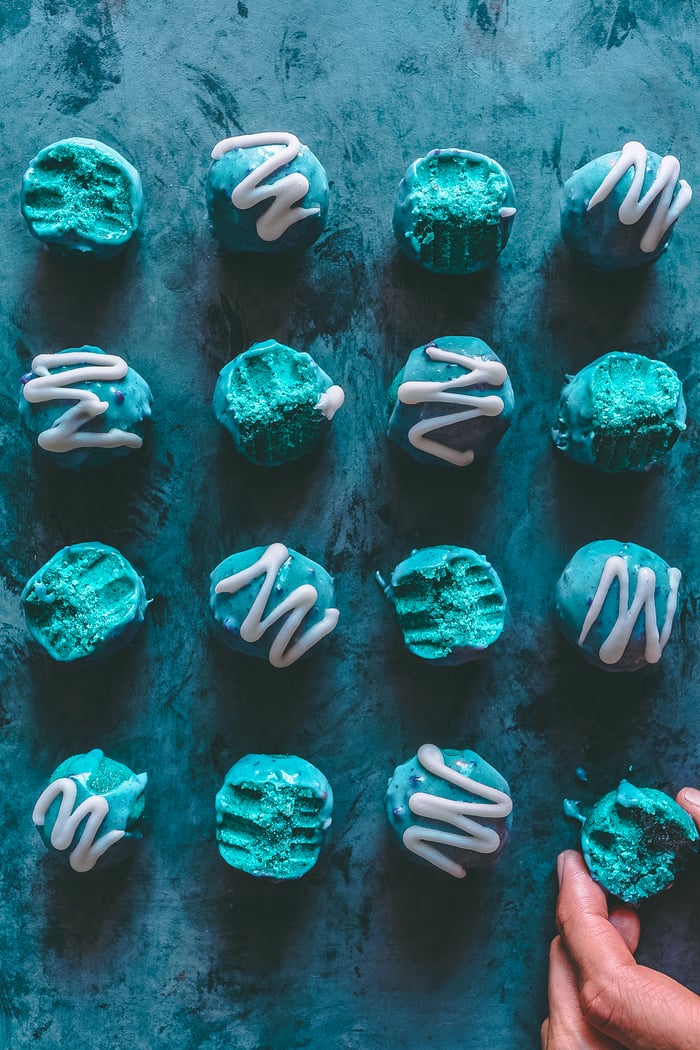 If mermaids exist, they'd probably like cake bites too! I tried coloring mine purple with butterfly pea powder, but they turned out more blue than purple… 🐳🐬🌊 Aside from that, the cake bites were a major success, and took me right back to my childhood of colorful birthday cakes.
Check out this recipe for a vegan, no bake, gluten-free, mermaid cake bites with butterfly pea coloring and cocoa butter chocolate, finished with vanilla lemon icing. It was nearly impossible to find dairy-free white chocolate in the stores, so I made my own using cocoa butter. Who wants one?
No Bake Mermaid Cake Bites
Makes: a dozen
Active Time: 25min
Ingredients
For the Cake Batter:
8 tbsp vegan butter
1 tsp vanilla extract or powder
1 tsp green spirulina*
1 tsp blue spirulina*
1 1/2 cups gluten-free yellow cake mix
1/2 cup all-purpose gluten-free flour
1/4 cup cane sugar
For the Cocoa Butter Shell:
2oz cocoa butter
1 tsp butterfly pea powder*
1 tsp coconut flour, almond or rice flour
1/2 cup powdered sugar
A pinch of salt
For the Vanilla Drizzle:
1 tsp apple cider vinegar
1 tbsp lemon juice
1 tsp vanilla powder/extract
1/2 cup powdered sugar
1/4 cup soft coconut oil
* Use this promo code 'rusticvegan15' for a discount when you order superfood powders from rawnice.
Directions
Mix all cake batter ingredients and then slowly work in the butter with a fork.
If cake batter is not wet enough, add 1tbsp of coconut oil or more vegan butter.
Once reaching correct consistency, roll into balls with your hands and place in the freezer.
Melt the cocoa butter on low heat and remove, then keep it at room temperature.
Slowly work in your powder sugar little by little and then add the rest of the ingredients.
Spoon the glaze over your cake bites and then put them back into the freezer.
After 20 minutes remove and drizzle them with vanilla lemon icing and enjoy!
Live out your mermaid fantasies with this recipe!