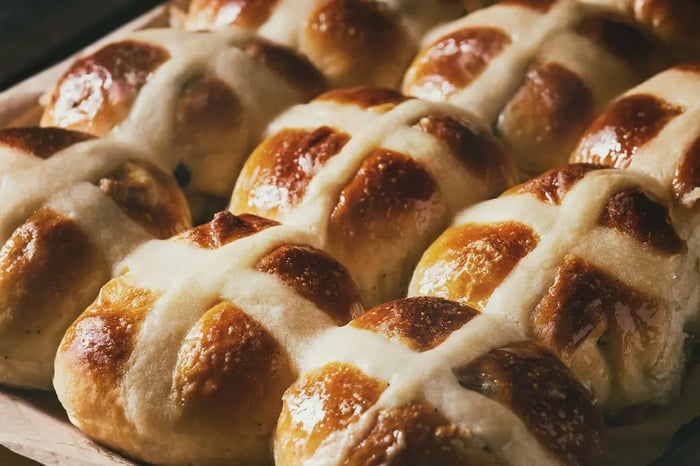 Photo: Natasha Breen
Recipe for no-knead hot cross buns by Zee
It's that time of year when bakeries begin putting out hot cross buns for sale. These delicious, pillowy soft breads are often spiced and mildly sweetened with a myriad of variations. Do a quick search and you'll see combos with cinnamon and apple, spiced pumpkin and even chocolate.
I make hot cross buns every year to gift to loved ones and I'm happy to report that they're often very well received. The best part? I've always used a vegan recipe that requires no kneading – just lots of time.
The trick to luscious hot cross buns, if you ask me, is in the balance of creaminess, sweetness and spice – and I get it by using coconut milk instead of dairy, olive oil instead of butter, and coconut sugar instead of regular white sugar.
This results in light sepia-hued buns with a distinct flavor. A light brush of marmalade gives shine and stickiness that makes eating this a real joy. Here's the recipe.

Equipment needed
Tray to fit 12 buns

Piping bag

Pastry brush


Dry ingredients
600g bread flour

2 tsp cinnamon powder

2 tsp nutmeg powder

1 tablespoon dry yeast

100g granulated coconut sugar


Wet ingredients
125 ml water

300 ml coconut milk

1/2 tsp salt

Zest of 1 orange

200g raisins

70g olive oil


Ingredients for paste to make crosses
50 grams of flour

4 tbsp water


Glaze
Marmalade

Method

Make the wet mixture: Mix the water, coconut milk, coconut sugar, olive oil, orange zest and yeast into a bowl and stir until well combined. This helps to activate the yeast.


In another bowl, mix the flour, cinnamon, nutmeg, salt and raisins. Stir until well combined and then make a well in the center.


Pour the wet mixture into the well and mix thoroughly until an even sticky dough is formed.


Next, we allow the dough to rise for the first time. Cover the bowl with a moist towel and leave it to sit for 2 hours. It should double in size or more.


Dust a counter with flour where you can work with the dough and tip the dough out.


Shape the dough into a log and then cut into 12 pieces. Be sure to dust the dough if it's too sticky to work with.


Once you have 12 pieces, shape each bun into a ball.


Place each bun on the tray, making sure that it's the smooth side up. Repeat until all 12 buns are on the tray arranged in 4x3 format.


Next, we allow the dough to rise the second time. Cover the tray with a moist towel for an hour. The buns will roughly double in size.


Towards the end of the second rise, preheat your oven to 180c.


Meanwhile, make the crosses. Mix the flour with water into a paste and put it in a piping bag.


Cut the tip of the piping bag and remove the towel from the tray of buns. Pipe a cross on each bun. You can do so in one continuous line connecting the buns horizontally and vertically or piping on individual buns.


Place the tray in the oven and bake for 20 - 25 minutes until the buns are golden brown in color.


While the buns are baking, place the marmalade in a bowl and heat it up for 20 seconds. It should become runny.


Take the buns out of the oven and immediately brush each bun with the marmalade glaze.


Enjoy.