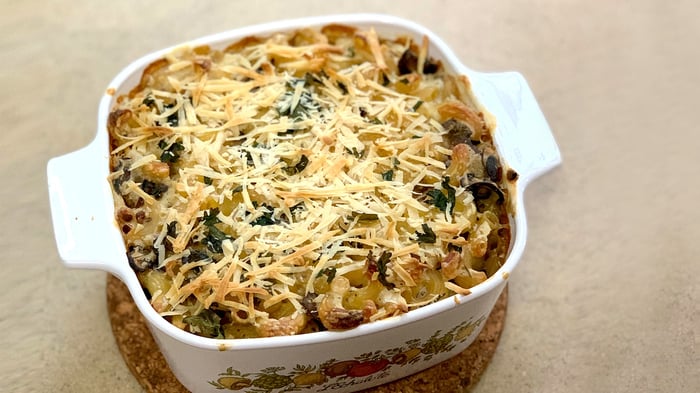 Finding good vegan versions of classic dishes is always a delight! My love for mac and cheese has never faded even after I started going vegan, mostly because of the creamy cheesy part. So, it was SO exciting when I finally discovered my favorite brand of cheese, and I was able to go all out and make this! Here's the recipe to my potluck-winning mac & cheese!
Total Cook Time: 50 min
Serves: 6 people
Ingredients
For the Macaroni Base
500g dried macaroni
2 tbsp vegan butter (I used table lands Dairy Free Spread)
300g chestnut mushrooms, chopped or sliced
4 garlic cloves, finely chopped
1 tbsp thyme leaves (I used dried)
Salt and ground black pepper to taste
For the Béchamel Sauce
For the Topping
2 tbsp chopped parsley (I used dried)
Method
Preheat the oven to 220ºC/430°F.

Cook the macaroni in boiling, salted water according to instructions on the pasta packaging. Drain in a colander and run it under tap water until cooled. Set aside.

Melt the butter in a pan over high heat. Add the garlic, followed by the mushroom and thyme. Cook for a few minutes until the mushrooms have browned. Season with salt and pepper and remove from heat. Set aside.

For the sauce, add butter in a large saucepan over medium heat and stir until melted. Add flour and cook for 1 minute, stirring constantly until fully incorporated.

Whisk in the plant milk bit by bit until the sauce thickens. Then, lower the heat and stir in the rest of the ingredients for the sauce. Stir until the cheese has completely melted. Remove from heat and season with salt and pepper.

Add the mushroom and macaroni to the saucepan with the cheese. Mix till everything is evenly coated in the sauce. Transfer to a deep 25 x 30cm ovenproof dish.

Mix the toppings ingredients together and sprinkle it on top. Cook in the oven for 20-25mins or until the top is golden brown. Enjoy!