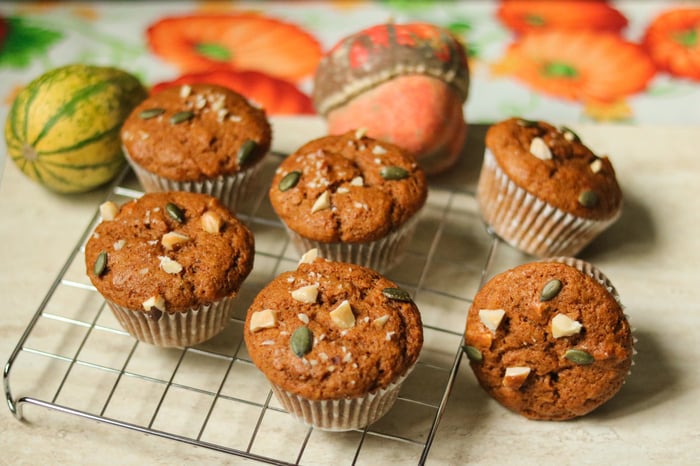 Photo: @flouredfingers_
Spiced Pumpkin Muffin Recipe by Yuliya Mihaylova
Fall has come and just like that, it's officially pumpkin season. Wherever you are in the world, muffins are always a welcome treat. So why not combine both into one recipe?
These muffins are soft and moist from the use of pumpkin and can surprise anybody once you tell them that it's actually vegan. This recipe is perfect for your afternoon coffee or tea, or just as a quick and delicious dessert.
Difficulty: Easy
Prep time: 15-20 minutes
Baking time: 25 minutes
Total time: 45 minutes


Ingredients

250 grams of flour
150 grams of brown sugar
50 grams of white sugar
1 tsp. baking soda
1 tsp. baking powder
1/2 tsp. salt
1 tsp. ground cinnamon
1/2 tsp. ground ginger
1 pinch ground nutmeg
340 grams pumpkin puree
1 tsp.. pure vanilla extract
60 ml. melted coconut butter
1 tsp. vinegar
1 tbsp. ground flax seeds + 3 tbsp. water
nuts of choice - pumpkin seeds, brazil nuts, walnuts


Method
You can use canned pumpkin puree or make it on your own.

To make the pumpkin puree, peel, cut and deseed the pumpkin into cubes and bake it at 180°C for about 30 minutes. Use a fork to squish the pumpkin into puree and set it aside for it to cool down.

In a big bowl mix all the dry ingredients well.

Prep the flax egg — in a small bowl, mix the flax seeds and the water and stir together. In about five minutes, they will gel up and act as egg in the recipe, to keep the muffins together.

Melt the coconut butter (you can replace it with any other flavorless oil), add it to the pumpkin, together with the vanilla, the vinegar and the flax egg and mix.

Pour the pumpkin mix to the dry ingredients and stir — a little before you are ready, add your nuts of choice (I added pumpkin seeds and brazil nuts), and mix again. Do not over mix — as soon as you do not see dry flour, stop.

Preheat your oven at 180°C.

Divide the mixture between 12 muffin cases, filling each 3/4 of the way full, as they will rise.

If you wish, put some additional nuts on top for decoration.

Bake for 25 minutes (no fan).

Store cooled muffins in an airtight container lined with paper towels at room temperature.