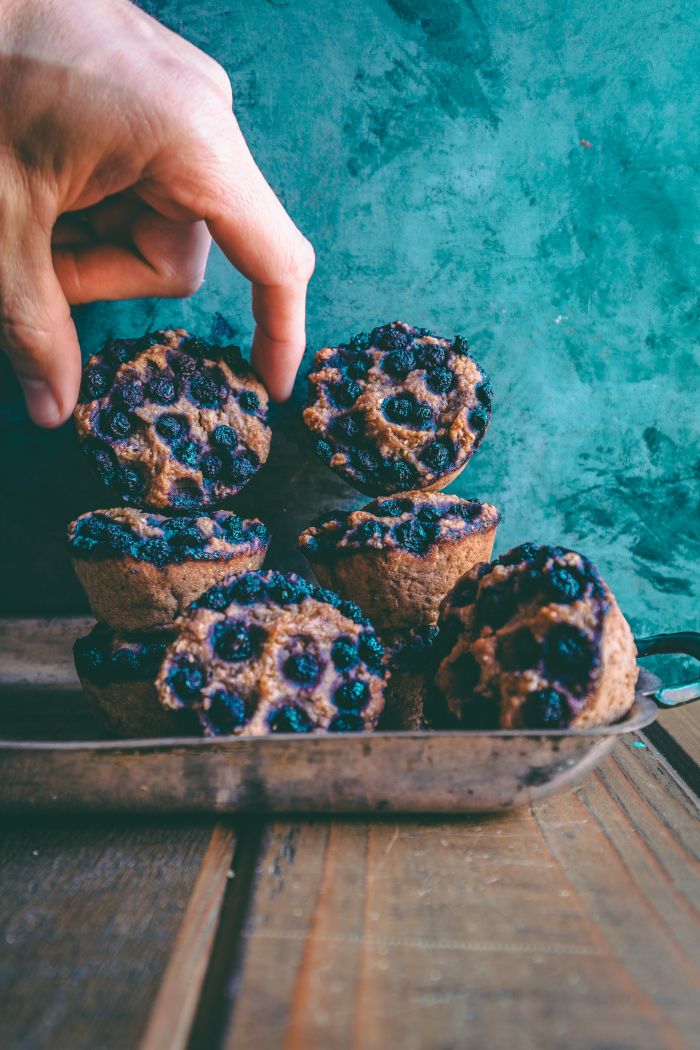 So let's get this out of the way. These are - gluten free, refined sugar free, oil Free, low fat to nearly no fat at all - blueberry muffins! These are extremely clean and healthy muffins that won't disappoint. They come out very mildly sweet since I've added no sugar so the sweetening is strictly going off of dates and applesauce for natural sweetness. If you find that you want them sweeter, don't forget to taste your batter before you pour into your cupcake tins. These are a bit more dense and less fluffy since we're eliminating any additional fats like oils or butter. If you want to, feel free to add some, but I wouldn't recommend it for a recipe like this. The whole point is to make 100% whole food, plant based muffins for all to enjoy! Now let's get started.
Blueberry Walnut Muffins With A Hint Of Lemon & Cinnamon
Servings: 12 muffins
Active time: 1 hr
Ingredients:
12 medjool dates
1 cup plant based milk
1/2 cup apple cinnamon applesauce (sugar free)
3/4 cup bobs redmill 1-1 gluten free flour
1 and 1/2 cup rolled oats (grounded into flour)
zest of 1 lemon
wild blueberries (frozen)
1/2 cup walnuts (crushed)
1 tsp cinnamon
1 tsp baking powder
1 tsp tapioca or potato starch (optional)
1 bobs redmill gluten free egg replacer (optional)
Directions:
1. Preheat your oven to 350F.
2. If you choose to make the vegan egg, follow your instructions on the package before you get started and let it sit aside.
3. Start by grounding oats into a fine flour.
4. Add to a bowl: oat flour, 1-1 gluten free flour, lemon zest, cinnamon, baking powder, starch, and mix together to combine.
5. Now add to a blender: milk, dates, and applesauce.
6. Blend until smooth and set aside.
7. Crush your walnuts and add them to your dry mix.
8. Now take your wet ingredients blender mix, add to your dry ingredients bowl, and mix everything together, folding in at least 1 cup of blueberries.
9. Grease your cupcake tins and taste your batter. If it's not sweet enough, you can add some maple syrup.
10. Bake for 30 minutes and let cool for at least another 10. Then you're good to go!