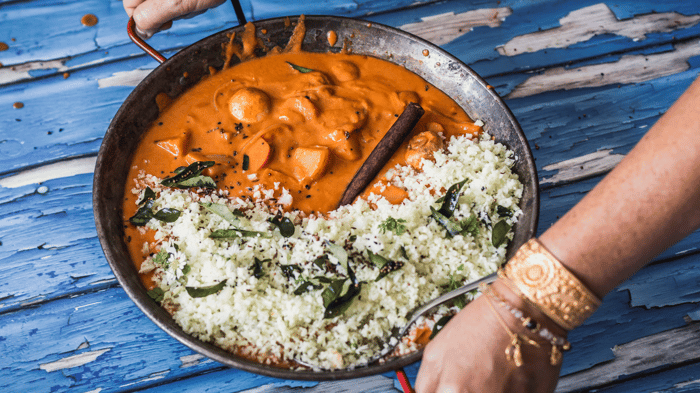 Photo: Chef Cynthia Louise
Vegan Butter Chicken Recipe by Chef Cynthia Louise
Butter chicken is a ubiquitous dish in Indian restaurants the world over. It's well-loved for being creamy and tangy -- best eaten with rice or flatbreads.
This healthier vegan butter 'chicken' recipe is made with potato and carrots in place of chicken. It can also be made with tofu, chickpeas and vegan alternative proteins such as Like Chicken by Like Meat.
To substitute the heavy cream, raw cashews are used, which imparts a slight nutty lift to the overall recipe.
Makes: 4-6 Servings
Total Time: 20 minutes

Ingredients
1 cup raw cashews
500ml water
2 tomatoes, roughly chopped
1 red chili, roughly chopped (Optional)
⅓ cup organic tomato paste
Coconut oil, for frying
1 onion, thinly sliced
4 garlic cloves, finely chopped
2 tbsp sweet paprika
1 cinnamon stick
½ tsp cinnamon powder
1 tsp fennel seeds
6 whole cardamom pods, crushed
½ tsp cayenne pepper
2 tbsp maple syrup
2 tbsp coriander powder
Salt and black pepper, to taste
3 large carrots, cut into bite-size chunks, steamed
3 large potatoes, cut into bite-size chunks, steamed

Method
Add the cashews, water, tomatoes, chili, and tomato paste to your blender. Blend until completely smooth and creamy. Set aside.

Heat a medium-sized pan over high heat and pour in some coconut oil. Add the onions, garlic, and spices and season with salt and pepper.

Cook over medium heat for 5 minutes stirring continuously to avoid burning. Reduce the heat to low and cook for 5 more minutes.

Stir in the creamy cashew sauce and cook for 20 minutes, stirring constantly.

Add your steamed veggies and allow to cook for 30 more minutes over low heat. Keep stirring to prevent the sauce from sticking to the bottom.

When the cooking time is up, turn off the heat and allow it to rest before serving.

Serve with over steamed rice or quinoa.