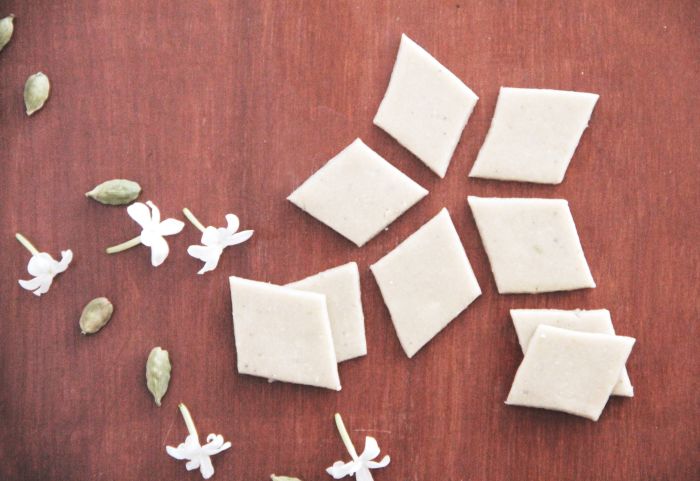 This recepie is a part of our "Reinventing Classic Indian Deserts" series. This series is dedicated to preparing some of the most popular classical Indian desserts with a focus on healthy, fresh ingredients that bring the true flavors of these sweets to life! Indian desserts have a reputation for putting people to bed, mostly because of all the excessive dairy and oil that goes into them. We're here to show you how to make these desserts so much better, and we kicked off the series with a refreshing take on carrot halwa, one of the most popular Indian desserts of all time! If you haven't had a chance to make it you'll love our recipe.
For our second piece in the series, we're tackling Kaju Katli. Non-Indians often remember Kaju Katli as those 'diamond shaped indian sweets'. Kaju Katli is super easy to recognize thanks to its unique shape and silver foil coating. 'Kaju' means Cashew, and Kaju Katli is a cooked-down cashew butter fudge soaked in sugar syrup. That's right, cashew fudge! And that delicate foil sheet (also known as 'Chandi ki Varak') that's seen on many traditional Indian sweets is made up of pure silver, and is believed to make food items look more appetising. However, in recent years it has been revealed that the process of manufacturing this varak involves the use of animal parts! While this may not be the case everywhere, it's still very hard to tell. So keep that in mind the next time you see something that is silver-coated and edible! I only found out about this recently and chose to leave it out of this recipe.
For every cup of cashews required for this recipe, a lot of shops across India substitute half the cup with milk solids instead, to make it more economical and profit-friendly. As always, ghee and butter also manage to find their way into such products. I made this vegan version of Kaju Katli a few days ago, and not a single person could tell the difference! I guess it goes to show that ghee, butter, milk powder, etc. are sometimes merely accessories and don't really have a scientific role in many of these recipes.
I used a considerably smaller amount of sugar, and it still turned out very sweet! This version uses only 4 ingredients and requires very little prep. In this recipe, it's all about the timing – If you get it right, you'll see that it's one of the simplest desserts to make.
Kaju Katli
Serves: 12
Active Time: 25 minutes
Ingredients
1 cup raw cashews
1/3 cup raw sugar (powdered)
1/2 cup water
A generous pinch of cardamom
Directions
Using a small grinder or food processor, pulse the cashews just enough to get a soft powder (check after every 2 seconds of pulsing). If you overdo this step, the cashews will start to release their own oils and will get pasty. It's important for it to just be a dry powder.
Add a pinch of cardamom to the cashew powder, give it a quick mix, and keep aside.
Pour the water and sugar into a small non-stick pan (on low-medium heat) and stir to combine. When it begins to simmer, continue stirring till it reaches a slightly stringy consistency. This might take up to ten minutes.
Lift your spatula, and if you see a very thin, single string of syrup starting to form, that's when you know it's time to throw in the powdered cashew and cardamom.
As soon as you add the powder, begin to stir and fold vigorously for a few seconds, ensuring that it gets mixed well with the sugar syrup.
Remember, if you leave it on the stove too long, the cashews will release too much oil. If you don't leave it on long enough, your mixture might be too sticky. Take it out when it looks and feels like a smooth, soft dough that's easy to work with.
Let it cool on a large sheet of baking paper for a few minutes, and then flatten with your hands. Place another large sheet of baking paper on top of the dough, and use a rolling pin to spread it out until the thickness is about half of a centimeter.
Use a pizza cutter or a knife to cut out diamond-shaped pieces, and there's your irresistible Kaju Katli!
Let's see if you can stop with just one - to be honest, I ate four in a row as soon as I made it! Hope you have fun trying this out too. And if you're feeling like dressing them up try some crushed pistachios and saffron!