This series is dedicated to preparing some of the most popular classical Indian desserts with a focus on healthy, fresh ingredients that bring the true flavors of these sweets to life! Indian desserts have a reputation for putting people to bed, mostly because of all the excessive dairy and oil that goes into them. We're here to show you how to make these desserts so much better, and we kicked off the series with a refreshing take on carrot halwa, one of the most popular Indian desserts of all time. If you haven't had a chance to make it, you'll love our recipe! Don't forget to check out the other recipes in the series including Kaju Katli, Phirni, Shrikhand, Jalebi and Rava Laddoo. We're wrapping up this series with one dish you wouldn't normally imagine would be possible to veganise – Rasmalai!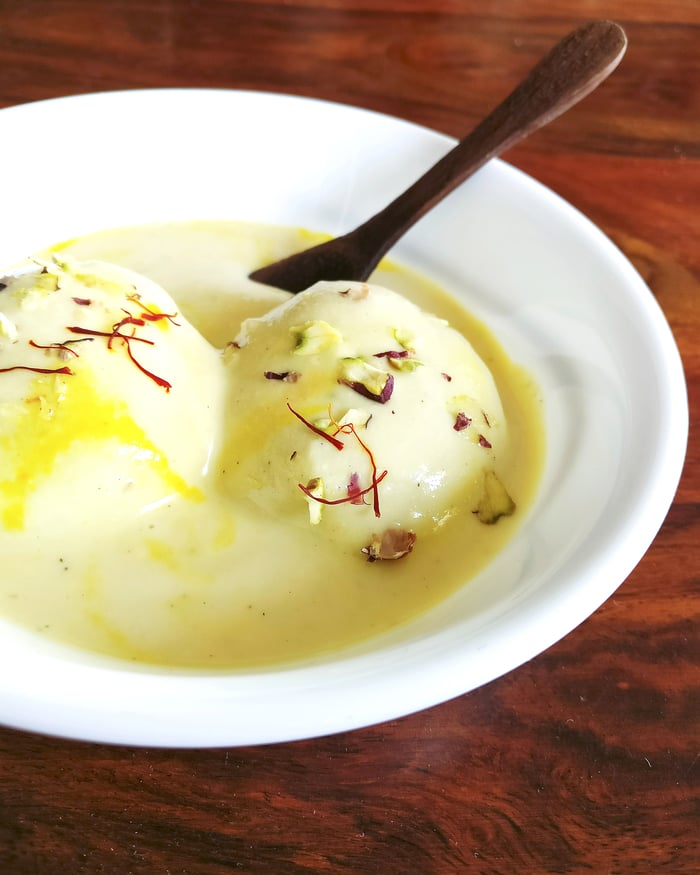 The name 'Rasmalai' was originally derived from the word 'ras', meaning juice, and 'malai', meaning cream. These round, spongy milk cakes are truly decadent - entirely composed of dairy, soaked in a sweetened and thickened milk that is flavoured with almond, cardamom, and saffron. Rasmalai originated in Bengal, India, but over time, gained popularity all across India.
I always knew this dish in particular was very unhealthy and fattening; I can recall that up until three years ago, every time I ate it I felt a combination of excitement and guilt! Of course, at the time I also had no clue that animal products were so harmful to our health, the animals, and the environment. Fast forward a couple of years, I finally took it upon myself to challenge the idea that this dish can only be made with milk products. It would be tricky to make it identical to the original, but I really wanted to go ahead and create something healthier, that came close enough to the original for it to still be termed Rasmalai. I would say that this comes about 80% close!
The thickened milk was simple to replicate using plant-based milk. Figuring out the round cakes, however, took a good amount of patience. I was looking for a soft yet rich ingredient to use, and the first thing that came to mind was cashew flour. Held together by freshly-made date paste, this dish can even be made entirely raw. Below you'll find a recipe for both the raw and cooked versions!
Rasmalai
Serves: 5
Active Time: 35 minutes
Ingredients
Milk ingredients
1 cup almonds and cashews, mixed (¾ cup almond, ¼ cup cashew)
2 cups water
½ cup raw sugar
½ tsp cardamom
A generous pinch of saffron
1 tbsp chopped pistachio, raw
A very tiny pinch of salt
Rasmalai ingredients
1 cup raw cashews
3 tsp date paste* or agave syrup
*To make date paste, soak 1 cup dates in lukewarm water for 10 minutes, rinse and drain. Blend with 1/3 cup water until completely smooth. Using date paste will yield a brown coloured rasmalai, but if you use agave, it will remain white. Using date paste will make it entirely raw, and using agave will make it semi-raw.
Directions
Rasmalai directions
Grind the cashews in a blender until soft and powdery, but don't over-blend or it will release oils and turn into cashew butter.
Take ¼ cup + 1 tbsp of cashew flour and ½ tsp of date paste (or agave), mix, and gently roll into a round ball. Once rolled, press it down to flatten it just a bit, and keep aside.
Use the same measurements to make four more identical rasmalai balls.
Lay them out on a non-stick baking sheet, and turn your oven to the lowest temperature (50 degrees C works well) and let it dehydrate for four hours. This step is optional, but it does help with the texture.
Milk directions
Rinse the nuts and fill a vessel with drinking water. Add the nuts to the water, and bring to a boil. Once it begins to boil, switch off the flame.
After about 5 minutes of letting it cool, gently peel the almonds. The skins should easily slip out.
In a high speed blender, blend the cashews and almonds with 2 cups of water until completely blended.
For the cooked version: Pour the almond-cashew milk into a medium-sized pan, and add the sugar, cardamom, saffron, and salt. Mix, and let it simmer. Try to make sure you switch off the flame just as it is about to boil.
For the raw version, don't heat it up, but instead just add the sugar, cardamom, saffron, salt, and blend once again for a few seconds. This will yield just a slightly thinner milk as compared to the cooked version. Both versions taste the same, but just differ in consistency.
Soak the rasmalai pieces in this milk, and allow them to be completely coated in the milk.
Once completely chilled, they're ready! Garnish with chopped pistachio, and dig in :)