This series is dedicated to preparing some of the most popular classical Indian desserts with a focus on healthy, fresh ingredients that bring the true flavors of these sweets to life! Indian desserts have a reputation for putting people to bed, mostly because of all the excessive dairy and oil that goes into them. We're here to show you how to make these desserts so much better, and we kicked off the series with a refreshing take on carrot halwa, one of the most popular Indian desserts of all time! If you haven't had a chance to make it you'll love our recipe. Also check out the other recipes in the series including Kaju Katli and Phirni. For our fourth piece in the series, we're tackling Shrikhand.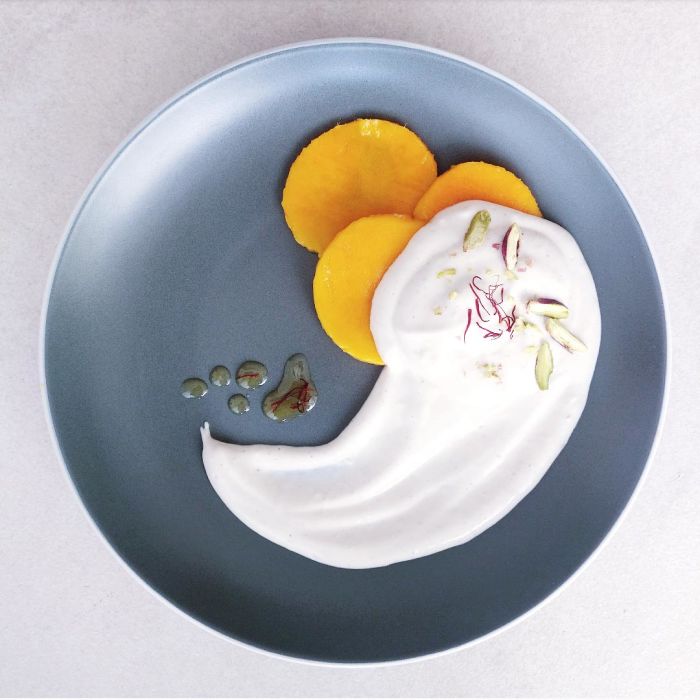 Shrikhand was my all time favourite dessert as a kid! Its thick, creamy, greek yogurt-like nature made it one of those irresistible summer luxuries. In India, Shrikhand is traditionally made from strained, dairy-based yogurt, whipped up with refined sugar and cardamom. It's a long process that involves hanging the yogurt in a muslin cloth for hours and letting the moisture slowly drip out in order for it to thicken. It's typically served either with poori (a deep-fried Indian bread) or with fresh seasonal fruits.
When I decided to start this series of veganised indian sweets, I just knew Shrikhand had to make it to the list but I had no idea how I was going to mimic that tartness that is mostly associated with dairy-based yogurt. All the existing vegan recipes for Shrikhand that I could find out there involved soy yogurt as a main ingredient, and I felt that would not only do the dish injustice, but also be tough for people to get access to. So I set out to create a much simpler recipe from scratch, and the result was nothing short of mind-blowing!
The key ingredient here is fresh, young coconut meat! In tropical countries like India, with streets full of coconut vendors, it's easy to get your hands on some of this divine goodness. Coconut meat is a hydrating source of healthy fats, protein, and several other essential vitamins and minerals. Loaded with fiber, it regulates your appetite, boosts your metabolism, and aids in weight loss. It really is one of the most nutritious raw foods out there. In this recipe, it works beautifully with cashews to bulk up the dish and make it rich - you might just find yourself slipping into a happy, healthy dessert coma, if there even is such a thing!
Shrikhand
Serves: 5
Active Time: 15 minutes
Ingredients
1 cup cashews (soaked in water overnight)
1 ½ tbsp water + more if required
⅔ cup coconut meat (from a young green coconut)
3 tbsp agave syrup (or any sweetener that will not affect the colour)
3 tbsp lime juice
3 tsp apple cider vinegar
1 tsp cardamom
A few strands of saffron
Pinch of sea salt
To serve:
A few more strands of saffron
Fresh mango
Slivered pistachio
(OPTIONAL) To add an extra special final touch to this dish, make this tangy saffron syrup! In a bowl, mix:
1 tbsp agave
1 tbsp freshly squeezed lime juice Pinch of saffron
Pinch of sea salt
Directions
Blend all the ingredients (except the saffron) in a high speed blender or a food processor until very creamy and smooth
Transfer to a bowl, add the saffron, and mix well
Refrigerate for at least 4 hours
Once chilled, you may eat it as is, or with freshly cut mango, slivered pistachio, and a sprinkle of saffron (or saffron syrup) on top