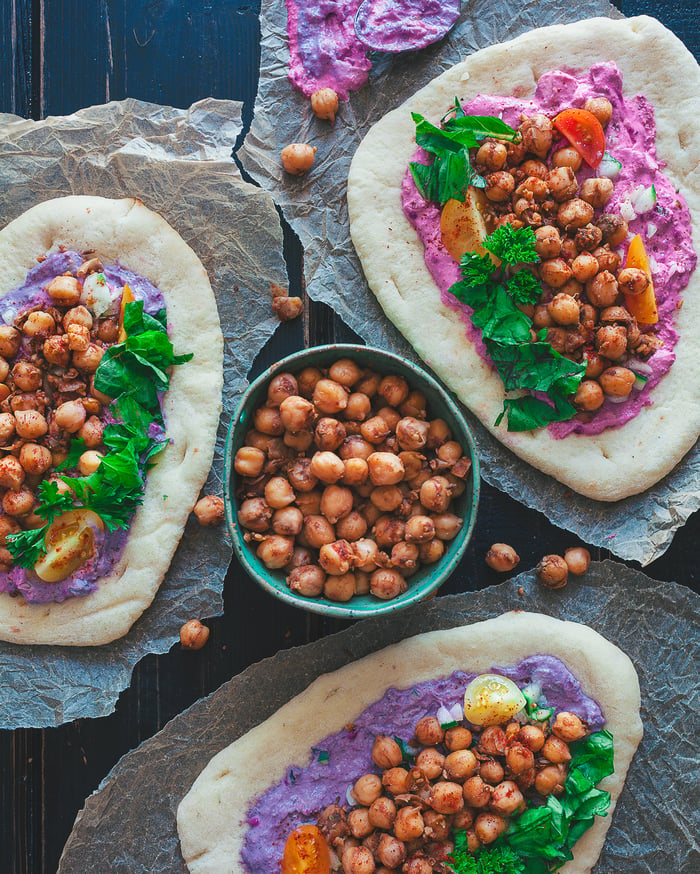 You don't have to color your tzatziki, but it makes a gorgeous spread for your chickpeas! Just blend your tzatziki and warm up your chickpeas with all the flavors, and assemble for a satisfying Mediterranean lunch.
Unicorn Chickpea Pitas
Serves: 3-4
Active time: 45 mins
Ingredients
For the chickpeas:
2 cans chickpeas

Juice of 1 lemon

2 tbsp liquid aminos (soy/tamari)

1 tbsp garlic

2 tbsp pure maple syrup

1 tsp paprika

1 tsp onion powder

2 tsp cumin

Salt & pepper to taste

For the Unicorn Tzatziki:

1 cup cashews soaked

Juice of 1 lemon

2 tbsp tahini

1 tbsp garlic

7-10 tbsp water

1/4 diced cucumber

1 tbsp dill

1 tsp onion powder

1 tbsp parsley

Salt/pepper to taste

1/2 melted frozen packet of pitaya

1 tsp butterfly pea powder
* Use this promo code 'rusticvegan15' for a discount when you order superfood powders from rawnice.
Directions
Make tzatziki by adding everything except the cucumber to a high speed blender. Fold the cucumber in afterwards and refrigerate.
Add chickpeas to medium heat pan and let cook a few minutes.
Add lemon, soy sauce and look cook till it starts to dry up a little.
Now add maple syrup first, then add all your spices and mix, cook till it really dries up and looks roasted.
Serve with your pitas or whichever way you like and enjoy.