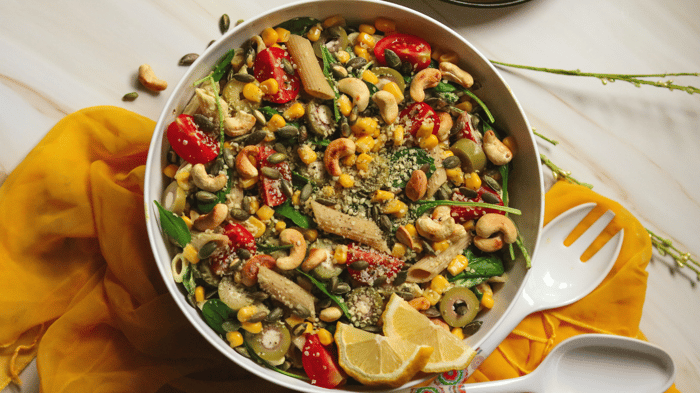 Photo: @flouredfingers_
Summer Pasta Salad Recipe by Yuliya Mihaylova
For those times you're looking to make a meal that does not require any cooking or very little of it, this fresh salad is the perfect choice.
Despite the extensive list of ingredients, this is extremely easy and quick to make. This recipe is very customizable, so feel free to add or remove the ingredients according to your preferences. Still, I highly recommend this colorful combo as the ingredients compliment each other and result in a delicious dish.
Makes: 4 Servings
Prep Time: 10 mins
Cooking Time: 15 mins

Ingredients
500g whole grain penne pasta
1 can sweet corn
2 big handfuls baby spinach
10-15 cherry tomatoes
10-15 green olives
50g raw cashew
50g raw pumpkin seeds
1 tbsp hemp seeds

Cashew Cream Sauce
100g raw cashew
Juice from 1/2 lemon
100ml soy milk
2 tbsp nutritional yeast
2 cloves garlic
1 medium ripe avocado
Salt and Pepper to taste

Method
Pre-soak the cashews in advance. If you have the time, it is best to soak them overnight or at least 8 hours in cold water. If you do not have that time, soak in hot water for 1 hour and cover the bowl completely.

Once the cashews are ready, transfer them to a powerful blender. Add the soy milk, lemon juice, nutritional yeast, garlic cloves and salt and pepper to taste. Blend on high for 1-2 minutes or until everything is well blended. If the sauce is too thick, add more soy milk until you achieve a smooth consistency.

Once the sauce is smooth, add the peeled, ripe avocado into the blender and blend it with the sauce. Give it a quick taste and add more salt, pepper or milk to suit your liking. At this point, it should have the same consistency as mayonnaise. Then, keep the sauce in your fridge to thicken and chill until the rest of the ingredients are ready.

Next, boil the pasta according to the package instructions. Once fully cooked, drain well and leave aside to cool.

In the meantime, chop the cherry tomatoes, the olives and the spinach to your preferred size and drain the can of sweet corn.

This one is optional, but I highly recommend it: Lightly toast some cashews and pumpkin seeds on a dry pan at medium heat for 5 minutes or until they become lightly golden. Make sure to keep an eye on these as they burn easily.

Once everything is ready, mix in all the ingredients, except the toasted cashew nuts and pumpkin seeds, in a big bowl. Add a few tablespoons of the chilled cashew sauce and mix well. Before serving, sprinkle the toasted cashew nuts and pumpkin seeds on top of the salad. I recommend topping the salad with some help seeds too. Enjoy!