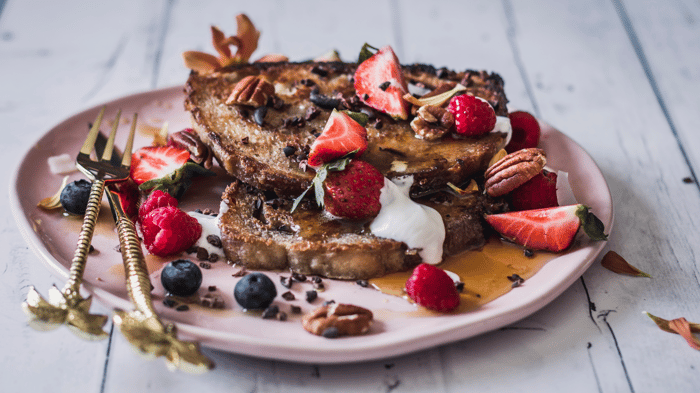 Photo: Chef Cynthia Louise
Vegan French Toast Recipe by Chef Cynthia Louise
Picture this - I was in my studio getting ready to film another recipe when one of the cameramen asked: What are we making today? I was like not sure. We had a quick scan around the kitchen and decided to give the classic French toast a crack.
We looked at each other and I remember thinking: Hope this works.
And boy did it work! It was magnificent!
Here's a tip: Watch the heat on this recipe as the almond meal tends to burn. Cook it slowly and adjust the heat up and down to get it a bit crispy around the edges. The toppings that I use are essential as they make everything come together in a truly tasty, epic way.
Report back on my social media with your pics and thoughts on this sweet, yummy goodness.
Makes: 4 Servings
Prep Time: 5 mins
Cooking Time: 15 mins
Freezer-Friendly: No

Ingredients:
1 cup coconut milk or any other plant-based milk you prefer
½ tsp vanilla extract
¼ tsp cinnamon powder
½ tsp allspice
2 tbsp almond meal
4 slices sourdough or gluten-free bread
A pinch of salt
Coconut oil, for frying

For The Toppings:
¼ cup pecans
1 punnet raspberry, sliced
2 tbsp cacao nibs
4 tbsp coconut yogurt
Maple syrup, as much as you like
A pinch of #INSPIRATION

Method:
Heat a pan on medium-low.

Whisk together the milk, vanilla and spices and let it steep for 5 minutes.

Strain, discard spice bits and stir in the almond meal.

Add the bread slices (one at a time) to the infused milk and allow them to soak the liquid.

Add a splash of coconut oil to the hot pan and fry the bread slices until golden brown and crispy around the edges on both sides.

Top with the pecans and raspberries.

Sprinkle with cacao nibs, drizzle with coconut yogurt and maple syrup and enjoy!