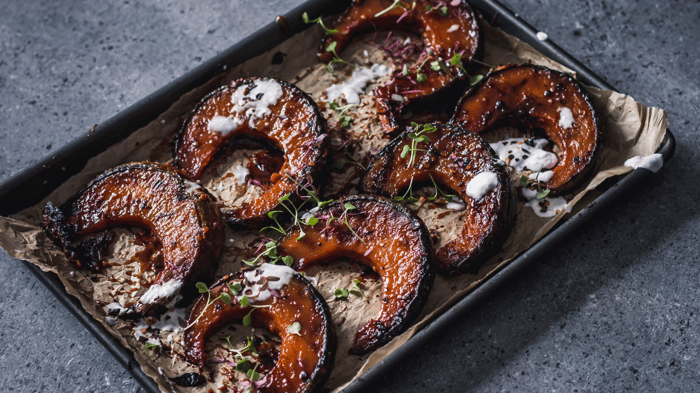 Photo: Chef Cynthia Louise
Glazed Miso Pumpkin Recipe by Chef Cynthia Louise
This glazed pumpkin is beyond yummy and it's twice as good the next day on toast.
Yeah, you read that right - mashed miso glazed pumpkin on toast is heavenly delicious. I love the combination of pumpkin sweetness covered with a shiny and flavoursome miso glaze.
You know by now that I like to keep things simple, and this recipe is yet another one that takes minimal effort to make.
There is one thing to be mindful of. All ovens are different, so you'll need to keep an eye on yours and make sure the pumpkin doesn't burn. Before you start baking, make sure you use a tray that will fit your pumpkin nicely. Also, the baking paper should go up the sides of the tray so that it traps the miso marinade and won't let it leak onto the tray.
You are now all set and ready to make this fantastic dish. I love to serve it with a huge bowl of salad topped with roasted, crunchy nuts and seeds.
Makes: 4 Servings
Prep Time: 10 mins
Baking Time: 50 mins
Freezer-Friendly: No

Ingredients:
½ cup shiro miso paste
4 tbsp apple cider vinegar
½ cup maple syrup
4 tbsp coconut sugar
2 tsp chilli flakes, optional
10 slices of pumpkin (I used Kabocha Pumpkin)
1 tbsp of #LETTINGGO

Method:
Preheat your oven to 350F/175C. Line a baking tray with baking paper and set aside.

To prepare the marinade, add all the ingredients except for the pumpkin into a bowl, and whisk together until well combined. Taste and adjust the level of sweetness if needed.

To prepare the pumpkin, arrange the pumpkin wedges on the baking tray.

Pour the marinade over the pumpkin and coat the wedges on both sides.

Bake in the preheated oven for 30 minutes. Flip the wedges and continue baking for 30 more minutes or until the pumpkin is cooked through.

When done, leave to rest and cool down a bit.

Serve over a bed of greens and enjoy!