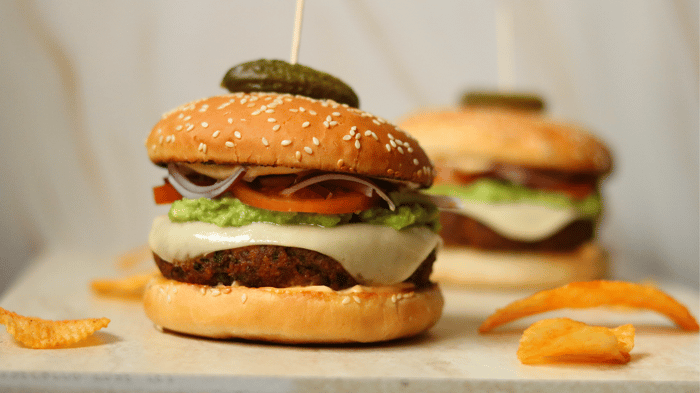 Photo: @flouredfingers_
Vegan Bean Burger Recipe by Yuliya Mihaylova
A veganized version of my favorite veggie burgers – the results are juicy, beautiful burgers that will satisfy any burger lover.
Makes: 6 patties
Prep Time: 20 mins
Freezer-Friendly: Yes
Ingredients:
6 store-bought or freshly baked vegan burger buns
For 6 patties:
250 grams of cooked and drained red beans from a can
500 grams of mushrooms
1 red onion (diced)
2 tbsp of vegan basil pesto
1 tbsp of ground flax seeds (mixed with 3 tbsp of water)
150 grams of fine bread crumbs
1 tsp each of salt, black pepper, smoked paprika, chilli flakes (adjust to taste)
Fresh parsley and basil leaves (adjust to taste)
Garnish:
2-3 medium red onions (sliced thinly)
2 medium ripe avocados
2 tomatoes (sliced thinly, or 10 cherry tomatoes, cut into 4 pieces)
6 slices of vegan cheese (cheddar or/and mozzarella)
5-6 tbsp of vegan mayo and 2 tbsp of Sriracha hot sauce (mix to make a Sriracha mayo)
Method:
Before you start with the main part, prepare your flax "egg". In a small bowl, mix the ground flax seeds and the water and mix them well. They will start to gel overtime and will act as an egg in the recipe - it will bind all ingredients together.
Start by dicing the onion and the mushrooms and sauté them for 5-6 minutes with a drop of olive oil in a pan, until most of the moisture from the mushrooms has evaporated. Place them in a chopper or grinder and dice them further into small chunks (not a paste) and transfer into a big bowl.
Wash and drain the canned beans well and place them in the chopper, again pulsating just a couple of times, until you have a mixture that resembles a paste with some chunks of beans still fully intact and transfer them to the mushrooms mixture from earlier. Mix them well together.
Dice your fresh parsley and basil leaves and add them to the bowl. Add your flax egg, pesto and all your spices and mix them until well combined.
Finally, add your fine bread crumbs and mix until you no longer see any dry crumbs left.
Divide the mixture into 6 equal servings and shape the patties in your hands. Start your grill or grill pan on high, add a drop of olive oil and place the patties (2 at a time) to start cooking.
Cook the patties for 6-7 minutes on each side. When both sides are almost fully cooked, place the vegan cheese on top and cover the pan with a lid, allowing the cheese to melt.
Cut your buns in half and toast them on the hot pan/grill (cut side down) for a minute and lather both the lid and the bottom buns with the delicious Sriracha mayo.
Slice your tomatoes and onions and salt them. Take out the flesh of the avocados and mash them with a fork as fine as you like and add a small pinch of salt and pepper to taste and a squeeze of lemon juice, to prevent it from browning.
When everything is ready, assemble the burgers.
Take the bottom of the burger bun (covered with the mayo) and place the patty on top. Put two generous tablespoons of the avocado mash, add the tomato and the separated onion rings and cover with the lid.
All that is left is to enjoy this delicious and simple vegan bean burger!