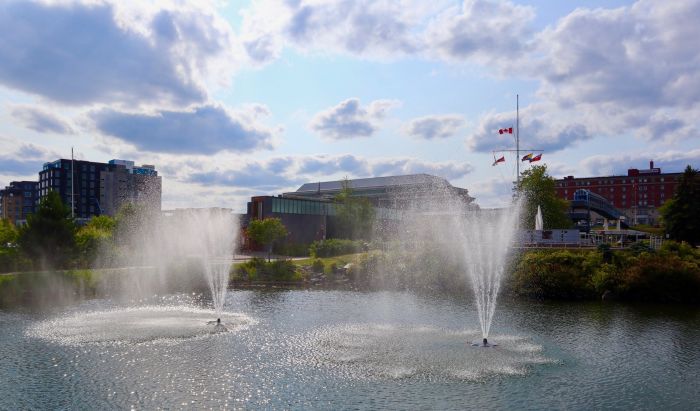 Thunder Bay is the hub of Northwestern Ontario, Canada. Although its population isn't large, it's a city full of diverse cultures and cuisines. Many people pass through this city on their way to other parts of Ontario or the US, and no one can resist its beautiful landscapes, friendly folks, and small-town charm. From the iconic "Sleeping Giant," the beautiful waters of Lake Superior, to the strong Indigenous culture, Thunder Bay has a lot to offer to both its visitors and locals. The same can be said for its plant-based dishes!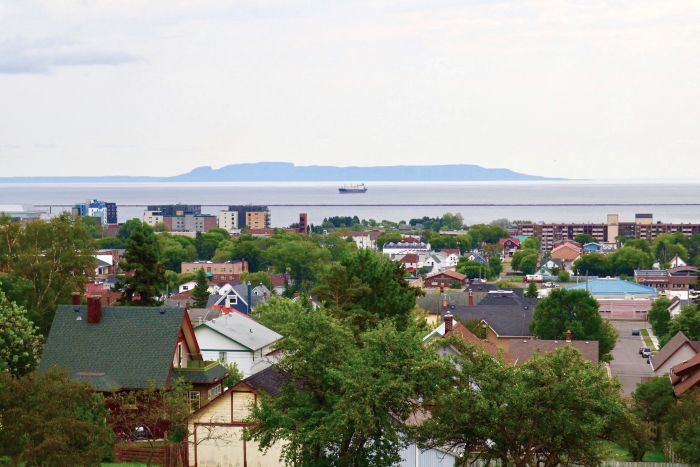 Bonobo's Foods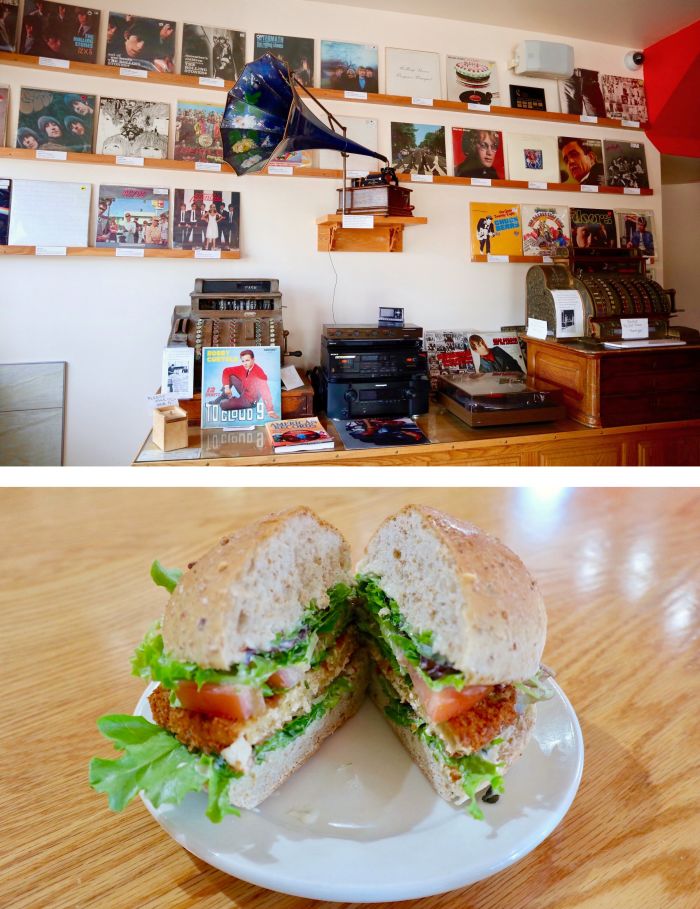 Crabby Bonobo
A long-established favourite veggie spot, Bonobo's Foods is a vegetarian take-out and dine-in restaurant. They offer daily and weekly specials that are changed frequently and baked goods. All food items can be made vegan on request. Their homemade veggie burgers have been voted as one of the best in the city (beating many meat-based ones!) and much of the community rallied behind them when neighbours complained about the lack of parking spaces around Bonobo's to the city council. I highly recommend the Crabby Bonobo, which is a house-made crab burger patty with vegan tartar sauce, tomato and field greens.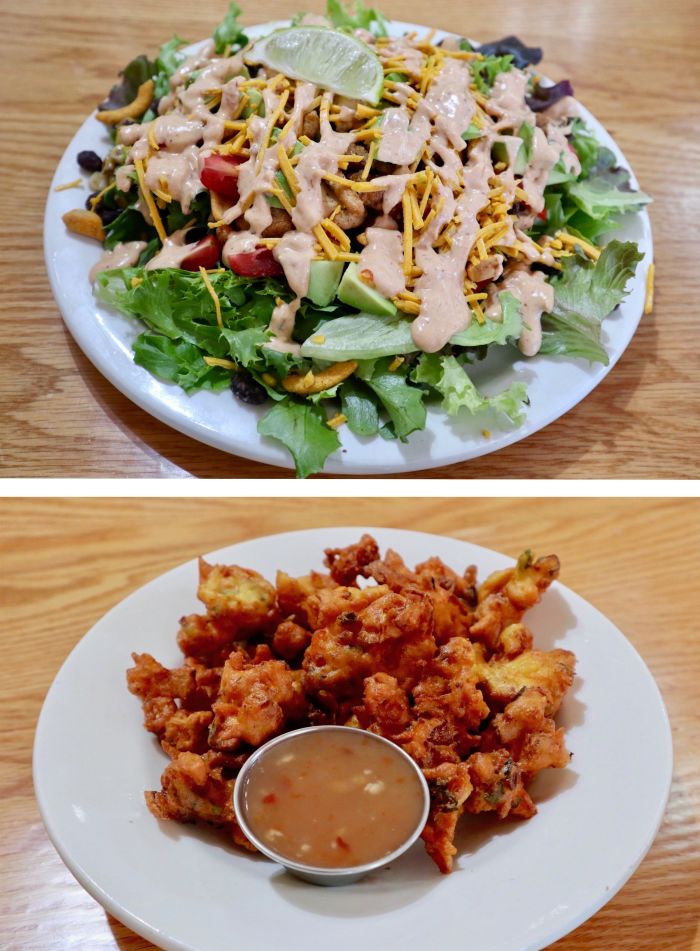 Top: Salad; Bottom: Cauliflower Pakoras
The Cauliflower Pakoras are little slices of deep-fried heaven. If you're opting for a healthier option, try one of their huge salads. Their other bonuses include a beautiful vintage interior and a grocery space with lots of vegan goodies to bring home.
Check out other dishes and reviews of Bonobo's Foods.
Bonobo's Foods, 493 Oliver Rd, Thunder Bay, ON P7B 2G8, Canada
Red Lion Smokehouse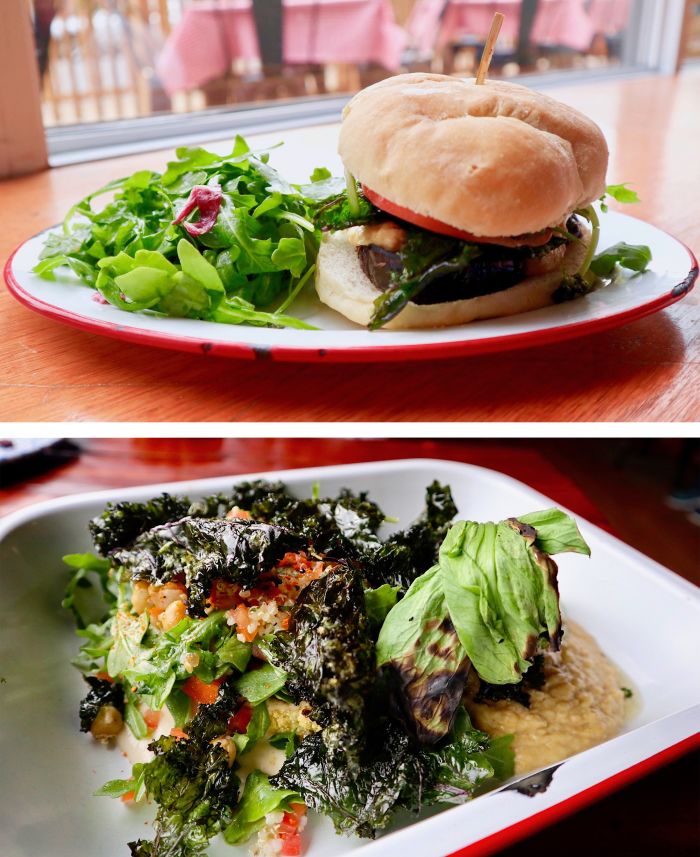 Top: Eggplant Burger; Bottom: Cauliflower Steak
Who would've thought a meat-based smokehouse would be a hotspot for plant-based eaters? Red Lion Smokehouse has amazing chefs who cook up mouth-watering plant-based dishes every Wednesday night for their "vegan specials", which change every week. Using fresh seasonal produce from local farms, the chefs enjoy coming up with new delicious creations. When I visited on a Wednesday, the tables around me were all ordering the vegan specials, even though they stated they were meat-eaters but were curious to try vegan food! I thoroughly enjoyed their Cauliflower Steak, which featured a to-die-for smoked chickpea dip, as well as their Eggplant Burger.

From left: Chunky Chips, Pickled Veggies, Craft Beer
Their chunky chips are the chunkiest I've ever seen, and the Pickled Veggies are served in an adorable photogenic teacup. Wash it all down with a local vegan craft beer from Sleeping Giant Brewery.
Check out other dishes and reviews of Red Lion Smokehouse.
Red Lion Smokehouse, 28 Cumberland St S, Thunder Bay, ON P7B 2T2, Canada
Bliss Café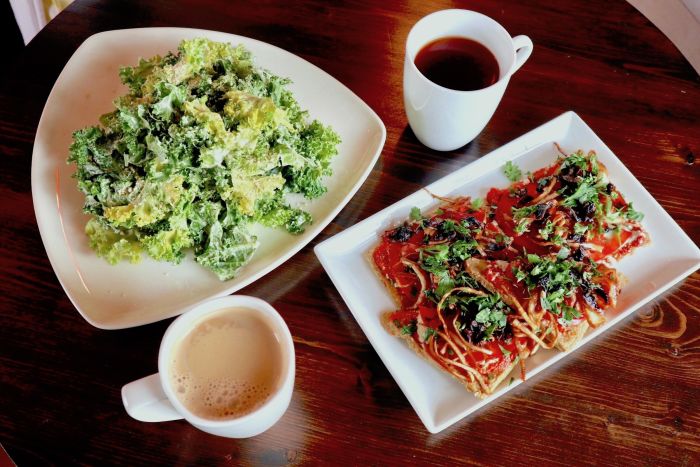 From left: Kale Caesar; Raw Pizza
As the only fully-vegan restaurant in Thunder Bay, Bliss Café creates delicious raw dishes, smoothies, desserts, and coffees using local organic ingredients. They also offer raw cooking classes, catering, and many gluten-free options. This place gets seriously packed at lunchtime, and there's no guessing why. Their Kale Caesar is fresh, light and delicious. Their Raw Pizza is made from a homemade sprouted buckwheat, sunflower seed, and flax crust, topped with dehydrated mushrooms, tomatoes, caramelized onions, parsley, cashew mayo, and "rawmesean."
From top, left: Twix Bar; Raw Blueberry Lemon Cheesecake; Raw Pizza
It's hard to choose from their many desserts, but the dark chocolate-covered Twix Bar is a must-have, and their raw blueberry lemon cheesecake, made with local blueberries, is a perfect guilt-free dessert.
Check out other dishes and reviews of Bliss Café.
Bliss Café, 87 Cumberland St N, Thunder Bay, ON P7A 4M1, Canada
Damascus Donair
Hummus and Pita
This restaurant is a popular place in the local community with a great backstory. In 2016, Zaher Toubaji arrived to Thunder Bay with his family as refugees from Syria, sponsored by a local Thunder Bay church. Within a year, he opened his Donair shop, which of course serves meat but also offers many plant-based options. Their Babagaouj and Hummus dips are delicious and huge – a small one can feed at least 5 people.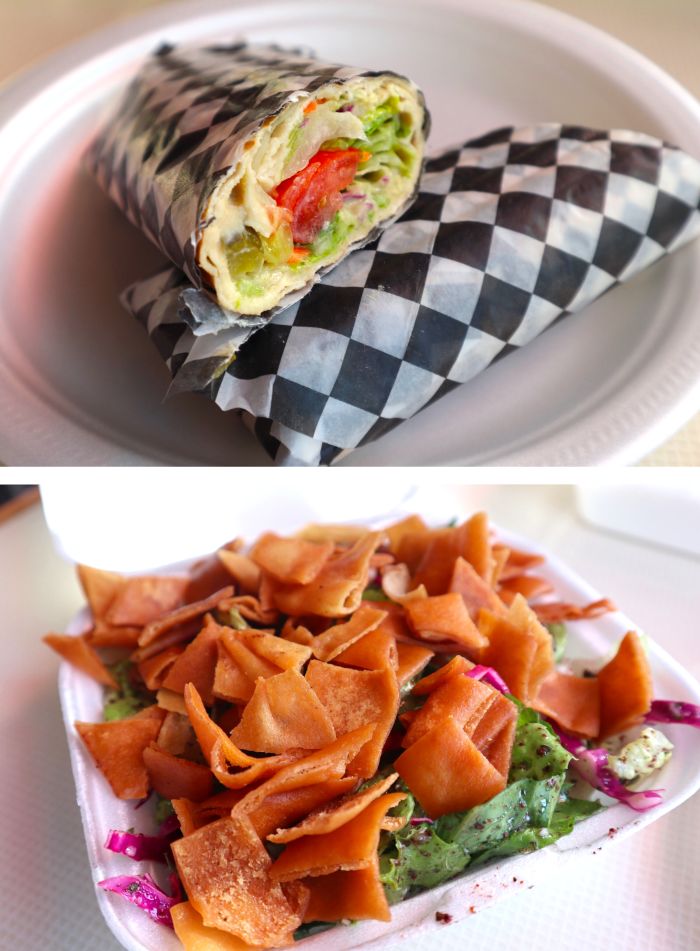 Top: Hummus Wrap; Bottom: Fattoush Salad
Their Hummus Wrap has a generous portion of pickles, which complements the wrap nicely, and the Fattoush Salad is one of the best I've ever tasted. Everything is very reasonably-priced and delicious.
Check out other dishes and reviews of Damascus Donair.
Damascus Donair, 17 St Paul St, Thunder Bay, ON P7A 4S4, Canada
In Common
From left: Dream Bowl, Tomato Red Pepper Curry Soup, Roasted Beet Bowl
This cozy restaurant/café is a popular spot downtown, which features wide selection of food items. At the bottom of the menu it says, "Ask your server for vegan options." Surprisingly, most of the menu can be made vegan with minor substitutions. They also have a daily soup, which is always gluten-free and vegan. I absolutely loved their Tomato Red Pepper Curry Soup, which was warming, filling, and a bit spicy. One of their daily specials was a delicious Roasted Beet Bowl, and they happily swapped the chicken for tofu. I also recommend the Dream Bowl, which has grains, greens, sweet potato, pickles, turmeric, halloumi (swap with chickpeas or avocado to make it vegan), and maple tahini dressing. All of their bowls are incredibly filling, hearty, and super tasty.
Check out other dishes and reviews of In Common.
In Common, 40 Cumberland St S, Thunder Bay, ON P7B 2T5, Canada
La Poutine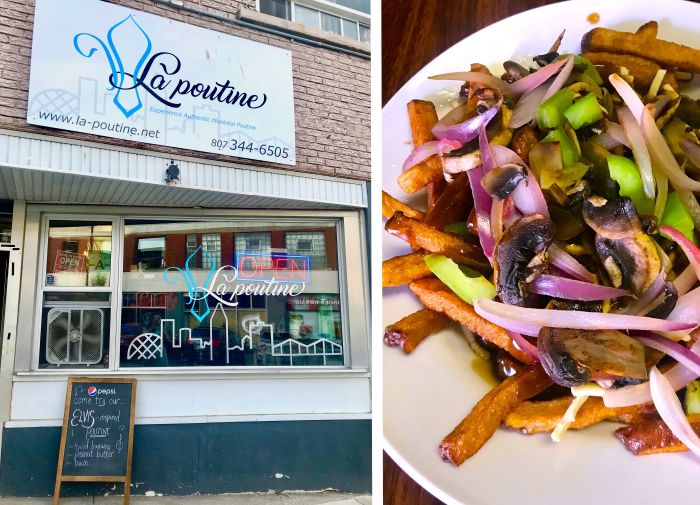 Vegan Deluxe
It's impossible to say you've had an authentic Canadian experience unless you've tried poutine! This classic French-Canadian dish is traditionally made from French fries, gravy, and cheese curds. This food would normally be off-limits to plant-based eaters, but more and more poutine places are creating plant-based variations of this dish. La Poutine offers a traditional poutine with vegan gravy and Daiya cheese shreds. You can also pay extra to add additional toppings like mushrooms, peppers, or onions. Their Vegan Deluxe is a new menu item that contains fries with Daiya cheese, vegan gravy, teriyaki sautéed mushrooms, vegan mayonnaise, sweet seaweed, and green onions. They make sure to cook all their vegan items separately from their meat ones, which shows that this place truly caters for plant-based eaters.
Check out other dishes and reviews of La Poutine.
La Poutine, 16 St Paul St, Thunder Bay, ON P7A 4S5, Canada
Rebel Salad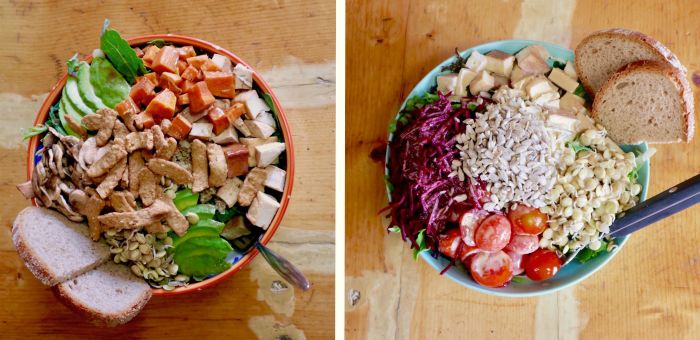 Build your own salad!
As the name suggests, this hot lunch spot is anything but boring old salads! The king of the build-your-own-salad, this popular restaurant has a huge variety of salad toppings, and the menu clearly labels its vegan options. When you walk in, you fill in a piece of paper on which you choose your salad base, two proteins, three vegetables, one topping, one side, and a dressing, and give it to the cashier. My favourite combination is mixed leaves and kale, tofu, sweet potato, marinated mushrooms, sprouts, sesame snaps, avocado, vegan bread, and balsamic maple dressing. The portion size is huge and nobody in my group could actually finish an entire salad. Make sure you come early for lunch, since it's impossible to get a table at peak hours.
Check out other dishes and reviews of Rebel Salad.
Rebel Salad, 320 Bay St, Thunder Bay, ON P7B 1S1, Canada
Sweet North Bakery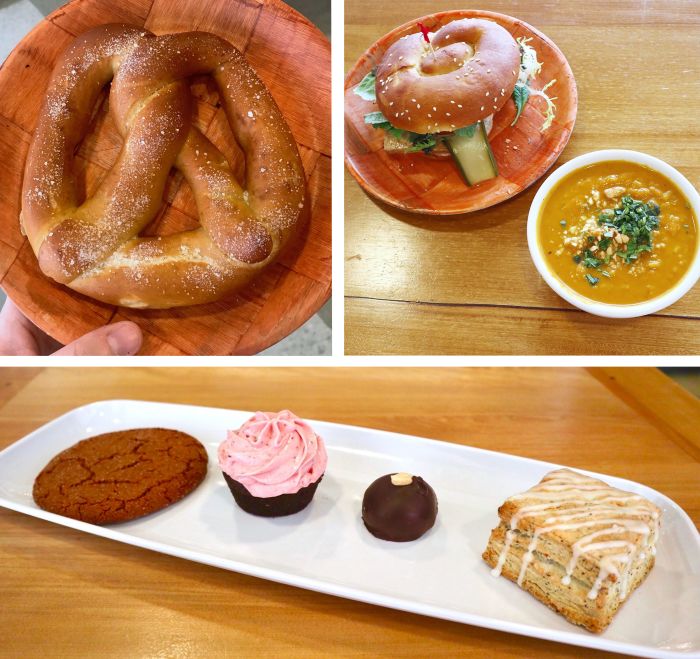 From top, left: Pretzel, The Vegan, Vegan Thai Soup, assorted desserts
Bakeries are often tricky for plant-based eaters, especially vegan. At Sweet North, however, they cater for many dietary needs and have lots of gluten-free and plant-based options, which can allow all of us to freely indulge. They also try to source their ingredients from local farms to support local businesses. Their giant carnival-like Pretzels are a must-try, either sesame or salted (just ask for no egg wash on top if you're vegan). Their vegan cupcakes, cookies, and truffles change regularly and are delectable. The Vegan is an amazing sandwich with black bean spread, wilted greens, sautéed tofu, mild antipasto, vegan mayo, pea shoots, romaine, and pickles, served on a vegan pretzel bun. Every Wednesday they have vegan specials, and I particularly enjoyed the Vegan Thai Soup when I last visited. They also offer soy and almond milk for all their beverages.
Check out other dishes and reviews of Sweet North Bakery.
Sweet North Bakery, 10 Court St S, Thunder Bay, ON P7B 2W3, Canada
Sushi Bowl
From top, left: Pan-fried Gyoza, Wakame Salad, Spider Fries
I have found that sushi can either be hit or miss for plant-based eaters. In Thunder Bay, many sushi restaurants will use mayonnaise in their sushi rolls, which makes them unsuitable for vegans. The Sushi Bowl, however, is a long-standing authentic Japanese and Korean restaurant that completely understands what plant-based means, and even offers a separate vegetarian menu. I highly recommend the simple-yet-delicious Wakame Salad as an appetizer. My guilty pleasures are the pan-fried Gyoza and Spider Fries, which are deep-fried carrot, potato, and onion fries. Luckily, the batter used is vegan.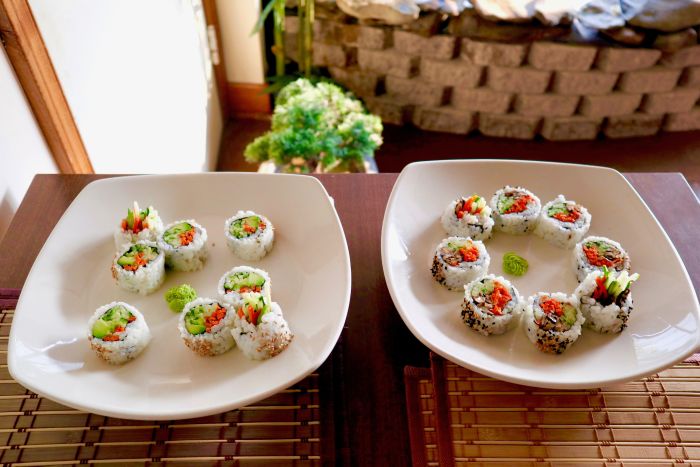 From left: L.A. Roll, Monk Roll
For sushi, try the L.A. Roll made with carrot, cucumber, avocado, and sesame seeds, or the Monk Roll, made with shitake mushrooms, spinach, carrots, cucumbers, and black sesame seeds. This is a great place to get your sushi fix without worrying about ingredients.
Check out other dishes and reviews of Sushi Bowl
Sushi Bowl, 250 Red River Rd, Thunder Bay, ON P7B 1A6, Canada
Thai Kitchen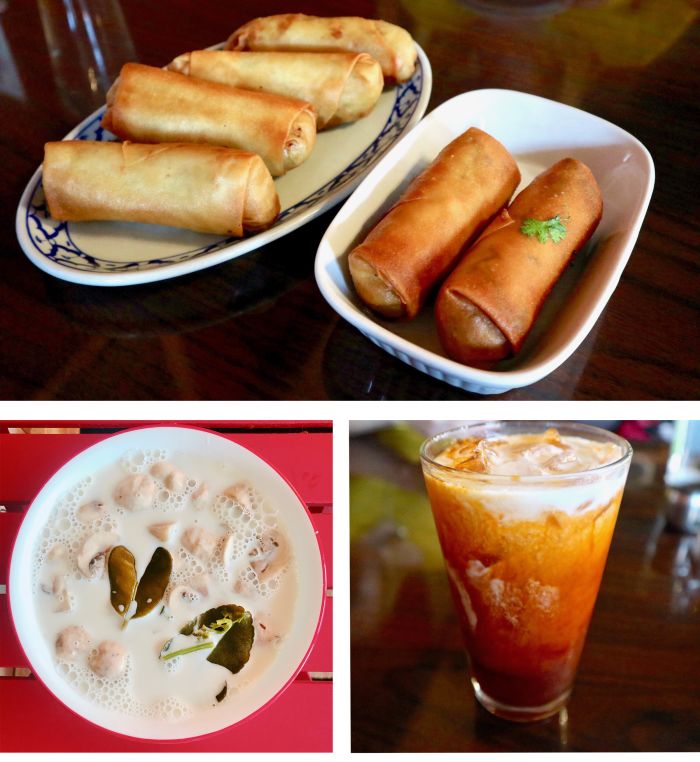 From top, left: Veggie Spring Roll, Tom Ka Gai, Iced Thai Tea
This is quite possibly my favourite restaurant in Thunder Bay, which offers delicious, affordable, and authentic Thai food. After travelling to Thailand multiple times, I can admit that I still haven't found a Veggie Spring Roll as good as the massive, homemade ones offered here. Most of the dishes can be made vegan, as they substitute meats with tofu in dishes indicated with a veggie symbol on the menu. My go-to dish is the Tom Ka Gai, which is a hot and sour white soup with fresh mushrooms and cilantro in coconut broth with lemongrass, lime leaf, and tofu. You can also try a traditional Iced Thai Tea here – ask your server for coconut milk because it's so good!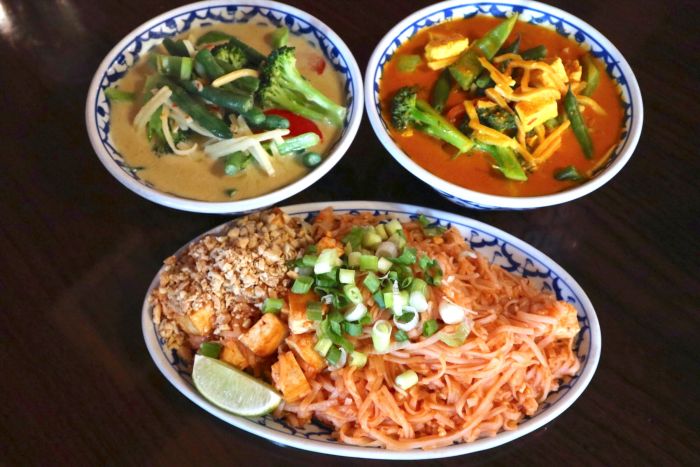 From top, left: Green Curry, Red Curry, Pad Thai
Try any of their delicious red, green, or yellow curries with tofu or one of their Pad Thai dishes – just ask them to remove the egg if you're vegan.
Check out other dishes and reviews of Thai Kitchen
Thai Kitchen, 1 Cumberland St S, Thunder Bay, ON P7B 2T1, Canada
Monsoon Thunder Bay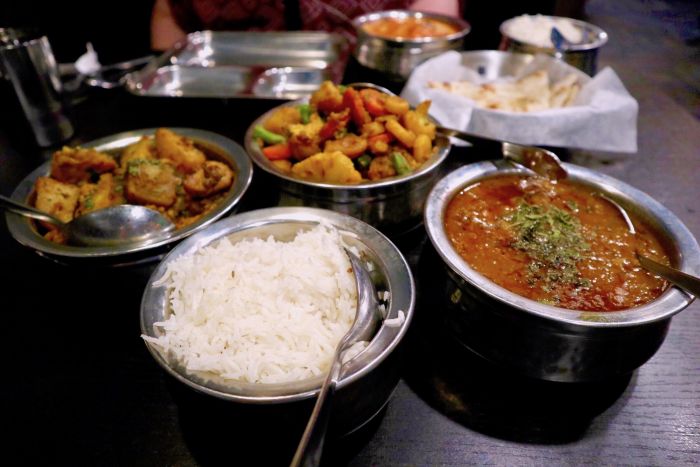 Who would've thought that you can find such good Indian food in the middle of Northwestern Ontario? At Monsoon, they have clearly labeled vegetarian items, and the staff fully understands what vegan means.

From left: Aloo Ghobi, Channa Masala, Mixed Veg
As someone who has tasted many versions of Aloo Ghobi, I can tell you that theirs is extremely good. Don't miss the Channa Masala if you like spice. The Mixed Veg, a combination of various stir-fried veggies, compliments the spiciness of the other dishes nicely. Their Naan Bread is pillowy soft and freshly-made – just make sure to ask for no butter on it if you're vegan. The staff here are super attentive and friendly, so it's definitely worth paying them a visit.
Check out other dishes and reviews of Monsoon Thunder Bay.
Monsoon Thunder Bay, 588 Arthur St W #4, Thunder Bay, ON P7E 5R7, Canada
The Growing Season – Juice Collective

From left: Season Sandwich, Immune Juice, Venus Rice Bowl
This local favourite situated in the hip downtown neighbourhood offers fresh juices, homemade desserts, daily soups, coffees, and many hearty dishes – most of which are vegetarian, and many of which can be made vegan. Dishes are colourful, fresh, and often gluten-free. The Season Sandwich is a delicious vegetarian open-faced sandwich with local bread, Thunder Oak Gouda local cheese, sliced avocado, homemade vegan pesto, served with a salad side with sesame ginger dressing. The Venus Rice Bowl is a popular menu item with organic brown basmati rice, raw beets, carrots, spinach, roasted tofu, sprouted lentils, and house-made tahini sauce. Check out this place if you need a healthy boost or if you just want to relax and enjoy the local artwork on the colourful walls.
Check out other dishes and reviews of The Growing Season.
The Growing Season, 201 Algoma St S, Thunder Bay, ON P7B 3C1, Canada
Prime Gelato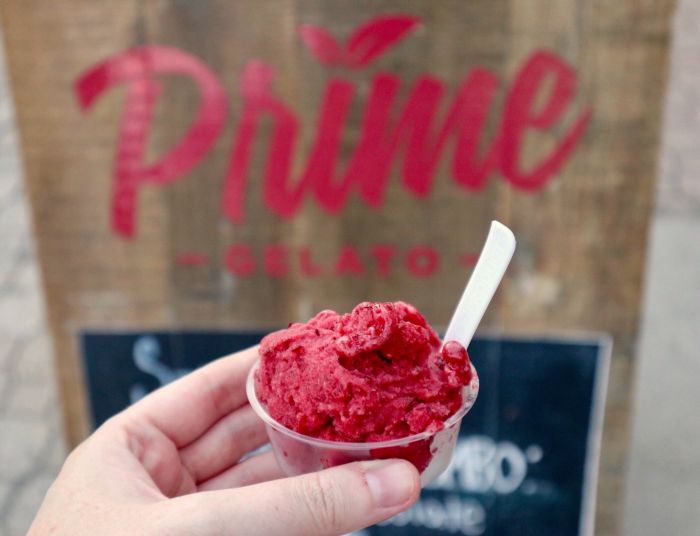 If you come here in the summer, be prepared to wait in a line that goes all the way out of the door! This high-quality artisanal gelato shop boasts of being the only gelateria in Northern Ontario that doesn't use pre-made powder bases, pre-made flavouring pastes, colorants, or artificial flavours. They try to source as many local ingredients as possible, such as herbs, wild blueberries, maple syrup, and flour. Their flavours change regularly, and they always offer a variety of vegan sorbetto and dairy-free gelato made with almond milk, rice milk, or coconut milk. Vegan flavours are clearly labeled on their menu.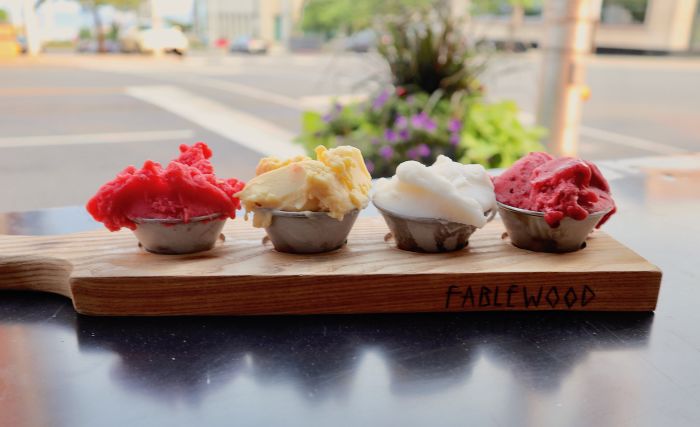 From left: Cherry Lime Sorbet, Coconut Mango, Lemon Sorbet, Strawberry Banana Sorbet
You can order them in scoops or a flight, which contains four flavours of your choice, and is great for sharing. On my last visit, I tried the Coconut Mango Gelato, Strawberry Banana Sorbet, Lemon Sorbet, and Cherry Lime Sorbet. There's a reason why this place is named 'Prime' Gelato – you can taste the high quality flavour with each bite. Or lick!
Check out other dishes and reviews of Prime Gelato.
Prime Gelato, 200 Red River Rd, Thunder Bay, ON P7B 1A4, Canada
Thunder Bay is a place not to be overlooked. Although a little geographically isolated, it's definitely a strong player in the plant-based movement, with so many plant-based choices available all over the city. Whether you're passing through or staying long-term, don't miss out on all of its wonderful and delicious options!