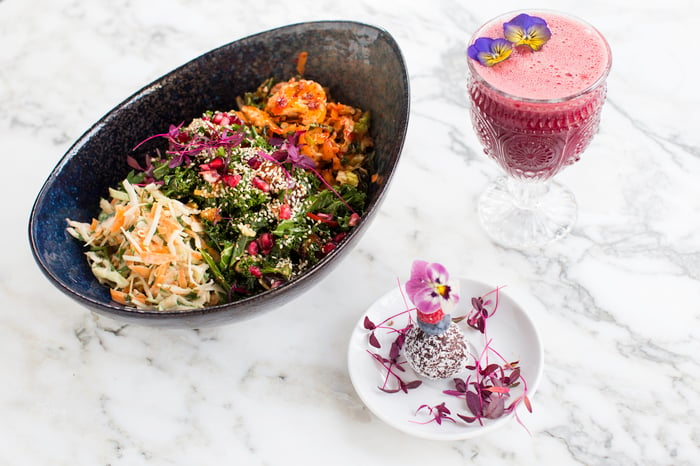 Stunning spread at Redemption (credit to Claire Menary)
Shoreditch, in London's East End, is the world's top destination for street art and one of the trendiest neighborhoods in the UK. From its iconic beginnings as the birthplace of Elizabethan Theater (Shakespeare performed both Romeo & Juliet and Henry V here), to its notoriety as London's start-up hub, Shoreditch has become the preferred stomping ground for hipsters, artists, and tech geeks. Social influencers and trendsetters fill the area's artisan coffee shops, dimly lit speakeasies and eclectic plant-based restaurants.
In our latest guide, we've summed up some of the best plant-based dishes at restaurants in Shoreditch that are breaking tradition and inspiring us with inventive, modern and healthy choices. So next time you're in London head to Shoreditch and let us know what you think by submitting reviews of your favorite dishes! And if you find a restaurant that needs to do better be sure to poke them and we'll have a word with them!
#1 The Attendant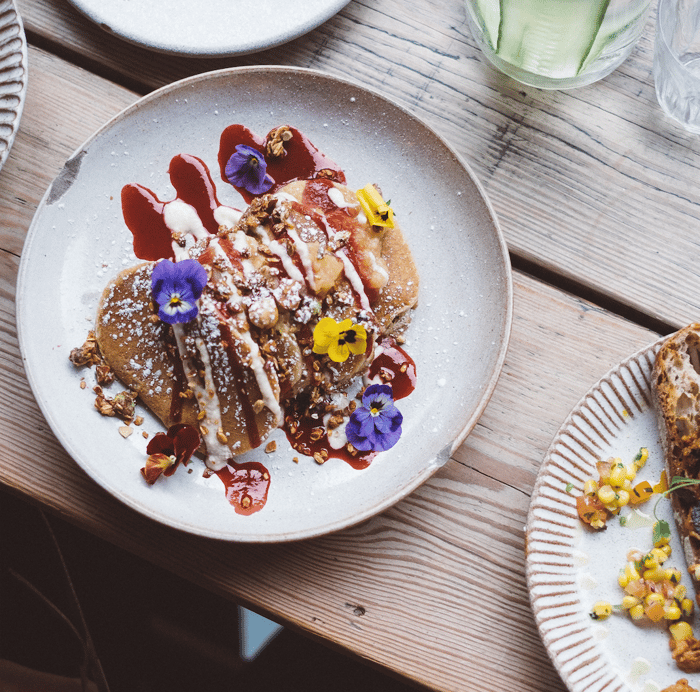 Pancake stack
The Attendant, a buzzing café with a homegrown plant wall and whitewashed surfaces, is a hub for meet-ups in Shoreditch. Kick off your morning with a generous helping of vegan pancakes, almond milk porridge or pumpkin & sweet potato on multigrain toast. If you're in the mood for something sweet, The Attendant has a variety of vegan protein balls available ranging from cranberry & chocolate to coconut & beetroot flavors. Their kitchen only sources sustainable, ethically farmed fresh produce from local and British suppliers. What's more, The Attendant's seasonal espresso blends are complemented by their friendly baristas.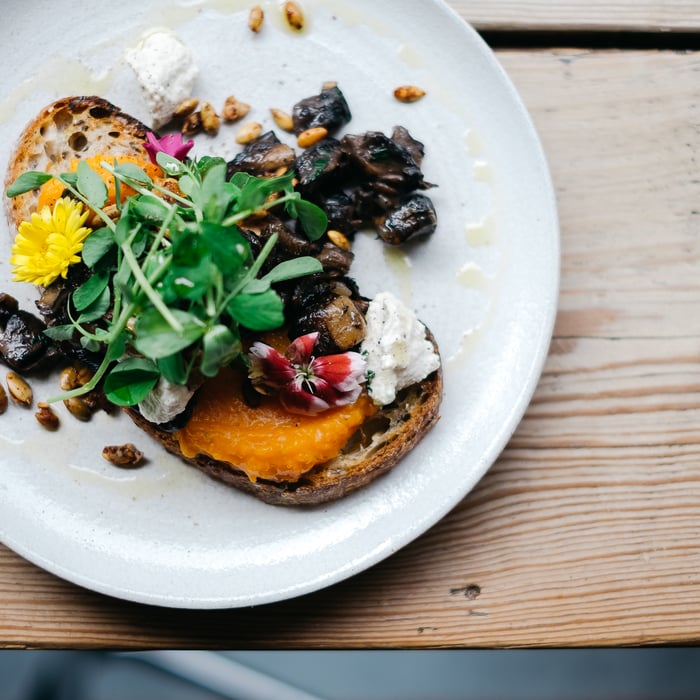 Pumpkin & sweet potato smash
Check out other dishes and reviews of The Attendant.
The Attendant, 74 Great Eastern St, London EC2A, UK
#2 Dishoom
If you like Indian cuisine, visit Dishoom. This Bombay-style café currently has six successful locations across the UK. When you visit the Shoreditch location, choose between sitting in the festive outdoor verandah or the swanky indoor café. When you arrive, ask for Dishoom's vegan menu. Some of my personal favorites include the flavorful okra fries and unique vegetable samosas. Given Dishoom's popularity, make sure that you make a reservation a few weeks in advance.
Check out other dishes and reviews of Dishoom. Dishoom, 7 Boundary St, London E2 7JE, UK
#3 Redemption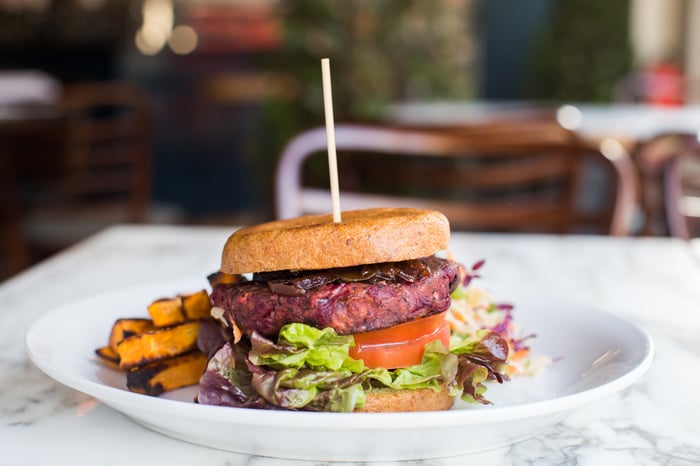 Plant-based burger
Redemption is a 100% vegan, sugar-free and wheat-free trendy restaurant located across the street from Raw Store, a health food-focused grocery store in Shoreditch. Redemption boasts a motto of "spoil yourself without spoiling yourself" and has a versatile menu which ranges from sweet corn & red pepper pancakes to wild mushroom & black rice risotto.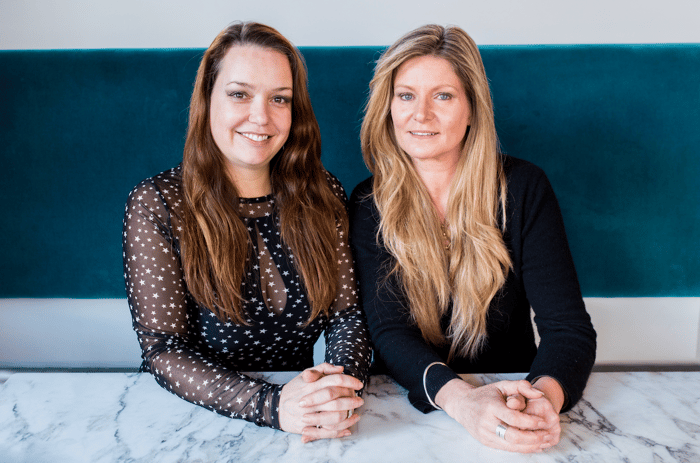 Friendly owners Catherine and Andrea
Check out other dishes and reviews of Redemption.
Redemption, 320 Old St, London EC1V 9DR, UK
#4 Radio Alice Pizzeria
Radio Alice, voted the #1 pizzeria to visit by one of Italy's leading newspapers, is located in a quaint part of town beside Hoxton Square. The pizzeria's exposed brick walls and open kitchen make it an adorable destination for a date night or a catch-up with friends. For vegan deliciousness, enjoy the tomato, garlic and parsley pizza or the beetroot, leaks and olives pizza. The pizza's organic sourdough crust is perfectly baked so that it's soft on the inside and crunchy on the outside. For a refreshing side, try the tomato, caper, Tropea onion and olive salad.
Check out other dishes and reviews of Radio Alice Pizzeria.
Radio Alice Pizzeria, 16 Hoxton Square, London N1 6NT, UK
#5 100 Hoxton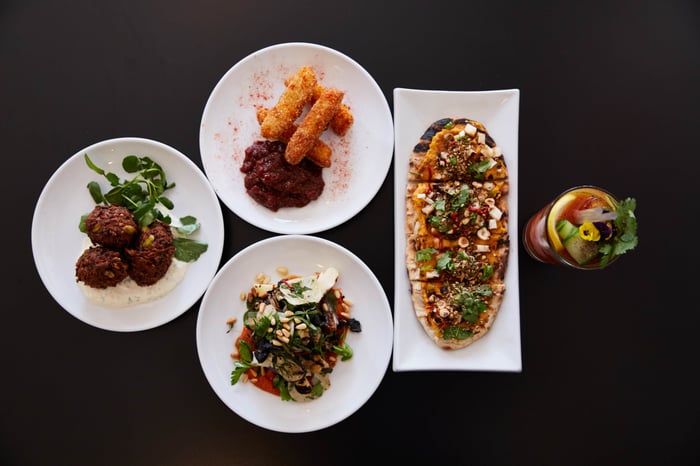 Halloumi mix
100 Hoxton offers fabulous sharing plates for breakfast, lunch and dinner that mainly contain Asian ingredients and flavors. During the week, visit this chic spot for an incredible GBP 5 vegan lunchbox with coconut and cauliflower curry that's served with vegetable rice and Asian slaw. Other current vegan options include the burnt eggplant salad with toasted coconut, hazelnut, apple and beetroot. Accompany your meal with one of the restaurant's refreshing alcohol-free cocktails.
Check out other dishes and reviews of 100 Hoxton.
100 Hoxton, 100-102 Hoxton St, London N1 6SG, UK
#6 Lyle's
Venture into Lyle's in an old tea factory for lunch or dinner. This restaurant is located across the street from the neighborhood's hip Boxpark which has stores and restaurants created from old shipping containers. Lyle's vegetarian menu changes daily and their servers will happily give you the rundown of the yummy vegan choices available each time you visit. I especially like their pumpkin & whey soup and their salad of the day.
Check out other dishes and reviews of Lyle's.
Lyle's, Tea Building, 56 Shoreditch High St, London E1 6JJ, UK
#7 Ottolenghi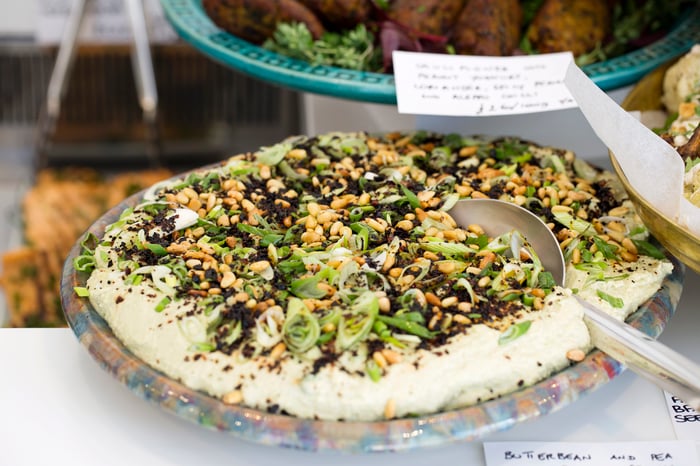 Butterbean and pea purée
If you're exploring Shoreditch's awesome Spitafields Market area, stop into Ottolenghi for an incredible and super healthy breakfast, lunch or dinner. Their menus frequently change and, given Ottolenghi's ordering model, diners are able to enjoy an assortment of 2-3 different salads. Amazing vegan options include the chargrilled broccoli with chili and garlic, green beans with oregano and roasted aubergine with spiced tomato and pomegranate.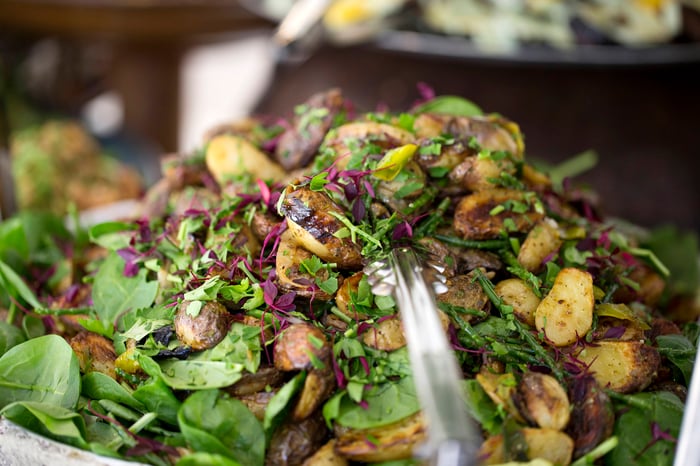 Potato salad
Check out other dishes and reviews of Ottolenghi.
Ottolenghi, 50 Artillery Ln, London E1 7LJ, UK
#8 Oklava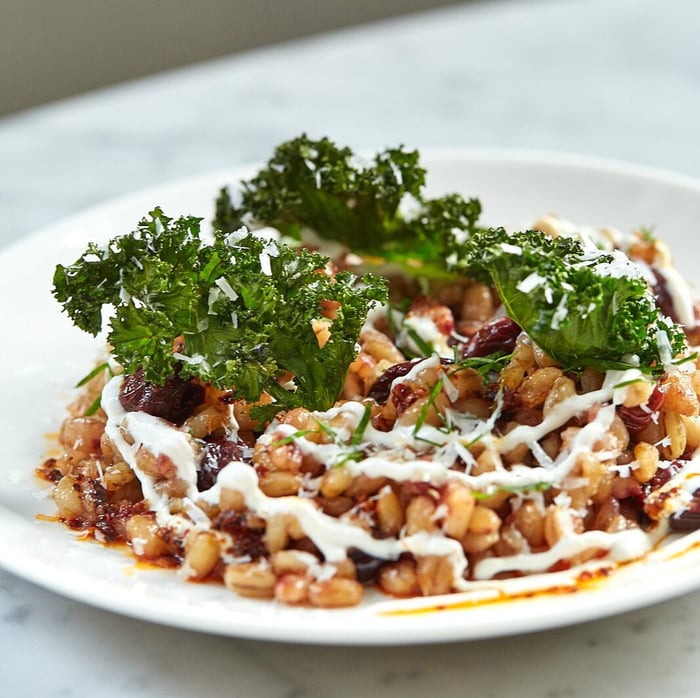 Pearl barley
Oklava, a contemporary Turkish restaurant tucked away on one of Shoreditch's quiet streets, is the perfect location for a romantic dinner. Sit at one of the restaurants high tops and peer towards the kitchen that sports a charcoal grill and stone oven. My favorite dish on Oklava's menu was the vegetarian Cheese Pide (flatbread) with Tulum Cheese, wild oregano, blackened leeks and cheese sauce. Their Kunefe dessert with crispy Kadayif, pistachio and cheese pastry was also to die for. Oklava offers a curated assortment of Turkish wines with their delectable dishes as well. Tables are limited and in high demand so be sure to make a reservation at least one week in advance.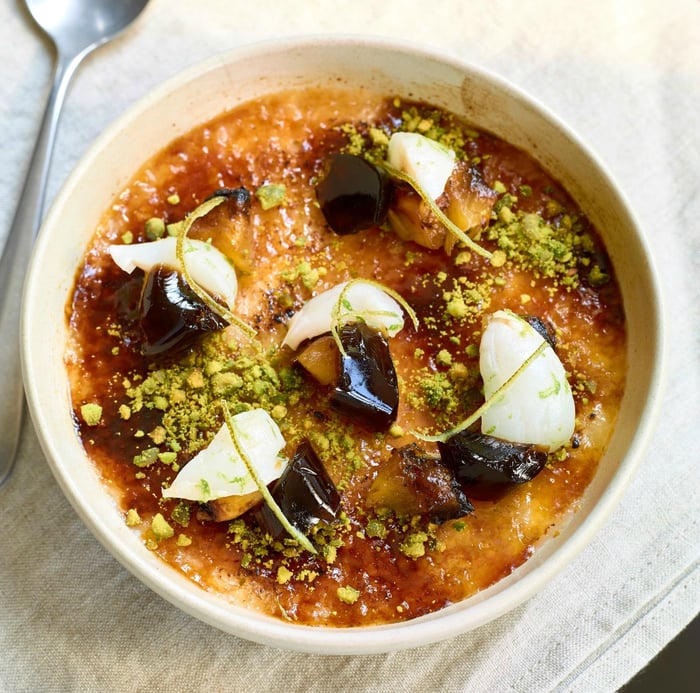 Warm spiced rice pudding
Check out other dishes and reviews of Oklava.
Oklava, 74 Luke St, London EC2A 4PY, UK
#9 Dinerama
For a taste of food culture, visit Dinerama Thursday-Saturdays from 5pm onwards. This buzzing and open food arena features an array of food stalls and places to grab a cold drink. Some current stall options include Club Mexicana which features 100% vegan tacos, nachos and burritos and Yum Bun which offers steamed, vegan buns. For some neighborhood culture, book a street art tour and, on Sundays, venture to Columbia Road Flower Market.
Check out other dishes and reviews of Dinerama.
Dinerama, 19 Great Eastern St, London EC2A 3EJ, UK
Shoreditch is most easily accessible via the Overground (Shoreditch High Street stop) but can also be accessed via the underground's Northern Line (Old Street top) or the District, Central and Hammersmith City lines (Liverpool Street stop).