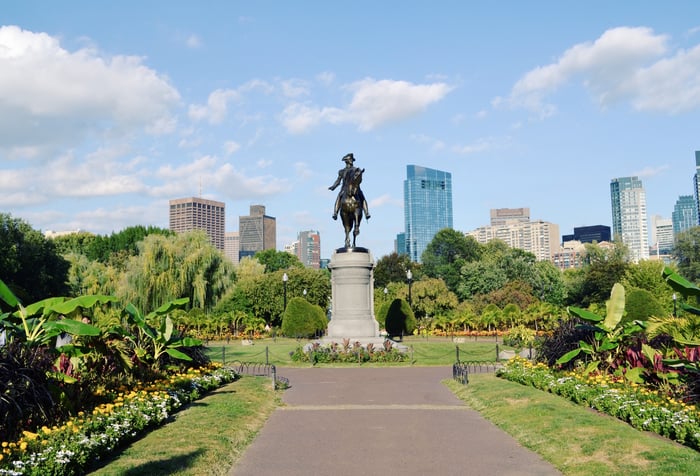 Boston is a city known for its sports teams, multitude of colleges, and historical roots. Founded in 1630, it's one of America's oldest cities and was the site for many key events in the American Revolution, including the Boston Tea Party and the Battle of Bunker Hill. Every year over 19 million tourists flock to the city, and it's not hard to see why!
Visitors can stroll along the Charles River, shop on Newbury Street, get their art fix at the Museum of Fine Arts or Institute of Contemporary Art, tour an iconic college like Harvard or MIT, or catch a Red Sox game! One of the most popular Boston activities is walking the 2.5 mile Freedom Trail to see key sites from the American Revolution, including the Paul Revere House, Fanueil Hall, and the Bunker Hill Monument, which commemorates where the Battle of Bunker Hill took place.
Despite its rich history, Boston definitely isn't stuck in the past. The city is considered a hub for education, technology, and culture, and it is ever-evolving. At the moment, the city is seeing an influx of plant-based dining options to meet a growing demand. Today, young professionals head to work with a green juice in hand and often opt for almond or coconut milk in their lattes. Additionally, long lines out the door at plant-based chains like sweetgreen, Dig Inn, and honeygrow are a common sight at lunch hour. Even Boston's infamous Fenway Park is updating their menu to be more accomodating! Now plant-based fans can now enjoy a veggie burger or dog at Fenway Park while viewing a game.
With so many new vegan and vegetarian options, it seems like "beantown" is a perfectly appropriate nickname for Boston! Here are some can't-miss spots in the city that locals love:
#1 Life Alive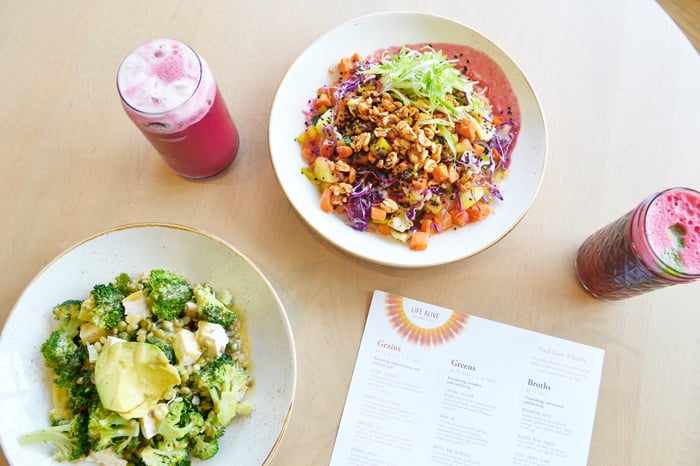 Iced Beet Root Latte, Life Alive Juice with Wheatgrass Shot, Green Goddess Bowl, and Thai Peanut Sutra Bowl
Life Alive has long been a mecca for healthy eaters in the city, and we're thrilled that they've just opened a new location on Comm Ave near the Boston University campus! Chef Leah Dubois is at the helm of their culinary vision and has devised a menu that's as creative as it is delicious. Everything is made with nourishment in mind and you'll be hard pressed to pick a favorite bowl. The newest location has great expanded offerings like CBD Coffee, superfood lattes like the "Ocean Blue" made with blue-green algae, smoothie bowls, snacks, broths, and more. The BU location is a MUST visit, just trust us.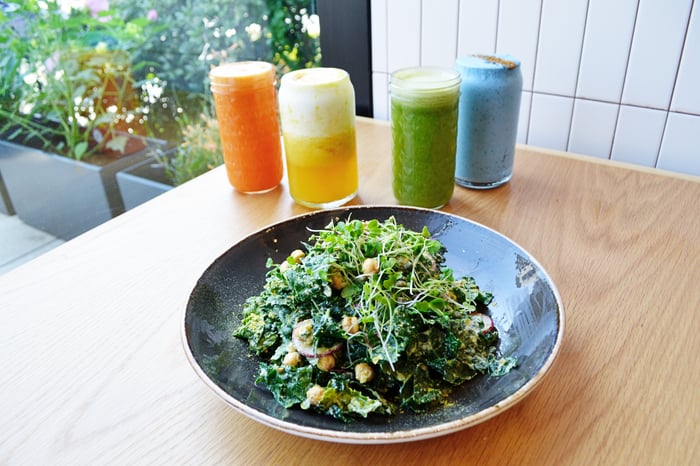 Orange Blossom Juice, Iced Golden Milk Latte, Go Green Juice, Blue Majik Smoothie, and Living Caesar salad
Check out other dishes and reviews of Life Alive.
Life Alive, 888 Commonwealth Ave, Brookline, MA
#2 FoMu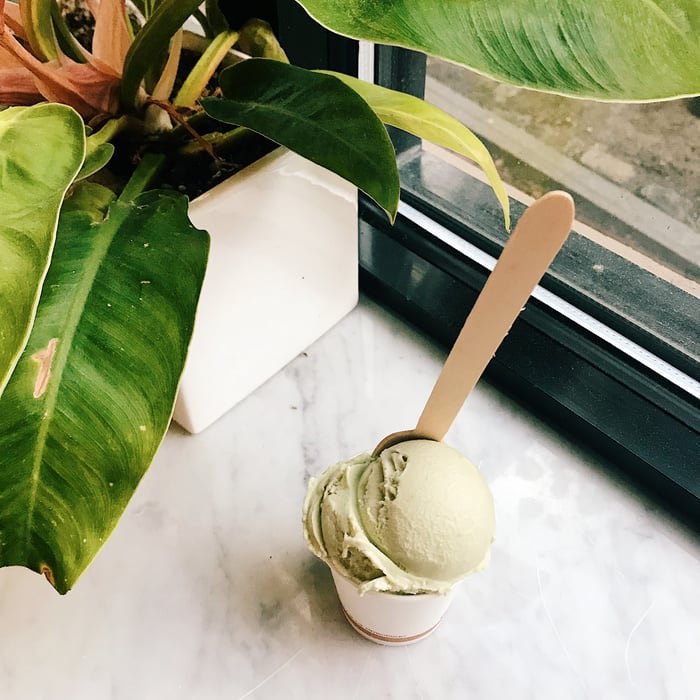 Avocado Ice Cream
FoMu is proof that you don't have to sacrifice ice cream when you go plant-based! They offer coconut milk ice cream that will impress even the most hardcore dairy ice cream lover. Their from-scratch ice cream is coconut-milk based and made with the highest quality ingredients. They offer signature flavors like Salted Caramel, Chocolate Pudding, and Vanilla Bean— as well as rotational flavors like Avocado, Lavender, Peanut Butter Mud Pie, and more. Their ice creams are silky and creamy, almost like gelato, and they're the perfect vegan treat. FoMu launched in Jamaica Plain in 2011, and since then Boston has fallen in love with them. You can visit any of their four locations across the city, but we love their South End store which has plenty of seating and a cozy neighborhood vibe.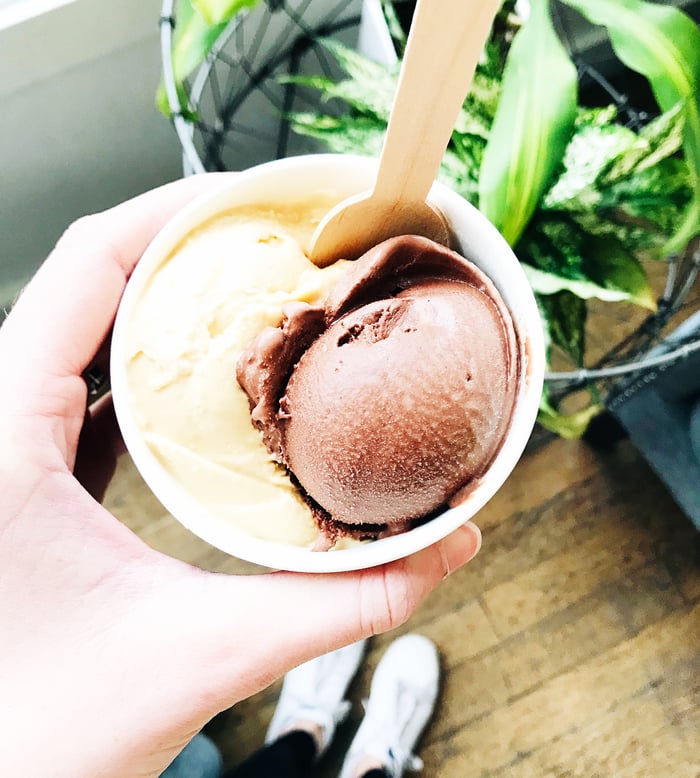 Salted Caramel & Chocolate Pudding Ice Cream
Check out other dishes and reviews of FoMu.
FoMu, 655 Tremont Street, Boston, MA
#3 Cocobeet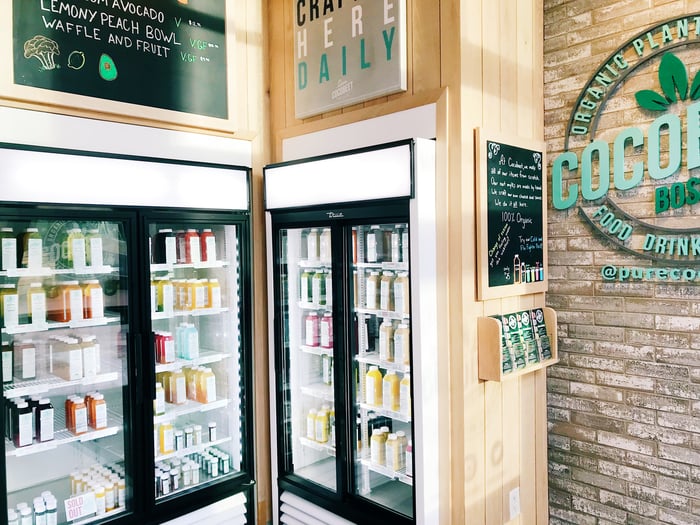 For a long time, Cocobeet was one of the few vegan options near bustling City Hall Plaza. They specialize in nutrient dense juices and superfood smoothies. Their juices, which are cold-pressed in-house, contain over 5lbs of produce in each bottle! They're super fresh and enzyme rich. Cocobeet also has a small menu of "pure foods" which are organic, raw, vegan, and gluten-free. These grab-and-go items like vanilla chia seed pudding, raw chocolate truffles, grain bowls, and quinoa sliders are perfect to help power you through sightseeing. We recommend stopping by their small storefront on your way to Faneuil Hall or Long Wharf.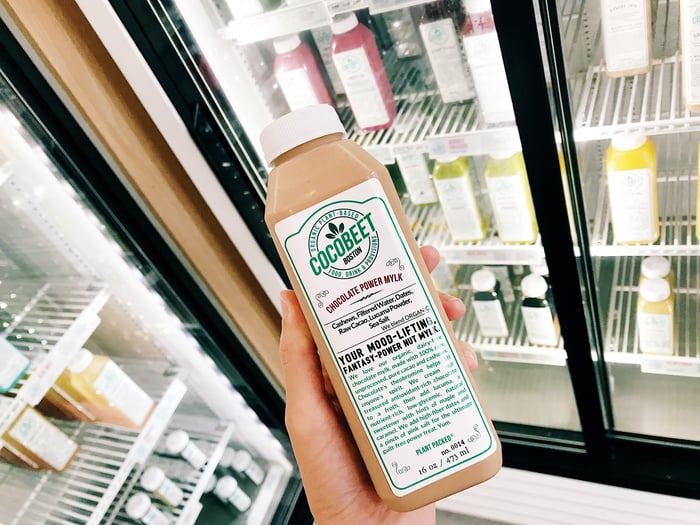 Chocolate Power Mylk
Check out other dishes and reviews of Cocobeet.
Cocobeet, 100 City Hall Plaza, Boston, MA
#4 Whole Heart Provisions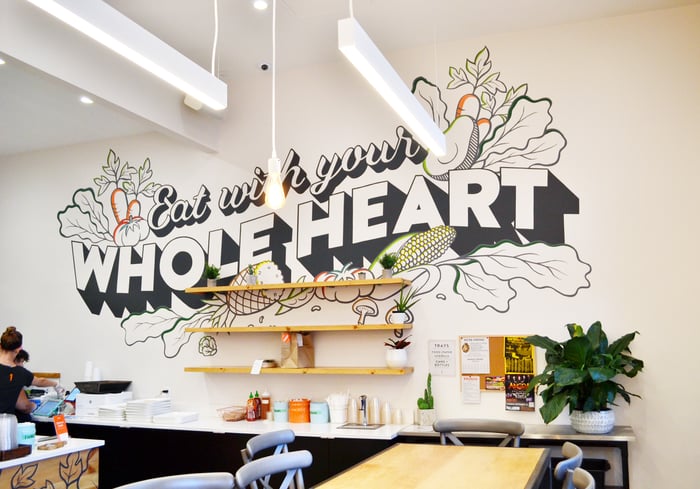 Whole Heart Provisions makes delicious veggie-forward bowls that are ready in a snap when you're in a rush. Foodies with complex palates will love their thoughtful flavor combinations. We're head over heels for their "Seeta" bowl with pickled cauliflower, cured tomatoes, currants, chickpeas, savory green beans, crispy lentils, and coconut curry. Their second location opened in Central Square earlier this year, and a much anticipated third location is coming to Harvard Square this fall. We also highly recommend checking out their Sunday Brunch which includes pancakes, seared avocado tacos, and "huevos" rancheros.
The Seeta Bowl
Check out other dishes and reviews of Whole Heart Provisions.
Whole Heart Provisions, 487 Cambridge Street Allston, MA
By Chloe 1.JPG By Chloe 2.JPG
#5 by CHLOE.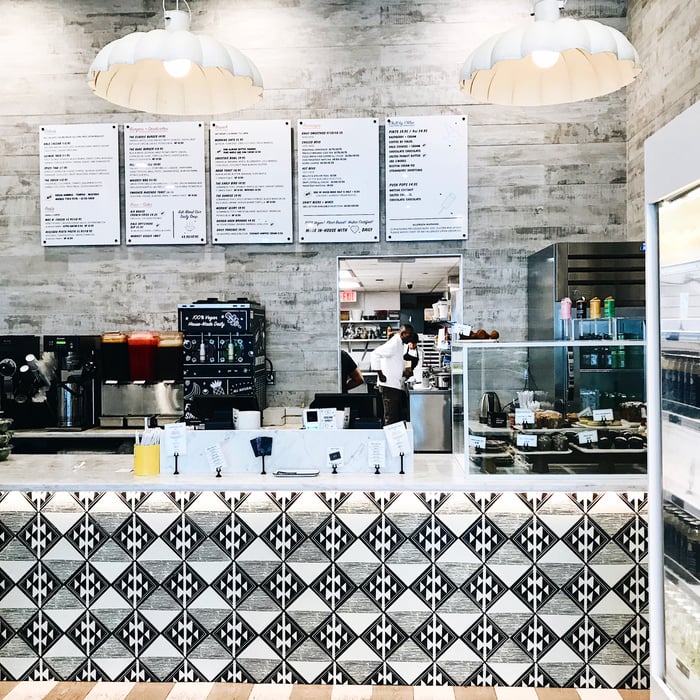 When a fast food craving strikes, by CHLOE. delivers with vegan versions of some favorites like mac n' cheese, meatball subs, and burgers. Pair your entree with fries and a dessert like their giant chocolate chip cookies, cupcakes, or ice cream— and you have a craveworthy plant-based meal. Our favorite menu item is the "Guac Burger" made with quinoa, black beans, and sweet potatoes, and topped with a hearty serving of guacamole and chipotle aioli. This NYC based fast-casual chain made its way to Boston in 2017, starting first in the Seaport District, and quickly opening a second location in Fenway. They're bringing even more vegan goodness to the heart of Back Bay with a third location opening near the Boston Public Garden. At the Back Bay restaurant you'll be able pick-up some exclusive menu items like a Boston "lobster" roll made with hearts of palm, celery, smoked paprika, and dill.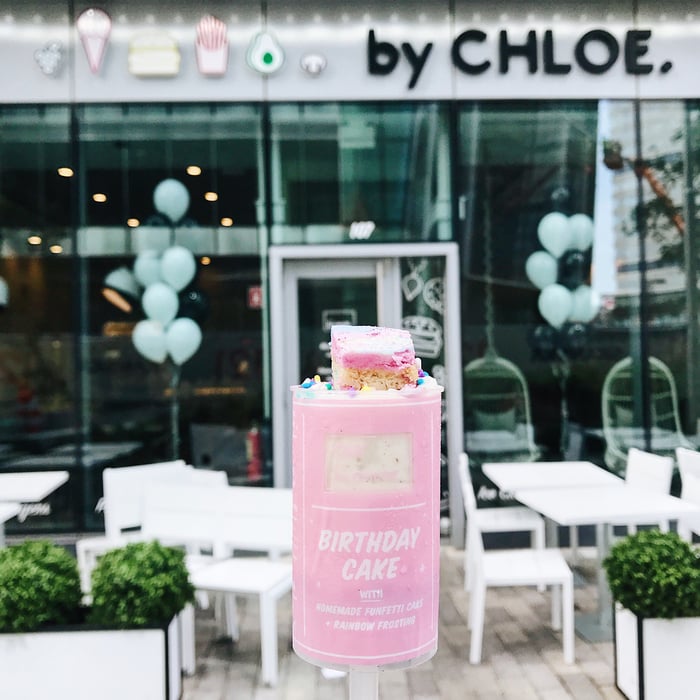 Birthday Cake Ice Cream Push Pop
Check out other dishes and reviews of by CHLOE..
by CHLOE., 100 Van Ness St, Boston, MA 02215
#6 True Bistro
Photo courtesy of True Bistro
If you're looking for a date night out, True Bistro has an exceptional menu with white tablecloth service. With so many fast-casual vegan concepts in Boston, high end options are harder to come by. We're lucky to have True Bistro as an option for special occasions and they don't disappoint. Their menu changes with the seasons, although you can always expect a selection of salads, small and large plates, and of course, dessert. The True Bistro staff will also happily assist you in selecting beer, wine, or cocktails to pair with your meal.
Photo courtesy of True Bistro
Check out other dishes and reviews of True Bistro.
True Bistro, 1153 Broadway, Somerville, MA 02144
#7 Taco Party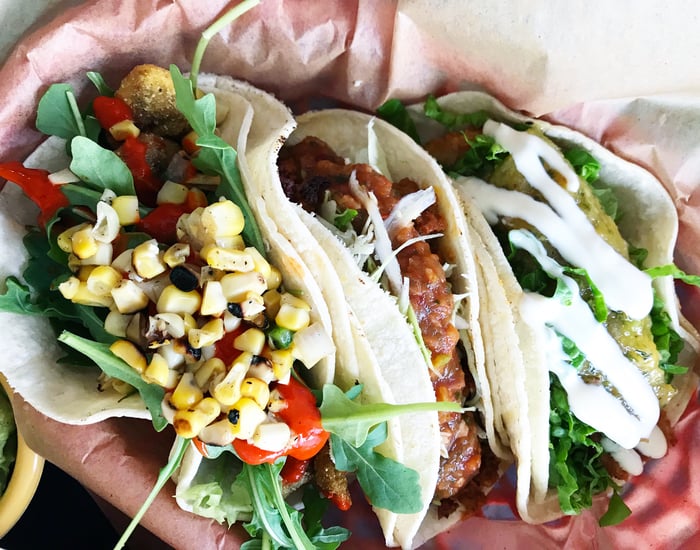 Cornmeal Crusted Mushroom Taco, Chorizo Seitan Taco, Crispy Fried Tofu
Whether it's Taco Tuesday or any other day of the week, the time is always right for Taco Party! They serve inventive meatless tacos with fillings like fried plantain, cornmeal crusted mushrooms, chorizo seitan, chimichurri tempeh, and more. After finding success as a food truck, Taco Party put down roots in Somerville in 2015. (Don't worry you can still find their truck on the streets— and if you want the party to come to you, the truck is also available for event catering!) Their menu is small, so you can taste your way through every item in just a few visits. In addition to tacos they have other Mexican-inspired staples like tortas, brown rice with smokey black beans, and nachos.
Check out other dishes and reviews of Taco Party.
Taco Party, 711 Broadway, Somerville, MA 02144
#8 Squeeze Juice Co.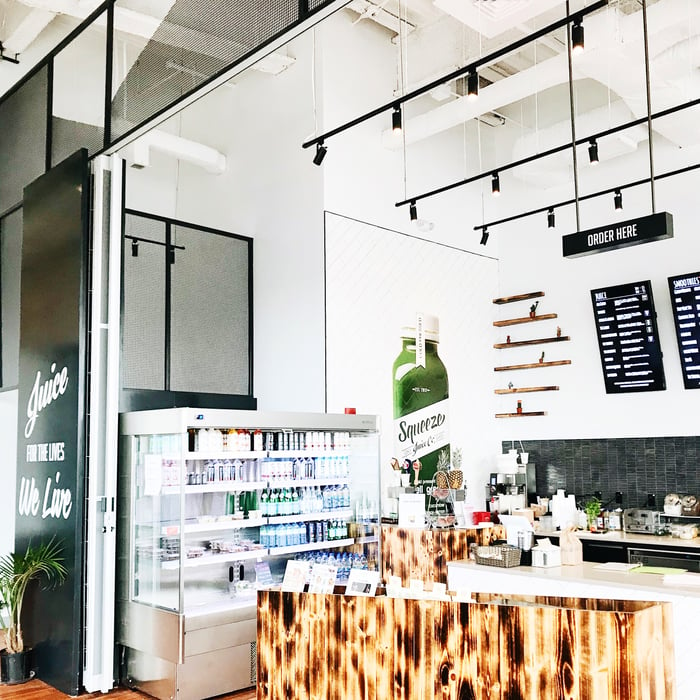 Squeeze Juice Co. is all about providing nourishment for your body and mind, and bringing convenient healthful options to where you live and work. Their menu is fully vegan and plant-based so you can safely enjoy any of their options! Executive Chef Suzi Darlin is constantly experimenting and adding new menu items. Two of their most recent additions are the "Sandia" toast with watermelon, guacamole, cashew cream cheese, lime, and cilantro, and the "Dream Cheese" toast with homemade cashew cream cheese, pistachio dukkah, and dates. For those like me who have gluten allergies, Squeeze will happily swap out bread for a sweet potato base.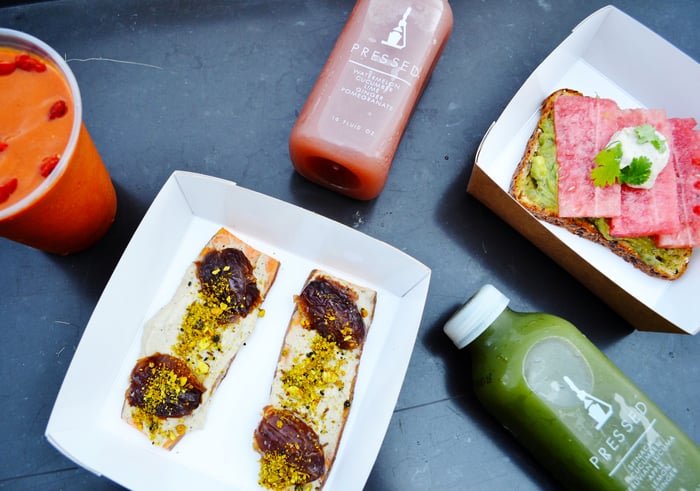 Dream Cheese "toast" on Sweet Potato & the Sandia Toast
Check out other dishes and reviews of Squeeze Juice Co.
Squeeze Juice Co, 399 Revolution Drive, Somerville, 02145
#9 Pressed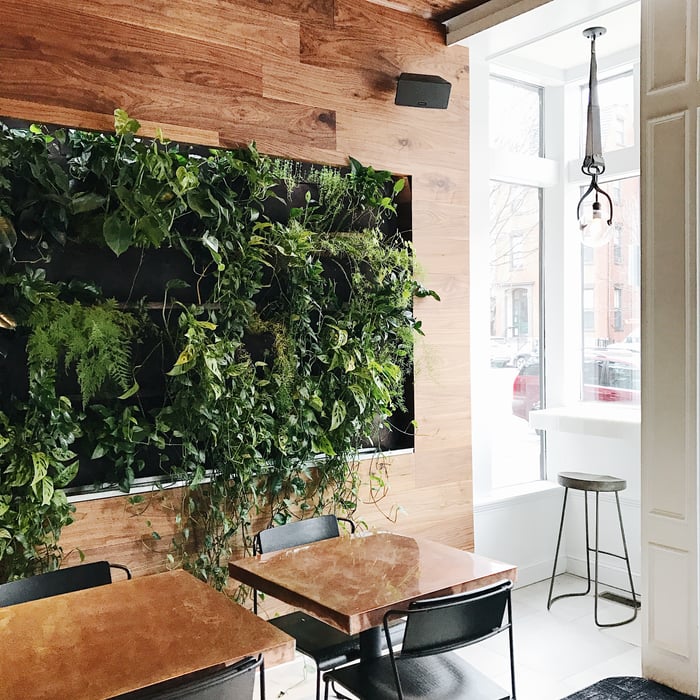 Pressed is the sister property of Squeeze Juice Co., and shares the same mission of helping you power through your day and live a vibrant, healthful life. A delicious way to start your morning is with their Coco Berry Bowl made with maqui berry, açaí berry, assorted summer berries, almond butter, and housemade granola. They have two locations, one on the prominent Charles Street in Beacon Hill, and the other in the heart of the South End. Their South End location has absolutely gorgeous details including a living wall, vintage light fixtures, and metallic countertops. We should also mention that they're just a few doors down from FoMu— so plan to head that way and hit both spots!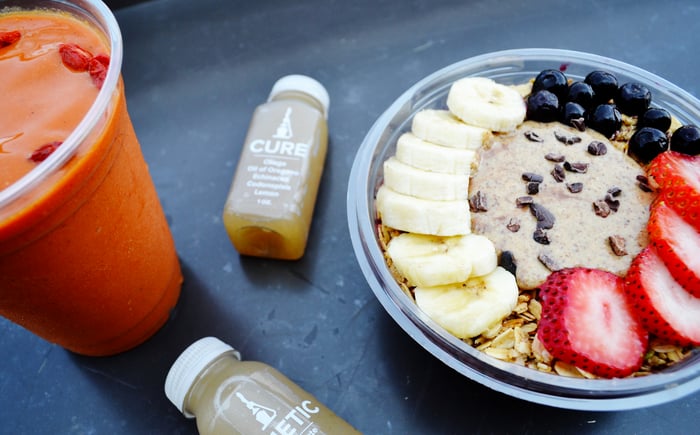 The Coco Berry Bowl and the Sunrise Smoothie
Check out other dishes and reviews of Pressed.
Pressed, 120 Charles St, Boston 02114
#10 Veggie Galaxy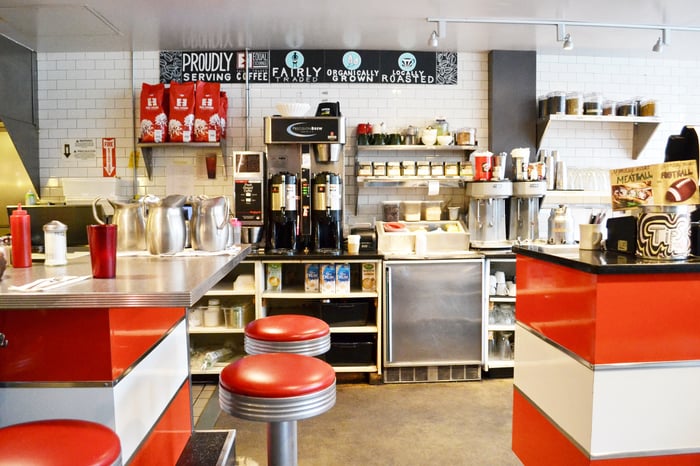 Veggie Galaxy is an American Diner in the heart of Central Square that offers classic diner fare, minus the meat! They offer vegetarian & vegan friendly options across a variety of classic categories like omelettes, sandwiches, burgers, floats, and frappes. Some of their most popular dishes include their Great Galaxy! Breakfast Sandwich, Mac & Cheese Bites, Fried Avocado, and Buffalo Chick'n Tenders. Like any good diner, they run a Blue Plate Special every Thursday and have an enviable pie case! Select a slice like the Boston Cream Pie, Sweet Potato Carrot Cake, or Oreo Cheesecake for dessert and take your time savoring every indulgent bite. If you'd prefer to sip your dessert, order a frappe and make it boozy by adding port or sherry. If you're looking for healthy plant-based cuisine, go elsewhere— but if you're feeling nostalgic for comfort food favorites, this is the place to go! Grab a seat at a booth or by their long sit-down counter and prepare for a treat.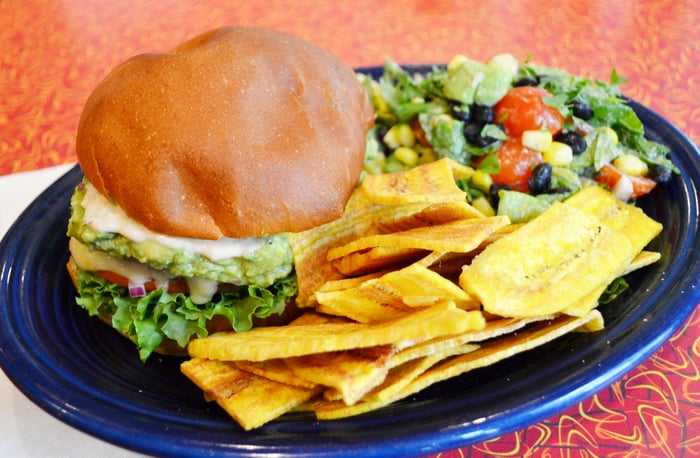 Guac Burger - the Blue Plate Special of the week
Check out other dishes and reviews of Veggie Galaxy.
Veggie Galaxy, 450 Massachusetts Avenue, Cambridge, MA 02139
#11 Mother Juice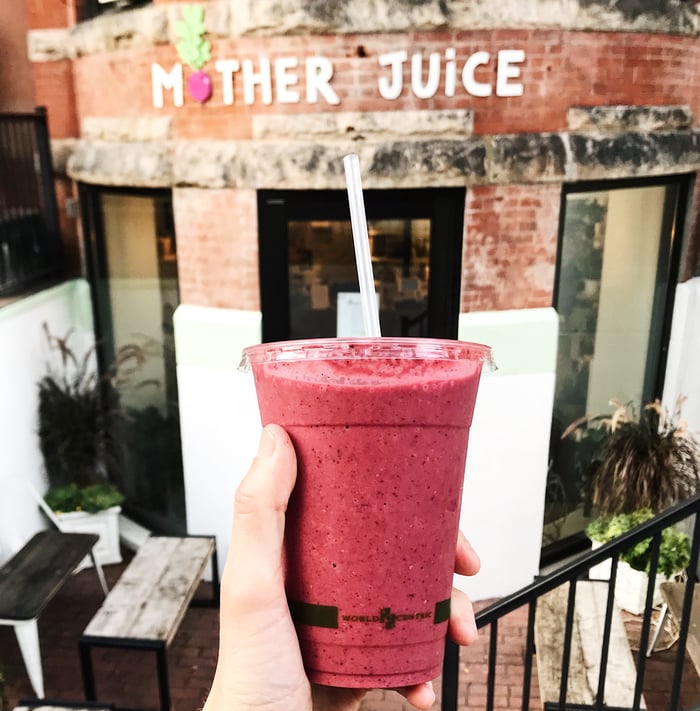 "The Berries" Smoothie
Mother Juice has something for everyone— from organic juices, to smoothies, to salads, to breakfast bowls, and raw treats. Our favorite juice is the "Unicorn Blood" made with beets, carrots, celery, watermelon, and pineapple— making it prettiest deep pink color. If you're a hardcore green juice drinker then you can't go wrong with "The Kyrie" made with kale, spinach, broccoli, cucumber, parsley, celery, and green apples. We also highly recommend getting one of their out-of-this world vegan desserts to-go! When you visit MoJu, you can feel great about the fact that they use the highest quality organic ingredients, work with local farmers, and that you're supporting a local female-owned business. We're rejoicing that their next location will be at Terminal C in the Boston Logan airport. Everyone could use an immunity boost right before a flight!
Check out other dishes and reviews of Mother Juice.
Mother Juice, 291 Newbury St. Boston, 02115
#12 Sassafras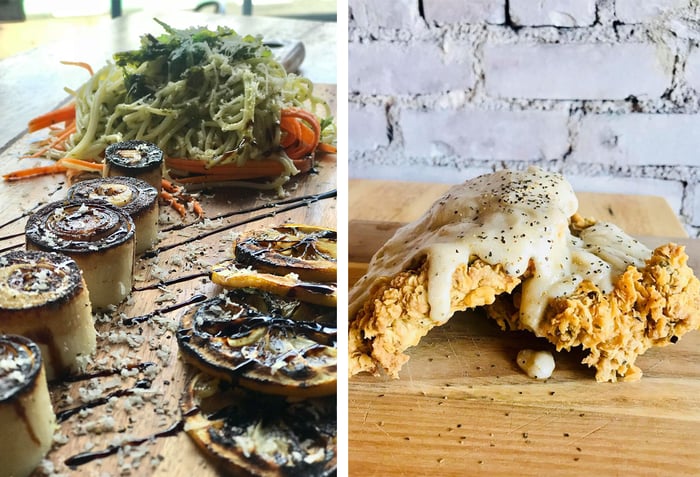 Left: Seared "Scallops" with Angel Hair Pasta / Right: Chicken Fried Steak
One of the best examples of the plant-based movement taking hold in Boston is the recent transition of a Somerville stronghold. For 9 years Eat at Jumbo's, a small pizzeria & sandwich shop near the Tufts campus, served student fare like pizza, burgers, and wings. Their menu always included several meatless options, but this past spring they opened a new concept that's entirely vegetarian & mostly vegan! Sassafras debuted in the same space with inventive dishes like the Nashville Hot Chick-un Sandwich, Reuben Seitan Pastrami, a Taco Bowl featuring Impossible Burger taco meat, and of course, lots of pizza. Their space is warm and welcoming, and their menu is perfect when you're in the mood for comfort food. We're excited to see the desire for vegan & vegetarian fare driving changes like this!
Check out other dishes and reviews of Sassafras.
Sassafras, 688 Broadway, Somerville, 02144
#13 Sweetgreen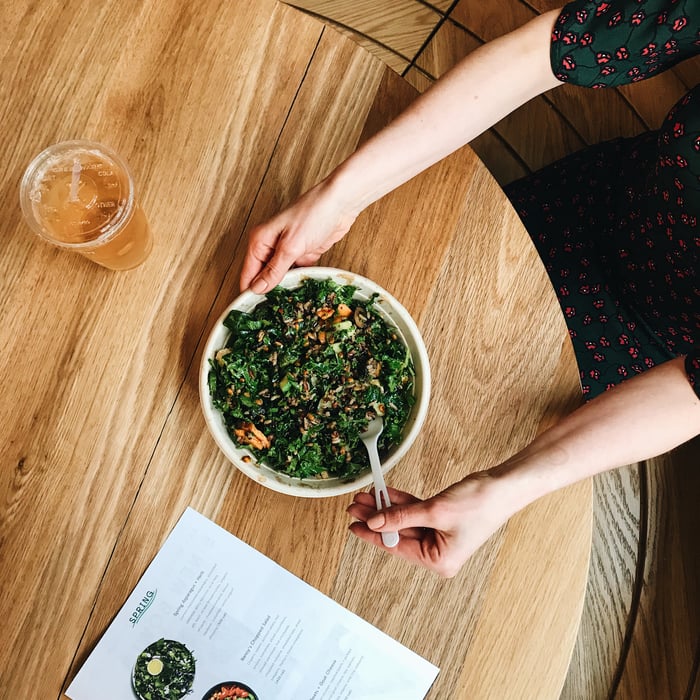 Shroomami Salad Bowl
No matter where you are in Boston, chances are good that a sweetgreen is close by, and thank goodness! They offer healthful salad options that are perfect for when you're on the move. Cult favorites include their Guacamole Greens, seasonal Harvest Bowl, and Kale Caesar. Sweetgreen recognizes that what we eat impacts our health, our communities, and our environment and their mission is to make real food accessible and convenient. They work with local farmers, like the nearby Ward's Berry Farm in Sharon, MA. We applaud their work to bring sustainable and scrumptious options to city dwellers. It should be noted that many of their items are vegetarian and include cheese and meat or seafood, but you can easily customize a bowl to make it vegan.
Check out other dishes and reviews of Sweetgreen.
Sweetgreen, 659 Boylston Street, Boston 02116
#14 Jugos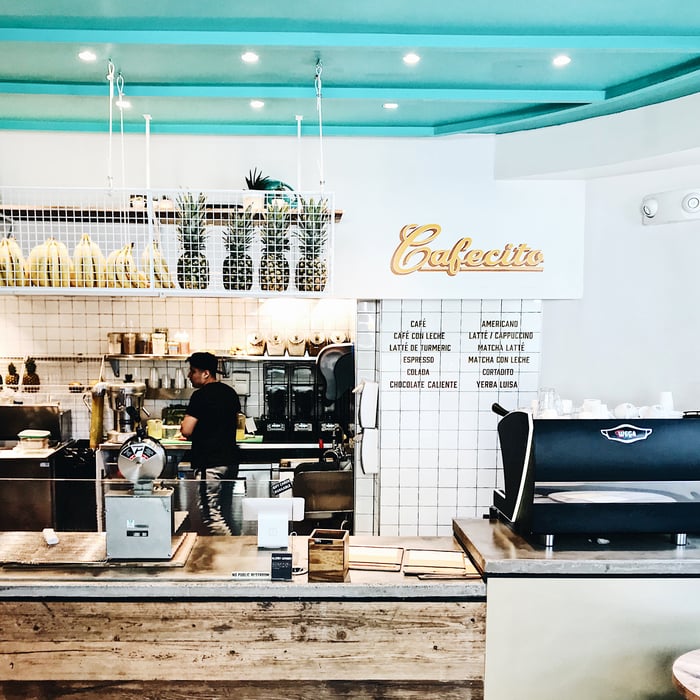 Step into Jugos and you'll instantly feel the island vibes. With a reggae soundtrack and beachy bowls like the Sao Paolo (açaí) & Santo Domingo (pitaya), you can close your eyes and envision yourself somewhere tropical. If you want a bowl that's really next level, the Azul Crush is a killer combination of sweet and satiating. The açaí adds just the right amount of sweetness, and the chia makes it a filling option. Their original location is located in the Back Bay train station so you can easily grab healthy to-go options before boarding. Jugos has built a devoted following and there's a good chance you'll also notice Bostonians rocking their "Buenas Vibes" t-shirts around the city.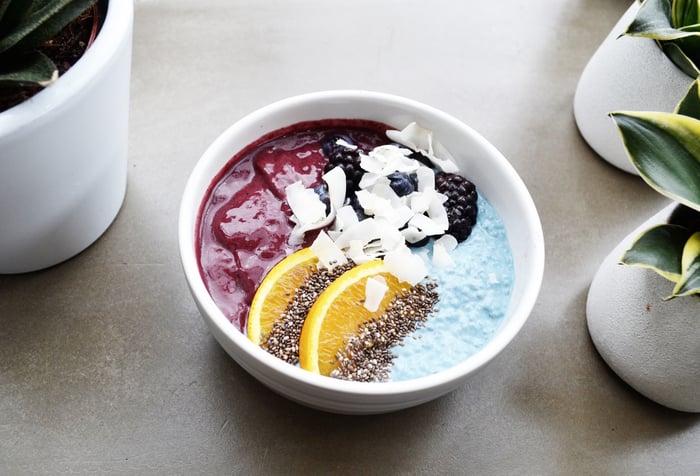 Azul Crush Bowl
Check out other dishes and reviews of Jugos.
Jugos, 502 Massachusetts Ave, Boston 02118
#15 Nectar & Green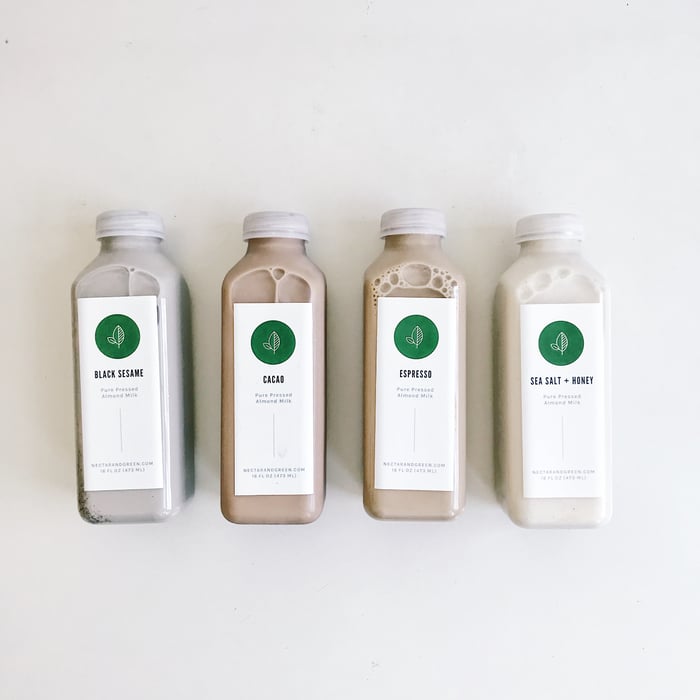 Various flavors of almond milk.
Maybe you've noticed that on abillionveg you can now review favorite products in addition to restaurants— so we're including one of our favorite locally made products in the guide! Nectar & Green is delicious pure pressed almond milk made with nourishing ingredients, right here in Boston. In addition to their pure almond milk, they also offer flavors like espresso, black sesame, and cacao. Once you taste Nectar & Green it's impossible to go back to any other almond milk! You can pick up a bottle at markets like Formaggio, Appleton Farms, and For Now.
Check out more products from Nectar & Green!
Unfortunately we didn't have time to visit all of the incredible dining options across the city! A few other restaurants of note include Grasshopper, Cuong's Vegan Sandwiches, Walnut Grille, VO2 Vegan Cafe, and Nourish Your Soul. We're also including two highly anticipated restaurants opening this fall below. If you have other Boston favorites, be sure to let us know in the comments!
Most anticipated openings:
Chef Matthew Kenney will be bringing his vegan pizzeria to Boston early 2019. They'll be serving wood-fired pizzas that are topped with nut-based cheeses like macadamia ricotta and cashew mozzarella. Oh, and they'll also serve vegan desserts and sustainable wines from Europe. Yes, please!
Boston area vegans are counting down the days until ReWild opens just south of the city, in Quincy Center. Rewild will be the country's first vegan beer hall and serve up plant-based versions of beer hall fare like burgers, pizza, and french fries. They'll feature beer from local breweries and will also offer kombucha, wine, and cocktails. Founder Pat McAuley's mission is to make plant-based eating more convenient and accessible to people from all walks of life.
Boston's plant based options are rapidly expanding, so keep your eye here for future updates about the city's food scene!