This series is dedicated to preparing some of the most popular classical Indian desserts with a focus on healthy, fresh ingredients that bring the true flavors of these sweets to life! Indian desserts have a reputation for putting people to bed, mostly because of all the excessive dairy and oil that goes into them. We're here to show you how to make these desserts so much better, and we kicked off the series with a refreshing take on carrot halwa, one of the most popular Indian desserts of all time. If you haven't had a chance to make it, you'll love our recipe! Don't forget to check out the other recipes in the series including Kaju Katli, Phirni and Shrikhand. For our fifth piece in the series, we're tackling Jalebi.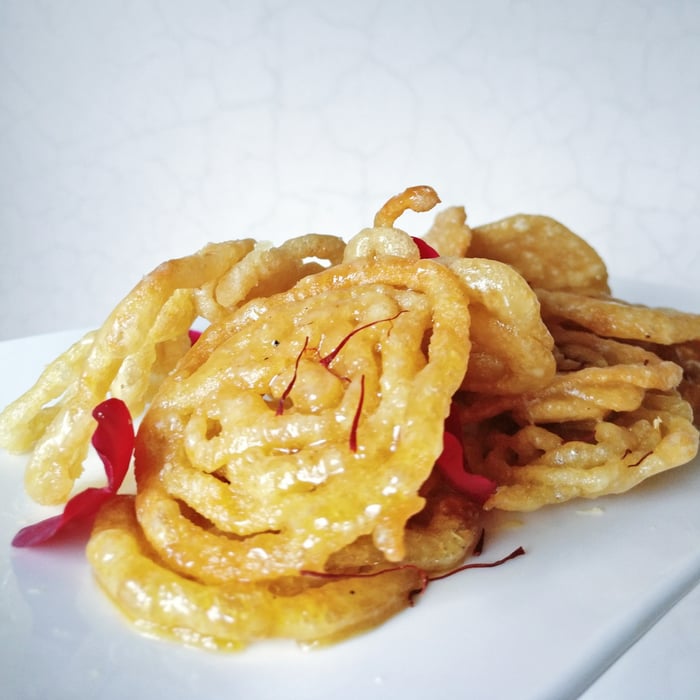 These crisp, tangy and succulent swirls of sugary goodness taste delightful when served piping hot, and just melt in your mouth. Jalebi, also known as 'zulbia' in some parts of the world, is one of the most popular street side sweets found in India, and is also a classic snack during festive seasons.
It's made by deep-frying a batter made with flour and curd, and then soaking in a sugar saffron syrup until translucent, with a distinctive golden-orange hue. Very often, you find these little treats neatly packed in cardboard boxes at sweet shops - but heading straight to the streets to enjoy this snack is usually a more adventurous option. With large pans filled almost to the brim with spluttering oil, lines of people crowded around, and one or two skilful men churning out fresh jalebis by the dozen with effortless ease, such stalls are usually hard to miss in India.
But of course, anything that is so unhealthy always comes with a price! Refined oil, refined sugar, and refined white flour - that's pretty much all they use. I wanted to give this a shot using slightly more sophisticated ingredients, but without losing out on the unique taste and texture of the classic Jalebi. Instead of using curd for the tanginess, I experimented with a sour cashew cream to make it vegan, and it worked wonders! While this recipe still uses a decent amount of sweetener and oil, it's drastically less than what is typically called for. This also happened to be my first time deep-frying something, and it was actually easier than I'd imagined. Save it for a no-gym day, and trust that it'll be worth it!
Jalebi with Sugar Syrup
Serves: 5 (~10 pcs)
Active Time: 30 minutes
Ingredients
Sugar syrup ingredients
2 cups water
½ cup organic raw sugar
A few strands of saffron
Pinch of sea salt
Pinch of cardamom (optional)
Jalebi ingredients
½ cup + 1 tbsp lukewarm water
½ cup whole wheat flour
1 ½ tbsp lime juice
1 tbsp organic raw sugar
1 tbsp cashew sour cream*
Oil for frying (any neutral oil like peanut oil or rice bran oil)
*To make the cashew sour cream, blend the following until completely smooth:
¼ cup cashews (soaked in water for at least 2 hrs)
¼ cup + 1 tbsp water
1 tbsp lime juice
1 tsp apple cider vinegar
Pinch of sea salt (or any salt).
Directions
Sugar syrup directions
Add the water and sugar to a large saucepan and bring to a boil
Reduce the flame to medium-low, and continue to stir for about 5 minutes
Add the saffron, cardamom, and sea salt
Stir every few minutes, until you see it reducing in volume
To test if it's done, take some of the syrup in a spoon and let it drop back into the pan from a height. If you see a string of syrup forming at the tip of the spoon, it means it's ready.
Keep the syrup aside (in the same saucepan), and re-heat for a few seconds before it needs to be used.
Jalebi directions
To prepare the batter, start by mixing the water and sugar in a medium-sized bowl
Add the flour, lime juice, and cashew sour cream, and whisk until the consistency resembles pancake batter
Use a cupcake piping bag with a very thin opening (not more than 4mm) or a ziplock pouch with one corner trimmed off, and fill it up with the batter
Heat the oil in a kadhai (a circular, deep cooking-pot) until it's hot, and mildly bubbling
Wearing an oven glove for safety, start piping the jalebis into pretzel-shaped swirls, not more than three or four at a time
Once they turn golden in colour, take them out of the pan, and place onto a few sheets of kitchen tissue, so any excess oil and can drain out
Toss and coat them in the prepared sugar syrup (after re-heating the syrup mildly), and remove after two minutes
Repeat the process until all your Jalebis are ready, garnish with saffron, and serve them hot!
If you'd like to jazz it up even further, try making the vegan Shrikhand to serve it with - the two would pair beautifully!