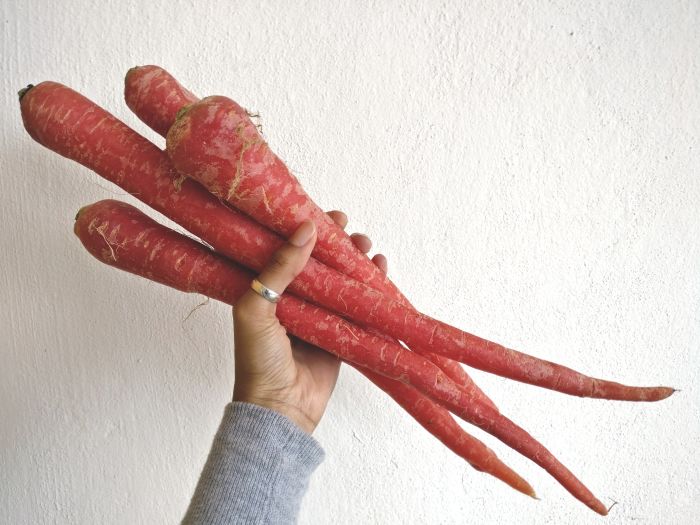 Delhi red carrots, the star of this dish
India: The land of festivals
With 29 states, a gamut of cultures, and a population exceeding a billion, you can only imagine the diversity of food prepared in households across this country! There are up to 15 nationwide festivals that happen each year, and desserts are a very significant part of all these celebrations.
If you did not grow up in India, you're about to be introduced to a whole new world of indulgence. But if you did, you're probably familiar with that festive aroma of traditional sweets, the warm fragrance of cardamom and saffron filling up your kitchen, and the shiny gift boxes you'd see lying around, filled with exotic and colourful treats.
I still have vivid memories of my grandmother preparing gajjar halwa, shrikhand, and rava ladoos so lovingly, with those magical hands of hers. Most of these are typically made from a blend of ghee, milk, and sugar. In her early days, cows were an integral part of the household, living in the backyard. They were treated like family members, and it was a given that calves would get their share of their mother's milk first. As we know, times have changed so much over the years.
Today's public health crisis
With dairy having become a large-scale industry over the years, it is now subject to all the exploitative phenomena that plague most consumer-oriented industries. Among ongoing issues such as environmental destruction and animal exploitation, the rising cost of healthcare is also being recognised as a global concern, and unhealthy lifestyles will only continue to contribute to the spread of obesity, diabetes, and cardiovascular disease. Today, there is so much evidence to prove that the soaring rate of chronic disease can be attributed to high consumption of animal-derived ingredients such as meat, dairy, and eggs. As consumers, our money holds a lot of power. Change begins on our plates - and the fun part about that is we don't necessarily need to miss out on anything that we love; food science has reached a level where it is possible to buy or make a delicious substitute for anything!
The plant-based route
This series is dedicated to some of the most popular Indian sweets minus the dairy and excessive oil that typically goes into them. I hope you have fun trying these out in your kitchen!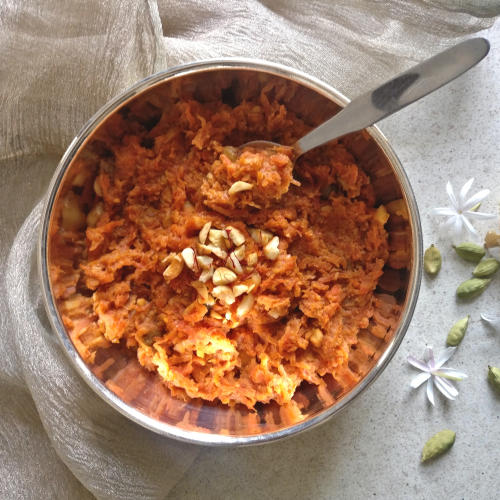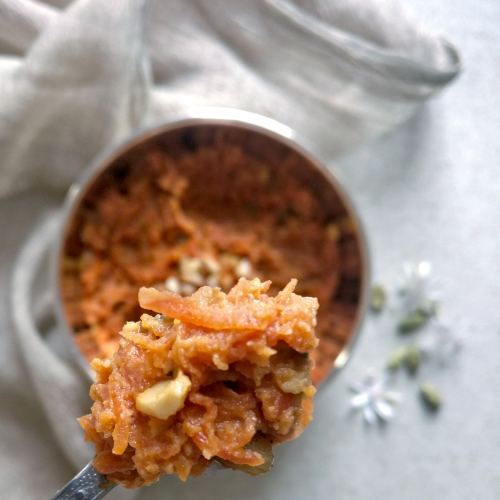 Carrot Halwa
I'd love to kick this off with one of my favourites: Gajjar Halwa. Gajjar = carrot, and Halwa = sweet. Grated red carrots are cooked down till they soften and release their natural sweetness. With elements of cashew and cardamom creating just the right balance of flavour, this dessert is nothing but a delight!
Carrot Halwa
Serves: 6
Active Time: 30 minutes
Ingredients
1 tsp (for toasting) + 2 tsp (for carrots) unrefined coconut oil
3 cups grated red carrot*
1/3 cup almond meal
1/3 cup + 10 cashews
1 cup water
3 tbsp raw sugar
1/4 cup powdered jaggery
1/4 tsp cardamom
A handful of raisins
A tiny pinch of saffron
A generous pinch of sea salt
*Delhi red carrots are traditionally used for making Gajjar Halwa - they come out incredibly soft and juicy. In case you can't find them at your local store, regular carrots will do.
Directions
In a large pan, lightly toast 10 cashews and raisins with a teaspoon of coconut oil until the cashews turn a light golden-brown and the raisins puff up. Remove from the pan and keep aside.
Pour the remaining two teaspoons of coconut oil in the pan, and add the carrots.
Keeping the flame on medium-low, cover the pan and let the carrots soften for ten minutes.
In the meantime, drain and rinse the remaining ⅓ cup of cashews and blend with one cup of water in a high speed blender to make a thick cashew milk.
Add almond meal and cashew milk to the pan and stir well so they are fully combined with the grated carrot.
After 10 minutes, proceed to add the raw sugar, jaggery, cardamom, saffron, and sea salt. (I found that a combination of raw sugar and jaggery works very well, but you can go ahead and use any sweetener you wish to)
Stir well, and let it cook on its own for a good 30 minutes, just stir it a couple of times in between. Let it cook until the carrots absorb most of the cashew milk. Don't let it get dry; turn off the flame once the halwa is moist and soft.
Taste and adjust the sweetness according to your preference. Have it as is, or serve it warm with a scoop of vegan ice cream for a rich, decadent treat!