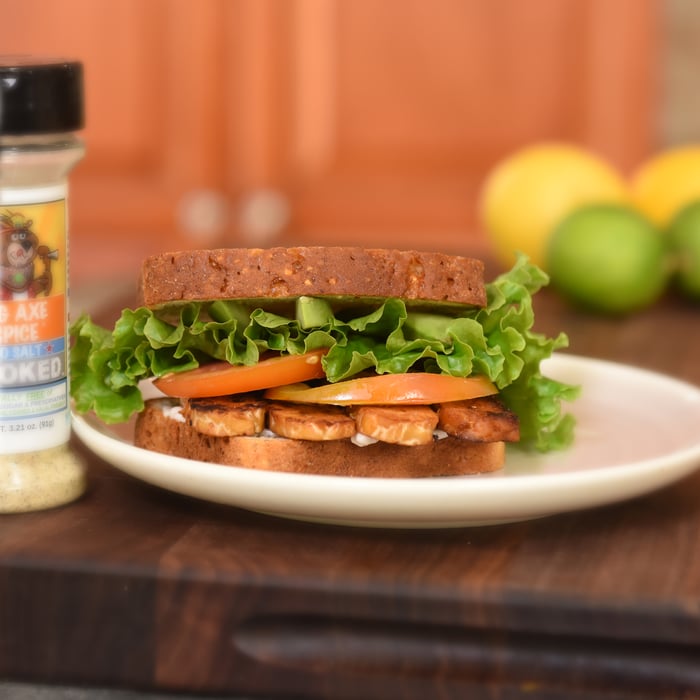 This is a very simple and smoky marinade for tempeh which goes great to replace bacon on a BLT.
BLT Tempeh Sandwich
Servings: 2
Active time: 15 min + marinade time
Ingredients
12 oz tempeh
2 c water
2 tbsp tomato paste
2 tbsp soy sauce
2 tbsp maple syrup
2 tbsp liquid smoke
2 tbsp olive oil
2 Slices of Bread per sandwich, enough for 3-4
vegan mayo
1 tomato
1 avocado
2-4 romaine lettuce leaves
Directions
CREATE MARINADE: In a tupperware, or gallon bag, mix together the water, tomato paste, soy sauce, maple syrup and liquid smoke. This is your marinade.
MARINATE TEMPEH: Slice the tempeh into thin slices (about 1 cm). Place into bag. Seal and put bag in fridge for 3-24 hours to marinate.
PAN SEAR: Heat up a pan with 2 tbsp of olive oil. Cook the tempeh on both sides for about 3-5 min each side.
STACK BLT: Stack your BLT with bread, vegan mayo, tempeh bacon, tomato slices, lettuce and sliced avocado.