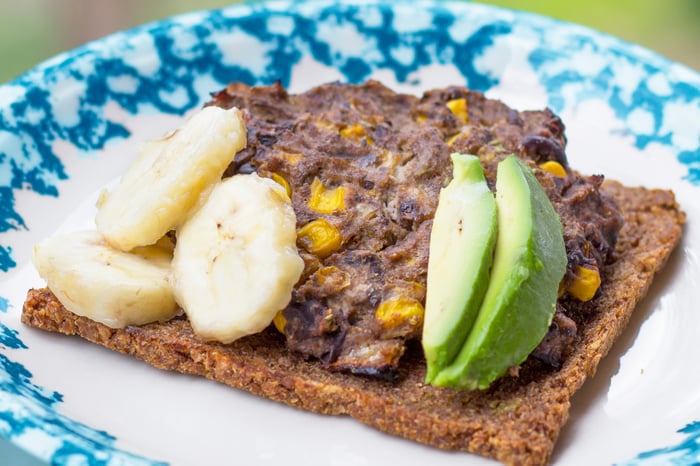 A very unique take on veggie burgers that uses bananas and chia seeds as the superfood emulsifying agents to bind the burgers together.
Banana Burgers
Course: Dinner
Difficulty: Medium
Serves: 4
Active time: 1.5 hrs
Ingredients
1 banana
1.5 cup of corn 
1 cup of chopped tofu
1 cup of steamed cauliflower
1 cup of chopped mushrooms
1 cup of black beans
3 tbsp chia seeds
2 tsp garlic powder
2 tsp black pepper
2 tsp onion powder
1 avocado (for topping)
Directions
STEAM CAULIFLOWER: Steam the cauliflower for about 15 minutes.
BLEND INGREDIENTS: Combine steamed cauliflower, tofu, and chia seeds in the blender or food processor and blend until smooth.
MIX OTHER INGREDIENTS: Mix mushrooms, corn, and seasonings together in a large bowl. Mash the black beans and stir them in to the bowl. Mash the banana and stir it into the bowl.
COMBINE BOTH MIXTURES: Pour the cauliflower-tofu mixture in and stir everything together.
BAKE BURGERS: Very lightly coat a baking sheet with oil and form burger shapes on the sheet. Bake at 405 degrees for about 40 minutes or until they hold together firmly. I then put them on the grill for 3-5 minutes, but that step is not necessary.
GARNISH: Top with grilled bananas, avocado, hot sauce, and any other toppings! If you are feeling unsure about the bananas, just trust me.