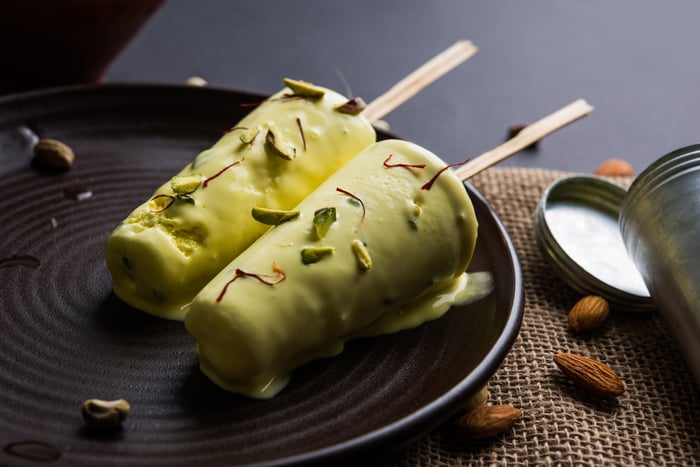 This is a veganized version of the popular Indian dessert, Kulfi. I made it on my cooking show Trying Vegan with Mario, for my superstar musician guests, Krewella. When I prepared it for them I was nervous because they are Kulfi experts and they had never tried a vegan version. They were trying it for the first time on camera. Their MINDS WERE BLOWN! It takes some patience to make, but if you're willing to do the work, it's worth it. This will impress anyone with its creaminess and flavor.
Pistachio Mango Kulfi
Difficulty: Medium
Servings: 4-6
Active time: 1 hr
Ingredients
2 13 oz cans full fat coconut milk
8 fresh medjool dates, pitted
2 medium-sized ripe mangos (2½ cups mango fruit)
1 tbsp vanilla extract
1 tbsp cardamom
¾ cup roasted unsalted pistachio nutmeats
A pinch kosher salt
Directions 1. SIMMER MILK: Pour the coconut milk into a saucepot and warm it up on medium heat for 30 minutes, stirring frequently throughout. 2. BLEND INGREDIENTS: Let the milk cool down to room temperature. Then blend together coconut milk with the mangos, dates, salt, vanilla, and cardamom. You may need to do this in two batches depending on how large the bowl of your blender is. I prefer using a Vitamix blender because of how powerful it is. 3. ADD PISTACHIOS: Add pistachios to your blended mixture. 4.  ICE CREAM MAKER: Use an ice cream maker to turn the mixture into ice cream. If you don't have an ice cream maker, then skip to the next step. 5. IF YOU DON'T HAVE AN ICE CREAM MAKER: To make ice cream without an ice cream maker you can place the mixture into a large bowl and place it in the freezer. To prevent the mixture from freezing into ice, you have to whisk the mixture every 30 minutes for the first 3 hours in the freezer. The Kulfi is at its creamiest texture 2-6 hours after first freezing it. 6. ENJOY: Do yourself a favor and get some authentic kulfi molds. Pour the ice cream in the mold and let it freeze into its shape!