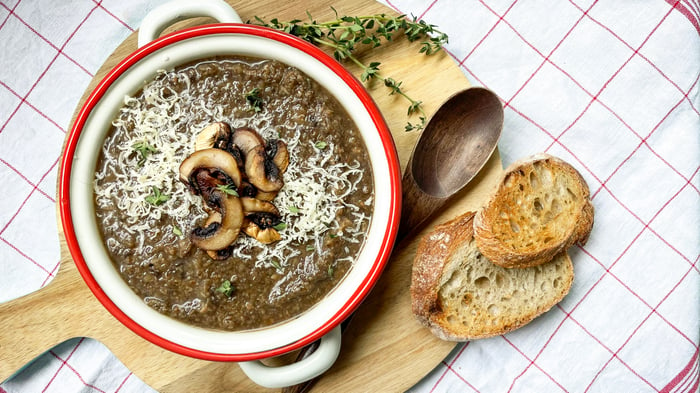 Photo: Charlotte Mei
Mushroom Soup Recipe by Charlotte Mei
A low-effort high-reward, creamy-without-cream mushroom soup that you'd want to keep in your arsenal of go-to recipes! It comes together in 30 minutes, and it is full of flavor. I like it because it is guaranteed to fill you up, yet doesn't have the heaviness of a soup containing cream.
Feel free to use any mushrooms you have on hand. I used a mixture of white button, Swiss brown, and oyster mushrooms.
Makes: 3-4 Servings
Prep Time: 30 mins
Ingredients:
4 tbsp extra virgin olive oil
1 large onion, sliced
5 garlic cloves
3-5 sprigs fresh thyme
500g mushrooms, sliced
900ml vegetable stock
Salt and pepper to taste
Method:
In a large pot, heat the olive oil. Add the onion, garlic and thyme, and cook until the onion is soft and translucent.
Add in the mushrooms, and let the mushrooms soften and sweat.
Add the stock and stir. Once the mixture has reached a boil, reduce it to a simmer for 20 minutes.
Season to taste, and leave it to cool before blending.
To blend, use either an immersion blender for a chunkier finish, or a high-speed blender if you prefer something creamier.
Serve with some sautéed mushrooms, fresh thyme, and your favourite crusty bread.