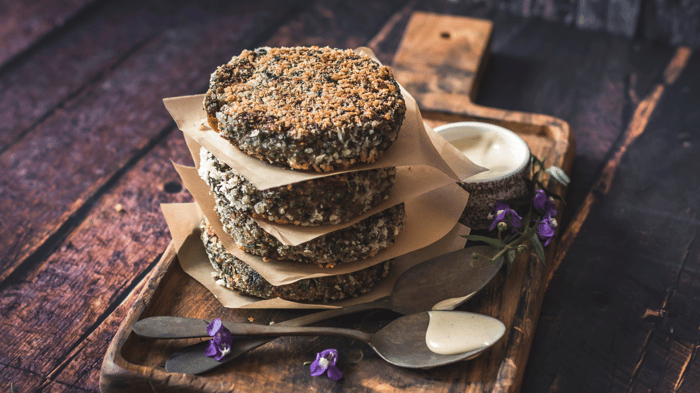 Photo: Chef Cynthia Louise
Healthy Vegan Burger Patties Recipe by Chef Cynthia Louise
Veggie patties, in my opinion, are normally dry, bland and simply full of rice, chickpeas or black beans. Not that there's anything wrong with those ingredients—it's just too much effort when you've worked all day and just want to smash something together fast.
I think of all the moms, dads, grandparents and singles out there doing the best they can with what they have in the fridge. This recipe is for all of us. It's fast, can be served as a burger, as a rissole with my yummy gravy, or with salad and homemade tomato sauce. Whatever you decide to do, I trust you will find this moment to reflect on how wonderful you are. I dedicate this recipe to you and your family.
Makes: 6 patties
Prep Time: 20 mins
Freezer-Friendly: Yes
Ingredients:
½ leek, thinly sliced
4 garlic cloves, roughly chopped
150g button mushrooms
2 medium carrots, grated
1 cup fresh basil leaves, packed tightly
1 tbsp dried oregano
½ cup fresh parsley, packed tightly
1 ½ cup breadcrumbs
2 tbsp ground flax seeds
½ cup cassava flour
Salt and black pepper, to taste
A pinch of #LOVE
Method:
Add all the ingredients to your food processor except the cassava flour, ground flax seeds, and breadcrumbs.
Process well until combined but make sure to leave a bit of texture.
Transfer to a bowl, add the remaining ingredients and mix well.
Take half of the mixture, add it back to the food processor and blend well.
Return the well-blended mixture back to the bowl and combine.
Roll the mixture into patties (around 140 grams each), toss in some breadcrumbs and leave to rest for 5-8 minutes.
Heat some coconut oil on a grill or in a pan on medium heat.
Cook the patties until golden brown and serve with a side of coleslaw salad.