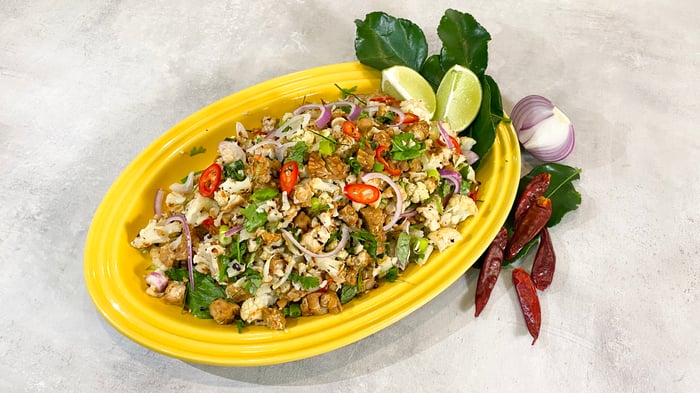 Photo: Charlotte Mei
Vegan Larb Gai Recipe by Charlotte Mei
My vegan take on one of my favorite Thai dishes, Larb Gai/Laab Gai, that replaces the traditional use of minced meat for tempeh and cauliflower, making it a sort-of Asian salad.
The traditional recipe also includes toasted rice that has been ground to a powder, however I have left it out as I like to keep my recipes simple. Sometimes I add some crushed peanuts for texture.
I love this dish because it packs a flavorful punch and it is incredibly easy to make a huge batch of. Perfect for big groups or leftovers.
Makes: 2-3 Servings
Prep Time: 25 mins

Ingredients:
1 head of cauliflower (~ 700g), cut into equal-sized florets
2 blocks of tempeh, diced
3 spring onions, sliced
1 large red chili, sliced
1 chilli padi, sliced finely (or 1 tsp of dried chilli flakes)
1 lemongrass stalk, sliced finely
2 kaffir lime leaves, sliced finely
A little less than ¼ cup tamari or soy sauce
¼ cup fresh lime juice
1 cup coriander, roughly torn
1 cup mint, roughly torn
1 cup Thai basil
½ red onion, sliced finely
2-3 tbsp oil

For Serving:
Cucumber
Lettuce

Method:
Preheat the oven to 180°C (fan)/200˚C. Toss the cauliflower and tempeh in oil and bake on a rimmed baking sheet. Bake until tender and well browned, ~25 minutes (turn the baking tray halfway through).

Once cooled, chop it up into pea-size pieces. Transfer to a large bowl and add chilis, lemongrass, lime leaves, tamari, lime juice, coriander, mint, thai basil, red onion and spring onions.

Serve with cucumbers, lettuce cups and/or steamed rice.