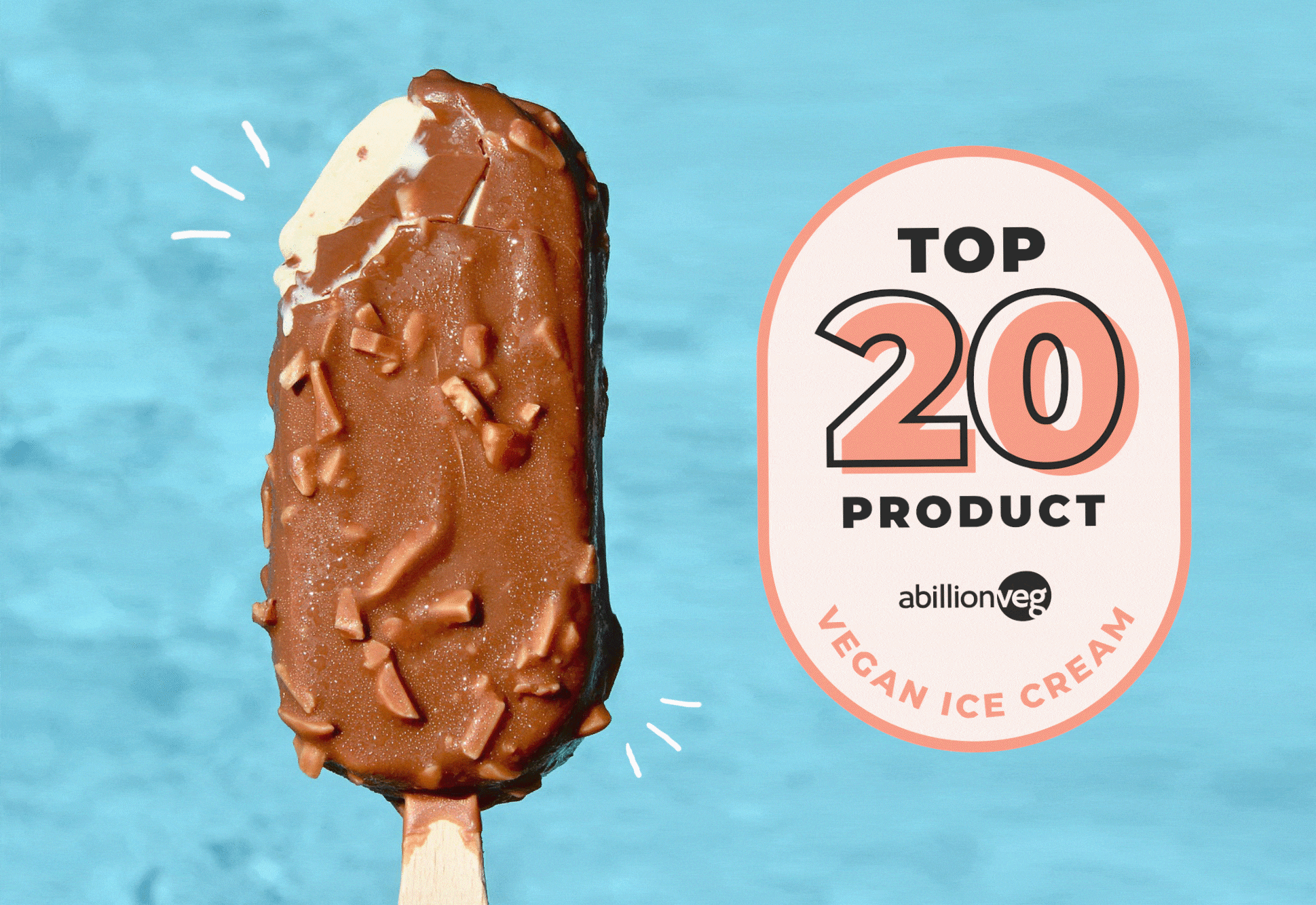 To celebrate National Ice Cream Day on July 19th, we are recognizing the best ice cream products from around the world, "abillionveg" approved by you guys!
Here's the scoop on the winners of abillionveg Top 20 Vegan Ice Cream Awards 2020!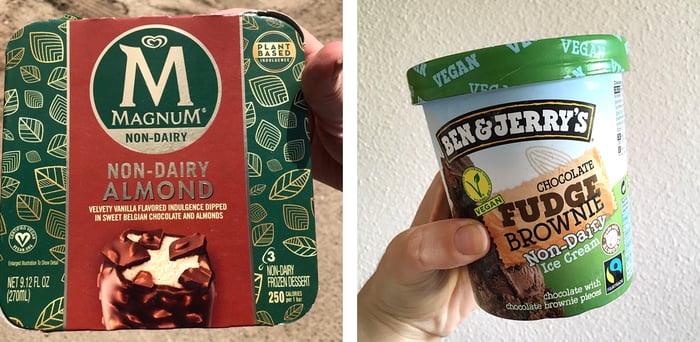 Images by @mallory17 and @laysvinagreta
Miss the experience of furiously licking your ice cream bar to keep it from melting all over your hands? Thankfully, Magnum is allowing us to relive those memories with its dairy-free ice cream bars!
Still scooping ice cream onto your brownie? That's so old-school. Ben & Jerry's has just veganized its brownie-stuffed chocolate ice cream, with the brownies from a bakery that strives to provide jobs and training to low-income residents. A sinless dessert — what a dream come true!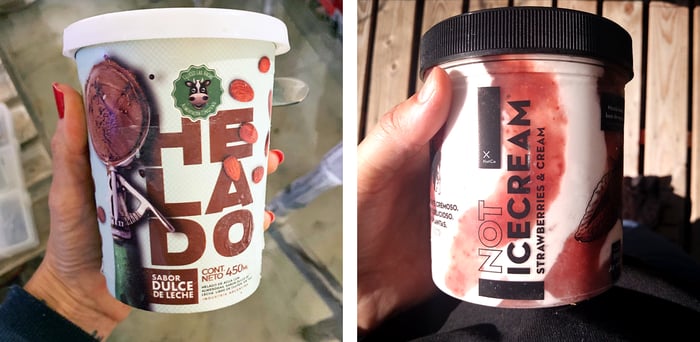 Images by @veganmili and @nivel5
Think vegan ice cream can never be as satisfying as dairy-laden ones? Felices Las Vacas is here to prove you wrong! Its Helado de Dulce de Leche has been highly raved about for its richness and decadence comparable to that of artisanal gourmet ice cream. No more FOMO going vegan!
The packaging of this dessert screams "NOT ICECREAM", and this confidence is clearly warranted! NotCo knows it doesn't have to piggyback on the popularity of dairy ice cream to rise to fame. The creamy deliciousness of its own products is enough to rival the dairy-loaded frozen desserts out there!
Images by @jaynap and @jamesallnutt
Made with almond milk and loaded with crunchy bits of almond brittle, you're allowed to go nuts with this one!
This is the one we need to have in our freezers ALL THE TIME. Wallet-friendly, unpretentious and versatile, this simple soy-based vanilla ice cream will stand by you through thick and thin!
Images by @kaylabear and @dianna
Oatly has taken the world by storm with its insanely creamy oat milk, but no way is it stopping there! Its chocolate ice cream is here to blow our minds once again. Come on now, how can ice cream made with the creamiest oat milk on earth not be good?!
Move aside ice cream cakes! What we really need this sweltering summer is cake-flavored ice cream. This all-in-one ice cream can satisfy your cookie dough cravings and double up as a vanilla-flavored birthday cake. Double duty, we like that!
Images by @rifugiomiletta and @awinter141
You can get away with eating this one for lunch, it's a "sandwich" after all right?
Since so many of you love it, this must truly be So Delicious! But it comes as no surprise — using what is arguably the creamiest nut, this cashew-based ice cream can't not be creamy.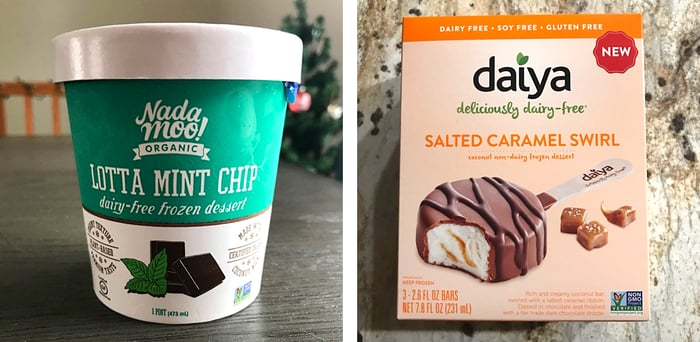 Images by @dianna and @dianna
Nada Moo! knows that some of us just aren't adventurous enough for its birthday cake cookie dough. It's keeping this original flavor unchanged, untouched, and filled with a lotta chocolate chips! A sacred dairy-free cow... that's mind-blowing.
If you thought this would be some cheese-flavored ice cream, we don't blame you. After all, who doesn't recognize Daiya for its array of cheese selections? Thankfully, Daiya knows not to play around with our favorite dessert, but to present us with an appetizing combo of salted caramel, coconut, and chocolate!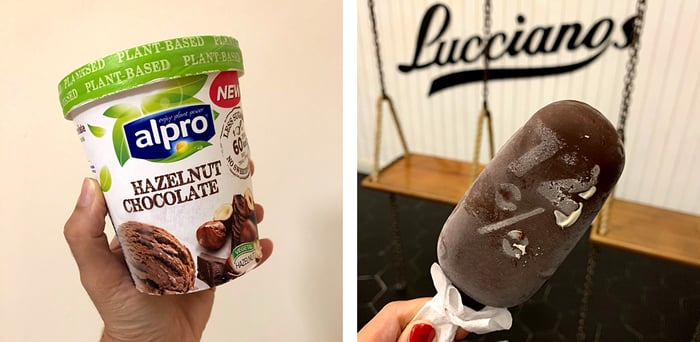 Images by @thefoodiecorner and @melicg
Fruits, vegetables and whole grains are what would come to mind when we hear "rich in fiber". But believe it or not, this ice cream by Alpro has joined the ranks too! Now show your digestive system some love by indulging in this nutty chocolatey goodness.
For an intense chocolatey experience, go for this bar made with, you guessed it, 72% dark chocolate. With this number conspicuously printed on not just the packaging but the ice cream ITSELF, we can tell how passionate Lucciano's is about its chocolate!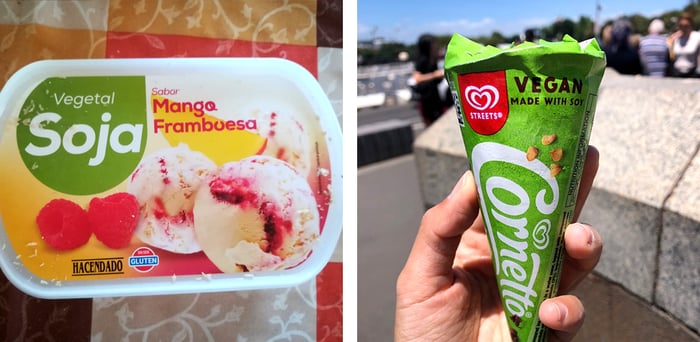 Images by @moomo and @sironijara
A fruity ice cream is your best bet in beating the summer heat, especially when it's fruits that are right in season! But tell me, who needs any reason to eat mango, raspberries and ice cream?
Cone lovers rejoice! We wouldn't have any cone ice cream at all if not for this one. It's a vanilla soy ice cream encased in a chocolate-coated wafer cone, and the cone's gluten-free! How's that for inclusivity?
Images by @sofiasp00n and @belendharmakat
If you see this in the freezer aisle, be rest assured that it's an ice cream, not a drink. And be sure to put it in your shopping cart! Probably not a good idea to have it as a late-night snack though, unless you're burning the midnight oil. Your coffee literally can't get cooler than this!
Booja-Booja has done it again! This flavor explosion is made with just SIX simple ingredients and has won 11 awards. We'll stop here — you have to experience the magic for yourself.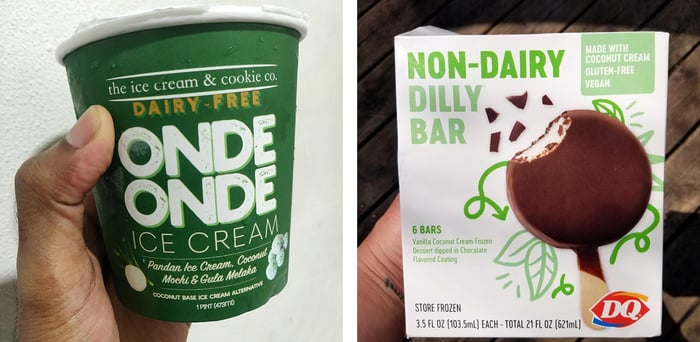 Images by @happykow and @gretchens
Onde-Onde, a Malaysian dessert, are glutinous rice balls infused with pandan juice (hence the green hue), stuffed with palm sugar and generously coated with coconut shavings. As to whether this ice cream manages to replicate its flavor, it's a resounding YES from locals!
To have Dairy Queen relaunch its classic fan-favorite without any dairy in it is pretty revolutionary don't you think! Hopefully, this signals the introduction of more vegan items in the near future!
So, who's your favorite?
These are the ice cream products that won the abillionveg Top 20 Ice Cream Awards 2020. To save this list and refer to it later, like and follow the Top 20 Vegan Ice Cream Awards 2020 Collection.
Have you tried any of them? Let us know which ones you enjoy in the comments below!
Psst.. And hang tight for more Top 20 Awards in the coming months!