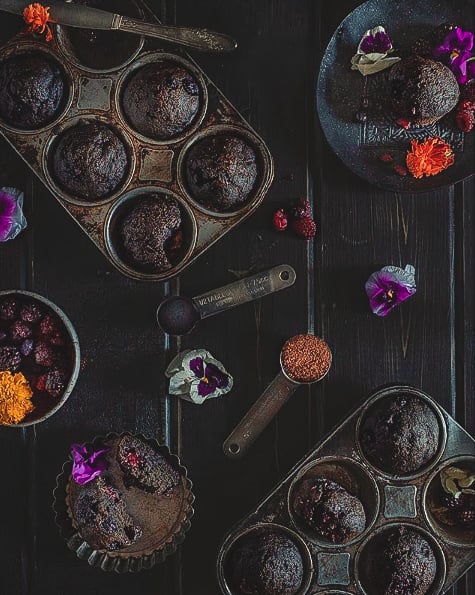 These muffins are lovely breakfast to slide into the day. A mixture of cinnamon and nutmeg along with natural sugar like coconut sugar makes these berry muffins a sweet but healthy treat 🥰
Very Black Berry Muffins
Servings: 12 muffins
Active time: 45 min
Ingredients
2 cups of spelt flour
3 tbsp of water
1 cup of plant milk
1 cup of sugar (coconut, coconut, palm, or cane)
2 tsp cinnamon
1/4 tsp nutmeg
1/4 tsp all-spice
1 tbsp ground flaxseed
1/2 tsp sea salt
1 tsp baking soda
1 tsp baking powder
2 tsp vanilla extract
1 tsp activated charcoal powder
2 cups of mixed berries
Method*
Make the egg by mixing 1 tbsp ground flaxseed with 3 tbsp water & whisk.

Place mixture in the fridge for 15 minutes to form an egg replacer.

Mix flour, baking soda & powder, spices, charcoal powder & salt with a fork.

Mix sugar, plant milk, vanilla, and flax egg in a separate bowl.

Once smooth, add dry ingredients to wet ingredients.

Add berries to the mixture and stir.

Grease muffin tins with coconut oil, parchment paper, or spray.

Preheat oven to 375°F.

9. Fill up muffin tins with batter and finish with a sprinkle of sugar on top of each muffin.

10. Bake muffins for 16-18 minutes, checking a few minutes before just to make sure everything looks good.