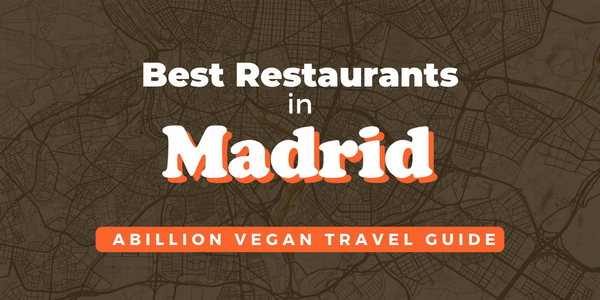 Madrid, the lively and enchanting capital of Spain, has long been celebrated for its rich culture, art, and vibrant atmosphere. Now, in addition to its historic charm, Madrid is making waves in the world of vegan cuisine. From traditional Spanish dishes with a plant-based twist to innovative international delights, this vegan travel guide invites you to join us on a delectable journey through the heart of Madrid's vegan scene.
Dive into the world of vegan seafood at El Perro Gambero. This innovative eatery offers a creative twist on classic seafood dishes, all made with plant-based ingredients. From paella to tapas, El Perro Gambero proves that the flavors of the sea can be enjoyed cruelty-free and with a dash of Spanish flair.
Photo: gororiddle
Prepare to be delighted at Distrito Vegano, a plant-powered haven that celebrates the best of vegan cuisine. With a diverse menu that ranges from burgers to international fare, this restaurant is a must-visit for those seeking a true taste of Madrid's vegan food culture.
Photo: itslara
For a laid-back and satisfying meal, look no further than Mad Mad Vegan. This cozy spot serves up a variety of comfort foods, including mouthwatering burgers and flavorful tacos. It's a no-frills eatery that lets the food speak for itself.
Photo: ssipaneka
Embark on a culinary journey around the world at Hakuna Matata Veggie. This restaurant offers a fusion of international flavors, all presented with a Spanish touch. From Asian-inspired dishes to Latin American delights, it's a true celebration of global vegan cuisine.
Photo: madridvegano
Get ready to embrace wholesome and nourishing plant-based meals at Mudrà Plant Based. Their vibrant dishes and remarkable vegan sushi are not only delicious but also a feast for the eyes. It's a place where healthy eating meets culinary creativity.
Photo: itslara
Indulge in the flavors of Italy at Choose Ristorante Naturale, where traditional Italian dishes are reimagined with a vegan twist. From pasta to pizza, this restaurant captures the essence of Italian cuisine while honoring a compassionate lifestyle.
Photo: vito0111
Tucked away in Madrid's streets, Romero Verde Bar Restorán is a charming spot that offers a range of vegan options. From creative appetizers to hearty mains, each dish is crafted with care and a passion for plant-based excellence.
Photo: paulagonzalez
For the sweet tooth in you, Freedom Cakes is a paradise of vegan desserts. Indulge in delectable cakes, cookies, and pastries that will satisfy your cravings and leave you wanting more. It's a haven for those who believe that dessert is an essential part of every meal.
Photo: redfemamable
Experience the vibrant nightlife of Madrid with a vegan twist at Pura Vida Vegan Bar. Sip on creative cocktails while enjoying a variety of vegan bites. It's a perfect spot to unwind, socialize, and savor the flavors of Madrid after sunset.
Photo: freelorni
Last but not least, treat yourself to an elevated vegan dining experience at Levél Veggie Bistro. With a focus on quality ingredients and creative presentation, this restaurant offers a gourmet journey through plant-based flavors that will leave you impressed and satisfied.
Photo: safariveg
Madrid's vegan food scene is a testament to the city's commitment to culinary innovation and compassion. Whether you're a local or a traveler seeking vegan delights, Madrid's diverse and exciting restaurants cater to every palate.
So, grab your appetite and explore the flavors that make Madrid a true haven for plant-based foodies. ¡Buen provecho!