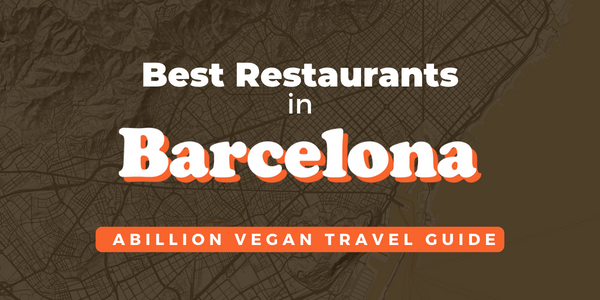 ¡Hola, amigos veganos! Welcome to the sunny and vibrant city of Barcelona, where the beaches are golden, and the vegan food is simply fabulous! Get ready to embark on an epic plant-based adventure through the streets of this enchanting Spanish paradise. From tapas with a twist to drool-worthy vegan burgers, we've got your taste buds covered!
First stop, L'encant Vegetarià! Brace yourself for a tapas extravaganza with a plant-based twist. From patatas bravas to veggie-filled paella, this place is a fiesta for your palate. Gather your amigos, order a pitcher of sangria, and let the tapas tasting adventure begin!
Photo: sym
Get ready for a Tex-Mex fiesta at CactusCat Bar! These vegan burritos are the stuff of legends, stuffed with beans, guacamole, and all the spicy goodness you can handle. Wash it down with a refreshing margarita, and you're in vegan heaven!
Photo: albibus
Brunch is a big deal in Barcelona, and Tarannà Cafe knows how to do it right for vegans! Avocado toast, fluffy pancakes, and luscious smoothie bowls are just a few of the treasures you'll find. It's a brunch-tastic spot where every bite is a morning delight!
Photo: vanessaprats
Looking for a fancy night out with a touch of French flair? Chez Kessler has got you covered! This vegan French fusion restaurant offers dishes that are as elegant as they are mouthwatering. Bon appétit!
Photo: earthlinged
Get ready to take your taste buds on a flavor-packed journey to India! Restaurant Veg World India serves up aromatic curries, crispy samosas, and tantalizing chutneys that will transport you straight to the bustling streets of Delhi. It's a currylicious adventure you won't want to miss!
Photo: neil
No vegan travel guide is complete without pizza, right? Dolce Pizza Y los veganos has got you covered with their drool-worthy plant-based pizzas. From classic Margherita to creative vegan toppings, it's a pizza party like no other!
Photo: gitaneta
Calling all sushi lovers! Roots & Rolls is the place to be for mouthwatering vegan sushi rolls. Get ready to be wowed by their colorful and creative rolls that'll have you saying "arigato" after every bite.
Photo: rikesh
Craving a juicy burger that's 100% plant-based and full of flavor? La golosa Vegan Vurger has got your back! These vibrant and mouthwatering vegan burgers will leave you craving for more. It's a burgerlicious bliss that's guilt-free and delicious!
Photo: asiayportia
Last but not least, treat yourself to a gourmet vegan experience at Restaurante Xavier Pellicer. With a Michelin-starred chef at the helm, this restaurant elevates plant-based dining to new heights. It's a celebration of culinary creativity and compassion that'll make your taste buds dance with joy!
Photo: marionayogacadaques
So, amigos, get ready to savor the best of Barcelona's vegan delights! From Spanish tapas to global flavors, this city has it all for the vegan foodie in you. Vamos a comer!