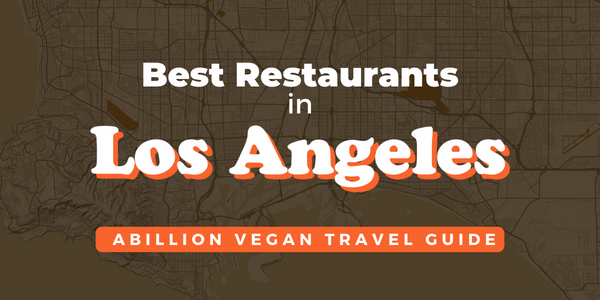 Los Angeles, the sprawling city of glitz, glam, and entertainment, is also a paradise for vegan food enthusiasts! Beyond the Hollywood scene, LA boasts a vibrant and thriving vegan food culture that has taken the culinary world by storm.
From trendy hotspots to cozy cafes, this vegan travel guide will lead you on a delectable journey to some of the best plant-based restaurants in the City of Angels.
Kickstart your vegan adventure at Sugar Taco, where flavor and sustainability unite! This hip taco joint serves up mouthwatering plant-based tacos that are nothing short of extraordinary. With a menu that includes creative toppings and a lively ambiance, Sugar Taco promises a fiesta of flavors that will keep you coming back for more!
Photo: lolahippie
Experience the elegance of plant-based fine dining at Crossroads Kitchen. This upscale vegan restaurant redefines gourmet with its innovative dishes that are both visually stunning and irresistibly delicious. Whether you're celebrating a special occasion or just want to treat yourself to culinary excellence, Crossroads Kitchen is a must-visit for discerning vegan foodies.
Photo: ekelcem
Get ready to indulge in a taste of Italy, vegan-style, at Pura Vita. This charming eatery specializes in handmade plant-based pasta that will transport you to the streets of Rome. From velvety sauces to creative pasta shapes, Pura Vita is an Italian culinary journey you won't want to miss.
Photo:maxwagner
Nic's on Beverly combines upscale dining with a creative and eclectic vegan menu. With dishes that feature a fusion of international flavors, it's a culinary adventure that surprises and delights at every turn. From appetizers to desserts, this restaurant proves that vegan cuisine can be both luxurious and exciting!
Photo: evolotus
Discover the flavors of Asia with a vegan twist at Au Lac LA. This Asian-inspired restaurant showcases an array of plant-based dishes that draw inspiration from various Asian cuisines. From savory Vietnamese pho to delectable sushi rolls, Au Lac LA offers a fusion of flavors that will leave your taste buds dancing with joy.
Photo: stephaniegerard
Photo: stephaniegerard
Sage Plant Based Bistro and Brewery Echo Park combines two of LA's favorite things – craft beer and plant-based bites! Indulge in their delicious vegan menu while sipping on handcrafted brews. It's a unique experience that showcases the best of LA's plant-based and brewing cultures.
Photo: hugemittons
Cafe Gratitude Venice is more than just a restaurant; it's a holistic experience. With a focus on nourishing both the body and soul, this vegan eatery offers delicious and health-conscious dishes with names that inspire gratitude and positivity. It's a place where good food and good vibes go hand in hand.
Photo: ekelcem
When you're in need of a quick and satisfying vegan meal, Veggie Grill has got your back. This fast-casual eatery offers a variety of hearty plant-based burgers, sandwiches, and salads that are perfect for on-the-go vegan foodies. It's the ultimate spot for a tasty and guilt-free indulgence.
Photo: smasherbrown
Experience the rich and flavorful cuisine of Ethiopia, now fully vegan at Azla Ethiopian Vegan Cuisine. From injera to savory stews, this family-owned restaurant brings the tastes of Ethiopia to the vegan community of LA. It's a culinary adventure that celebrates tradition and compassion.
Photo: dianem05
Los Angeles has truly earned its reputation as a vegan foodie haven. From haute cuisine to laid-back cafes, the city offers a diverse and exciting range of plant-based restaurants that cater to every taste and preference.
So, whether you're a committed vegan or just curious about exploring cruelty-free cuisine, Los Angeles promises a delightful culinary journey that celebrates compassion, creativity, and a love for all things plant-based. Get ready to eat your way through the vegan wonders of the City of Angels!