Conscious, Uncomplicated, yet Nourishing Skincare
Skin care is about caring for the wellbeing of our largest organ, but also a way of caring for ourselves as a whole. It's about giving ourselves love when we use it as an opportunity for ritual and meditation amidst the busyness of our days. While skin care can be a positive thing for us, it's vital that we ensure our pleasure doesn't come from the suffering of animals, or the destruction of the planet.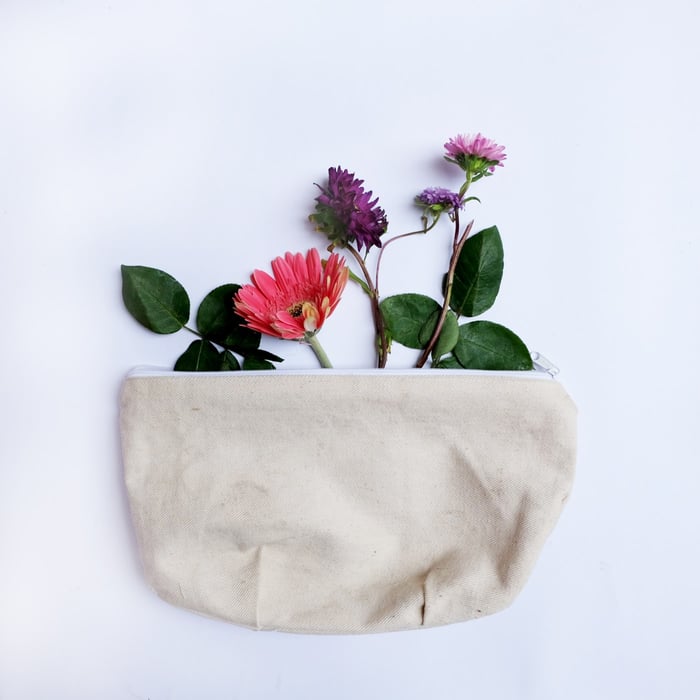 Too often, skincare products test on animals, contain animal-derived ingredients or ingredients that are harmful to the planet, such as unsustainably sourced palm oil. A lot of times, these products are wrapped in plastic packaging which adds to the already enormous amount of unrecyclable, non-biodegradable materials that sit in a landfill, poisoning the earth and our ocean.
But it doesn't have to be this way! Today, there are plenty of vegan, cruelty-free and consciously-packaged skincare products available. I've reviewed one of each product which I think ought to be considered a part of a soothing skin care regime: a cleanser, toner, moisturiser, exfoliator, and a mask. While this might not be the most minimalistic regime out there, it's one that really does make for glowing and happy skin. It doesn't break the bank, nor does it cost the earth or the lives of others.
$25AUD for four cloths
Source: Image courtesy of Eye of Horus Cosmetics
This product isn't technically a cleanser, but it's a cleansing cloth. It's made of 100% organic bamboo—a fast-growing and sustainable material—and contains tiny microfibres that lift makeup and dirt off the skin. Massaging your face in circular motions with the cleansing cloth cleans and exfoliates your skin, and using only water for this step means there are no concerns surrounding the ingredients of a liquid cleanser or their origin. The cleansing cloth can be washed and reused over and over again, unlike single-use disposable wipes.
The brand, Eye of Horus Cosmetics, is free of any animal testing, mostly vegan (watch out for some beeswax products), often sustainably packaged, and woman-owned and run, which I like to support!
$9.95AUD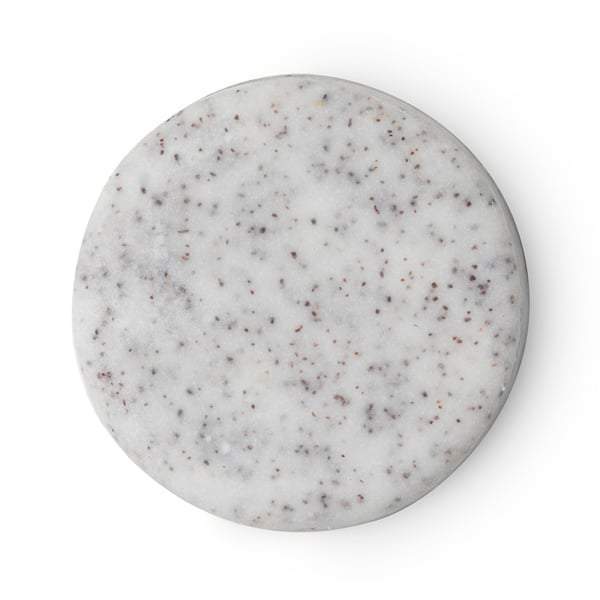 Source: Image courtesy of Lush
I replace cleansing with exfoliating every three days to a week, depending on how my skin feels, but it nothing more than that as exfoliating too much can be a little abrasive on your skin.
Exfoliating is great for deep-cleaning your pores, as this vegan bar does with coconut shell grounds. It's made up of only nine ingredients, including oils to make sure the whole process isn't too drying on your skin.
Lush sells these, and they come without packaging or in a recyclable paper. To top it off, Lush is against animal testing!
$1.30AUD for 100mls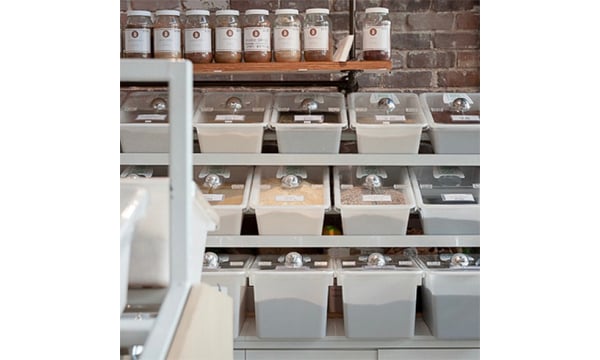 Source: Image courtesy of The Source Bulk Foods
Bulk stores are an amazing place to get all sorts of food and products that are free of packaging. Bring or bring your own glass bottle to store the apple cider vinegar. Apple cider vinegar balances the natural pH levels in your skin, resulting in a more even tone and glowing complexion.
I leave a bottle of apple cider vinegar in the shower and I use it as a toner every morning after cleansing my face. I also like downing a full cap of apple cider vinegar, which is beneficial to your health in so many ways.
I get my apple cider vinegar from The Source Bulk Foods, which is made from New Zealand grown organic apples. It's unfiltered, unpasteurized and is without artificial additives. Apple cider vinegar is readily available in most bulk stores!
$49.99AUD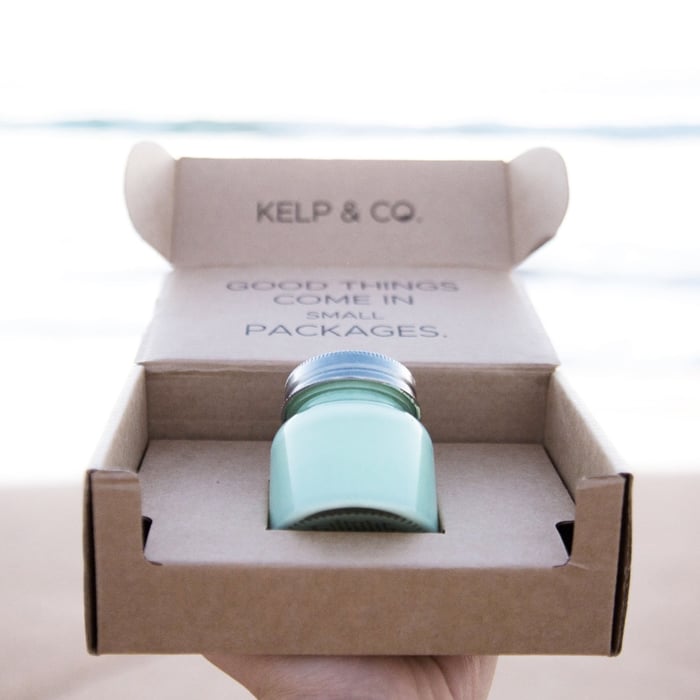 Source: Image courtesy of Kelp & Co
Once a week, I reward myself with a ten-minute face mask as a form of relaxation. This one is vegan and full of ingredients that brighten your complexion and reduce any redness. Aloe Vera in this mask ensures that it isn't too drying, and the Australian clay mask also has seaweed extract in it—an ingredient that I'm excited to see being used more as it's so fast-growing and sustainable to harvest.
Kelp & Co does not test on animals and currently only sells one thing, which they sell well. The mask's label only shows what is legally required and is made from wood pulp, which is easily compostable. It comes in a cardboard box, and the metal and glass jar is recyclable and reusable.
This product is a little more expensive compared to the other products mentioned here, but its formula is far runnier than other masks I've used before, which means you only need a little product to cover your face, so it definitely lasts longer.
$27.95AUD for 100ml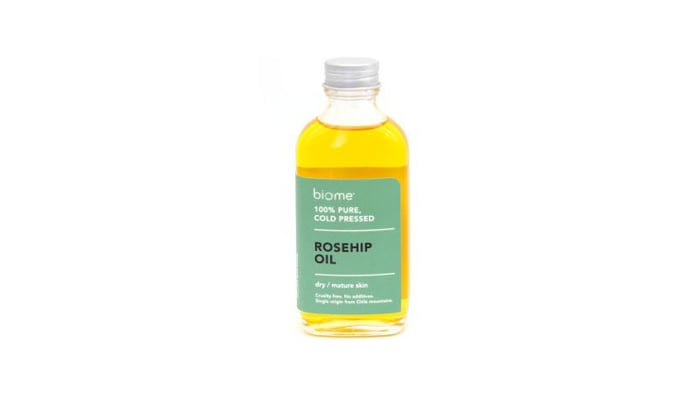 Source: Image courtesy of Biome Store
Rosehip oil is one of the richest and most hydrating oil you can use on your skin, and just a little bit of it goes a long way.
Many rosehip oils come with a 'dropper', which has a plastic head, but Biome's comes with a recyclable metal lid. This product could potentially be found in some bulk stores, though I've yet to see it!
What are your favourite skincare products? What do you consider when buying them? If you don't already, perhaps next time, you might think about not only whether the product is plant-based and cruelty-free, but that it is kind to the earth, too! Make sure to post a review on abillionveg the next time you try a product out and support animal rescue by doing so!