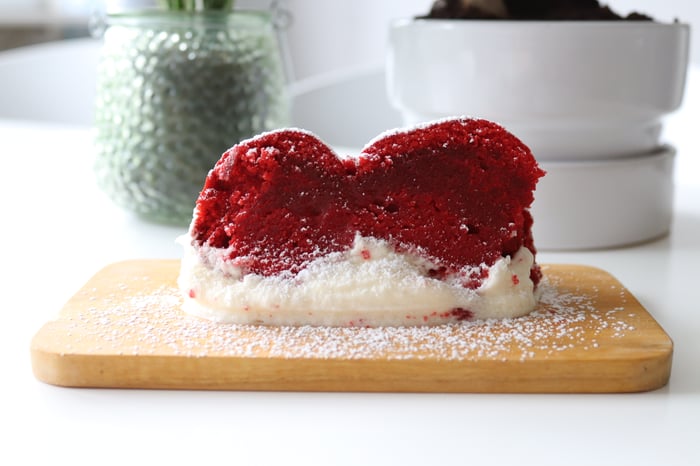 My first memory of eating red velvet cake was in a cute little café named 'American Bakery' which unfortunately is closed down. My cousin introduced me to this bakery. They had a variety of pastries, but the classic red velvet cake with vibrant colors and a coat of frosting just stole my heart. And of course, we need a vegan take on this wonderful cake. Let's go!
Ingredients:
3 cups flour

2 cups sugar

1.6 cup aquafaba

1 cup buttermilk

1 cup vegetable oil

2 tbsp nut butter

2 tbsp cocoa powder

115g vegan butter

1 tsp baking powder

1/2 tsp salt

1 whole vanilla bean

1 tsp white vinegar

Red food coloring(optional)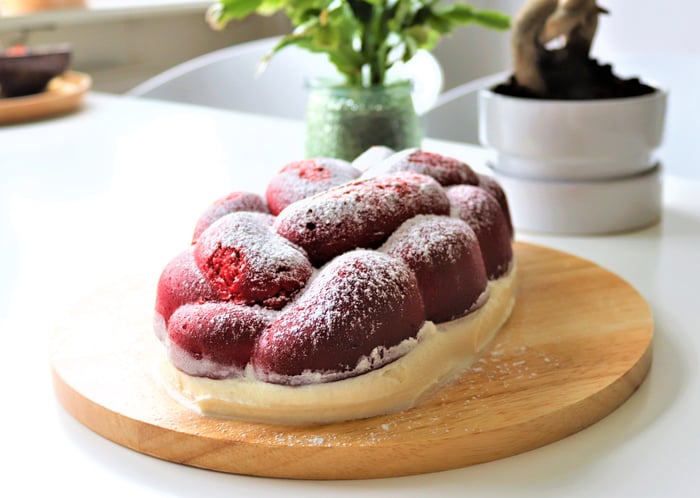 For buttermilk:
1 tbsp lemon juice + 2 1/2 dl (1 cup) vegan milk
For Frosting:
400g cream cheese - I used Violife

115g vegan butter - I used Carlshamn

2 cups icing sugar

1 tbsp cream

2 tsp vanilla sugar

A pinch of salt
Instructions
1. Begin with preheating your oven to 175°C (350°F)
2. Begin with adding lemon juice into the vegan milk and stir with a spoon. It should look as if the milk is splitting.
3. Add your desired amount of red food colouring, I prefer it when the cake looks deep red and mix at a low speed for a couple of minutes.
4. I am using a silicone mold for my cake, you of course can use what you prefer. Pour in the batter in the mold/tin and bake in the oven for 45-60 minutes.
5. Once it's done baking allow the cake to cool completely before scooping on the frosting.
6. Let's make our frosting in a kitchen machine add your butter, cream cheese and with the paddle attachment beat the cream cheese for a couple of minutes then add the icing sugar, cream, vanilla and salt and beat for 3-5 minutes. Set aside in the fridge while the cake cools.
7. I scoop the frosting onto the bottom of my cake and set it in the fridge as the frosting will be able to hold the cake up once it's served.
Let us know your first memory of eating red velvet cake in the comments below and don't forget to try this recipe!
Follow Every Shade of Food for more of such delicious vegan recipes.