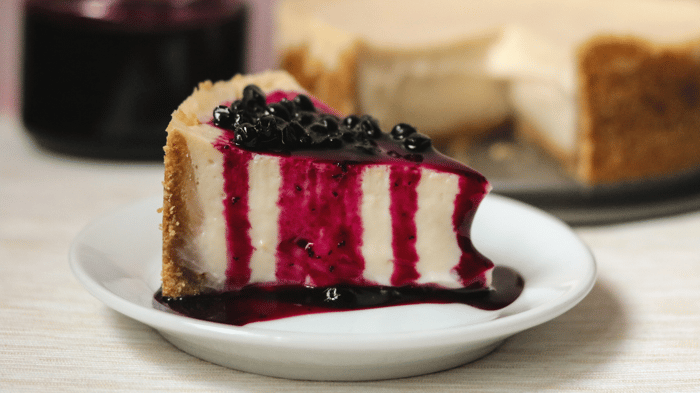 Photo: @flouredfingers_
Vegan Blueberry and Lemon Cheesecake Recipe by Yuliya Mihaylova
Cheesecake was one of those desserts I was certain would never be as good as the non-vegan versions, but I proved myself wrong - everything is possible, if you want it bad enough.
This cheesecake is every bit as good as the traditional kind – it has that slightly sweet taste, combined with the creamy cheese, a slight hint of lemon and topped with a vibrant purple blueberry preserve. You simply have to try making this for yourself.
Makes: 1 18cm Cake
Prep Time: 90 mins
Ingredients:
Crust
200 grams of plain vegan cookies (sweetened)
90 grams of melted vegan butter or coconut butter
Cheesecake filling
350 grams of silken tofu
200 grams of vegan cream cheese
150 grams of fine or powdered sugar
2 tsp of cornstarch
2 tsp of lemon juice
Zest of one lemon
1 tsp of vanilla extract
Homemade blueberry jam
For the cookie crust
Put the cookies in a food processor and blend them until they look like fine sand. Melt your vegan butter completely, add it to your cookies and mix well so that all cookies are well covered.
Transfer the cookie mix to a tall tin with a removable base (I used a tin that is 18cm in diameter and 7cm tall) and press the mix firmly and evenly on the bottom and sides of the tin. Place it in the fridge to set, while you make the cheesecake filling.
For the cheesecake filling
Start by placing the silken tofu and the vegan cream cheese in a big bowl and blend it with an emergent blender on medium speed until you reach a silky smooth consistency with no lumps.
Add in the powdered sugar, lemon zest, lemon juice and the vanilla extract. Sift the cornstarch into the mixture and mix very well to avoid any large lumps.
Method:
Preheat your oven at 190°C.
Pour your cheesecake filling over the chilled cookie base and gently tap it on the counter. This will ensure that the filling spreads across the base evenly and helps air bubbles escape to ensure a smoothly baked top.
Bake at 190°C for 20 minutes, then reduce the heat to 120°C and bake for an additional 35-40 minutes. Do note that the time required to bake the cheesecake may differ according to your oven setting. Keep an eye on the oven to avoid burning the cake.
Once done, the mid-section of the cheesecake should still wobble slightly when you move it.
Take it out of the oven and leave it to cool completely at room temperature. After it has cooled completely, put the cheesecake in the refrigerator for at least 2-3 hours, ideally overnight.
Cut into even slices, cover the top with some blueberry jam (mine is homemade by my parents) and enjoy this creamy and delicious vegan cheesecake.
Enjoy!